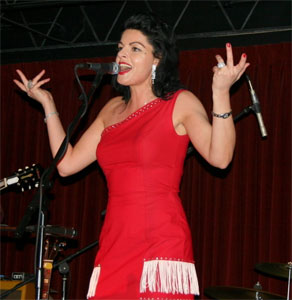 Chanteuse Rockabilly Néerlandaise.

Dutch Rockabilly singer, Sue Moreno was raised in a home full of music.
At age 15, she was singing in her first band. A few years later she was performing on America's Eastcoast. After her return to homeland the Netherlands she started working as a background singer and formed her band Susan When She Tried.
Sue obtained her master degrees in film and tv studies -acting, directing and writing and in 1997, she became succesfull with her band Sue and the Flaming Stars.
Her position in the world of music is well-deserved. She has been performing on many stages all over Europe and America.
She worked with great legends and artists like Paul Burlinson, Rocky Burnette, Stan Perkins and The Comets and todays rockers like Number Nine, the Barnshakers, the Hacienda Brothers and Darrel Higham.
She released a solo album in 2002 and one with her Flaming Stars in 2004 and can be found on a bunch of compilation albums. Late 2005 the succesfull collaboration with Marco Di Maggio resulted in the release of the album Bye Bye Blues.
Sue attributed to the Jack Million Big Band album 'Night and Day' (2005) that ended in the top ten hitlist in South Africa.
She starred as a singer and dancer in various theatre shows and has been working on various film and acting projects.
In 2004-2005 Sue has been singing at the Elvis-gospel services throughout the Netherlands. She has much coverage on radio and TV and appeared on many festivals like the Shake Rattle and Roll Weekender, the Jackson Rockabilly Fest, Viva Las Vegas, Green Bay rock 'n roll weekender, the Midsummer Jamboree and the Screamin' Festival.
In 2007 Sue toured the state of Texas, USA, with the Horton Brothers.
https://www.facebook.com/OfficialSueMoreno/
Talents : Vocals, Songwriter
Style musical : Rockabilly, Rock 'n' Roll

https://youtu.be/Aew88GmbziA
Years in activity :
| | | | | | | | | | | | |
| --- | --- | --- | --- | --- | --- | --- | --- | --- | --- | --- | --- |
| 1910 | 20 | 30 | 40 | 50 | 60 | 70 | 80 | 90 | 2000 | 10 | 20 |
DISCOGRAPHY
Singles
| | | | |
| --- | --- | --- | --- |
| 08/2012 | CD Jungle ? (NL) | | City By Night / Man Of Many Promises |
Albums
2004
CD Rarity CD 192742 (NL)

Drivin' On The Highway Of Love -

Sue And The Flaming Stars -

Drivin' On The Highway Of Love / I Beg Of You / My Heart / Put The Blame On Me / Just Because / Tennessee Rock & Roll / Long Lonely Highway / Besame Mucho / Say You're Mine / Sweet Love On My Mind / Two Long Years / I Love You Honey / Blues Stay Away From Me / I Don't Care If The Sun Don't Shine / Many Tears Ago / You Can Persuade Me / Oh Baby Baby / Sway - Quien Sera / Lovesick Blues
2005
CD Jungle TCB-3131CD (FIN)

Bye Bye Blues -

Sue Moreno &

Marco Di Maggio - Rock'n Roll Party / Big River / Bye Bye Blues / Forever / Honey Cause I Love You / I'll Never Be Free / Johnny Is The Boy For Me / Guitar Blues / Temptation / Cruisin' The Drive-In / Forbidden Love / Rock With You / There's So Much World To See
2008
CD Jungle TCB-3131CD (GER)

Bye Bye Blues -

Sue Moreno

&

Marco Di Maggio - Rock'n Roll Party / Big River / Bye Bye Blues / Forever / Honey Cause I Love You / I'll Never Be Free / Johnny Is The Boy For Me / Guitar Blues / Temptation / Cruisin' The Drive-In / Forbidden Love / Rock With You / There's So Much World To See /

Special Bonus Tracks :

The World Is Wainting For The Sunrise / Cry Me A River / Hot Toddy
03/2010
CD Western Star WSRC 037 (UK)

One Track Mind - Sue Moreno & Jack Rabbit Slim - One Track Mind / The Fire Is A-Burnin' / Too Late / Time Is A-Wastin' / Gone Gone Gone (with Bob Butfoy) / Don't Hurt Me Baby / Gonna Get Back Home Somehow / What About Tomorrow / Record Hop / Your Good Girl's Gonna Go Bad / Cinderella Story / Walkin' With Angels / Bonus Track : Time Is A-Wastin' (with Bob Boffoy)

10/2012
CD JUNGLE TCB-6767 (FIN)
CITY BY NIGHT - Sue MORENO & Chris CASELLO - How High The Moon / Broken Hearted Melody / Man Of Many Promises / I'm Lookin' Out The Window / City By Night / Polynesian Blues / I'm Confessin' (That I Love You) / My Love Has Gone / He's Evil / Mr. Sandman / Fever / Dream A Little Dream / I'll Never Be The Same
2020
CD HEAVENLY CDHR9249 (NL)

The Memphis Soul Sessions - My Angel Watches Over Me / I'm Here / How He Left Wasn't Right / Feel The Love / We Come Into This House / Help Me / Just To The Door / Devoted To You / In The Garden / Let's Rejoice
© Rocky Productions 17/11/2021