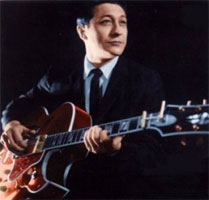 Guitariste Rockabilly US né Winfield Scott Moore III, le 27 Décembre 1931 à Gadsden (Tennessee), Scotty Moore a fait ses débuts en 1954 dans les Starlight Wranglers de Doug Poindexter. Deux mois plus tard, avec le contrebassiste Bill Black, ils deviennent les accompagnateurs d'Elvis Presley jusqu'en 1961. Il fut aussi son premier manager avant le Colonel Tom Parker. Scotty Moore a contribué d'une manière considérable à forger le "Sun Sound" d'Elvis à ses débuts. Il est décédé le 28 Juin 2016 à Nashville (Tennessee).

Scotty Moore is one of the great pioneers of rock guitar. As the guitarist on Elvis Presley's Sun Recordings, he may have done more than anyone else to establish the basic vocabulary of rockabilly guitar licks, as heard on classic singles like "That's All Right," "Good Rockin' Tonight," "Baby Let's Play House," and "Mystery Train." Moore took the stinging licks common to both country music and blues, and not only combined elements of country & western and R&B, but added a rich tone through heavier amplification. His concise, sharp phrasing, and knack for knowing both what to play and when not to overplay were perfect accents to Presley's Vocals. Although his Sun riffs may be his most famous, Moore in fact continued to play on Presley records until the late '60s and laid down some of his best accompaniments to the star on RCA discs. Unsurprisingly, the best of these were in Elvis' early RCA years in the 1950s, when Moore added more wattage and recklessness to his riffs to come out with classic solos on "Hound Dog," "Jailhouse Rock," and "Too Much," among others.
As extensive as Moore's resumé with Presley is and as well-known as his solos are, he actually contributed more to Presley's career than is often realized. He was crucial to Presley's early live shows and did much to help advance Elvis' career in business capacities. He also did quite a bit of production and recording work, for several decades, in which Presley was not involved. He also had a brief career as an instrumental solo artist, although the mid-'60s album released under his name, The Guitar That Changed the World, was not the ideal showcase for his skills.
After a lengthy stint in the Navy, Moore settled in Memphis in the early '50s, playing honky tonk music when not working at a dry cleaners. His band, Doug Poindexter & the Starlite Wranglers, recorded a routine country single for Sun Records in the spring of 1954. Although the record did nothing, and the band would soon break up, Moore gained a valuable musical partner in their bassist, Bill Black. When Sun Records, and its owner/producer, Sam Phillips, were mulling over trying a recording with young hopeful Elvis Presley, and in general looking for a new musical direction, Moore, Black, and Presley started to play together, groping for some common musical ground. Very shortly after Moore met and played with Presley for the first time, they were in Sun on July 5, 1954. This was the session that resulted in "That's All Right," the first great rockabilly record and possibly the first great rock & roll record made by white musicians. All three musicians made stellar contributions to the track by shedding their inhibitions, mixing country and blues, and going into new territory, Moore's soloing imbued with a masterful fluidity and crisp reverb.
In 1954 and 1955, Moore and Black were nearly equal partners with Presley; indeed, on Sun releases they were billed as Elvis Presley, Scotty, and Bill. What's more, Moore became Presley's first manager, in a July 1954 contract that identified Moore as the bandleader. The trio played together live and with increasing success on the Southern circuit, and inevitably, as Presley started to attract wide attention and come into his own as a frontman, more powerful interests edged Moore out of his business role in the band. First Bob Neal, and then Colonel Tom Parker, took over Presley's management. By the summer of 1955, Moore and Black became salaried employees of the act rather than the partners. Drummer D.J. Fontana was added to the band shortly afterwards, and the musicians continued to record, and play live with, Elvis when the singer began recording with RCA in 1956.
While additional musicians on RCA sessions would sometimes make Moore's role less prominent than it had been at Sun, Scotty still added a great deal to Elvis' earliest and best RCA discs. There was the chilling, fiercely echoing solo on "Heartbreak Hotel," the almost avant-garde mad runs up and down the scales on the solos of "Hound Dog" and "Too Much," the brief but blasting one on "Jailhouse Rock," and the bubbly one on "My Baby Left Me," which was as pure and sparkling as anything Moore had played at Sun. Still, Moore and Black became less close to Elvis both personally and professionally. Some biographers have speculated that Parker viewed anyone who had a close personal and artistic relationship with Elvis as a threat to his own power over the singer and that the manager tried to drive a wedge between Elvis and the other musicians, or even force Moore and Black out of the picture. For the soundtrack of Love Me Tender, Scotty and Bill were not allowed to record with Presley. (They did help on other soundtracks from the period, as well as appearing in some Presley movies.)
Frustrated with their limited salaried incomes as Presley became a superstar and earned more and more, Moore and Black gave Presley letters of resignation in September 1957. Although this was patched up after about a month, tension remained, and in any case Moore and Black were out of work again early in 1958, when Presley was drafted. Moore began working at Fernwood Records in production and got a big national hit with Thomas Wayne's "Tragedy" in 1959. When Elvis returned from the Army in 1960, Moore resumed playing sessions for him, although Black was not involved any longer, having started a successful solo career as the leader of the instrumental Bill Black Combo. There wasn't a lot of income from either Fernwood or Elvis, though, so Moore began working for Phillips as a production manager in 1960, continuing to work with Elvis occasionally.
In 1964, perhaps influenced by the success of former bandmate Black, Moore released an entire album of instrumentals for Epic in 1964, consisting of versions of songs recorded by Elvis in the 1950s, on which (with one exception) Scotty had played. Although Moore played well on the LP, it was rather pointless given the superiority of the Elvis versions and sold few copies. In March of 1964, Moore was fired by Phillips, and the guitarist moved to Nashville to work at Music City Records as an engineer, as well as doing some producing. His ongoing work with Presley as a session guitarist finally came to an end in the late '60s, although he did appear on-stage with Elvis on the singer's heralded 1968 television comeback special.
Moore continued to work as an engineer, occasionally crossing paths in this capacity with unexpected clients such as Ringo Starr, Tracy Nelson, Mother Earth, and the Holy Modal Rounders. He got back into playing guitar again, after a layoff of about 25 years, on recordings and live shows with Carl Perkins in the early '90s. In 1997, he did a tribute album to Elvis Presley with D.J. Fontana, All the King's Men, which included appearances by Keith Richards, Levon Helm, Jeff Beck, and Ronnie Wood. The presence of such heavyweights was a testament to the influence of Moore on other guitarists, not just rockabilly ones, but also rockers of a later generation, such as Richards. The Rolling Stones guitarist, indeed, is quite Vocals and enthusiastic in his praise of Moore, even saying that it was hearing "Heartbreak Hotel" that made him want to devote his life to playing guitar. Moore's life story, both with and without Elvis, is recounted in the autobiography That's Alright, Elvis, co-written with James Dickerson.
Scotty Moore died June 28, 2016 in Nashville (Tennessee).
https://en.wikipedia.org/wiki/Scotty_Moore
Talents : Guitar
Style musical : Rockabily, Rock 'n' Roll

https://youtu.be/BNdbiwkKVYU
Years in activity :
| | | | | | | | | | | |
| --- | --- | --- | --- | --- | --- | --- | --- | --- | --- | --- |
| 1910 | 20 | 30 | 40 | 50 | 60 | 70 | 80 | 90 | 2000 | 10 |
DISCOGRAPHY
78 t., Singles & EP
07/1954
78 t. SUN 209 (US)
.
ELVIS PRESEY - SCOTTY & BILL - That's All Right / Blue Moon Of Kentucky
07/1954
SP SUN 209 (US)
ELVIS PRESEY - SCOTTY & BILL - That's All Right / Blue Moon Of Kentucky
09/1954
78 t. SUN 210 (US)
.
ELVIS PRESEY - SCOTTY & BILL - Good Rockin' Tonight / I Don't Care If The Sun Don't Shine
09/1954
SP SUN 210 (US)
ELVIS PRESEY - SCOTTY & BILL - Good Rockin' Tonight / I Don't Care If The Sun Don't Shine
01/1955
78 t. SUN 215 (US)
.
ELVIS PRESEY - SCOTTY & BILL - Milkcow Blues Boogie / You're A Heartbreaker
01/1955
SP SUN 215 (US)
ELVIS PRESEY - SCOTTY & BILL - Milkcow Blues Boogie / You're A Heartbreaker
05/1955
78 t. SUN 217 (US)
.
ELVIS PRESEY - SCOTTY & BILL - Baby Let's Play House / I'm Left, You're Right, She's Gone
05/1955
SP SUN 217 (US)
ELVIS PRESEY - SCOTTY & BILL - Baby Let's Play House / I'm Left, You're Right, She's Gone
08/1955
78 t. SUN 223 (US)
.
ELVIS PRESEY - SCOTTY & BILL - Mystery Train / I Forgot To Remember To Forget
08/1955
SP SUN 223 (US)
ELVIS PRESEY - SCOTTY & BILL - Mystery Train / I Forgot To Remember To Forget
06/1958
SP FERNWOOD 45-107 (US)
Scotty MOORE TRIO - Have Guitar Will Travel (instr.) / Rest (instr.)
1958
SP Fernwood 45-108 (US)

Joe Lee & His Sextet with Scotty & Bill - Ethel Mae / Jo's Mix

1989
SP Sun SUN NP 01 (I)
That's All Right

Mama

(

Elvis, SCOTTY & BILL) / Down By The Riverside (MILLION DOLLAR QUARTET)
1994
CD Workshop Music ‎WMCD-1001 (NW)

The Norwegian Session - 40 Years After -

Kjell Jørung With

Scotty Moore &

D.J. Fontana -

That's All Right (Mama) / Blue Moon Of Kentucky / Mystery Train / Heartbreak Hotel / Don't Be Cruel
| | |
| --- | --- |
| | |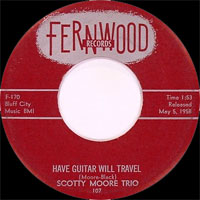 Albums
1964
LP 12" EPIC LN-24103 (mono) / BN-26103 (stereo) (US)
THE GUITAR THAT CHANGED THE WORLD - Hound Dog / Loving You / Money Honey / My Baby Left Me / That's All Right / Milk Cow Blues / Don't / Mystery Train / Don't Be Cruel / Love Me Tender / Mean Woman Blues
1973
LP 12" VERSAILLES VER 34150 (F)
Les Grands Succès D'Elvis Presley Par Son Guitariste Scotty Moore Et "The Jordanaires" - Hound Dog / Loving You / Money Honey / My Baby Left Me / Heartbreak Hotel / That's All Right / Milk Cow Blues / Don't / Mystery Train / Don't Be Cruel / Love Me Tender / Mean Woman Blues
1977
LP 12" Guinness GNS 36038 (US)

What's Left - Introduction / Love My Baby / Raunchy / Reconsider Baby / Scott Mo / Keep Your Hands Off My Baby / Match Box / Feelin' Good / Smokie Part II / Tiger Man

1980
LP 12" Rock & Country R&C 1004 (SWE)
ELVIS, SCOTTY & BILL - THE FIRST YEAR -

Scotty Moore Tells The Story :

First Meeting / Discovery Of Elvis by Sam

Phillips /

The First Recording Session / The Second Recording Session / Shows with the

Starlite Wranglers /

On Their Own / Stranded In Shreveport, Louisiana / Grand Ole Opry Appearance / Louisiana Hayride Appearance /

Live Broadcast from Cook's Hoedown Club in Houston, Texas In Early 1955 :

There's Good Rockin' Tonight / Baby, Let's Play House / Blue Moon Of Kentucky / I've Got A Woman / That's Alright Little Mama
198?
LP 12" HALW 00001 (US) (limited edition)
ELVIS, SCOTTY & BILL - THE FIRST YEAR -

Scotty Moore Tells The Story :

First Meeting / Discovery Of Elvis by Sam

Phillips /

The First Recording Session / The Second Recording Session / Shows with the

Starlite Wranglers /

On Their Own / Stranded In Shreveport, Louisiana / Grand Ole Opry Appearance / Louisiana Hayride Appearance /

Live Broadcast from Cook's Hoedown Club in Houston, Texas In Early 1955 :

There's Good Rockin' Tonight / Baby, Let's Play House / Blue Moon Of Kentucky / I've Got A Woman / That's Alright Little Mama
1983
LP 12" Golden Editions Limited ‎GEL 101 (US)
ELVIS, SCOTTY AND BILL - THE FIRST YEAR - Biff C

ollie

interview - There's Good Rockin' Tonight / Baby, Let's Play House / Blue Moon Of Kentucky / I've Got A Woman / That's Alright Little Mama / ELVIS interview / Scotty M

oore

Tells The Story Of The First Year
1984
LP 12" SUN 1007 (UK)
ELVIS, SCOTTY & BILL - THE FIRST YEAR -

Biff Collie Interview / Good Rockin' Tonight / Baby Let's Play House / Blue Moon Of Kentucky / I Got A Woman / That's Alright Mama / Elvis Interview / Scotty Moore Tells The Story Of The First Year

1985
LP 12" Topline TOP 106 (UK)

In The Beginning -

ELVIS, SCOTTY & BILL - Biff

Collie

interview / There's Good Rockin' Tonight / Baby Let's Play House / Blue Moon Of Kentucky / I Got A Woman / That's Alright Mama / Elvis interview / Tweedle Dee / Baby Let's Play House / Maybellene / That's Alright Mama / Blue Moon Of Kentucky / There's Good Rockin' Tonight / I Got A Woman
1992
CD Belle Meade BMCD-192 (US)

706 Reunion - A Sentimental Journey - CARL PERKINS & SCOTTY MOORE - Introduction / Night Train To Memphis / Raunchy / Dialog / Milk Cow Blues Boogie / 706 Reunion / Carl's Intro To Damn Sam / Damn Sam / Turn Around / Dialog / Windy And Warm / Dialog / Black-Eyed Suzy Broun / Dialog / EP Express / Dialog / The Worst Of Her / Carl Tells The Story Of Blue Suede Shoes / Blue Suede Shoes / More Blue Suede Shoes / Harbor Lights / Pickup Truck / Dialog / Match Box / Pickup Truck / Mystery Train / Bumper

1992
CD CHARLY CDCD 1020 (UK)

In The Beginning -

ELVIS, SCOTTY & BILL - Biff

Collie

interview / There's Good Rockin' Tonight / Baby Let's Play House / Blue Moon Of Kentucky / I Got A Woman / That's Alright Mama / Elvis interview / Tweedle Dee / Baby Let's Play House / Maybellene / That's Alright Mama / Blue Moon Of Kentucky / There's Good Rockin' Tonight / I Got A Woman
1993
CD Belle Meade BMCD-393 (US)

Moore Feel Good Music - FEATURING WILLIE RAINSFORD - TRACY NELSON WITH SPECIAL GUESTS CARL PERKINS, D.J. FONTANA & THE JORDANAIRES - Scot-Mo / Feelin' Good / That's Alright Mama / Reconsider Baby / Keep Your Hands Off Of Her / Careless Love / Love Me Like A Rock / Spaced Out / Love My Baby / Tiger Man / Will The Circle Be Unbroken / I'll Fly Away

1993
CD CHARLY QBCD3 (UK)

In The Beginning -

ELVIS, SCOTTY & BILL - Biff

Collie

interview / There's Good Rockin' Tonight / Baby Let's Play House / Blue Moon Of Kentucky / I Got A Woman / That's Alright Mama / Elvis interview / Tweedle Dee / Baby Let's Play House / Maybellene / That's Alright Mama / Blue Moon Of Kentucky / There's Good Rockin' Tonight / I Got A Woman
01/1997
CD Sweetfish SFR-0002-2 (US)

All The King's Men - Deuce And A Quarter (with Keith Richards / The Band) / I Told You So (with The Mavericks) / Locked Up In The State Of Illinois (with The Bodeans) / Going Back To Memphis (with Bill Black Combo) / I'm Gonna Strangle You Shortly (with Joe Ely / Lee Rocker) / Bad Little Girl (with Cheap Trick) / Soul-mates (with Ronnie McDowell / The Jordanaires) / Hot Enough For Ya (with Steve Earle / Lee Rocker) / Strange Love (with Joe Louis Walker) / Is All Of This For Me (with Tracy Nelson) / Unsung Heroes (with Ron wood /Jeff Beck)

06/1997
CD INTERSOUND 9276-2 (US)
ELVIS - A TRIBUTE TO THE KING - Ronnie McDOWELL, The JORDANAIRES, Scotty MOORE & D.J. FONTANA - Love Me Tender / Got A Lot O' Livin' To Do / Love Me / King Creole / Treat Me Nice / Crying In The Chapel / His Latest Flame / Don't / (You're The) Devil In Disguise / It Hurts Me / Lawdy Miss Clawdy / As Long As I Have You / I Was The One / My Baby Left Me / One Night With You / Heartbreak Hotel / Mean Woman Blues / (Now And Then There's A) Fool Such As I / One Broken Heart For Sale / Tupelo's Too Far
06/1997
CD O

utwest

9210-2 (US)
ELVIS

Raw - Early Live Recording - March 19, 1955

- Biff C

ollie

interview - There's Good Rockin' Tonight / Baby, Let's Play House / Blue Moon Of Kentucky / I've Got A Woman / That's Alright Little Mama / Interview with Scotty M

oore

2004
CD BMR-051 (US)

Scotty Moore & Friends - Then And Now - Matchbox / The Gambler / Smokie Part II / Raunchy / Over 50 Blues / Bresh Fire / Reconsider Baby / There's Always Me / No End To The Blues / You Don't Know Me / Southern Fried Pickin'

08/2005
CD Rayn RR-001 (UK)

Live at Sun - Paul Ansell's Number Nine, Scotty Moore - Big 10 Inch / Kansas City / Rockin' In Memphis / Jodie Lou / As Much As I Can Stand / Gone Gone Gone / Writing On The Wall / Drinking Brings Me Down / Setting Sun / Crying, Lying, Fussin' 'n' Fighting / I Could Have Told You [Sun outtake] / Well Well Well / Gone Gone Gone (Trio) / Lonely Blue Blue / Please Dance / Perhaps / Crazy Little Girl / Greenback Dollar / Video Clip : Boys In Memphis (Quicktime Movie)

2006
CD Delta Music ‎26429 (UK)
Elvis Presley, Scotty & BILL

-

Baby Let's Play House / Tomorrow Night / Blue Moon / I'm Left You're Right, She's Gone / You're A Heartbreaker / I Forgot To Remember To Forget / I Love You Because / Good Rockin' Tonight / Just Because / Blue Moon Of Kentucky / Harbour Lights / That's All Right Mama / Mystery Train / I Don't Care If The Sun Don't Shine / Milk Cow Blues Boogie / Trying To Get To You / Maybelline / Baby Lets Play House / Money Honey / That's All Right Mama / Good Rockin' Tonight / Blue Moon Of Kentucky / I Was The One / Tweedle Dee / I Got A Woman / Long Tall Sally / Interview Mace Born Auto Florida 1955 / Interview with Bob

Neal

Texarkana / Interview at Louisiana Hayride
09/2007
CD Belle Meade BMCD-2007-01 (US)

The Mighty Handful - Scotty Moore, Boots Randolph, Billy Swan - I've Got My Mojo Working / Dust My Broom / You Can't Judge A Book / Rock Me Baby / What Am I Living For? / My Babe / Hoochie Coochie Man / Since I Met You, Baby / Let The Good Times Roll / She Called Me Baby / I'm Ready / Holy Cow / I Put A Spell On You / I Got A Right To Sing The Blues / There's Always Me / Reconsider, Baby

2008
CD Belle Meade BMCD-2008-01 (US)

SCOTTY MOORE PRESENTS The Mighty Handful - TWO - Scotty Moore, Boots Randolph, Billy Swan - I'm A Hog For You, Baby / Strange Things Are Happening / Stormy Monday / House Of The Rising Sun / Hold On, I'm Coming / Born Under A Bad Sign / Chain Of Fools / Dark End Of The Street / Shame, Shame, Shame / Honest I Do / Baby, Please Don't Go / Drinking Wine Spodeeodee

02/2010
2 CD Primo 910 (CZ)

Essential Scotty Moore & Cliff Gallup :

CD 1 : SCOTTY MOORE : That's All Right / Good Rockin' Tonight / Baby Let's Play House / Mystery Train / Hound Dog / Jailhouse Rock / Too Much / My Baby Left Me / Blue Moon / I'm Left, You're Right, She's Gone / You're A Heartbreaker / I Forgot To Remember To Forget / I Love You Because / Just Because / Blue Moon Of Kentucky / I Don't Care If The Sun Don't Shine / Milk Cow Blues Boogie / Trying To Get To You
CD 2 : CLIFF GALLUP : Be-Bop-A-Lula / Race With The Devil / Bluejean Bop / Woman Love / Who Slapped John? / Jumps, Giggles And Shouts / Bop Street / I Flipped / Jump Back, Honey, Jump Back / Red Bluejeans And A Pony Tail / Crazy Legs / B-I-Bickey-Bi-Bo-Bo-Go / Lotta Lovin' / Dance To The Bop / You Told A Fib / Cat Man / Pink Thunderbird / You Better Believe
© Rocky Productions 4/07/2016