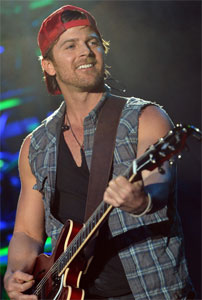 Chanteur Country US né Kip Christian Moore, le 2 Avril 1980 ŕ Tifton (Georgie).

Arriving at the peak of the so-called "bro country" phenomenon of the 2010s, Kip Moore's breakthrough hit "Somethin' 'Bout a Truck" was one of the classics of the genre: a big, shiny tune about good times, cold beer, cute girls, and reliable vehicles. Once it took off in 2012, a few more hits followed -- including the equally emblematic "Beer Money" and "Hey Pretty Girl" -- but the roads weren't always smooth; it took him three years and one scrapped record before he delivered Wild Ones in the summer of 2015.
Born and raised in Tifton, Georgia near the Florida-Georgia state line, Kip Moore was the son of a golfer and a painter. He spent most of his school years playing sports but his attention turned toward playing music while attending Hanceville, Alabama's Wallace State Community College. Moore transferred to Georgia's Valdosta State University on a golf scholarship but soon was lured away by music, finding his first gig at a local Mellow Mushroom and playing with a band. Once he graduated college, he decided to live in Hawaii for a spell before heading to Nashville in 2004. Earning a paycheck as a manager at Abercrombie & Fitch, Moore chipped away at music, starting to earn a reputation in songwriting circles, placing songs with Jake Owen and Thompson Square. In 2008, Creative Artist Agency's Marc Dennis brought Moore to the attention of Joe Fisher at Universal Group Nashville, who signed the songwriter to a deal and paired him with Brett James, who wound up producing Moore's 2012 debut, Up All Night.
First came the single "Mary Was the Marrying Kind," which went to 45 on the Billboard's Country chart, but the record that launched Kip's career was "Something' 'Bout a Truck," a single released in September 2011. Over the next few months, it climbed to number one on the Billboard Hot Country Songs chart -- it also reached 29 on the Hot 100 -- on its way to a double-platinum certification. In the wake of its success, Moore released Up All Night in April 2012 and its next two singles were also Top Ten country hits: "Beer Money" went to seven in the second half of 2012, while "Hey Pretty Girl" became a platinum hit in early 2013.
The first sign of Moore's second album arrived in October 2013, when he released "Young Love." This topped out at 26, which wound up better than his next single, "Dirt Road." Released in April 2014, "Dirt Road" "stiffed" according to Moore, so he and his label decided to scrap the planned second album and have the singer/songwriter compose a brand-new record. The first single, "I'm to Blame," reached 26 in the spring of 2015 and the full-length Wild Ones showed up in August 2015. Wild Ones debuted at four on the Billboard Top 200 but its singles didn't crack the country Top 20. An EP, Underground, arrived in the fall of 2016. The following year, he issued the full-length Slowheart, which featured the single "More Girls Like You."
"More Girls Like You" cracked Billboard's Country Airplay Top Ten in 2017, as did its sequel "Last Shot." Moore released the EP Room to Spare: The Acoustic Sessions in 2018. Late in 2019, he released "She's Mine," the first single from his fourth album, Wild World, which appeared in May 2020 and peaked at number five on the Country Albums chart. A deluxe version of Wild World arrived in 2021 featuring the single "How High."
https://en.wikipedia.org/wiki/Kip_Moore
Talents : Vocals, Guitar, Songwriter
Style musical : Contemporary Country, Country Rock, Roots Rock

http://youtu.be/PIjZIC1t490
Years in activity :
| | | | | | | | | | | | |
| --- | --- | --- | --- | --- | --- | --- | --- | --- | --- | --- | --- |
| 1910 | 20 | 30 | 40 | 50 | 60 | 70 | 80 | 90 | 2000 | 10 | 20 |
DISCOGRAPHY
Singles & EP
| | | | |
| --- | --- | --- | --- |
| 2013 | CD MCA ? (US) | . | Young Love (radio edit) |
| 2014 | CD MCA ? (US) | . | Dirt Road |
| 10/2016 | CD MCA B0025990-02 (US) | | Underground - All Time Low / My Kind / Midnight Slow Dance (live) / Separate Ways (live) / My Baby's Gone lLive) |
| 07/2021 | EP 12" MCA B0033357-01 (US) | | Live From Grimey's Nashville - Janie Blu / Sweet Virginia / Wild World / Fire And Flame |
Albums
04/2012
CD LOST HIGHWAY B 001643202 (US)
UP ALL NIGHT - Drive Me Crazy / Beer Money / Somethin' 'Bout A Truck / Everything But You / Crazy One More Time / Where You Are Tonight / Hey Pretty Girl / Reckless (Still Growin' Up) / Up All Night / Fly Again / Faith When I Fall
04/2012
CD MCA B0016811-02 (US) (deluxe edition)
UP ALL NIGHT - Drive Me Crazy / Beer Money / Somethin' 'Bout A Truck / Everything But You / Crazy One More Time / Where You Are Tonight / Hey Pretty Girl / Reckless (Still Growin' Up) / Up All Night / Fly Again / Faith When I Fall / BONUS TRACKS :

Mary Was The Marrying Kind / Motorcycle

08/2015
CD MCA B 001994102 (US)

Wild Ones -

Wild Ones / Come And Get It / Girl Of The Summer / Magic / That Was Us / Lipstick / What Ya Got On Tonight / Heart's Desire / Complicated / I'm To Blame / That's Alright With Me / Running For You / Comeback Kid
09/2017
CD MCA 002713202 (US)

Slowheart - Plead The Fifth / Just Another Girl / I've Been Around / Fast Women / Bittersweet Company / Sunburn / More Girls Like You / The Bull / Blonde / Good Thing / Last Shot / Try Again / Guitar Man

06/2020
2 CD MCA 0890008 (US)

Wild World :

CD 1 : Janie Blu / Southpaw / Fire And Flame / Wild World / Red White Blue Jean American Dream / She's Mine / Hey Old Lover
CD 2 : Grow On You / More Than Enough / Sweet Virginia / South / Crazy For You Tonight / Payin' Hard

04/2023
CD MCA B003611102 (US)

Damn Love - Damn Love / Kinda Bar / Neon Blue / The Guitar Slinger / Heart On Fire / Another Night In Knoxville / Silver And Gold / Peace & Love / Sometimes She Stays / Some Things / One Heartbeat / Mr. Simple / Micky's Bar
© Rocky Productions 29/04/2023