| | |
| --- | --- |
| | |
| | |

Artiste Bluegrass, producteur et propriétaire de label des années 1950-1990S, actif à Columbus, Ohio. Décédé en 1999.
Prpriétaire de Early Bird Records, il a également exploité les studios d'enregistrement de Rome et ses labels associés Starr Records, Rome Records et Gloryland Records.

1950s-1990s Bluegrass artist, producer, and label owner, active in Columbus, Ohio. Died in 1999.
Owned Early Bird Records and also operated Rome Recording Studios and its associated labels Starr Records, Rome Records, and Gloryland Records.
Talents : Vocals, Guitar, Banjo, Producer
Style musical : Bluegrass, Traditional Country, Rockabilly
Years in activity :
| | | | | | | | | | | | |
| --- | --- | --- | --- | --- | --- | --- | --- | --- | --- | --- | --- |
| 1910 | 20 | 30 | 40 | 50 | 60 | 70 | 80 | 90 | 2000 | 10 | 20 |
DISCOGRAPHY
Singles & EP
1958
SP STARR 45-601 (US)
Mike MILLER & Jack CASEY & The STAR MOUNTAIN BOYS - I Like To Spend A Lifetime Loving You / Lonely Today
1958
SP STARR 45-602 (US)
Mike MILLER & Jack CASEY & The STAR MOUNTAIN BOYS - Star Mountain Twist / I Had But Fifty Cents
04/1958
SP STARR 45-603 (US)
Mike MILLER & Jack CASEY & The STAR MOUNTAIN BOYS - I Need You Sweetheart / Don't Mess Up My Hair
05/1958
SP CAMEO C-137 (US)
Mike MILLER & Jack CASEY & The STAR MOUNTAIN BOYS - I Need You Sweetheart / Don't Mess Up My Hair
1959
SP EARLY BIRD 45-602 (US)
Mike MILLER - Jack CASEY & STAR MOUNTAIN BOYS - I'd Like To Spend A Lifetime Lovin' You / You're Not Worth A Dime
1961
EP STARDAY SEP 167 (US)

M

ike

Miller & J

ack

Casey & T

he

Stone Mt. Boys -

The Banjo And The Butterfly / Yesterday Was Only A Dream / You've Broken Her Heart / A Memory Of You
03/1962
SP NASHVILLE NV-5051 (US)
Mike MILLER & Jack CASEY & The STAR MOUNTAIN BOYS

-

Love Me / Outer Space Blues
04/1963
SP NUGGET NR 204 (US)
Mike MILLER & Jack CASEY & The STAR MOUNTAIN BOYS

-

How Can I Tell My Heart / Blue Grass Country
12/1964
SP CLARK CR-224 (US)
Jack CASEY - Going Back To Old Birmingham / Big Black Train
1968
SP RURAL RHYTHM RRJC-717 (US)
Jack CASEY - Ruby / Dream Of The Miner's Child
1968
SP TAG TG-003 (US)
Jack CASEY - Willie's Ride / (Right Before My Eyes) You Walked Away
12/1972
SP ROME R-1118 (US)
Jack CASEY - How Can I Tell My Heart / Blue Grass Country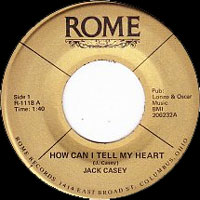 Album
| | | | |
| --- | --- | --- | --- |
| 07/1968 | LP 12" RURAL RHYTHM RRJC 206 (US) | | Rural Rhythm presents Jack Casey - I wonder where you are tonight / Long black veil / Mountain dew / I only want a buddy / I know what it means to be lonely / Girl in the blue velvet band / Ruby / Renfro Valley / Jessie James / Hearts highway / Six white horses / Varsity drag / Sophroni / In the pines / Green back dollar / Little white washed chimminy / New River train / May I sleep in your barn / Walking cane / Dream of the miner's child / Danny boy |
© Rocky Productions 1/02/2023