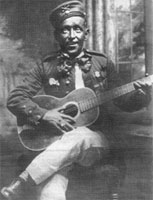 Chanteur Country US né le 2 Février 1900 à Macon (Géorgie). Emmet Miller, musicien de yodel reste l'un des hommes les plus enigmatiques et les plus fondalement important de la Country Music. Il fut le premier artiste à avoir enregistré des disques dans le style yodelé bluesy. Il fut aussi le premier chanteur country à enregistrer en s'accompagnant de cors et de percussions.
Il enregistra son premier disque Anytime le 25 Octobre 1924, pour Okeh Records à New-York. La seconde session d'enregistrement eu lieu le 7 Novembre 1924 pour enregistrer The Pickninnies paradise. La troisième session se deroula le 1er Septembre 1925 à Asheville en Caroline du Nord, et permit de sortir deux disques : Big Bad Bill couplé avec Lovesick Blues et You're Just The Girl for me avec I Never Had the Blues.
Emmett Miller est décédé le 29 Mars 1962 à Macon (Georgie).

Although his Vocals delivery was influential on several major country singers, Emmett Miller was basically a vaudeville singer, with far stronger aural links to Al Jolson than Merle Haggard. A white man performing in blackface, Miller was an exponent of the minstrel school of performance, touring widely with minstrel shows for several decades. The most influential aspect of his recordings were his yodeling trill, and there can be no doubt that it heavily influenced country singers such as Jimmie Rodgers, Lefty Frizzell, and Hank Williams (who learned "Lovesick Blues" from a Miller record). Bob Wills asked his early lead singer to copy Miller's style, and a bit of Miller's easygoing ragtime sensibility can be heard in Leon Redbone.
But Miller, to quote Donald Sutherland's description of John Milton in Animal House, does not speak well to our generation. That's not just because the vaudeville arrangements of his 1920s recordings will strike most modern-day listeners as quaint. It's also because the blackface minstrel tradition -- which was just part of the scene in Miller's heyday -- strikes as somewhat distasteful in the post-segregation era in its perpetuation of some disagreeable black stereotypes.
Miller began recording for OKeh in the mid-'20s and made his most important singles for the label at the end of the decade with accompaniment by the Georgia Crackers, which included both Tommy and Jimmy Dorsey. The minstrel tradition faded drastically in popularity after 1930, although Miller did record for Bluebird in 1936 and continued to perform in minstrel shows to dwindling crowds through the early '50s.
https://en.wikipedia.org/wiki/Emmett_Miller
Talents : Vocals, Guitar
Style musical : Old-Timey, Minstrel
Years in activity :
| | | | | | | | | | | | |
| --- | --- | --- | --- | --- | --- | --- | --- | --- | --- | --- | --- |
| 1910 | 20 | 30 | 40 | 50 | 60 | 70 | 80 | 90 | 2000 | 10 | 20 |
DISCOGRAPHY
78 t.
| | | |
| --- | --- | --- |
| 1924 | 78 t. OKEH 40239 (US) | The Pickaninnies Paradise / Anytime |
| 1925 | 78 t. OKEH 40465 (US) | Big Bad Bill / Lovesick Blues |
| 1926 | 78 t. OKEH 40545 (US) | I Never Had The Blues (Until I Left Old Dixieland) / You're Just The Girl For Me |
| 02/1928 | 78 t. OKEH 40976 (US) | Brother Bill / Thousand Frogs On A Log |
| 1928 | 78 t. OKEH 41005 (US) | Emmett MILLER & GEORGIA CRACKERS - Hungry Sam / Sam And His Family |
| 1928 | 78 t. OKEH 41062 (US) | Emmett MILLER & GEORGIA CRACKERS - I Ain't Got Nobody (And Nobody Cares For Me) / Lovesick Blues |
| 1928 | 78 t. OKEH 41095 (US) | Emmett MILLER & GEORGIA CRACKERS - Anytime / St. Louis Blues |
| 1928 | 78 t. OKEH 41135 (US) | Emmett MILLER & GEORGIA CRACKERS - Dusky Stevedore / Take Your Tomorrow (And Give Me Yesterday) |
| 1929 | 78 t. OKEH 41182 (US) | Emmett MILLER & GEORGIA CRACKERS - She's Funny That Way / You're The Cream In My Coffee |
| 1929 | 78 t. OKEH 41205 (US) | Emmett MILLER & GEORGIA CRACKERS - The Lion Tamers / You Lose |
| 1929 | 78 t. OKEH 41280 (US) | Emmett MILLER & GEORGIA CRACKERS - I Ain't Gonna Give Nobody None Of This Jelly Roll / Right Or Wrong |
| 1929 | 78 t. OKEH 41305 (US) | Emmett MILLER & GEORGIA CRACKERS - Big Bad Bill Is Sweet William Now / Loving Sam (The Shiek Of Alabam) |
| 1929 | 78 t. OKEH 41342 (US) | Emmett MILLER & GEORGIA CRACKERS - Sweet Mama, Papa's Getting Mad / The Ghost Of The St Louis Blues |
| 1929 | 78 t. OKEH 45380 (US) | MILLER-NARMOUR-SMITH-CARSON - The Okeh Medicine Show #2 / The Okeh Medicine Show #1 |
| 1929 | 78 t. OKEH 45391 (US) | MILLER-NARMOUR-SMITH-CARSON - The Okeh Medicine Show #4 / The Okeh Medicine Show #3 |
| 1929 | 78 t. OKEH 45413 (US) | MILLER-NARMOUR-SMITH-CARSON - The Okeh Medicine Show #6 / The Okeh Medicine Show #5 |
| 1929 | 78 t. PARLOPHONE 34013 (US) | Emmett MILLER & GEORGIA CRACKERS - Sweet Mamma / ? |
| 1930 | 78 t. OKEH 45546 (US) | Sam's New Job (MILLER-NARMOUR-SMITH-CARSON) / Sam's New Job Part.2 (Emmett MILLER - Pick MALONEY) |
| 1930 | 78 t. OKEH 41377 (US) | Emmett MILLER & GEORGIA CRACKERS - The Blues Singer (From Alabam') / The Pickaninnies Paradise |
| 1930 | 78 t. OKEH 41438 (US) | Emmett MILLER & GEORGIA CRACKERS - God's River Blues / That's The Good Old Sunny South |
| 1930 | 78 t. OKEH 41462 (US) | Emmett MILLER & GEORGIA CRACKERS - Sam And Bill At The Graveyard / The Licker Taster |
| 09/1936 | 78 t. BLUEBIRD B-6550 (US) | Emmett MILLER & GEORGIA CRACKERS - I Ain't Got Nobody / Right Or Wrong |
| 1936 | 78 t. BLUEBIRD B-6577 (US) | Emmett MILLER & GEORGIA CRACKERS - Anytime / The Gypsy |
| | |
| --- | --- |
| | |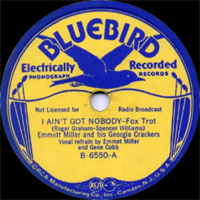 Albums
02/1996
CD COLUMBIA / LEGACY 66999 (US)
THE MINSTREL MAN FROM GEORGIA - God's River / I Ain't Got Nobody / Lovesick Blues / The Lion Tamers / Anytime / St. Louis Blues / Take Your Tomorrow / Dusky Stevedore / I Ain't Gonna Give Nobody None O' This Jelly Roll / (I Got A Woman, Crazy For Me) She's Funny That Way / You Lose / Right Or Wrong / That's The Good Old Sunny South / You're The Cream In My Coffee / Lovin' Sam (The Sheik Of Alabam') / Big Bad Bill (Is Sweet William Now) / The Ghost Of The St. Louis Blues / Sweet Mama (Papa's Getting Mad) / The Pickaninnies' Paradise / The Blues Singer (From Alabam')
1996
CD SONY ? (US)
THE MINSTREL MAN FROM GEORGIA - God's River / I Ain't Got Nobody / Lovesick Blues / The Lion Tamers / Anytime / St. Louis Blues / Take Your Tomorrow / Dusky Stevedore / I Ain't Gonna Give Nobody None O' This Jelly Roll / (I Got A Woman, Crazy For Me) She's Funny That Way / You Lose / Right Or Wrong / That's The Good Old Sunny South / You're The Cream In My Coffee / Lovin' Sam (The Sheik Of Alabam') / Big Bad Bill (Is Sweet William Now) / The Ghost Of The St. Louis Blues / Sweet Mama (Papa's Getting Mad) / The Pickaninnies' Paradise / The Blues Singer (From Alabam')
1999
CD Retrieval ‎RTR 79020 (NL)

Blue Yodelers - With Red Hot Accompanists, 1928-1936 - Jimmie Rodgers, Emmett MILLER, Roy Evans - Jimmie Rodgers : My Carolina Sunshine Girl / Blue Yodel, No. 4 / Waiting For A Train / My Blue-Eyed Jane / Jimmie's Mean Mama Blues / Blue Yodel, No. 9 / My Good Gal's Gone Blues [take 1] / My Good Gal's Gone Blues [take 3] / Roy EVANS : How Long Is That Train Been Gone? / Georgia's Always On My Mind / Syncopated Yodelin' Man / Jazbo Dan And His Yodelin' Band / St. Louis Blues - Weary Yodelin' Blues / I Lost My Gal From Memphis / I'm Tickled Pink With A Blue-Eyed Baby / It's An Old Spanish Custom In The Moonlight / Roll On, Mississippi, Roll On / Emmett MILLER : I Ain't Got Nobody / The Gypsy / Anytime / Right Or Wrong

2000
LP 12" THE OLD MASTERS TOM-1 (US)
EMMETT MILLER WITH HIS GEORGIA CRACKERS - God's River / I Ain't Got Nobody / Lovesick Blues / Anytime / St. Louis Blues / Take Your Tomorrow / Dusky Stevedor / She's Funny That Way / You're The Cream In My Coffee / Lovin' Sam / Big Bad Bill / The Pickaninnie's Paradise / The Blues Singer From Alabam / That's The Good Old Sunny South
2002
2 CD Jack Norton-30/30 Industries ‎? (US)

Lost World - The Emmett Miller Saga :

CD 1 : Anytime / The Pickaninnies' Paradise / You're Just The Girl For Me / Big Bad Bill Is Sweet William Now / Lovesick Blues / I Never Had The Blues (Until I Left Old Dixieland) / Thousand Frogs On A Log (Emmett M

iller

assisted by Roy C

owan

) / Brother Bill (Emmett M

iller

assisted by Roy C

owan

) / Sam And His Family (Emmett M

iller

assisted By Roy C

owan

with E. P

ayson

R

e

& His

University Five

) / Hungry Sam (Emmett M

iller

assisted By Roy C

owan

with E. P

ayson

R

e

& His

University Five

) / God's River Blues (Emmett MILLER & His

Georgia Crackers

) / I Ain't Got Nobody ((Emmett MILLER & His

Georgia Crackers

) / Lovesick Blues (Emmett MILLER & His

Georgia Crackers

) / The Lion Tamers (Emmett MILLER & His

Georgia Crackers

) / Anytime / St. Louis Blues / Take Your Tomorrow (Emmett MILLER & His

Georgia Crackers

) / Dusky Stevedore (Emmett MILLER & His

Georgia Crackers

) / I Ain't Gonna Give Nobody None O' This Jelly Roll (Emmett MILLER & His

Georgia Crackers

) / She's Funny That Way (Emmett MILLER & His

Georgia Crackers

) / You Lose (Emmett MILLER assisted by Charles

Chiles

) / Right Or Wrong (Emmett MILLER & His

Georgia Crackers

)
CD 2 : That's The Good Old Sunny South (Emmett MILLER & His

Georgia Crackers

) / You're The Cream In My Coffee (Emmett MILLER & His

Georgia Crackers

) / Lovin' Sam (The Sheik Of Alabam') (Emmett MILLER & His

Georgia Crackers

) / Big Bad Bill Is Sweet William Now (Emmett MILLER & His

Georgia Crackers

) / The Ghost Of The St. Louis Blues (Emmett MILLER & His

Georgia Crackers

And Phil P

avey

) / Sweet Mama (Papa's Getting Mad) (Emmett MILLER & His

Georgia Crackers

) / The Pickaninnies' Paradise (Emmett MILLER & His

Georgia Crackers

) / The Blues Singer (From Alabam') (Emmett MILLER & His

Georgia Crackers

) / The Okeh Medicine Show, Act 1 (Emmett M

iller

-

Narmour & Smith

, Fiddlin' John

Carson

, Moonshine K

ate

, Bud

Blue

, Frank

Hutchison

, Carson

Robison

& Frank L

uther

, Martin

Malloy

) / The Okeh Medicine Show, Act 2 (Emmett Miller -

Narmour & Smith

, Fiddlin' John

Carson

, Moonshine K

ate

, Bud

Blue

, Frank

Hutchison

,

Black Brothers

, Martin

Malloy

) / The Okeh Medicine Show, Act 3 (Emmett Miller -

Narmour & Smith

, Fiddlin' John

Carson

, Moonshine K

ate

, Bud

Blue

, Frank

Hutchison

,

Black Brothers

, Martin

Malloy

) / The Okeh Medicine Show, Act 4 (Emmett Miller -

Narmour & Smith

, Fiddlin' John

Carson

, Moonshine K

ate

, Bud

Blue

, Frank

Hutchison

,

Black Brothers

, Martin

Malloy

) / The Okeh Medicine Show, Act 5 (Emmett Miller -

Narmour & Smith

, Fiddlin' John

Carson

, Moonshine K

ate

, Bud

Blue

, Frank

Hutchison

,

Black Brothers

, Martin

Malloy

) / The Okeh Medicine Show, Act 6 (Emmett Miller -

Narmour & Smith

, Fiddlin' John

Carson

, Moonshine K

ate

, Bud

Blue

, Frank

Hutchison

,

Black Brothers

, Martin

Malloy

) / Sam And Bill At The Graveyard (Emmett

Miller

assisted by Pick

Maloney

) / The Licker Taster (Emmett

Miller

assisted by Pick

Maloney

) / Sam's New Job, Part 1 (Emmett

Miller

assisted by Pick

Maloney

) / Sam's New Job, Part 2 (Emmett

Miller

assisted by Pick

Maloney

) / I Ain't Got Nobody 4 (Emmett

Miller

assisted by Gene C

obb

) / The Gypsy (Emmett

Miller

assisted by Gene C

obb

) / Anytime (Emmett

Miller

assisted by Gene C

obb

) / Right Or Wrong
© Rocky Productions 7/02/2016