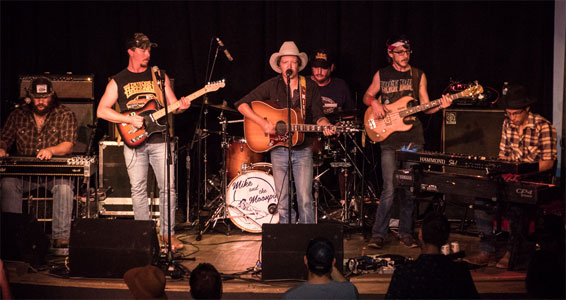 Groupe Country US de Austin (Texas) formé en 2007 et composé de Mike Harmeier, Kyle Ponder, Caitlin Rutherford, Preston Rhone, Omar Oyoque, Zachary Moulton et John Carbone, puis Preston Rhone.

On-stage and on record, Austin's Mike and the Moonpies keep the torch of Texas country burning. Whether it's a hardcore two-step, freewheeling Western swing, Doug Sahm's Cosmic American Music, or George Strait's sweet, burnished ballads, Mike and the Moonpies tap into the traditions of the Lone Star State, yet their music feels nimble and fresh thanks to their deft interplay and sly touch.
A nascent version of Mike and the Moonpies premiered in 2008, with guitarist Catlin Rutherford leading a variety of musicians through a Monday night residency at the Hole in the Wall, a dive on the University of Texas drag. Toward 2010, the band solidified around Rutherford, vocalist Mike Harmeier, steel guitarist Zach Moulton, drummer Kyle Ponder, and bassist Preston Rhone, with this lineup releasing the independent The Real Country that year. Pianist John Carbone joined in 2011 and the band claimed the East Side venue the White Horse as its new Austin haunt. The following year found the band releasing its second album, The Hard Way.
After the release of The Hard Way, Mike and the Moonpiescontinued to tour regularly, expanding to the rest of Texas. The group's third album, 2015's Mockingbird, began to earn the group attention outside of Texas. After delivering a double live album called Live at WinStar World Casino & Resort in 2016, the group returned in early 2018 with its fourth studio album, Steak Night at the Prairie Rose.
It was formed by singer-songwriter Mike Harmeier in 2007. Its members are Harmeier and drummer Kyle Ponder, guitarist Caitlin Rutherford, bassist Omar Oyoque, and steel guitarist Zachary Moulton.
Talents : Mike Harmeier : Singer, Guitar, Songwriter - Kyle Ponder : Drums - Caitlin Rutherford : Guitar - Omar Oyoque : Bass - Zachary Moulton : Steel Guitar puis Preston Rhone : Bass et John Carbone : Piano.
Style musical : Traditional Country, Contemporary Country

https://youtu.be/hZz98uKPAm4
Years in activity :
| | | | | | | | | | | |
| --- | --- | --- | --- | --- | --- | --- | --- | --- | --- | --- |
| 1910 | 20 | 30 | 40 | 50 | 60 | 70 | 80 | 90 | 2000 | 10 |
DISCOGRAPHY
Albums
| | | | |
| --- | --- | --- | --- |
| 06/2019 | SP Hole In The Wall HITW1901 (US) | | The Way (MIKE & The MOONPIES) / The Future's So Bright I Gotta Wear Shades (PR NEWMAN) |
Albums
2010
CD Mike and the Moonpies ? (US)

The Real Country - Barrio / El Camino / Water On The Rocks / Darlin' You're Crazy / Fish In A Barrel / Hats, Women, Guns, Guitars / Matrimony / Honky Tonk Hotel / Bottled Beer / The Real Country

10/2012
CD Sound Central Music 79976 (US)

The Hard Way - Damn Strait / Sunday / The Hard Way / Awful Lonely / Hot Moonpie #1 / Puttin' It Down / Stop Falling In Love / Me And Hayes / Runnin' Me Down / Things Can Only Get Better

09/2014
LP 12' Daytrotter ‎DTP30 (US)

| | |
| --- | --- |
| | No. 30 - Daytrotter Presents George STRAIT & MIKE & The MOONPIES - George STRAIT : Why Baby Why / I Can't See Texas From Here / Blame It On Mexico / If You're Thinking You Want A Stranger (There's One Coming Home) / MIKE & The MOONPIES - Damn Strait / Puttin' It Down / Darlin' You're Crazy / Never Leaving Texas |

10/2015
CD Smith Music Group SED 7216 (US)

Mockingbird - Smoke 'em If You Got 'em / Say It Simply / I Don't Love You / Mockingbird / Never Leaving Texas / South First Blvd / One Is The Whiskey / Delilah / Song In Here / Miserable Man

12/2016
2 CD Smith Music Group SED 7275 (US)

Live at WinStar World Casino And Resort :

CD 1 : Mockinbird / South First Blvd / Puttin It Down / Let Me Come Back Home / Never Leaving Texas / Say It Simply / Tape Machine / Hell In Jubilee / Me And Hayes / Stop Falling In Love / Glory / Damn Strait / Sunday
CD 2 : Amos Moses / Smoke 'em If You Got 'em / Honky Tonk Hotel / El Camino / Bottled Beer / Pick Up The Tempo / Delilah / The Hard Way / Don't It Make You Wanna Dance / The Real Country

02/2018
CD Mike and the Moonpies 662582733921 (US)

Steak Night At The Prairie Rose - Road Crew / Might Be Wrong / Steak Night At The Prairie Rose / Gettin' High At Home / The Last Time / Beaches Of Biloxi / Things Ain't Like They Used To Be / The Worst Thing / Wedding Band / We're Gone

08/2019
LP 12" PRAIRIE ROSE ? (US)

Cheap Silver And Solid Country Gold - Cheap Silver / You Look Good In Neon / Danger / Young In Love / Miss Fortune / If You Want A Fool Around / Fast As Lightning / London Homesick Blues
© Rocky Productions 28/12/2019