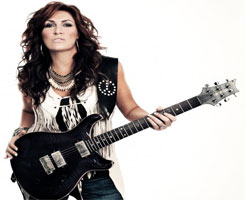 Chanteuse Country US née le 25 Août 1970 à Framingham (Massachusetts).

Part of country music's late-'90s crop of female crossover stars, Jo Dee Messina's appeal nonetheless remained more with country fans than pop audiences. Messina was born August 25, 1970, in Framingham, MA, and grew up in nearby Holliston. She sang in musical plays starting at age eight but discovered country music at age 12 and got hooked on the likes of the Judds, Reba McEntire, and Dolly Parton. She soon started performing live, and by 16 she was playing local clubs with a rhythm section made up of her brother and sister. At age 19, she moved to Nashville in search of greater exposure and sang regularly for prize money in local talent competitions. One win led to a regular gig on the radio show Live at Libby's, which in turn caught the interest of producer Byron Gallimore, who helped her assemble a demo tape. Gallimore was also working with the young Tim McGraw around the same time, and Messina befriended him. Backstage at one of his concerts, Messina met an executive from his label, Curb, and jokingly suggested that they needed a redhead. Producer James Stroud, who had just heard Messina's demo, stepped up to vouch for her, and she soon wound up on Curb, with Gallimore and McGraw serving as her producers.
Messina's self-titled debut album was released in 1996 and gave her two Top Ten hits in "Heads Carolina, Tails California" (number two) and "You're Not in Kansas Anymore." The album sold well, setting the stage for Messina's star-making sophomore effort, I'm Alright. Released in 1998, it made Messina the first female country artist to score three multiple-week number one hits from the same album: "Bye Bye," "I'm Alright," and "Stand Beside Her." She nearly had a fourth, but "Lesson in Leavin'" stalled at number two. Honored by both the CMA and ACM in 1999, Messina staked out even pop-friendlier territory on her third album, 2000's Burn. It became her first number one album, and the lead single, "That's the Way," her fourth number one single. Two more Top Tens followed in "Burn" and "Downtime," and a fourth single, the Tim McGraw duo "Bring on the Rain," also topped the charts, helping Burn sell over a million copies. Messina followed it with the holiday album A Joyful Noise in late 2002, and just months later, with only three albums to her credit, Curb released a Greatest Hits compilation. Finally, in 2005, she released her official follow-up to Burn, Delicious Surprise. Messina had already begun work on her next project, an album to be called Unmistakable, when Delicious Surprise was released, and although a couple of singles hit the radio, Unmistakable itself did not appear until 2010. Messina's long-running contract with Curb Records ended in 2012, and her next album, Me, which appeared early in 2014 on her own Dreambound Records imprint, was funded through a Kickstarter campaign.
https://en.wikipedia.org/wiki/Jo_Dee_Messina
Talents : Vocals
Style musical : Contemporary Country, Traditional Country

http://www.youtube.com/watch?v=pnnqQm87KZg
Years in activity :
| | | | | | | | | | | | |
| --- | --- | --- | --- | --- | --- | --- | --- | --- | --- | --- | --- |
| 1910 | 20 | 30 | 40 | 50 | 60 | 70 | 80 | 90 | 2000 | 10 | 20 |
DISCOGRAPHY
Singles
02/1996
SP CURB D7-76982 (US)
.
Heads Carolina, Tails California / Walk To The Light
02/1996
CD CURB D2-76982 (US)
Heads Carolina, Tails California / Walk To The Light
02/1998
SP CURB D7-73034 (US)
.

Bye Bye

/ I'm Alright
0281998
CD CURB D2-73034 (US)

Bye Bye

/ I'm Alright
1998
CD CURB CUBC 31 (UK)

Bye! Bye!

1998
CD CURB CUBC 37 (UK)

I'm Alright / Heads Carolina, Tails California

06/2000
SP CURB D7-73106 (US)
.
That's The Way / Even God Must Get The Blues
2000
CD CURB CUBC56 (UK)

That's The Way / Stand Beside Me

2000
CD CURB CUBC62 (UK)

Burn / If Not You

2005
CD CURB CUB114 (UK)

Not Going Down / You Were Just There

2007
CD CURB CURBD-2041 (US)

Biker Chick / Biker Chick (Suggested Call Out Hook)
Albums
03/1996
CD CURB D2-77820 (US)
JO DEE MESSINA - You're Not In Kansas Anymore / On A Wing And A Prayer / He'd Never Seen Julie Cry / Do You Wanna Make Something Of It / Let It Go / Heads Carolina Tails California / Walk To The Light / I Didn't Have To Leave You / Every Little Girl's Dream / Another Shoulder At The Wheel
03/1998
CD CURB D2-77904 (US)
I'M ALRIGHT - I'm Alright / Stand Beside Me / Even God Must Get The Blues / No Time For Tears / Lesson In Leavin' / Bye Bye / Silver Thunderbird / I Know A Heartache / Because You Love Me / Cover Me
08/2000
CD CURB D2-77977 (US)
BURN - Downtime / That's The Way / Dare To Dream / Burn / If Not You / Closer / These Are The Days / Saturday Night / Angelene / Nothing I Can Do / Bring On The Rain
10/2002
CD WEA D2-78755 (US)
JOYFUL NOISE - Winter Wonderland / I'll Be Home For Christmas / Let It Snow Let It Snow Let It Snow / Christmas Song / Silver Bells / Sleigh Ride / Have Yourself A Merry Little Christmas / What Child Is This / O Holy Night / Silent Night / Joyful Noise / Keep The Faith
05/2003
CD CURB D2-78790 (US)
GREATEST HITS - Was That My Life / I'm Alright / Heads Carolina Tails California / Bye Bye / Stand Beside Me / Bring On The Rain / Lesson In Leavin' / That's The Way / Burn / Downtime / Because You Love Me / You're Not In Kansas Anymore / Wishing Well / You Belong In The Sun / I Wish / Bring On The Rain
04/2005
CD CURB D2-78770 (US)
DELICIOUS SURPRISE - Not Going Down / Someone Else's Life / Delicious Surprise (I Believe It) / It Gets Better / Who's Crying Now / My Give A Damn's Busted / It's Too Late To Worry / Life Is Good / Love Is Not Enough / Where Were You / I Wear My Life / You Were Just Here
02/2007
CD BIG BAND CONCERT BBCD-77402 (US)
LIVE IN CONCERT - I Know A Heartache / On A Wing And A Prayer / You're Not In Kansas Anymore / Silver Thunderbird / No Time For Tears / I'm Alright / Stand Beside Me / Get On Your Feet / Bye Bye
06/2008
CD CURB D2-79072 (US)
I'M ALRIGHT - I'm Alright / Stand Beside Me / Even God Must Get The Blues / No Time For Tears / Lesson In Leavin' / Bye Bye / Silver Thunderbird / I Know A Heartache / Because You Love Me / Cover Me / You're Not In Kansas Anymore / On A Wing And A Prayer / He's Never Seen Julie Cry / Do You Wanna Make Something Of It / Let It Go / Heads Carolina, Tails California / Walk To The Light / I Didn't Have To Leave You / Every Little Girl's Dream / Another Shoulder At The Wheel
04/2010
CD CURB D2-79181 (US)

UNMISTAKABLE - TRILOGY : LOVE -

Hard Life / Always Have, Always Will / Unmistakable / Welcome To The Rest Of My Life / Treat Me Like A Woman Today / I Think About Us / I'm Home / Because You Love Me

[live]

/ Stand Beside Me

[live]

03/2014
CD eOne EOM-CD-9390
ME - Not Dead Yet / Strong Shot Of You / Love On A Maybe / Breakin' It Down / Peace Sign / Me / Like A Kid Again / A Woman's Rant / Take It / I'm Free / He's Messed Up / Say Goodbye To Superman
© Rocky Productions 20/01/2016