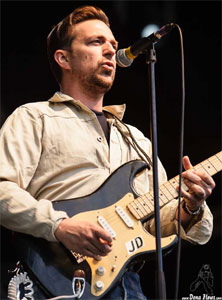 Chanteur Rock 'n' Roll US né le 14 Avril 1977 à Buffalo Valley (Oklahoma).

Known for his highly resonant voice and vintage-inspired sound that nods to '40s R&B and '50s rock & roll, JD McPherson has cut a distinctive path on the roots and Americana scenes. McPherson initially broke through with his propulsive 2010 single "North Side Gal" off his debut Signs & Signifiers. Pairing with bassist/producer Jimmy Sutton, he quickly built a rabid following, and drew critical praise for his soulful analog aesthetic. Subsequent albums, like 2015's Let the Good Times Roll, and 2017's Undivided Heart & Soul, continued to find McPherson building upon his old-school passions while showcasing ever-more stylistically adventurous collaborations with contemporaries like Lucius, Dan Auerbach, and Nicole Atkins.
Born in rural Buffalo Valley, Oklahoma, in 1977, McPherson grew up listening to a wide array of music from traditional country and rockabilly to punk and hip-hop. Although music was always an interest, the singer first worked on his family's cattle ranch and later earned a Master's degree in open media from Tulsa University, eventually teaching and receiving attention for his video art installations. It was while performing with the Tulsa-based roots ensemble the Starkweather Boys that his classic style caught the ear of Chicago retro-rock impresario Jimmy Sutton. He backed Sutton for a few shows and formulated an idea for his own solo project.
In 2010, he released his solo debut, the Sutton-produced Signs & Signifiers (featuring the single "North Side Gal"), on Hi-Style Records. The video for the "North Side Gal" went viral and, along with a heavy touring schedule, helped build McPherson's fan base. Two years later, Signs & Signifiers was re-released to a wider audience on Rounder Records and ultimately reached number 47 on the Billboard Rock Albums chart. That same year, McPherson was invited to join acclaimed British singer/songwriter Nick Lowe on a leg of his West Coast tour.
McPherson then whet fans' appetites with a 2014 covers EP before returning in 2015 with his sophomore full-length album, the Mark Neil-produced Let the Good Times Roll. Included on the album was the single "Bossy," as well as the track "Bridgebuilder," co-written with the Black Keys' Dan Auerbach. Well received, the album landed at number 17 on Billboard's Top Rock Albums chart.
In 2017, McPherson returned with his third full-length album, Undivided Heart & Soul. Recorded in Nashville's historic RCA Studio B with Lucius drummer Dan Molad producing, the album found McPherson exploring a fuzztone, '60s-style R&B. Featured on the album are collaborations with Butch Walker, Parker Millsap, and Aaron Lee Tasjan. Also featured are guest spots from Lucius singers Jess Wolfe and Holly Laessig, Nicole Atkins, and the Raconteurs guitarist Jack Lawrence. Included on the album are the singles "Crying's Just a Thing That You Do" and "Lucky Penny." McPherson's first-ever holiday-themed album, Socks, arrived in 2018.
https://en.wikipedia.org/wiki/JD_McPherson
Talents : Vocals, Guitar
Style musical : Rock 'n' Roll, Rhythm 'n' Blues, Rockabilly

https://youtu.be/6s4k0He-H2Y
Years in activity :
| | | | | | | | | | | | |
| --- | --- | --- | --- | --- | --- | --- | --- | --- | --- | --- | --- |
| 1910 | 20 | 30 | 40 | 50 | 60 | 70 | 80 | 90 | 2000 | 10 | 20 |
DISCOGRAPHY
Singles & EP
2010
SP Witchcraft International WCI 45 104 (GER)

JD McPherson featuring Jimmy Sutton & Alex Hall - North Side Girl / Wolf Teeth

2010
CD ROUNDER ? (UK) (promo)

North Side Gal (featuring - Alex Hall, Jimmy Sutton)

2012
SP ROUNDER 11861-8739-1 (US) (limited edition 500 copies)

North Side Gal / Abigail Blue

2012
CD ROUNDER ? (UK) (promo)

Twinkle ( Little Christmas Lights)

2012
CD ROUNDER ? (UK) (promo)
Your Love
04/2013
SP ROUNDER 11661-8761-1 (US) (limited edition, red vinyl)

Fire Bug / A Gentle Awakening

11/2014
SP ROUNDER 11661-36235 (US)

Bossy / Rome Wasn't Built In A Day

11/2014
SP VEE JAY

VJR-36236-01 (US)

.

I Wish You Would / Steal Away

2014
CD ROUNDER PRO-RO-0611 (US) (promo)

I Wish You Would / Steal Away / Rome Wasn't Built In A Day / Why Lady Why

2014
CD ROUNDER ? (UK) (promo)
Precious
2014
CD ROUNDER ? (UK) (promo)

It Shook Me Up

2014
CD CONCORD MUSIC ? (UK)
.

Let The Good Times Roll

2018
SP NEW WEST NW4132 (US)

When The Fat Guy Tries The Chimney On For Size (Rodney CROWELL) / Hey Skinny Santa! (JD McPHERSON)

11/2019
SP NEW WEST NW4145 (US) (limited edition 1500 copies)

Holly, Carol, Candy And Joy / Red Bow (For A Blue Girl)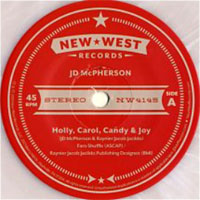 Albums
| | | | |
| --- | --- | --- | --- |
| 2010 | CD Hi-Style HS-CD 82698 (US) | | Signs & Signifiers - North Side Gal / Country Boy / Fire Bug / Signs & Signifiers / Wolf Teeth / Scratching Circles / A Gentle Awakening / Dimes For Nickels / B.G.M.O.S.R.N.R. / I Can't Complain / Your Love (all That I'm Missing) / Scandalous |
| 2014 | CD ROUNDER 11661-9169ADV (US) | | Let The Good Times Roll - Let The Good Times Roll / Bossy / It's All Over But The Shouting / Bridge Builder / It Shook Me Up / Head Over Heels / Shy Boy / You Must Have Met Little Caroline? / Precious / Mother Of Lies / Everybody's Talking 'Bout The All American |
| 10/2017 | CD NEW WEST NW6370 (US) | | Undivided Heart & Soul - Desperate Love / Crying's Just A Thing You Do / Lucky Penny / Hunting For Sugar / On The Lips / Undivided Heart & Soul / Bloodhound Rock / Style (Is A Losing Game) / Jubilee / Under The Spell Of City Lights / Let's Get Out Of Here While We're Young |
| 2018 | CD NEW WEST NW6448 (US) | | Socks - A CHRISTMAS ALBUM BY JD McPHERSON -All The Gifts I Need / Bad Kid / Hey Skinny Santa! / Socks / Every Single Christmas / Ugly Sweater Blues / Holly, Carol, Candy & Joy / Santa's Got A Mean Machine / What's That Sound? / Claus vs. Claus (vocals - Lucie Silvas) / Twinkle (Little Christmas Lights) |
© Rocky Productions 29/12/2020