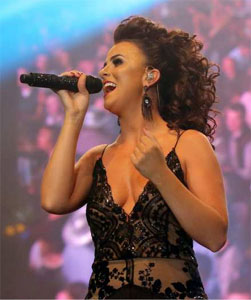 Chanteuse Country Irlandaise née le 16 Août 1988 à Glasgow, Ecosse.

Lisa McHugh spearheaded the Irish-and-country renaissance of the 2010s alongside artists like Nathan Carter and Derek Ryan. With its twee and fusty image, homegrown Celtic country music had long been the preserve of an older generation of Scots and Irish, but these sexy young stars rejuvenated the genre and brought it back into the charts. Born in Glasgow, Scotland to Irish parents and brought up in the small village of Carmunnock on the outskirts of the city, McHugh grew up on her parents' beloved country music and soon became a fan herself. Childhood trips to Ireland cemented her love of the genre and she continued to follow it into her teens, despite its unfashionability. A keen singer, she learned to play guitar and studied music at school.
After a few years working in her father's construction business, she decided to take a punt at becoming a singer herself, and in 2009, at the age of 21, she took part in Irish TV's country music talent show Glór Tíre ("Country Voice"), where she reached the final. Her success gave her a huge confidence boost and the following year she moved to her mother's home county of Donegal, where she hooked up with promoter Ray McLoughlin, formed a band, and began performing. Blessed with a rich, sweet voice, wholesome good looks, and a warm, friendly personality, McHugh soon became a bona fide star. In 2012, she released her debut album Dreams Come to Life, which saw her named Female Singer of the Year by the Irish World. That year she got the opportunity of a lifetime when Gene Watson asked her to sing on his latest album. He took her to record in Nashville, where she performed with him at the Grand Ole Opry.
Later she moved to Enniskillen, within easy reach of both Belfast and Dublin, at around the same time as Nathan Carter, with whom she had become good friends; the two were briefly "romantically linked." In 2014, she released her second album, A Life That's Good, featuring the singles "Applejack" and "Hillbilly Girl," and was awarded her own TV show, On the Road with Lisa, which brought her to an even bigger audience. In 2015, she was invited back to Glór Tíre, this time as a mentor. Her third album, Wildfire, dropped that year, followed by #Country in 2016.
https://en.wikipedia.org/wiki/Lisa_McHugh
Talents : Vocals, Guitar
Style musical : Contemporary Country, Country Pop, Irish, Celtic

https://youtu.be/O1jlVFZ9oSs
Years in activity :
| | | | | | | | | | | | |
| --- | --- | --- | --- | --- | --- | --- | --- | --- | --- | --- | --- |
| 1910 | 20 | 30 | 40 | 50 | 60 | 70 | 80 | 90 | 2000 | 10 | 20 |
DISCOGRAPHY
Albums
| | | | |
| --- | --- | --- | --- |
| 2012 | CD Ceol Music ‎CDLISA 003 (IRL) | | Dreams Come To Life - In The Glow Of The Night / To Daddy / Some Days You Gotta Dance / Help Me Make It Through The Night / False Eyelashes / This I Promise You / Why'd Ya Come In Here? / Out There Somewhere / I Can't Be Bothered / Court Of Love / The Lighning Express / You're The First Thing I Think Of / Words Don't Reach My Heart / Time Has Come |
| 2013 | CD Ceol Music ? (IRL) | | OLD FASHIONED GIRL - Old Fashioned Girl / Ramblin' Man / Love Letters / I Wish It Would Rain / Buchaill On Eirne / You Ain't Woman Enough To Take My Man / God's Plan / You Were Right / When I Get Over You / There Were Roses / Catalog Dreams / Beyond The Rainbows End / I'm A Little Bit Lonely |
| 10/2014 | CD Sharpe Music ‎SHARPECD 338 (IRL) | | A Life That's Good - Apple Jack / She's In Love With The Boy / Ireland / Home To Donegal / Any Man Of Mine / Feels Like Love / My House / Left To Love / Hey I'm A Woman / Stay, Stay, Stay / A Life That's Good / What You Get Is What You See / Night Train To Memphis / All Of Me / Hillbilly Girl / On The Road Again |
| 10/2015 | CD Sharpe SHARPECD 343 (IRL) | | Wildfire - Mean / Bring On The Good Times / Never Alone / 67' Chevrolet / Wrong Night / Blue Smoke / Dance With The One / Favorite Boyfriend Of The Year / You Can't Make Old Freinds (featuring Nathan Carter) / Every Little Thing / Banks Of The Ohio / Livin' In These Troubled Time / Wildfire / Thinking Out Loud |
| 2016 | CD Sharpe SHARPECD 347 (IRL) | | #Country - He's A Good Ole Boy / Why Have You Left The One / High Cotton / Success / Stuck Like Glue / Peggy Gordon (featuring Malachi Cush) / Let's Get Back To Me And You / Play Me The Waltz Of The Angels / Satisfy You / 26 Cents / I Hope You're The End Of My Story / Who's Gonna Be Your Next Love / To Say Goodbye / That's Faith |
| 05/2017 | CD Sharpe SHARPECD 355 (IRL) | | #LisaLive - Hillbilly Girl / Rose Of Allendale / Why Have You Left The One / He's A Good Ole Boy / 26 Cents / Queens Of Country Medley : Queen Of The Silver Dollar - One Day At A Time - Rose Garden / What You Get Is What You See / Blue Smoke / Waltz Of The Angels / Stuck Like Glue / I'm A Little Bit Lonely / There Were Roses / Mean / Why'd Ya Come In Here / Garth Brooks Medley : The River - Standing Outside The Fire - Callin Baton Rouge / Applejack / Run |
| 10/2017 | CD Sharpe SHARPECD 356 (IRL) | | Who I Am - Country Girl / I'll Think Of A Reason Later / Follow Your Arrow / Hold My Hand / Bye Bye / Head Over Boots / Daddy's Little Girl / Dream Of Me / Out Of Heaven / Who I Am / Mama Tried / Happy People / Girl With The Fishing Rod |
© Rocky Productions 19/08/2018