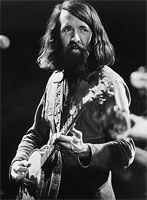 Multi-instrumentiste US né le 19 Décembre 1945 à Garden Grove (Californie). John McEuen a fait parti des Nitty Gritty Dirt Band. Il est surnommé "The String Wizard".

Best known for his long tenure as a key member of the venerable Nitty Gritty Dirt Band, John "The String Wizard" McEuen was one of the most influential figures in contemporary American country, bluegrass, and even pop music. Credited with introducing both the banjo and the mandolin to pop, he was a master string player who developed a devoted fan base on the festival circuit.
Born and raised in Garden Grove, CA, McEuen began learning to play the banjo when he was 18. At that time he was attending college and earning extra money by working at nearby Disneyland; comedian Steve Martin was a co-worker, and McEuen taught him how to play banjo. (Much later, Martin and the NGDB would frequently appear together in concert.) McEuen decided to become a professional musician in 1964 after seeing the Dillards perform live; inspired by their energy and musicianship, he began to study the banjo in earnest. In 1965, he hooked up with Michael Martin Murphey for a year and subsequently performed on all five of Murphey's albums.
In 1966, he was visiting a guitar shop in Long Beach when he met the Illegitimate Jug Band, who had just lost member Jackson Browne and were deciding to regroup. McEuen joined and the group became the Nitty Gritty Dirt Band. He remained with them for over two decades, singing and playing banjo, mandolin, fiddle, and other stringed instruments through the watershed period that produced such classic albums as Uncle Charlie and His Dog Teddy (1970) and the landmark compilation Will the Circle Be Unbroken (1972). McEuen was also there during the band's subsequent dry spells, as they struggled to reshape their style before again finding success in the mid-'80s. For reasons that remain unclear, McEuen abruptly left the Dirt Band in 1987.
During his years with the group, McEuen had played solos at every show and occasionally appeared as a solo act. He also made guest appearances on other albums and did session work for such artists as Bill Wyman, Marshall Tucker, and Hoyt Axton. McEuen also composed music for film and television soundtracks, including the scores for Paint Your Wagon (1969) and Samuel Beckett Is Coming Soon (1993). In 1989, he briefly rejoined the Dirt Band to perform on their Will the Circle Be Unbroken II album. The following year, he directed a concert video and produced an album for the Dillards. In 1992, he released the album String Wizards, an all-star venture featuring such illustrious artists as Earl Scruggs, Vassar Clements, and Byron Berline. A follow-up, String Wizards II, appeared in 1994, at about the same time McEuen founded his own label -- named, appropriately enough, String Wizard. Acoustic Traveller was released in 1996, followed three years later by Round Trip: Live in L.A.. He and former Nitty Gritty Dirt Band member Jimmy Ibbotson came together in March 1999 to record Stories and Songs. The traditional rock-bluegrass sound is combined with behind-the-scenes anecdotes and commentary. Stories and Songs was released in May 1999.
https://en.wikipedia.org/wiki/John_McEuen
Talents : Banjo, Guitar, Mandolin, Vocals, Violin
Style musical : Progressive Bluegrass, Progressive Country, Bluegrass

http://www.youtube.com/watch?v=NZQFIwfYLKM
Years in activity :
| | | | | | | | | | | | |
| --- | --- | --- | --- | --- | --- | --- | --- | --- | --- | --- | --- |
| 1910 | 20 | 30 | 40 | 50 | 60 | 70 | 80 | 90 | 2000 | 10 | 20 |
DISCOGRAPHY
Singles
Albums
04/1985
CD WOUNDED BIRD 5266 (US)
JOHN McEUEN - Fly Trouble / She's Crazy For Leavin' / Blue Days Black Nights / Reno And Me / Fool In The Mirror / John Hardy / Bach To The Country / The Mountain Whippoorwill / Miner's Night Out / Sleepwalk
11/1991
CD VANGUARD VHD-79462 (US)
STRING WIZARDS - Return To Dismal Swamp / Tall Timber / Blackberry Jam / Carolina Traveler / Fireball Mail / Friday Night At Maybelle's / Miner's Night Out / Spinning Wheel / Dixie Hoedown / Crippple Creek / Shuckin' The Corn / John's WSM Radio Blues / Stars And Stripes Forever
09/1993
CD VANGUARD VCD-79468 (US)
STRING WIZARDS II - Journey Through Dixie / Red Wing / John Hardy Jam / Jesse Polka / Ryan Williams Arrival In America / Andante

[Bach duo For Guitar And Banjo] /

Ground Speed / Finger Buster / Wild West Theme / The Red Arrown To Moscow / John Henry In Manhattan / Barefoot In Phoenix / Clearcut / The Ballad Of Jed Clampett / Live Medley
02/1996
CD VANGUARD VCD-79484 (US)
ACOUSTIC TRAVELLER - Gypsy Knights / Fisher's / Keep Walking / Turki Innastra / Acoustic Traveller / Moonlight Dancing / Lady's Choice / Old Country / Homecoming / Go Lightly In The Night / Back N 4th In Pahrump, Nevada / After Dark / I Am A Pilgrim / Mr. Bojangles (suite) / Gypsy Knights (reprise)
04/1997
CD VANGUARD VCD-79501 (US)
THE BEST OF JOHN McEUEN - STRING WIZARD'S - Moonlight Dancing / Acoustic Traveller / Mr. Bojangles (suite) / Journey Through Dixie / Carolina Traveler / Red Wing / Return To Dismal Swamp / Gypsy Knights / Homecoming / Miner's Night Out / The Ballad Of Jed Clampett / Stars And Stripes Forever / I Am A Pilgrim / Before You Accuse Me / Miner's Night Out

[video track] /

Return To Dismal Swamp

[video track] /

John McEuen Live At Wolfgang's In San Francisco 1986

[video track]

11/1999
CD CHROMA 4201 (US)
ROUND TRIP - LIVE IN LA - Finger Buster / Clementi / L.A. Devil's Dream / Good Old Boys Texas / Merle Travis Story / Cannonball Rag / Early Arrival / From The 60's - Pasadena And The Good Old Day / Mr. Bojangles / I Am A Pilgrim / Kiss / Night Flight / Gate Change / Before You Accuse Me / The Sheik Of Araby / Swing To Bop
07/2000
CD PLANETARY 9023 (US)
STORIES AND SONGS - JOHN McEUEN & JIMMY IBBOTSON - The Richmond Medley / Grandfather's Clock / Campfire Story / Santa Rosa / Telluride Story / Telluride / Luncheonette Story / Luncheonette / Saints And Sots Story / Saint And Sots / Long Hard Road Story / Long Hard Road Story / Ripplin Waters Story / Ripplin' Waters / Dance Little Jean Story / Dance Little Jean / The Mountain Whippoorwill In Richmond / Remember The Good Old Day Story / Blue Ridge Cabin Home / Rainy Night In Richmond
09/2005
CD RURAL RHYTHM 1026 (US)
JOHN McEUEN & THE L.A. STRING WIZARDS - ROUND TRIP - LIVE IN LA -

Finger Buster / Clementi / L.A. Devil's Dream / Good Old Boys Texas / Merle Travis Story / Cannonball Rag / Early Arrival / From The 60's (Pasadena And The Good Old Day) / Mr. Bojangles / I Am A Pilgrim / Kiss / Night Flight / Gate Change / Before You Accuse Me / The Sheik Of Araby / Swing To Bop / Leaving The Club / I'll Be Glad When They Run Outta Gas / The Goodtime Suite / The Ballad Of Floyd Collins

03/2007
CD FESTIVALINK ? (US)
FESTIVALINK PRESENTS JOHN McEUEN & JIMMY IBBOTSON AT COWBOYS IN THE SKY - Santa Rosa / Sarah In The Summer / Hummingbird / The Mountain Whippoorwill In Richmond / Ripplin' Waters / The Guitar And The Box / Dance Little Jean / Mr. Bojangles
06/2007
CD VANGUARD 73164 (US)
VANGUARD VISIONARIES - Return To Dismal Swamp / Acoustic Traveller / Miner's Night Out / Shuckin' The Corn / I Am A Pilgrim / Mr. Bojangles (suite) / Red Wing / Moonlight Dancing / Journey Through Dixie / The Ballad Of Jed Clampett
© Rocky Productions 6/04/2011