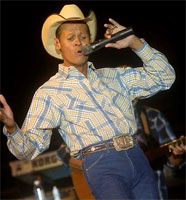 Chanteur Country US né Hubert Neal McGaughey Jr. le 30 Juillet 1958 à Jacksonville (Texas).

Neal McCoy's brand of neo-traditionalist honky tonk brought him a string of hits in the mid-'90s. McCoy was born Hubert Neal McGaughey, Jr. in Jacksonville, TX, to a father of Irish descent and a Filipino mother. He grew up listening to all kinds of music — country, swing, rock, disco, R&B — and first sang in local gospel choirs. His voice developed into a rich baritone, and he first put it to professional use in an R&B band; soon, however, he returned to country music, playing bars and clubs all over Texas. In 1981, he won a talent contest that was attended by Janie Fricke, and she helped him land a slot on tour as Charley Pride's opening act. He spent six years in that capacity, and finally left to pursue his own recording career in 1988, when he released his debut single, "That's How Much I Love You," under the name Neal McGoy (the pronunciation of his birth name). Modifying it to the more common McCoy, he released his debut album, At This Moment, on Atlantic in 1990. Despite McCoy's growing reputation for exciting, freewheeling live shows, neither it nor the follow-up, 1992's Where Forever Begins, sold all that well.
However, McCoy's fortunes took a turn for the better with his third album, 1994's No Doubt About It. Both the title track and "Wink" topped the country charts, and "The City Put the Country Back in Me" went Top Five, helping No Doubt About It sell over a million copies. Suddenly a breakout star, McCoy returned in 1995 with You Gotta Love That, another platinum seller that produced a total of three number three singles: "For a Change," "They're Playin' Our Song," and the title track. 1996's Neal McCoy kept his hit streak going strong, giving him a third straight platinum album and another Top Five single in "Then You Can Say Goodbye." The following year saw the release of a Greatest Hits compilation, and McCoy offered a new album later in 1997 called Be Good At It. Despite another Top Five smash in "The Shake," album sales dipped below the million mark for the first time since McCoy's breakthrough. 1999's The Life of the Party, contrary to its title, was an album of ballads and soft country-pop tunes, and both it and 2000's 24-7-365 found McCoy's sales progressively slipping. Taking some time off to recharge, McCoy returned in early 2003 with The Luckiest Man in the World, following it with That's Life in 2005. Music of Your Life, a kind of big-band jazz and country amalgram with Les Brown, Jr. and recorded for a public television special, appeared in 2011, with a new studio album, XII, finally arriving in 2012. McCoy quickly returned in 2013 with Pride, a tribute to his hero Charley Pride.
https://en.wikipedia.org/wiki/Neal_McCoy
Talents : Vocals
Style musical : Contemporary Country, Traditional Country

https://youtu.be/-JlnI9m9CR8
Years in activity :
| | | | | | | | | | | | |
| --- | --- | --- | --- | --- | --- | --- | --- | --- | --- | --- | --- |
| 1910 | 20 | 30 | 40 | 50 | 60 | 70 | 80 | 90 | 2000 | 10 | 20 |
DISCOGRAPHY
Singles
| | | |
| --- | --- | --- |
| 07/1988 | SP 16th Avenue B-70417 (US) | Neal McGoy - That's How Much I Love You / Memphis Night As Well Be On The Moon |
| 05/1989 | SP 16th Avenue B-70428 (US) | Neal McGoy - That's American / Would These Arms Be In Your Way? |
| 10/1990 | SP ATLANTIC 7-87833 (US) | If I Built You A Fire / The Big Heat |
| 03/1991 | SP ATLANTIC 7-87740 (US) | At This Moment / Hillbilly Blue |
| 07/1991 | SP ATLANTIC 7-87636 (US) | This Time I Hurt Her More / Down On The River |
| 01/1994 | SP ATLANTIC 7-87287 (US) | No Doubt About It / The City Put The Country Back In Me |
| 04/1994 | SP ATLANTIC 7-87247 (US) | Wink / No Doubt About It |
| 08/1994 | SP ATLANTIC 7-87213 (US) | The City Put The Country Back / Why Not Tonight |
| 01/1995 | SP ATLANTIC 7-87176 (US) | For A Charge / You're Backin' Up |
| 08/1995 | SP ATLANTIC 7-87120 (US) | If I Was A Drinkin' Man / You Gotta Love That |
| 06/1996 | SP ATLANTIC 7-87053 (US) | Then You Can Tell Me Goodbye / Going, Going, Gone |
| 09/1996 | SP ATLANTIC 7-87045 (US) | That Woman Of Mine / Going, Going, Gone |
| 07/1998 | SP ATLANTIC 7-84158 (US) | Broken Record / Love Happens Like That |
| 02/1999 | SP ATLANTIC 7-84456 (US) | I Was / Life Of The Party |
| 04/2000 | SP GIANT 7-16871 (US) | Forever Works For Me / Beatin' It In |
| 08/2000 | SP GIANT 7-16837 (US) | Every Man For Himself / The Key To Your Heart |
| 11/2002 | SP WARNER BROS. 7-16680 (US) | I'll Be Home For Christmas - Have Yourself A Merry Christmas / The Luckiest Man In The World |
| 2005 | SP 903 MUSIC ? (US) | Hillbilly Rap / Billy's Got His Beer Goggles On |
Albums
12/1990
CD ATLANTIC 82171 (US)
AT THIS MOMENT - If I Built You A Fire / Take My Heart / Down On The River / Hillbilly Blue / This Time I've Hurt Her More Than She Loves Me / Somebody Hold Me (Until She Passes By) / Big Heat / If The Walls Had Ears / At This Moment / This Time I'm Taking My Time
06/1992
CD ATLANTIC 82396 (US)
WHERE FOREVER BEGINS - Now I Pray For Rain / Palm Of My Hand / Wall / Day The Boys Leave The Girls Alone / Where Forever Begins / There Ain't Nothin' I Don't Like About You / Little At A Time / Big Doggin' Around / Where Do Doggies Go / Mountains On The Moon
02/1994
CD ATLANTIC 82568 (US)
NO DOUBT ABOUT IT - No Doubt About It / City Put The Country Back In Me / Why Now / Heaven, Wink / I Apologize / Mudslide / Why Not Tonight / Small Up And single Down / Something Moving In Me
01/1995
CD ATLANTIC 82727 (US)
YOU GOTTA LOVE THAT - You Gotta Love That / For A Change / Y-O-U / Please Don't Leave Me Now / Twang / They're Playin' Our Song / Spending Every Minute In Love / Plain Jane / You're Backin' Up / If I Was A Drinkin' Man
06/1996
CD ATLANTIC 82907 (US)
NEAL McCOY - That Woman Of Mine / Then You Can Tell Me Goodbye / Me Too / It Should've Happened That Way / I Ain't Complainin' / Going Going Gone / Betcha Can't Do That Again / She Can / If It Hadn't Been So Good / Hillbilly Rap
06/1997
CD ATLANTIC 83011 (US)
GREATEST HITS - Now I Pray For Rain / No Doubt About It / Wink / City Put The Country Back In Me / For A Change / They're Playin' Our Song / If I Was A Drinkin' Man / You Gotta Love That / Then You Can Tell Me Goodbye / Shake
10/1997
CD ATLANTIC 83057 (US)
BE GOOD AT IT - If You Can't Be Good Be Good At It / I Know You / You'll Always Be In My Life / Same Boots / Back / Love Happens Like That / Party On / Broken Record / 21 To 17 / Basic Goodbye / Shake
01/1999
CD ATLANTIC 83170 (US)
THE LIFE OF THE PARTY - I Was / Lipstick On The Radio / Only You / Girls Of Summer / New Old Songs / Life Of The Party / Completely / That's Not Her / Ain't Nothin' Like It / Strongest Man In The World / Straighten Up And Fly Right
08/2000
CD WARNER BROS. 24748 (US)
24-7-365 - Count On Me / Forever Works For Me / My Life Began With You / What Would Love Say / Beatin' It In / Every Man For Himself / Disconnected / Love That Strong / 24-7-365 / Key To Your Heart
09/2000
CD ATLANTIC 83375 (US)
SUPER HITS - You Gotta Love That / City Put The Country Back In Me / Strongest Man In The World / Love Happens Like That / Then You Can Tell Me Goodbye / No Doubt About It / If I Was A Drinkin' Man / If You Can't Be Good Be Good At It / Wherever Forever Begins / Straighten Up And Fly Right
01/2003
CD WARNER BROS. 48343 (US)
LUCKIEST MAN IN THE WORLD - Sing / Luckiest Man In The World / All At The Same Time / Elvis In The Airport / Put Your Best Dress On / Mine Is You / Never Got To Say / Honky Tonk Mona Lisa / Too Far Gone / I'm Your Biggest Fan
08/2005
CD 903 MUSIC 1001 (US)
THAT'S LIFE - Got Mud / Intro (General Tommy FRANKS) / The Last Day Of A Dying Breed / That's Life / All Over Again / Billy's Got His Beer Goggles On / That's A Picture / You Let Me Be The Hero / Tail On The Tailgate / Tails I Lose / Jessie / You're My America (with Charley PRIDE) / Head South / Hillbilly Rap

[live]

/ Billy's Got His Beer Goggles On
06/2008
CD RHINO 448252 (US)
THE VERY BEST OF NEAL McCOY - Wink / For A Change / Rednecktified / No Doubt About It / They're Playin' Our Song / Now I Pray For Rain / The City That Put The Country Back In Me / Going, Going, Gone / Where Forever Begins / You Gotta Love That / Then You Can Tell Me Goodbye / The Shake / That Woman Of Mine / If I Was A Drinkin' Man / Love Happens Like That / I Was / Every Man For Himself / The Last Of A Dying Breed / Forever Works For Me / Billy's Got His Beer Goggles On
11/2011
CD DPTV MEDIA 76 (US)

Music of Your Life - L

es BROWN Jr. and his BAND Of RENOWN - Starring : Neal McCOY with special guest Charley PRIDE & Janie FRICKE - The City Put The Country Back In Me / They're Playing Our Song / Sentimental Journey / Rednecktified / The Shake / It's A Cheating Situation / Fly Me To The Moon / No Doubt About It / Sing, Sing, Sing / You Don't Know Me / You're My Jamaica / Wink / I'm Your Biggest Fan
01/2012
CD BLASTER 529664 (US)
XII - TWELVE - A-Ok / Real Good Feel Good / Judge A Man By The Woman / Mouth / Shotgun Rider / That's You / Crazy Women / Lucky Enough / Every Fire / That's Just How She Gets / Borderline Crazy / Van Gogh
09/2013
CD Slate Creek 7174 (US)
PRIDE - A TRIBUTE TO CHARLEY PRIDE - Is Anybody Goin' To San Antone / I'm Just Me (Neal McCOY feat: Raul MALO) / Kiss An Angel Good Mornin' (Neal McCOY feat: Darius RUCKER) / Kaw-Liga / You're So Good When You're Bad / It's Gonna Take A Little Bit Longer / Roll On Mississippi (Neal McCOY feat: Trace ADKINS) / Just Between You And Me / Mountain Of Love / Someone Loves You Honey / You're My Jamaica
© Rocky Productions 19/12/2015