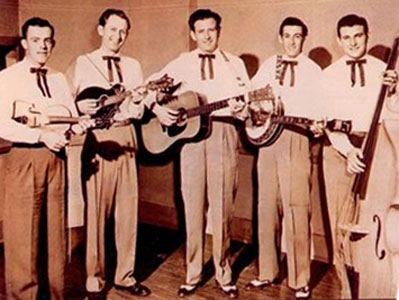 Groupe Country US originaire de Westmoreland (Tennessee). Harold, Kelly, Haskel et Lloyd, les "McCormick Brothers" étaient spécialisés dans le Bluegrass et ont enregistré pendant les années cinquante chez Hickory Records.

The McCormick Brothers are not as well-known as other country and bluegrass harmonizers who were popular in the 1950s, such as the Stanley Brothers and the Louvin Brothers. But they were a good bluegrass band, though they weren't as long-lived as the most renowned ones working the same turf, and certainly didn't record as often or sell as many records. The seeds for the act were planted when Lloyd McCormick and Kelly McCormick formed a guitar-mandolin duo as youngsters, performing duos on Kentucky and Tennessee radio stations. Their personnel and instrumentation expanded, and younger brother Haskel McCormick joined on banjo in the early '50s. At one point, the lineup was filled out with a couple of cousins, Hayden Clark (on bass) and Billy Clark (on fiddle), before the youngest brother joined on bass and Dewel Bullington on fiddle; Charlie Nixon later joined on Dobro.
From the mid-'50s to the early '60s, the McCormick Brothers recorded for Hickory, run by Fred Rose (who co-ran the enormously successful Nashville publisher Acuff-Rose with Roy Acuff). The McCormicks did some rockabilly sides in an attempt to boost their sales, but are known primarily for the fairly straight bluegrass recordings they did on Hickory, alternating between harmony Vocals and purely instrumental workouts. Their biggest seller was their first single for the label in 1954, "Red Hen Boogie," penned by Charlie Louvin and Ira Louvin. They also did an album after leaving Hickory for Metromedia. Eighteen sides from their bluegrass Hickory singles were assembled for the 2002 Varese Sarabande compilation The Very Best of the McCormick Brothers.
Style musical : Bluegrass

https://youtu.be/hKpBAmK1xz4
Years in activity :
| | | | | | | | | | | |
| --- | --- | --- | --- | --- | --- | --- | --- | --- | --- | --- |
| 1910 | 20 | 30 | 40 | 50 | 60 | 70 | 80 | 90 | 2000 | 10 |
DISCOGRAPHY
78 t. & Singles
| | |
| --- | --- |
| | |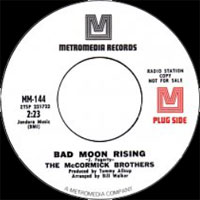 Albums
1961
LP 12" HICKORY LPM-H-102 (US)

Songs For Home Folks - Red Hen Boogie / C. N. R. Special / Pins And Needles (In My Heart) / I'm Happy To Know / Make Your Last Kiss The Sweetest / In The Palm Of Your Hand / Banjo Twist / The Mad Banjo / The Banjo Strut / Haskel's Five String / Mccormicks' String Picnic / The Banjo Fling

196?
LP 12" HICKORY LPM-108 (US)

Authentic Bluegrass Hits -

Banjo Twist / The Mad Banjo / The Banjo Strut / Haskel's Five String / McCormicks' String Picnic / The Banjo Fling / Red Hen Boogie / C.N.R. Special / Pins And Needles (In My Heart) / I'm Happy To Know / Make Your Last Kiss The Sweetest / In The Palm Of Your Hand
1969
LP 12" METROMEDIA MD-1019 (US)

Grass Meets Brass - Ruby Don't Take Your Love To Town / Folsom Prison Blues / So Long Suzie / Games People Play / Family Problems / Bad Moon Rising / Working Man Blues / Release Me / "A" You're Adorable / Jubilee Joe / There Never Was A Time

1997
CD BRONCO BUSTER CD-9027 (GER)

HOT BLUEGRASS RHYTHM -

Are You Feeling Blue / Banjo Trot (inst.) / Banjo Twist (inst.) / Before I Met You / Big Eyes / Blue Blue Mood / Bugle Call Rag (inst.) / C.n.r. Special / Coffee, Coffee, Coffee / Darling, Why Can't You Be True / Haskell's Five String (inst.) / Landslide Special (inst.) / Lonesome For You / No Substitute Will Do / Red Hen Boogie / Runnin' Round On Me / Shuffle And Deal / The Billy Goat Boogie / The Bluegrass Express / The Dobro Twist (inst.)
03/2002
CD VARESE 302 066322-2 (US)
THE VERY BEST OF THE MCCORMICK BROTHERS - Are You Feeling Blue? / I'm Happy To Know / The Banjo Fling / Lonesome For You / Coffee, Coffee, Coffee / McCormick's String Picnic / Pins And Needles (In My Heart) / Haskel's Five String / In The Palm Of Your Hand / Darling Why Can't You Be True / Banjo Twist / Make Your Last Kiss The Sweetest / Red Hen Boogie / Bugle Call Rag / C.N.R. Special (Rollin' Down The Line) / Before I Met You / Cross My Heart (And Hope To Die) / Mad Banjo
10/2007
CD Stonewall SMW 2002 (US)

Bluegrass Invasion - Roll In My Sweet Baby's Arms / Sitting On The Top Of The World / Man Of Constant Sorrow / Honey Jug / Crying My Heart Over You / Cherokee Shuffle / Crying Holy / Dark Hollow / Cherry Brook Rag / Nine Pound Hammer / Coodbye World Goodbye / Swing Low Sweet Chariot / She's An Army Of One

04/2009
CD Stonewall SMW 2008001 (US)

Somewhere In Time - Don't Call Me, I'll Call You / East Bound And Down / Living In The Twilight Zone / Haskell's Stomp / I Still Miss Someone / A Little At A Time / Red Hen Boogie (Red Hen Hop) / Old Joe Clark / Camping In Canaan's Land / Old Man Mississippi / Salty Dog Blues / Summers Pass And Winters Come / Nashville Grass Breakdown / Three Men On A Mountain (The Man In The Middle) / The Ballad Of Jed Clamplett / The Mountain Way / You Can't Stop My Heart From Loving You / Cripple Creek

12/2011
CD Red Bus RBD 129 (UK)

Banjo Twist - Are You Feeling Blue / I'm Happy To Know / The Banjo Fling / Lonesome For You / Coffee Coffee Coffee / McCormick's String Picnic / Pins And Needles (In My Heart) / Haskel's Five String / In The Palm Of Your Hand / Darling Why Can't You Be True / Banjo Twist / Make Your Last Kiss The Sweetest / Red Hen Boogie / Bugle Call Rag / CNR Special (Rollin' Down The Line) / Before I Met You / Cross My Heart (And Hope To Die) / Mad Banjo / Runnin' 'Round On Me / Shuffle And Deal / Big Eyes / Dobro Twist / Landslide Special / No Substitute Will Do / Blue Blue Mood / Banjo Strut / Banjo Trot
© Rocky Productions 15/12/2015