| | | |
| --- | --- | --- |
| | | |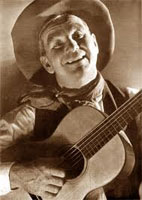 Chanteur et poète Country US né le 8 Octobre 1882 à Knoxville (Tennessee). Harry McClintock est surtout connu pour sa chanson "Big Rock Candy Mountain". Il a aussi utilisé les noms de Haywire Mac ,Radio Mac et Mac. Il est décédé le 24 Avril 1957 à San Francisco (Californie).



Some of the career experience this artist had -- such as actor, poet, painter, newspaper reporter, or set designer -- is similar to what many other performing artists might list on their resumés. But as for some of the other things Harry McClintock did, he would find himself in an elite group of recording artists who have also been seamen, sheep herders, railroaders, union organizers, cowboys, hobos, and muleskinners. Ironically, he is most remembered for songs about people who choose to do nothing at all, such as "Hallelujah I'm a Bum" and "The Big Rock Candy Mountain." McClintock successfully established himself as the copyrighted composer of these numbers, despite the fact that folk music experts and copyright lawyers continue to argue amongst themselves. Known in his recording and broadcast career as Haywire Mac, Radio Mac, or just plain Mac, he made more than 50 excellent records of original songs and folk classics. Much of this material has been reissued by Rounder and Smithsonian Folkways. He was the first artist to record what have become classic American folk songs, such as "Red River Valley," "Bury Me Not on the Lone Prairie," and "Jesse James."
McClintock was the son of a cabinet maker. He began singing in church as a child and was still a child of 14 when he first took off on the road. He toured with a dog and pony show as a horse groomer, but was never paid. Heading to New Orleans and the prospect of warmer weather, he found himself in the company of bums from all over the land, all of whom had the same idea. It was here that he first developed his strong sympathy for these individuals, later to be expressed in the classic rhyming couplets of tunes such as "Hallelujah I'm a Bum" and "The Bum Song," the latter recorded twice as there were always new verses pouring out of each sidecar. At 16, he began playing music on the streets for the promise of "spare change." He had discovered what he recalled later was one of the great secrets of life: "Anyone who can sing never has to go hungry." This was when he wrote his first song, the story of "Big Rock Candy Mountain." It was based on fairy tales he had heard growing up, conjuring up images of houses built out of sweet cakes and candy. Except in McClintock's song, there is no evil witch and it is the hobos, not Hansel and Gretel, who live happily ever after. By 1905, the song had become so popular that he had a printer run off packs of cards with the lyrics printed on them. He wrote "Hallelujah I'm a Bum" in 1902, following his involvement with labor organizations such as the Wobblies. The popularity of these songs would multiply many times over once McClintock got on the radio in San Francisco in 1925. His big radio break was a program aimed at children, a crowd he immediately wowed with his authentic cowboy material. Native American "performers" -- they were mostly just various interesting and rowdy friends of McClintock's -- were also regulars on this show, including Tall Pine, Joe Longfeather, Silver Cloud, and Evening Thunder. A few years later, he made his first recordings for Victor. He would continue recording for the label over the next three and a half years, completing a total of 41 titles. The performances were solo, in duo with fiddler Virgil Ward or vocalist Dorothy Ellen Cole, or with the full orchestral backup of the Haywire Orchestra. Following the end of his Victor contract, McClintock cut sides for Decca and a small local label, called Flex-o-Disc. Eventually he had to mount several lawsuits to establish the publishing rights for the original songs he had recorded. Mixed in among the folk songs and cowboy numbers, some of McClintock's work was passed off as traditional by other artists looking to cash in without shelling out publishing royalties. In a letter to the League of Composers, McClintock made fun of the idea that so-called "hillbilly" songs were not written by anybody. "The theory seems to be they are created by some sort of spontaneous generation," he wrote.
McClintock moved to Hollywood in 1938 to see what he could get going in the movie business. He wound up appearing in several Gene Autry films, a Durango Kid oater, and a variety of serials done at the Universal and Republic studios. He tended to be a villain, when he was lucky. Unlucky, he just got to stand there and say "He went thataway." McClintock also did radio work as well as writing articles, plays, and fiction for pulp magazines under pseudonyms. In 1953, he went back to San Francisco to appear on the radio and television program entitled The Breakfast Hour. He continued with this program off and on until 1955, and died several years later.
https://en.wikipedia.org/wiki/Harry_McClintock
Talents : Vocals, Guitar, Author, Poet, Cowboy
Style musical : Hillbilly, Folk
HALLELUJAH I'M A BUM (1928)

JESSE JAMES (1928)

THE BIG ROCK CANDY MOUNTAIN (1928)

GOODBYE OLD PAINT (1928)
Years in activity :
| | | | | | | | | | | | |
| --- | --- | --- | --- | --- | --- | --- | --- | --- | --- | --- | --- |
| 1910 | 20 | 30 | 40 | 50 | 60 | 70 | 80 | 90 | 2000 | 10 | 20 |
DISCOGRAPHY
78 t.
1928
78 t. VICTOR 21343 (US)
Hallelujah I'm A Bum (Harry McCLINTOCK) / The Bum Song (Mac Harry McCLINTOCK)
1928
78 t. VICTOR 21420 (US)
Mac Harry McCLINTOCK - Sam Bass / Jesse James
1928
78 t. VICTOR 21420 (US)
Radio MAC - Old Chisholm Trail / Red River Valley
1928
78 t. VICTOR 21487 (US)
Billy Venero (Mac Harry McCLINTOCK) / Texas Ranger (Harry Mac McCLINTOCK)
1928
78 t. VICTOR 21521 (US)
Mac Harry McCLINTOCK - My Dads Dinner Pail / Jerry Go Ile That Car
1928
78 t. VICTOR 21567 (US)
Circus Days (Radio MAC) / Man On The Flying Trapeze (Mac Harry McCLINTOCK)
1928
78 t. VICTOR 21704 (US)
Mac Harry McCLINTOCK - The Bum Song #2 / The Big Rock Candy Mountain
1928
78 t. VICTOR 21761 (US)
Goodbye Old Paint (Mac Harry McCLINTOCK) / Cowboy's Lament (Harry McCLINTOCK "Mac")
1928
78 t. VICTOR VI-40016 (US)
Get Along Little Doggies (Mac HAYWIRE ORCH;) / Trail To Mexico (Mac Harry McCLINTOCK)
1929
78 t. VICTOR VI-40101 (US)
Ain't We Crazy (Mac Harry McCLINTOCK) / He Never Came Back (Peg MORELAND)
1929
78 t. VICTOR VI-40112 (US)
Harry McCLINTOCK - Hobo's Spring Song / If I Had My Druthers
1929
78 t. VICTOR 22003 (US)
Harry McCLINTOCK - Hobo's Spring Song / If I Had My Druthers
1930
78 t. VICTOR VI-40234 (US)
Radio MAC - Fireman Save My Child / The Trusty Lariat
1931
78 t. VICTOR 22845 (US)
Radio MAC - Fifty Years From Now / When It's Time To Shear The Sheep
1931
78 t. VICTOR 23586 (US)
Radio MAC - He Sure Can Play Harmonica / His Parent Haven't See Him Since
1931
78 t. VICTOR 23614 (US)
When It's Time To Shear The Sheep (Harry McCLINTOCK) / Fifty Years From Now (Radio MAC)
1932
78 t. VICTOR 23690 (US)
My Last Old Dollar (Radio MAC) / Bobby Boy - Part 2 (GRAHAM BROS.)
1932
78 t. VICTOR 23704 (US)
Sweet Betsy From Pike (Radio MAC) / Song Of The Brown Family (Bob FERGUSON)
1933
78 t. VICTOR 23829 (US)
Gambler's Advice (FLEMING & TOWNSEND) / Bald Top Mountain (Radio MAC)
1933
78 t. MONTGOMERY WARD 4298 (US)
Radio MAC - The Trusty Lariat / Fireman Save My Child
1933
78 t. MONTGOMERY WARD 4324 (US)
She's More To Be Pitied Than Censured (Jimmie RODGERS) / Sweet Betsy From Pike (Radio MAC)
1934
78 t. MONTGOMERY WARD 4465 (US)
Billy Venero (Harry McC

lintock

) / The Cowboy Song (Carl SPRAGUE)
1934
78 t. MONTGOMERY WARD 4469 (US)
Harry McCLINTOCK - Trail To Mexico / Get Along Little Doggies
1936
78 t. MONTGOMERY WARD 4784 (US)
Radio MAC - The Trusty Lariat / Texas Ranger
1938
78 t. MONTGOMERY WARD 8121 (US)
Blue Yodel No.2 (Jimmie RODGERS) / That Big Rock Candy Mountain (Harry McCLINTOCK)
| | |
| --- | --- |
| | |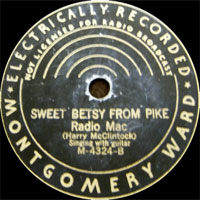 Albums
1990
LP 12" ROUNDER 1009 (US)
HALLELUJAH I'M A BUM - Hallelujah, I'm A Bum / Git Along, Little Doggies / Fireman, Save My Child / The Texas Ranger / Jerry, Go Ile That Car / The Bum Song / The Trail To Mexico / The Old Chisholm Trail / Circus Days / Goodbye Old Paint / Ain't We Crazy / Bum Song No. 2 / The Trusty Lariat / My Last Dollar / Billy Venero / The Big Rock Candy Mountain
01/2005
CD BACM 082 (UK)
THE GREAT AMERICAN BUM - RECORDED 1928-1931 - Harry McCLINTOCK "HAYWIRE MAC" - Can I Sleep In Your Barn Tonight Mister / Fireman Save My Child / Get Along Little Dogies / If I Had My Druthers / The Man On The Flying Trapeze / My Dads Dinner Pail / Trail To Mexico / In The Big Rock Candy Mountains / The Trusty Lariat / Fifty Years From Now / Roamin / Hobo Spring Song / My Last Old Dollar / Old Chisholm Trail / Hallelujah Im A Bum / The Bum Song / Homespun Gal / Bald Top Mountain / Billy Venero / Jerry Go Ile That Car / Circus Days / The Bum Song #2
10/2010
2 CD SMITHSONIAN FOLKWAYS 5272 (US)
HARRY K. McCLINTOCK - "HAYWIRE MAC" :

CD 1 :

Hallelujah, I'm A Bum / The Big Rock Candy Mountain / Long Haired Preachers (Preacher And The Slave) / Casey Jones (The Union Scab) / Anecdote On Joe Hill / Marcus Daly Enters Heaven / Subic / Casey Jones (The Union Scab) / Jordan Am A Hard Road To Travel / Poor Boy / Paddy Clancy / Utah Carl / Uncle Jim's Rebel Soldier / Anecdote on Pete Wells, Canal Boat Fireman

CD 2 :

Casey Jones (The Union Scab) / Subic / Stung Right / Outside Dan Murphy's Door / Long Haired Preacher (Preacher And The Slave) / Captain Simms / Jordan Is A Hard Road To Travel / Darkie Uncle Ned / Hedge Hog / Reconstructed Rebel Soldier / Paddy Clancy / Pete Wells And The Negro Fireman / Sweet Violets / Utah Carl / There Is Nothing New In Automobiles
© Rocky Productions 15/08/2011