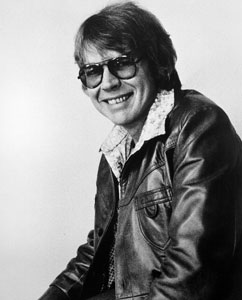 Chanteur Country US né William Dale Fries, Jr, le 15 Novembre 1928 à Audubon (Iowa).

Essentially a character created by advertising executive William Fries, C.W. McCall was the instrumental figure behind the truck-driving craze that swept America in the mid-'70s. Fries was born November 15, 1928, in Audubon, IA, and while he displayed musical promise as a child, he was more interested in graphic design. While attending the University of Iowa, Fries studied music and played in the school's concert band, but his major was in fine arts, and after graduation he began handling the art chores at an Omaha, NE, television station. After five years there, he was hosting his own program, on which he drew caricatures of celebrities.
Fries signed on as the art director for an Omaha advertising agency in the early '60s, and it was there that he created the character C.W. McCall as a selling tool for an area bakery. A trucker for the fictional Old Home Bread company who spent much of his time in a diner called The Old Home Filler-Up-an'-Keep-On-a-Truckin' Cafe, the McCall character was a huge hit with viewers, and the radio campaign won Fries the advertising industry's prestigious Clio Award. In 1974, Fries decided to cut a record under the McCall moniker, and the single, a monologue with country backing titled after the aforementioned cafe, was a Top 20 hit. A follow-up, "Wolf Creek Pass," was even more successful.
In 1975, McCall released the album Black Bear Road; the single "Convoy" hit number one on both the pop and country charts, and a national craze was born. The song proved so successful that it influenced the famed filmmaker Sam Peckinpah to direct the 1978 film Convoy, starring Kris Kristofferson. By the time of the film's release, however, McCall's career was largely over. He released two more LPs, 1975's Wolf Creek Pass and 1977's Roses for Mama, which did spawn a major hit in its title track. But shortly after the latter album's release, McCall turned his back on the music industry to focus on the burgeoning environmental movement and moved to the small town of Ouray, CO, of which he was elected mayor in 1982. An attempt at a comeback in 1990 proved unsuccessful.
https://en.wikipedia.org/wiki/C._W._McCall
Talents : Vocals
Style musical : Traditional Country, Comedy/Spoken

https://youtu.be/btkBLJqeEbY
Years in activity :
| | | | | | | | | | | | |
| --- | --- | --- | --- | --- | --- | --- | --- | --- | --- | --- | --- |
| 1910 | 20 | 30 | 40 | 50 | 60 | 70 | 80 | 90 | 2000 | 10 | 20 |
DISCOGRAPHY
Singles
1974
SP

AMerican

GRAMAPHONE AG45-351 (US)
.
Old Home Filler-Up And Keep On A Truckin' Cafe / Old Thirty
07/1974
SP MGM M-14738 (US)
.
Old Home Filler-Up And Keep On A Truckin' Cafe / Old Thirty
10/1974
SP MGM M-14764 (US)
.
Wolf Creek Pass / Sloan
03/1975
SP MGM M-14801 (US)
.
Classified / I've Trucked All Over This Land
07/1975
SP MGM M-14825 (US)
.
Black Beer Road / Four Wheel Drive
11/1975
SP MGM M-14839 (US)
.
Convoy

/ Long Lonesome Road
03/1976
SP POLYDOR PD-14310 (US)
.
There Won't Be No Country Music / Green River
06/1976
SP POLYDOR PD-14331 (US)
.
Crispy Critters / Jackson Hole
09/1976
SP POLYDOR PD-14352 (US)
.
Four Wheel Cowboy / Aurora Borealis
12/1976
SP POLYDOR PD-14365 (US)
.
Around The World With Rubber Duck / Night Rider
02/1977
SP POLYDOR PD-14377 (US)
.
Audubon / Ratchetjam
07/1977
SP POLYDOR PD-14420 (US)
.
Roses For Mama / Columbine
11/1977
SP POLYDOR PD-14445 (US)
.
Old Glory / Sing Silent Night
1977
SP POLYDOR 2066 943 (F)

Chanson Du Film Le Convoi -

Convoy / Roses For Mama

1978
SP POLYDOR KGO-106 (US)
.
Roses For Mama / Convoy
1978
SP POLYDOR PD-14458 (US)
.
Watch The Wildwood Flowers / Old Glory
12/1978
SP POLYDOR PD-14527 (US)
.
Outlaws And Lone Star Beer / Silver Cloud Breakdown
12/1978
SP POLYDOR 2095 018 (GER)

Outlaws And Lone Star Beer / Silver Cloud Breakdown

1979
SP POLYDOR PD-14550 (US)
.
Milton / Little Things In Life
1980
SP

AMerican

GRAMAPHONE AG-369-1 (US)
.
Kidnap American / ?
1985
SP AFR AFR-0018391 (US)
.

Pine Tar Wars (C.W. McCall) / A Little Boy's Hero (Larry Stewart)

19??
SP POLYDOR

Timepieces

871 872-7 (US)
.

Convoy / Roses For Mama
Albums
02/1975
LP 12" MGM M3G-4989 (US)
WOLF CREEK PASS - Night Rider / Classified / Old 30 / I've Trucked All Over This Land / Four Wheel Drive / Rocky Mountain September / Old Home Filler Up And Keep On Truckin' Cafe / Sloan / Genwood Canyon / Wolf Creek Pass
09/1975
LP 12" MGM M3G-5008 (US)
BLACK BEAR ROAD - Black Bear Road / Silverton / Lewis And Clark / Oregon Trail / Ghost Town, Convoy / Long Lonesome Road / Green River / Write Me A Song / Mountains On My Mind
03/1976
LP 12" POLYDOR PD1-6069 (US)
WILDERNESS - Wilderness / Jackson Hole / Riverside Slide / Crispy Critters / Roy / Little Brown Sparrow And Me / There Won't Be No Country Music / Telluride Breakdown / Four Wheel Cowboy / Silver Iodie Blues / Columbine / Aurora Borealis
12/1976
LP 12" POLYDOR PD1-6094 (US)
RUBBER DUCK - Round The World With The Rubber Duck / Audobon / Super Slab Showdown / Windshield Wipers In The Rain / Sing Silent Night / Ratchetjaw / Nishnabotna / Two-Way Lovin' / Camp Bird Mine / Niobrara
12/1977
LP 12" POLYDOR PD1-6125 (US)
ROSES FOR MAMA - Roses For Mama / Only Light / Livin' With My Means / Watch The Wildwood Flowers / Take My Duds To The Junkman / Battle Of New Orleans / I Don't Know And I Don't Care / Gallopin' Goose / Night Hawk / Old Glory
07/1978
LP 12" POLYDOR PD1-6156 (US)

C.W. McCall's Greatest Hits - Conwoy / Silverton / Four Wheel Drive / Wolf Creek Pass / Classified / There Won't Be No Country Music / Old Home Filler-Up An' Keep On-A-Truckin' Cafe / Crispy Critters / Round The World With The Rubber Duck / Black Bear Road / Roses For Mama / Aurola Borealis

01/1979
LP 12" POLYDOR PD1-6190 (US)
C.W. McCALL AND CO. - Outlaws And Lone Star Beer / Wheels Of Fortune / City Of New Orleans / Little Things In Life / Milton / I Wish There Was More That I Could Give / Cowboy / Flowers On The Wall / Silver Cloud Breakdown / Hobo's Lullaby
1979
LP 12"

AMerican

GRAMAPHONE AG 363 (US)

San Juan Odyssey

- C.W. Mc

Call /

The London Symphony Orchestra -

San Juan Odyssey / San Juan Odyssey

03/1990
CD

AMerican

GRAMAPHONE AGCD- 890 (US)

The Real Mccall - An AMERICAN STORYTELLER - Comin' Back For More / Ghost Town / Glenwood Canyon / There Won't Be No Country Music / Roy / Little Brown Sparrow / Wilderness / Aurora Borealis / Silverton / Wolf Creek Pass / Night Rider / Rocky Mountain September / Black Bear Road / Comp Bird Mine / Convoy / Columbine

1993
CD POLYDOR 825793 (US)
GREATEST HITS - Convoy / Silverton / Four Wheel Drive / Wolf Creek Pass / Classified / There Won't Be No Country Music / Old Home Filler Up An' Keep On A Truckin' Cafe / Crispy Critters / Round The World With The Rubber Duck / Black Bear Road / Roses For Mama / Aurora Borealis
05/1996
CD Polygram 314 520 394-2 (US)
THE BEST OF C.W. McCALL - Convoy / Jackson Hole / Four Wheel Cowboy / Wolf Creek Pass / Old Home Filler-Up An' Keep On A-Truckin' Cafe / Gallopin' Goose / Audubon / There Won'T Be No Country Music There Won'T Be No Rock'n Rool / Long Lonesome Road / Green River / Black Bear Road
05/2003
CD

AMerican

GRAMAPHONE 1776-2 (US)

American Spirit - Mannheim Steamroller - C.W. McCALL - Star Spangled Banner / American Spirit / America The Beautiful / Convoy / Fanfare For The Common Man / Yellowstone Morning / Heritage / Wolf Creek Pass / Home On The Range / Mt. McKinley / Cloudburst / Tin Type / Battle Hymn Of The Republic

08/2012
CD Omni OMNI-163 (AUS)

Wolf Creek Pass - Wolf Creek Pass / Night Rider / Classified / Old 30 / I've Trucked All Over This Land / Four Wheel Drive / Rocky Mountain September / The Old Home Filler-Up An' Keep On A-Truckin' Café / Sloan / Glenwood Canyon / Convoy / Black Bear Road / The Silverton / Lewis And Clark / Oregon Trail / Wilderness / Riverside Slide / Crispy Critters / There Won't Be No Country Music (There Won't Be No Rock 'n Roll) / Silver Iodide Blues / Aurora Borealis / Ratchetjaw / 'Round The World With A Rubber Duck / Nishnabotna / Camp Bird Mine
© Rocky Productions 11/12/2015