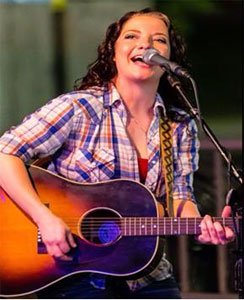 Chanteuse Country US née le 29 Juillet 1983 à Mammoth Spring (Arkansas).

A vocalist and songwriter with a touch of rock & roll swagger, a honky tonk heart, and a lyrical voice that puts a modern-day spin on classic country themes, Ashley McBryde put in years of hard work before becoming an overnight success.
Hailing from Mammoth Spring, Arkansas, McBryde first displayed her interest in music when she was three years old and tried to play her father's guitar. After repeatedly telling young Ashley to leave the instrument alone, her parents decided the best solution was to get her a guitar of her own. After learning to play, McBryde stuck with the guitar, and at 17 she wrote her first song. Initially, she was shy about sharing her work, and it wasn't until she enrolled at Arkansas State University (where she played in the marching band) that she began playing her songs for people outside her immediate family.
In 2005, McBryde recorded an album's worth of songs, titled Ashley McBryde, that she released herself in early 2006. Since she was a teenager, her dream had been to go to Nashville and break into the music business, and in 2007, she finally pulled up stakes and relocated to Music City. She assembled a band and played any club or bar that would have her, and she began making a name for herself. She won the Colgate Country Showdown talent competition in 2009 and 2010, and the same year, she and her band won a statewide "battle of the bands" in Tennessee. In 2011, McBryde released her second album, Elsebound, which once again was issued through her own label. More touring through the South followed, and in addition to headlining her own club dates, McBryde was opening shows for such stars as Willie Nelson, Chris Stapleton, Chris Cagle, and Hank Williams, Jr. (The latter came out on-stage while McBryde played his hit "Family Tradition," with Bocephus approvingly putting his arm around her as she sang.)
In 2016, McBryde issued an eight-song EP, Jalopies & Expensive Guitars, that helped build a buzz about her music, and country star Eric Church began singing her praises, describing her as a "whiskey-drinkin' badass" and joining her on-stage to duet on her song "Bible and a .44." After Church gave McBryde his endorsement, more and more people began to take notice, and she finally broke through with the single "A Little Dive Bar in Dahlonega," which found an appreciative audience on streaming services and led to her making her first appearance on the Grand Ole Opry in June 2017.
A year later, she returned with her major-label debut, Girl Going Nowhere, produced by Jay Joyce and released by Warner Music Nashville. The album included the hit "A Little Dive Bar in Dahlonega" and earned McBryde her first Grammy nomination, for Best Country Album. 2019 saw McBryde issue the singles "Girl Goin' Nowhere" and "One Night Standards," and she was nominated for two Grammy Awards that December (Best Country Song and Solo Performance for "Girl Goin' Nowhere"). Her next full-length, Never Will, was again produced by Joyce and appeared in April 2020.
https://www.ashleymcbryde.com/
https://www.facebook.com/ashleymcbryde/
https://en.wikipedia.org/wiki/Ashley_McBryde
Talents : Vocals, Guitar, Songwriter
Style musical : Contemporary Country, Traditional Country

https://youtu.be/K3LLA6vNcQk
Years in activity :
| | | | | | | | | | | | |
| --- | --- | --- | --- | --- | --- | --- | --- | --- | --- | --- | --- |
| 1910 | 20 | 30 | 40 | 50 | 60 | 70 | 80 | 90 | 2000 | 10 | 20 |
DISCOGRAPHY
Singles & EP
| | | | |
| --- | --- | --- | --- |
| 03/2018 | CD ATLANTIC ? (US) (limited edition) | | C2C Exclusive Album Sampler - Girl Going' Nowhere / Radioland / American Scandal / Little Dive Bar In Dahlonega / Tired Of Being Happy |
| 2018 | CD EastWest ‎? (UK) (promo) | | Girl Goin´Nowhere |
| 2018 | CD Warner Music ? (UK) (promo) | | A Little Dive Bar In Dahlonega |
Albums
| | | | |
| --- | --- | --- | --- |
| 06/2011 | CD ASHLEY MCBRYDE ? (US) | | Elsebound - Break It Fast / Arkansas / Journey / Why Do I / Some Things / Lie To Each Other / Marlboro Man / Holy Water / Whole Damn Thing / Little Tragedy / Good Ole Friend Of Mine |
| 03/2018 | CD Warner 566217-2 (US) | | Girl Going Nowhere - Girl Goin' Nowhere / Radioland / American Scandal / Southern Babylon / The Jacket / Livin' Next To Leroy / A Little Dive Bar In Dahlonega / Andy (I Can't Live Without You) / El Dorado / Tired Of Being Happy / Home Sweet Highway |
| 04/2020 | CD Warner 625135-2 (US) | | Never Will - Hang In There Girl / One Night Standards / Shut Up Sheila / First Thing I Reach For / Voodoo Doll / Sparrow / Martha Divine / Velvet Red / Stone / Never Will / Styrofoam |
| 2022 | CD Warner Music 093624866282 (US) | | Lindeville - Brenda Put Your Bra On / Jesus Jenny / Dandelion Diner / The Girl In The Picture / If These Dogs Could Talk / Play Ball / Ronnie's Pawn Shop / The Missed Connection Section Of The Lindeville Gazette / Gospel Night At The Strip Club / Forkem Family Funeral Home / When Will I Be Loved / Bonfire At Tina's / Lindeville |
© Rocky Productions 18/12/2022