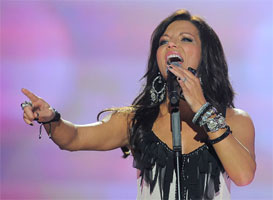 Chanteuse Country US née Martina Mariea Schiff le 29 Juillet 1966 à Sharon (Kansas).

Contemporary country singer Martina McBride rose to stardom in the late '90s, starting out with a more traditionalist approach and later moving into pop-friendlier territory. She was born Martina Mariea Schiff in Medicine Lodge, KS, in 1966 and discovered country music through her father, who led a local band called the Schifters. By her teen years, she was singing and playing keyboards with the Schifters, and after high school she gigged around Kansas with several different bands. She married soundman John McBride, and in 1990 the couple moved to Nashville, where John worked for artists like Charlie Daniels and Ricky Van Shelton; Martina, meanwhile, worked as a demo singer, and her husband produced her demo tape, which got her signed to RCA in 1991. Around the same time, John was hired as Garth Brooks' production manager, which helped land Martina an opening slot on tour with Brooks. Her debut album, The Time Has Come, was released in 1992, offering a set of songs indebted to traditional honky tonk and progressive-minded country-folk. The pop-inflected 1993 follow-up, The Way That I Am, was her commercial breakthrough, with the lead single "My Baby Loves Me" zooming up the country charts to the number two position. The affecting story-song "Independence Day" became something of a signature number, and another single, "Life #9," also reached the Top Ten.
McBride's 1995 follow-up, Wild Angels, gave her a second Top Five hit in "Safe in the Arms of Love," and its title track became her first-ever number one single. 1997's Evolution became her first Top Ten country album, and the Jim Brickman duo "Valentine" not only went Top Ten, but crossed over to become her first big hit on the adult contemporary charts. Evolution went on to spawn two number two hits ("Happy Girl" and "Whatever You Say") and two number one hits ("A Broken Wing" and "Wrong Again"), and sold over two million copies, launching McBride into the top rank of country stardom. She issued a Christmas album in late 1998 and returned with a proper follow-up, Emotion, in 1999. Its lead single, "I Love You," hit number one country and also crossed over to adult contemporary radio, and the follow-ups "Love's the Only House," "There You Are," and "It's My Time" were all successful as well (the first two also reached the Top Ten). 2001's Greatest Hits compilation was the first McBride album to top the country charts, and sold well enough to make the pop Top Five as well. It contained four new tracks, all of which were eventually released as singles; "Blessed" hit number one, and "When God-Fearin' Women Get the Blues" and "Where Would You Be" both reached the Top Ten. Martina from 2003 celebrated womanhood, while Timeless from 2005 was a collection of country classics; both became Top Ten album hits, the latter reaching number three. Waking Up Laughing appeared in 2007 from RCA Records. The CD/DVD set Live in Concert was issued in 2008, followed by Shine in 2009 from RCA. McBride next moved to the Republic Nashville label, which released her 11th studio album, the aptly named Eleven, in 2011. Returning to the studio at the end of 2013, McBride started recording her 12th album, 2014's Everlasting. Produced by Don Was, Everlasting was a departure that found McBride singing mainly soul and R&B covers, including Aretha Franklin's "Do Right Woman, Do Right Man" and the Supremes' "Come See About Me," and featured a duet with Kelly Clarkson on Etta James' "In the Basement." The album appeared on Kobalt Records in April 2014, debuting at number one on Billboard's Country Albums charts.
In 2015, McBride signed to Nash Icon, Scott Borchetta's imprint for veteran country artists. She recorded Reckless with producers Dann Huff and Nathan Chapman, and the album appeared in April 2016.
https://en.wikipedia.org/wiki/Martina_McBride
Talents : Vocals
Style musical : Contemporary Country, Traditional Country

https://youtu.be/RW81sTRPUVs
Years in activity :
| | | | | | | | | | | | |
| --- | --- | --- | --- | --- | --- | --- | --- | --- | --- | --- | --- |
| 1910 | 20 | 30 | 40 | 50 | 60 | 70 | 80 | 90 | 2000 | 10 | 20 |
DISCOGRAPHY
Singles
| | | |
| --- | --- | --- |
| 1980 | SP MARTINA MMS-1600/1 (US) | Martina Schiff - Hello Love, Goodbye / Your Cheatin' Heart |
| 03/1992 | SP RCA 62215-7 (US) | Time Has Come / Rope |
| 07/1992 | SP RCA 62291-7 (US) | That's Me / Losing You Feels Good |
| 11/1992 | SP RCA 62398-7 (US) | Cheap Whiskey / I Can't Sleep |
| 05/1993 | SP RCA 62599-7 (US) | My Baby Loves Me / Woman Knows |
| 12/1993 | SP RCA 62697-7 (US) | Life No 9 / Ashes |
| 05/1994 | SP RCA 62828-7 (US) | Independance Day / True Blue Fool |
| 10/1994 | SP RCA 62961-7 (US) | Heart Trouble / That Wasn't Me |
| 02/1995 | SP RCA 62948-7 (US) | Where I Used To Have A Heart / Heart Trouble |
| 07/1995 | SP RCA 64345-7 (US) | Safe In The Arms Of Love / Life No 9 |
| 11/1995 | SP RCA 64437-7 (US) | Wild Angels / Two More Bottles Of Wine |
| 03/1996 | SP RCA 64487-7 (US) | Phones Are Ringin' All Over Time / Beyond The Blue |
| 08/1996 | SP RCA 64610-7 (US) | Swingin' Doors / Phones Are Ringing All Over Time |
| 12/1996 | SP RCA 64728-7 (US) | Cry On The Shoulder Of The Road / Great Disguise |
| 06/1997 | SP RCA 64850-7 (US) | Martina MCBRIDE & Clint BLACK - Still Holdin' On / Still Holdin' On (long version) |
| 09/1997 | SP RCA 64963-7 (US) | Broken Wing / Valentine |
| 05/1998 | SP RCA 65456-7 (US) | Wrong Again / Happy Girl |
| 03/1999 | SP RCA 65730-7 (US) | Whatever You Say / Be That Way |
| 06/1999 | SP RCA 65896-7 (US) | I Love You / Whatever You Say |
| 11/1999 | SP RCA 65933-7 (US) | Love's The Only House / I Love You |
| 04/2000 | SP RCA 60214-7 (US) | There You Are / Do What You Do |
| 10/2001 | SP RCA 69135-7 (US) | Blessed / When God-Fearin' Women Get The Blues |
| 2002 | SP RCA 69193-7 (US) | Where Would You Be / Concrete Angel |
| | |
| --- | --- |
| | |
Albums
05/1992
CD RCA 66002 (US)
THE TIME HAS COME - Time Has Come / That's Me / True Blue Fool / Losing You Feel Good / Walk That Line / Cheap Whiskey / I Can't Sleep / Woman Knows / Rope / When You Are Old
09/1993
CD RCA 66288 (US)
THE WAY THAT I AM - Heart Trouble / My Baby Loves Me / That Wasn't Me / Independence Day / Where I Used To Have A Heart / Goin' To Work / She Ain't Seen Nothing Yet / Life No 9 / Strangers / Ashes
09/1995
CD RCA 66509 (US)
WILD ANGELS - Wild Angels / Safe In The Arms Of Love / Phones Are Ringin' All Over Town / Great Disguise / Swingin' Doors / All The Things We've Never Done / Two More Bottles Of Wine / Cry On The Shoulder Of The Road / You've Been Driving All The Time / Born To Give My Love To You / Beyond The Blue
08/1997
CD RCA 67516 (US)
EVOLUTION - I'm Little But I'm Loud / Happy Girl / Be That Way / Broken Wing / Wrong Again / Keeping My Distance / Still Holdin' On / Whatever You Say / I Won't Close My Eyes / I Don't Want To See You Again / Some Say I'm Running / Here In My Heart / One Day You Will / Valentine
09/1998
CD RCA 67654 (US)
WHITE CHRISTMAS - Have Yourself A Merry Little Christmas / Let It Snow Let It Snow Let It Snow / Christmas Song / O Holy Night / Silver Bells / Away In A Manger / White Christmas / What Child Is This / I'll Be Home For Christmas / Silent Night
09/1999
CD RCA 67824 (US)
EMOTION - Do What You Do / Anything's Better Than Feelin' The Blues / I Love You / Make Me Believe / Love's The Only House / There You Are / It's My Time / I Ain't Goin' Nowhere / Anything And Everything / From The Ashes / Goodbye / This Uncivil War
10/1999
CD RCA 67842 (US)
WHITE CHRISTMAS - Have Yourself A Merry Little Christmas / Let It Snow Let It Snow Let It Snow / Christmas Song / O Holy Night / Silver Bells / Away In A Manger / White Christmas / What Child Is This / I'll Be Home For Christmas / Silent Night
09/2001
CD RCA 67012 (US)
GREATEST HITS - My Baby Loves Me / Life No 9 / Independence Day / Strangers / Safe In The Arms Of Love / Wild Angels / Valentine / Broken Wing / Happy Girl, Wrong Again / Whatever You Say / I Love You / Love's The Only House / There You Are / When God-Fearin' Women Get The Blues / Where Would You Be / Concrete Angel / Blessed
09/2003
CD RCA 54207 (US)
MARTINA - So Magical, She's A Butterfly / City Of Love / This One's For The Girls / How Far / Reluctant Daughter / Wearing White / When You Love Me / In My Daughter's Eyes / Learning To Fall / God's Will / Over The Rainbow
10/2005
CD RCA 72425 (US)
TIMELESS - You Win Again / I'll Be There (with Dan TYMINSKI & Rhonda VINCENT) / I Can't Stop Loving You / (I Never Promised You A) Rose Garden / Today I Started Loving You Again / You Ain't Woman Enough / Once A Day / Pick Me Up On Your Way Down / I Don't Hurt Anymore / True Love Ways / Til I Can't Make It On My Own / I Still Miss Someone (with Dolly PARTON) / Heartaches By The Number (with Dwight YOAKAM) / Satin Sheets / Thanks A Lot / Love's Gonna Live Here / Make The World Go Away / Help Me Make It Through The Night
07/2006
3 CD MADACY 52410 (US)
THE COLLECTION :

CD 1 : The Time Has Come / That's Me / True Blue Fool / Losing You Feels Good / Walk That Line / Cheap Whiskey / I Can't Sleep / A Woman Knows / The Rope / When You Are Old
CD 2 : Heart Trouble / My Baby Loves Me / That Wasn't Me / Independence Day / Where I Used To Have A Heart / Goin' To Work / She Ain't Seen Nothing Yet / Life #9 / Strangers / Ashes
CD 3 : Wild Angels / Safe In The Arms Of Love / Phones Are Ringin' All Over Town / A Great Disguise / Swingin' Doors / All The Things We've Never Done / Two More Bottles Of Wine / Cry On The Shoulder Of The Road / You've Been Driving All The Time / Born To Give My Love To You / Beyond The Blue

07/2006
2 CD MADACY 52492 (US)
THE COLLECTION :

CD 1 : Heart Trouble / My Baby Loves Me / That Wasn't Me / Independence Day / Where I Used To Have A Heart / Goin' To Work / She Ain't Seen Nothing Yet / Life #9 / Strangers / Ashes
CD 2 : Wild Angels / Safe In The Arms Of Love / Phones Are Ringin' All Over Town / A Great Disguise / Swingin' Door / All The Things We've Never Done / Two More Bottles Of Wine / Cry On The Shoulder Of The Road / You've Been Driving All The Time / Born To Give My Love To You / Beyond The Blue

04/2007
CD RCA 03674 (US)
WAKING UP LAUGHING - If I Had Your Name / Cry Cry (Till The Sun Shines) / Tryin' To Find A Reason / For These Times / Anyway (album & digital single version) / How I Feel / I'll Still Be Me / Beautiful Again / Everybody Does / House Of A Thousand Dreams / Love Land
01/2008
3 CD SONY 37185 (US)
TRIPLE FEATURE :

CD 1 : The Time Has Come / That's Me / True Blue Fool / Losing You Feels Good / Walk That Line / Cheap Whiskey / I Can't Sleep / A Woman Knows / The Rope / When You Are Old
CD 2 : Heart Trouble / My Baby Loves Me / That Wasn't Me / Independence Day / Where I Used To Have A Heart / Goin' To Work / She Ain't Seen Nothing Yet / Life #9 / Strangers / Ashes
CD 3 : Wild Angels / Safe In The Arms Of Love / Phones Are Ringin' All Over Town / A Great Disguise / Swingin' Doors / All The Things We've Never Done / Two More Bottles Of Wine / Cry On The Shoulder Of The Road / You've Been Driving All The Time / Born To Give My Love To You / Beyond The Blue

04/2008
CD + DVD SONY / BMG 8869728338 (US)
LIVE IN CONCERT :

CD : Happy Girl / Anyway / Concrete Angel / From The Ashes / Whatever You Say / This One's For The Girls / Independence Day / Hit Me With Your Best Shot
DVD : Anyway

/

When God-Fearin' Women Get The Blues

/

Wild Angels

/

My Baby Loves Me

/

Tryin' To Find A Reason

/

How I Feel

/

Happy Girl

/

(I Never Promised You A) Rose Garden

/

You Ain't Woman Enough / Help Me Make It Through The Night

/

Where Would You Be

/

Concrete Angel

/

For These Times / Medley : Love's The Only House - Blessed

/

This One's For The Girls

/

A Broken Wing

/

Independence Day

/

Don't Stop Believin'

/

Hit Me With Your Best Shot

/

Over The Rainbow

09/2008
3 CD MADACY 53904 (US)
COLLECTOR'S EDITION :

CD 1 : The Time Has Come / That's Me / True Blue Fool / Losing You Feels Good / Walk That Line / Cheap Whiskey / I Can't Sleep / A Woman Knows / The Rope / When You Are Old
CD 2 : Heart Trouble / My Baby Loves Me / That Wasn't Me / Independence Day / Where I Used To Have A Heart / Goin' To Work / She Ain't Seen Nothing Yet / Life #9 / Strangers / Ashes
CD 3 : Wild Angels / Safe In The Arms Of Love / Phones Are Ringin' All Over Town / A Great Disguise / Swingin' Doors / All The Things We've Never Done / Two More Bottles Of Wine / Cry On The Shoulder Of The Road / You've Been Driving All The Time / Born To Give My Love To You / Beyond The Blue

12/2008
CD RCA 727748 (US)
PLAYLIST - My Baby Loves Me / Wild Angels / Safe In The Arms Of Love / There You Are [remix] / Happy Girl / It's My Time / Wrong Again [acoustic] / Show Me / I Love You [Pop remix] / How I Feel / This One's For The Girls [remix] / Cryin' Time / Independence Day / God Bless America
03/2009
CD RCA / SONY 8869734190 (US)
SHINE - Wrong Baby Wrong Baby Wrong / I Just Call You Mine / Sunny Side Up / Walk Away / I'm Trying / What Do I Have To Do / Don't Cost A Dime / Ride / You're Not Leaving Me / Wild Rebel Rose / Lies
2010
3 CD SONY 88697645762 (UK)
ORIGINAL ALBUM CLASSICS :

CD 1 : The Time Has Come / That's Me / True Blue Fool / Losing You Feels Good / Walk That Line / Cheap Whiskey / I Can't Sleep / A Woman Knows / The Rope / When You Are Old
CD 2 : Heart Trouble / My Baby Loves Me / That Wasn't Me / Independence Day / Where I Used To Have A Heart / Goin' To Work / She Ain't Seen Nothing Yet / Life #9 / Strangers / Ashes
CD 3 : Wild Angels / Safe In The Arms Of Love / Phones Are Ringin' All Over Town / Great Disguise / Swinging Doors / All The Things We've Never Done / Two More Bottles Of Wine / Cry On The Shoulder Of The Road / You've Been Driving All The Time / Born To Give My Love To You / Beyond The Blue

11/2010
CD SONY 77672 (US)
SUPER HITS - My Baby Loves Me / I Love You / Life #9 / Happy Girl / Safe In The Arms Of Love / Here In My Heart / It's My Time / Make Me Believe / Whatever You Say / Good Bye
11/2010
CD + DVD SONY 78847 (US)
DOUBLE PLAY :

CD 1 : PLAYLIST - My Baby Loves Me / Wild Angels / Safe In The Arms Of Love / There You Are / Happy Girl / It's My Time / Wrong Again (acoustic) / Show Me / I Love You [Pop remix] / How I Feel / This One's For The Girls / Cryin' Time / Independence Day / God Bless America
DVD : THE GREATEST HITS VIDEO COLLECTION : My Baby Loves Me / Life #9 / Independence Day / Safe In The Arms Of Love / Wild Angels / A Broken Wing / Whatever You Say / Love's The Only House / When God-Fearin' Women Get The Blues / The Time Has Come / Cheap Whiskey / Interview - Whatever You Say / Whatever You Say [2-Channel stereo mix] / Interview - Love's The Only House / Love's The Only House [2 Channel stereo mix] / When God-Fearin' Women Get The Blues [2-Channel stereo mix] / The Time Has Come [2-Channel stereo mix] / Interview - Cheap Whiskey / Cheap Whiskey [2-Channel stereo mix]

05/2011
2 CD SONY / LEGACY 87289 (US)
MARTINA / TIMELESS :

CD 1 : So Magical, She's A Butterfly / City Of Love / This One's For The Girls / How Far / Reluctant Daughter / Wearing White / When You Love Me / In My Daughter's Eyes / Learning To Fall / God's Will / Over The Rainbow
CD 2 : You Win Again / I'll Be There (with Dan TYMINSKI & Rhonda VINCENT) / I Can't Stop Loving You / (I Never Promised You A) Rose Garden / Today I Started Loving You Again / You Ain't Woman Enough / Once A Day / Pick Me Up On Your Way Down / I Don't Hurt Anymore / True Love Ways / Til I Can't Make It On My Own / I Still Miss Someone (with Dolly PARTON) / Heartaches By The Number (with Dwight YOAKAM) / Satin Sheets / Thanks A Lot / Love's Gonna Live Here / Make The World Go Away / Help Me Make It Through The Night

10/2011
CD UNIVERSAL REPUBLIC B0016011-02 (US)
ELEVEN - One Night / Always Be This Way / I'm Gonna Love You Through It / Marry Me / Broken Umbrella / You Can Get Your Lovin' Right Here / Whatcha Gonna Do / Teenage Daughters / Summer Of Love / When You Love A Sinner / Long Distance Lullaby
01/2012
CD SONY 88697980872 (US)
HITS AND MORE - My Baby Loves Me / Independence Day / Wild Angels / A Broken Wing / Valentine / Happy Girl / Whatever You Say / I Love You / Love's The Only House / Blessed / Where Would You Be / Concrete Angel / This One's For The Girls / In My Daughter's Eyes / Anyway / Ride / Wrong Baby Wrong Baby Wrong / Surrender / Straight To The Bone / Being Myself
10/2012
2 CD LEGACY / RCA 546488 (US)
THE ESSENTIAL MARTINA McBRIDE :

CD 1 : The Time Has Come / My Baby Loves Me / Life #9 / Independence Day / Heart Trouble / Safe In The Arms Of Love / Wild Angels / Valentine (Martina McBRIDE feat. Jim BRICKMAN) / A Broken Wing / Still Holding On (Martina McBRIDE feat. Clint BLACK) / Happy Girl / Wrong Again / 'Til I Can Make It On My Own / Chances Are (Martina McBRIDE feat. Bob SEGER) / Whatever You Say / I Love You / Love's The Only House / It's My Time / When God-Fearin' Women Get The Blues / How Great Thou Art
CD 2 : Blessed / Where Would You Be / Concrete Angel / This One's For The Girls / In My Daughter's Eyes / How Far / God's Will / Trip Around The Sun (Martina McBRIDE feat. Jimmy BUFFETT) / (I Never Promised You A) Rose Garden / Harper Valley P.T.A. / Feels Like Home (Martina McBRIDE feat. Raul MALO) / Anyway / Through Your Eyes / I Just Call You Mine / Ride / Wrong Baby Wrong Baby Wrong / Louisiana Woman, Mississippi Man (Martina McBRIDE feat. Alan JACKSON) / At Last / Sweet Dreams (Of You) (Martina McBRIDE feat. TAKE 6) / Over The Rainbow

11/2012
CD BMG / SONY 95384 (US)
COUNTRY- Independence Day / Safe In The Arms Of Love / My Baby Loves Me / Wild Angels / A Broken Wing / Love's The Only House / Wrong Again / How Far / This One's For The Girls / Blessed
10/2013
CD SONY 374365 (US)

The Classic Christmas Album -

The Christmas Song (Chestnuts Roasting on an Open Fire) / Silver Bells (Martina Mc

Bride

feat: Elvis

Presley

) / The Christmas Song (Chestnuts Roasting On An Open Fire) / Do You Hear What I Hear / Hark! The Herald Angels Sing / Away In A Manger / Winter Wonderland (Martina McB

ride

feat: Dean

Martin

) / Have Yourself A Merry Little Christmas / Blue Christmas (Martina McB

ride

feat: Elvis

Presley

) / O Come All Ye Faithful / Silent Night / White Christmas / Baby, It's Cold Outside (Martina McB

ride

feat: Dean

Martin) /

I'll Be Home For Christmas / What Child Is This / O Holy Night
04/2014
CD Sharon's Rose / Vinyl Recordings SROSE 001CD (US)

Everlasting -

Do Right Woman, Do Right Man / Suspicious Minds / If You Don't Know Me By Now / Little Bit Of Rain / Bring It On Home To Me (Martina McB

ride

feat: Gavin DeG

raw

) / Come See About Me / What Becomes Of The Brokenhearted / I've Been Loving You Too Long / Wild Night / In The Basement (Martina McB

ride

feat: Kelly C

larkson

) / My Babe / To Know Him Is To Love Him
04/2016
CD Nash Icon / Universal 200 (US)

Reckless -

Reckless / It Ain't Pretty / Just Around The Corner / Everybody Wants To Be Loved / The Real Thing / That's The Thing About Love / Low All Afternoon / Diamond / We'll Pick Up Where We Left Off / You and You Alone
10/2018
CD Broken Bow 4050538307160 (US)

It's the Holiday Season - Santa Claus Is Coming To Town / Most Wonderful Time Of The Year / Winter Wonderland / It's Beginning To Look A Lot Like Christmas / Rudolph The Red-Nosed Reindeer / Happy Holiday/It's The Holiday Season / Home For The Holidays / Frosty The Snowman / My Favorite Things
© Rocky Productions 1/12/2018