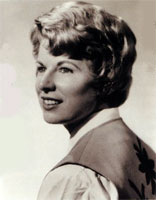 Chanteuse Country US née Janet Lister, le 5 Avril 1934 à Inglewood (Californie).

Born Janet Lister, 5 April 1934, Inglewood, California, USA. McBride grew up in North Whitefield, Maine and developed a keen interest in country music and yodelling as a child. She sang with siblings at local venues but after marrying Claude McBride in 1955, they returned to California, where she began a solo career. She first recorded for Toppa in 1960 with Wynn Stewart's band and during the early 60s, she worked shows with many artists including Merle Haggard and Buck Owens and featured in television shows. In 1965, she relocated to Dallas, where she became the featured vocalist at Dewey Groom's Longhorn Ballroom, appeared on theBig "D" Jamboree and recorded songs and yodels for the Longhorn label. Accompanied by her husband and songwriter Vern Stovall, she played Las Vegas venues and toured to Canada. In 1968, after further tours with Roy Clark and Tex Williams, she relocated to Nashville but returned to Dallas the following year and continued her appearances at the Longhorn Ballroom. When Claude died, in 1973, she retired from singing until 1976, when she married B.J. Ingram, a Dallas County deputy sheriff. Together they started the Saturday night Mesquite Opry, a show which featured both local and touring country artists. In 1984, she achieved a lifelong ambition by singing on stage at the Grand Ole Opry with Patsy Montana, whose yodelling had always been her inspiration. (She had recorded Patsy's 'I Want To Be A Cowboy's Sweetheart', as her tribute, years before).
During her career McBride, an excellent exponent of the art, has written several yodelling numbers including 'Best Dern Yodeler', 'Yodelling Jan' and her popular 'Yodeling Tribute', which mentions great yodellers including Jimmie Rodgers, Elton Britt and others. She was awarded Western Music Association's Female Yodeler Of The Year in 1991. Deciding to take things easier, she closed the Mesquite Opry 30 December 1995 but maintained some public concert appearances including touring to Austria in 1996, where she featured at the Vienna Country Music Festival gaining good reviews for her yodelling. She has recorded for several labels with backing provided by such as Ralph Mooney, Phil Baugh and Dale Potter. In the 80s three albums were issued by a German label, one being a compilation of earlier recordings while there have also been cassette releases and in 1996 a CD containing 25 of her own songs.
http://www.hillbilly-music.com/artists/story/index.php?id=14349
Talents : Vocals, Guitar
Style musical : Yodel, Traditional Country

https://youtu.be/b8KYpM8ulDs
Years in activity :
| | | | | | | | | | | |
| --- | --- | --- | --- | --- | --- | --- | --- | --- | --- | --- |
| 1910 | 20 | 30 | 40 | 50 | 60 | 70 | 80 | 90 | 2000 | 10 |
DISCOGRAPHY
Singles & EP
| | | | |
| --- | --- | --- | --- |
| 04/1960 | SP TOPPA 45-1013 (US) | . | Another Woman's Man / Help Me Forget Him |
| 1960 | SP TOPPA 45-1029 (US) | . | Can You Love Us Both / Sweethearts By Night |
| 1961 | SP TOPPA 45-1043 (US) | . | Crazy Heart / Home Away From Home |
| 05/1962 | SP TOPPA 45-1059 (US) | . | Heaven Is For Sale / Your Nights In Charlie's Shoes |
| 1962 | SP TOPPA 45-1072 (US) | . | Holding On To You / Why'd You Do It |
| 1962 | SP Brookhurst 0003/0004 (US) | . | Cannonball Yodel / You'd Better Go |
| 1964 | SP Brookhurst 0017 (US) | . | What Did She Do / I Want To Be A Cowboy's Sweetheart |
| 1964 | SP Brookhurst 0020 (US) | . | Best Dern Yodeler / Yodeling Tribute |
| 02/1964 | SP SIMS 163 (US) | . | Swiss Cheese / Almost There |
| 1964 | SP Galahad G-528 (US) | . | Even If I Win (I'm Gonna Lose) / Home Away From Home |
| 1965 | SP SIMS 244 (US) | . | Letter To A Fool (Janet McBRIDE & Billy BARTON) / Arms Of A Children |
| 1965 | SP Longhorn LH 564 (US) | . | Guy Here With Me / Common Law Wife |
| 05/1966 | SP Longhorn LH 571 (US) | . | Janet McBRIDE & Vern STOVALL - "I'm Wild Bill Tonight / Not Worth The Paper |
| 1966 | SP Longhorn LH 575 (US) | . | Janet McBRIDE & Vern STOVALL - Where Did The Other Dollar Go / Tell Me Again |
| 1967 | SP Longhorn LH 578 (US) | . | Outside Of That / Yodelin' Jan |
| 1967 | SP Longhorn LH 582 (US) | . | Mass Confusion / Woman's Point Of View |
| 1968 | SP Longhorn LH 585 (US) | . | Play Like You Love Me / Truth That's |
| 12/1969 | SP METROMEDIA MM-161 (US) | . | My Johnny Lies Over And Over / That's Not Like Me |
| 1972 | SP LAMAR 38411/2 (US) | . | Janet McBRIDE & Jane McBride - Heaven Gets Closer Everyday / Love Is The Greatest Thing |
| 198? | EP Brookhurst BR 002 (US) | | The Yodelers Lament / The Smoky Mountain Yodeler / The Happy Yodeler / The Yodeler's Hall of Fame / The Ballad Of North Whitefield, ME |
| 198? | SP Brookhurst BR 003 (US) | | Cannonball Yodel / Looking for A Yodeling Man / They Taught Me To Yodel |
| 198? | SP Brookhurst BR 004 (US) | . | Yodeling At The Grand Ole Opry |
| 198? | SP Brookhurst BR 005 (US) | . | The Gospel Yodel / The Gospel Yodel |
| 198? | EP Brookhurst BR 008 (US) | | I Think I Heard A Yodeling Bird / I'm Gonna' Dream My Way To A Swiss Chalet / Montana Cowboy / Yodeler's Dream |
| 198? | EP Brookhurst BR 012 (US) | | Daddy's Yodel / Columbus Stockade Blues / Yodel Sweet Molly (with John Ingram) / There's a Love Knot In My Lariat / Betcha' My Heart I Love Ya' |
| 1981 | SP Brookhurst BR 20 (US) | . | Best Dern Yodeler / Yodeling Tribute |
| 1983 | SP Brookhurst BR 21 (US) | . | The Mild Side Of Life / Silver Moon On The Golden Gate |
| 2009 | CD Deepcross CD-010 (US) | . | Mama (Got There As Fast As I Could) |
Albums
1967
LP 12" Longhorn LP-005 (US)

Country Dozen - Janet McBRIDE & Vern STOVALL - Wee Wee Bwana (Vern STOVALL) / If You Don't Know Now (You Never Will) (Janet McBRIDE) / I'm Wild Bill Tonight (Vern STOVALL & Janet McBRIDE) / Funny Sense Of Humor (Vern STOVALL) / Tell Me Again (Janet McBRIDE & Vern STOVALL) / Outside Of That (Janet McBRIDE) / Keep The Dime (Janet McBRIDE) / This Is Our Wedding Day (Vern STOVALL & Janet McBRIDE) / Where Did The Other Dollar Go (Janet McBRIDE & Vern STOVALL) / (I Didn't Know) Angels Flew This Close To The Ground (Vern STOVALL) / Yodelin' Jan (Janet McBRIDE) / Don't Squeeze My Sharmen (Vern STOVALL)

1985
LP 12" BINGE LP-1001 (GER)

The Mesquite Opry Presents Janet McBride, Pride Of The Country - Holding On / What Did She Do? / Why'd You Do It? / Sweethearts By Night / Can You Love Us Both? / Crazy Heart / Home Away From Home / Your Nights In Charlie's Shoes / Another Woman's Man / Help Me Forget Him / Almost Three / Even If I Win (I'm Gonna Lose) / The Arms Of A Child / Swiss Cheese

1986
LP 12" BINGE LP-1003 (GER)

Yodelin' Jan - Yodelin' Jan / Outside Of That / The Guy Here With Me / Common Law Wife / I'm Wild Bill Tonite (and Vern Stovall) / Home Away From Home / Where Did The Other Dollar Go? (and Vern Stovall) / My Johnny Lies (Over And Over) / That's Not Like Me / Tell Me Again (and Vern Stovall) / Mass Confusion / A Woman's Point Of View / Play Like You Love Me / It's The Truth That's Killin' Me

1986
LP 12" CATTLE LP 93 (GER)
YODELING AT THE GRAND OLE OPRY - Yodeling At The Grand Ole Opry / Yodeling Tribute / Chime Bells / There's A Silver Moon On The Golden Gate / I Want To Be A Cowboy's Sweetheart / Yodelin' Jan / Best Dern Yodeler / This One's For Daddy / Just A Yodel For Me / I'm Gonna Dream My Way / Montana Cowboy / Toy Yodeler (Janet McBRIDE & Dexter JOHNSON) / Yodel Sweet Molly (Janet McBRIDE, Mark McBRIDE & John INGRAM) / Halleluja Yodel Lady
1988
LP 12" CATTLE LP 118 (GER)

The Texas Yodel Lady - Janet McBride with Dexter JOHNSON & The TENNESSEE VALLEY BOYS - Texas Yodel Lady / The Yodellers Hall Of Fame / Betcha My Heart I Love You / The Happy Yodeler / Second Fiddle To An Old Guitar / The Grand Ole Opry / The Alpine Yodel Polka / Guilty / Columbus Stockade Blues / The Ballad Of North Whitefield /Maine / The Smoky Mountain Yodeler / A Yodeler's Lament

1997
CD

Charlie

Ray

? (US)

Charlie Ray Presents Janet McBride's Mesquite Flavored Country - Looking For Jeannie / The Suitcase / Like You Did / When / Have A Nice Day / The Call / We Don't Love Here / Mom, Can I Come Home / Cheaters; Guilty / A Little At A Time / I'm Glad I Didn't Lose / Wrong Enough / Sand In The Garden / The Yodeler's Dream / Texas Yodel Lady / I Think I Hear A Yodeling Bird / The Gospel Yodel / The Yodeling Tribute / Montana Cowboy / The Greatest Party / I Guess They Didn't Know / The Picture Is Clear / It's Not Here / Who Is This Jesus Person?

1998
CD Brookhurst BR CD 002 (US)

Classic Yodel Song Collection - Wide Rollin' Plains / My Last Old Yodel Song / I Want To Be A Cowboy's Sweetheart / Pinto Pal / Yodeling Mad / If I Could Only Learn To Yodel / Swiss Moonlight Lullaby / Chime Bells / The Cowboy Yodel / Ding Dong Polka / Texas Plains / I'm A Cowgirl At Heart / He Taught Me To Yodel / Rockin' Over River

2002
2 CD Brookhurst BR CD 005 (US)

50 Years Of Yodeling With Janet McBride :

CD 1 : He Taught Me To Yodel / My Echo And I / Cannon Ball Yodel / Chime Bells / Swiss Cheese Yodeling Song / I Want To Be A Cowboys's Sweetheart / He Taught Me To Yodel / Yodeling Jan / Yodeling Tribute (1981) / Alpine Yodel Polka (1985) / This One's For Daddy (1986) / Just A Yodel For Me (1986) / The Ballad Of North Whitefield, Maine (1988) / The Cowboy Yodel (1988) / Yodeler's Lament (1988) / Best Dern Yodeler (1992) / The Grand Ole Opry (1992) / The Smoky Mountain Yodeler (1988) / The Happy Yodeler (1988) / Yodeling At The Grand Ole Opry (1990) / The Yodeling Tribute (1992) / Where The Yodel Began (1992) / Looking For A Yodeling Man (1988) / The Yodelers Hall Of Fame (1988) / They Taught Me To Yodel (1989) / Texas Yodel Lady (1992) / The Gospel Yodel (1991) / A Yodeling Lesson (1997) / A Yodeling Addiction (1997) / I Think I Heard A Yodeling Bird (1994) / I'm Gonna' Dream My Way To A Swiss Chalet (1995) / Montana Cowboy (1995)
CD 2 : A Yodeler's Dream (with Mark Mc

bride

) (1995) / I Want To Bea Cowboy's Sweetheart (1997) / Chime Bells (1997) / If I Could Only Learn To Yodel (1997) / Wide Rollin' Plains (1997) / Ding Dong Polka (1997) / She Taught Me To Yodel (1997) / My Swiss Moonlight Lullabye (1998) / Rockin' Over River (1998) / My Last Old Yodeling Song (1998) / I'm A Cowgirl At Heart (Aka Out Where The West Wind Blows) (1998) / Texas Plains (1998) / The Cowboy Yodel (1998) / Pinto Pal (1998) / Yodeling Mad (1998) / Swing Time Cowgirl (1999) / Pride Of The Prairie (1999) / Yodel Your Troubles Away (1999) / Cowboy Rhythm (1999) / I Want To Be A Cowboy's Dream Girl (1999) / The Texas Cowgirl (1999) / When A Cowgirl Is Happy (1999) / Daddy Was A Yodeling Cowboy (1999) / Daddy's Yodel (2001) / Columbus Stockade Blues (2001) / Yodel Sweet Molly (with John I

ngram

) (2001) / There's A Love Knot In My Lariat (2001) / Betcha' My Heart I Love Ya' (2001) / Santa's Yodeling Song (2001)

2004
CD Brookhurst BR CD 006 (US)

Gospel Country - Little Green Valley / Rain, Rain, Rain / The Gospel Yodel / The Legend Of The Dogwood / The Eyes Of A Child / Run, Hide And Cry / Who Is This Jesus Person / The Old Country Church / The Invitation / Save A Little Spot In Heaven / Gone / I Guess They Didn't Know / What Have You Been Waiting For / It's Not Here / Go Tell My Brother / The Picture Is Clear / The Greatest Party Ever Planned / Let's Pretend (Lister Trio, 1951) / I'll Be Listening (Lister Quartet, 1997)

2005
CD Brookhurst BR CD 007 (US)

Happy Yodeling Cowgirl - A Cowgirl's Dream (with Patsy Montana) / Whatever Happened To The Yodeling Cowgirls / Singing My Song Of The Trail / Santa's Yodeling Song (unabbreviated) / I Only Want A Buddy Not A Sweetheart / Casting My Lasso / I Want To Be A Cowboy's Sweetheart / Yodel Mountain / Yodeling Lesson / Singing The Blues / I'm Gonna Dream My Way / Happy Yodeling Cowgirl / A Yodeler's Dream (with Mark McBride) / There's A Silver Moon On The Golden Gate (with Emma Tucker, 1984)

2007
CD BRONCO BUSTER CD-9060 (GER)

Honky Tonk Ballads and Classic Yodeling - Holding On / What Did She Do? / Why'd You Do It? / Sweethearts By Night / Can You Love Us Both? / Crazy Heart / Home Away From Home / Your Nights In Charlie's Shoes / Another Woman's Man / Help Me Forget Him / Almost Three / Even If I Win (I'm Gonna Lose) / The Arms Of A Child / Swiss Cheese / Yodelin' Jan / Outside Of That / The Guy Here With Me / Common Law Wife / I'm Wild Bill Tonite (and Vern Stovall) / Home Away From Home / Where Did The Other Dollar Go? (and Vern Stovall) / My Johnny Lies (Over And Over) / That's Not Like Me / Tell Me Again (and Vern Stovall) / Mass Confusion / A Woman's Point Of View / Play Like You Love Me / It's The Truth That's Killin' Me

2009
CD Brookhurst BR CD 008 (US)

Still Loving The Ride - My Yodeling Rocky Mountain Home / One Day At A Time / Mama (I Got Here As Fast As I Could) / Moon Medley (There's A New Moon Over My Shoulder - When My Blue Moon Turns To Gold Again) / I Hate To Hear A Grown Man Lie / Life's Railway To Heaven / Driftwood On The River / What's Missing (with Mark McBride) / Prairie Schooner / You Do I Do / I Won't Have To Cross Jordan Alone / Jimmy Rodgers Medley (When It's Pea Pickin' Time In Georgia - Waiting For A Train) / Is It Pity / I Just Can't Stop Loving You / Sing A Sad Song
© Rocky Productions 10/12/2015