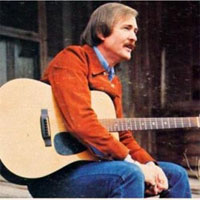 Chanteur Country US né le 18 Décembre 1936 à Bell County (Texas). Dale McBride est décédé le 30 Novembre 1992.

Dale McBride was a grand performer, as much at home on the stage as he was at a backyard barbecue. The "Dale McBride Show" was the whole package: A little Country, a little Rock, spiced with blues, and flavored with pop, and nearly always tendered with a spiritual edge.
His love of guitar was evident in every note he played. And when he was in between all that, he loved to joke and laugh with the audience with monologues that were dry and wry, witty and wild. And just when you thought it couldn't get any better, Dale would mesmerize the crowd by busting loose with his incredible impersonations of Elvis, Walter Brennan, Marty Robbins, Roy Orbison and a host of others.
Dale's small town (Lampasas, Texas) roots, and a deep spiritual upbringing, kept him firmly grounded in a profession that swallows up a lot of talented performers long before they have been in the business for the three solid decades that Dale recorded his legacy. Hundreds of recordings that provide a lasting memory, not only to his proud and loving family and friends, but to countless adoring fans.
Dale's recording history began in the late 50's when traditional Country Music was in a state of flux and very hostile to newcomers. But the innovative Dale was determined to make a living via his talent, and became one of the early pioneers of Rockabilly music. From a memorable performance with Gaylon Christie and the Downbeats on Kobb Records "Because I Love You So",to Dale's solo performances on Fame Records' Rockabilly Classic "Prissy Missy" to his Teardrop Label classic swamp rocker "Barbara". Dale's early hits certainly fired up Biloxi, Mississippi's teen dancers on my Saturday afternoon WLOX-TV dance program, "Teen Time".
Still, Dale's heart never drifted far from his country roots, and the flip sides of his rockabilly recordings generally featured a pure traditional country love song, i.e., "Born To Love You" and "I Can't Ever Free My Mind".
With that rare crooning tenor voice that covered more than a couple of octaves, and a falsetto that could raise the hair on the back of your neck, Dale could have gone in any musical direction, perhaps even Opera, a fact that did not escape Dean Martin's attention in the mid sixties when he heard Dale and immediately signed him to a contract with his label Reprise Records.
Although Reprise was a huge and successful major record subsidiary, its focus was on adult pop, mostly middle-of-the-road music, which Dale was great at, but he yearned for a more mass appeal sound, and something more attuned to his roots. By 1970 Dale found a progressive Texas label, Thunderbird Records, which was eager to give him a shot at some traditional country cover songs, along with some of his own original compositions, including "Corpus Christie Wind". And that was Dale's first single to hit Billboard Magazine's Hot Country Chart.
During the early to mid 70's Dale produced a couple of albums on his own label which included a "Live" album of one of his stage shows, and also some of his wry monologues, plus some great impressions of Elvis Presley and Walter Brennan.
It was around that time that Nashville started perking up to Dale's music, and noted arranger/ producer Bill Walker signed him to a new energetic label called Con-Brio Records where he recorded two successful albums along with several hit singles, including his biggest career chart song, "Ordinary Man".
Other charted singles included, "I Don't Like Cheatin' Songs", "Getting Over You Again", and "Always Lovin' Her Man".
It was also during that time that several of his own compositions received national attention through inclusion on these albums – My Girl, Get Your Hands On Me Baby, and Love I Need You, all received critical praise from fans and music critics alike.
Producer and arranger Bill Walker described Dale at the time as, "Versatile, talented and one of the great voices in country music".
Dale recorded for Con Brio for the period 1976-1979.
During the 80's Dale continues an exhaustive touring schedule and focused his attention and recording more spiritual force. Louisiana's former governor Jimmy Davis was enthralled by Dale's highly charged spiritual rendition of Davis' famous "You Are My Sunshine" and inspired him to record "Let It Shine, Let It Shine" another positive classic. Thought his musical outreach he continued to build a positive base for himself among fans and music lovers alike.
And when it looked like the sun would never stop shining on Dale McBride, the 1990s crept in under a dark cloud that came with the devastating news of his father's death, and only a short time later Dale learned that he, himself, was had a terminal brain tumor.
He passed away in 1992 leaving a legacy of great music, great performances and great memories for his many friends and fans – gone, but not forgotten Dale's memory continues to live on through his music.
https://en.wikipedia.org/wiki/Dale_McBride
Talents : Vocals, Guitar
Style musical : Traditional Country, Rock 'n' Roll
Years in activity :
| | | | | | | | | | | | |
| --- | --- | --- | --- | --- | --- | --- | --- | --- | --- | --- | --- |
| 1910 | 20 | 30 | 40 | 50 | 60 | 70 | 80 | 90 | 2000 | 10 | 20 |
DISCOGRAPHY
Singles
03/1958
SP KOBB 1501 (US)
Wound Up [instr.] / Because I Love You So
01/1960
SP FAME 507 (US)
Prissy Missy / Class Beyond Compare
12/1962
SP BID 501 (US)
Dale Mc

Bride

& The

Music Men -

Out Of Nowhere (Bosa Nova) / Speak Low
1963
SP TON 503 (US)

Giddy Up / Let's Face It

1963
SP Galahad G-528 (US)

Even If I Win / Home Away From Home

1963
SP TEAR DROP 3020 (US)

Rest Of My Life / Old Enough To Break A Heart

1963
SP TEAR DROP 3029 (US)
Guess Who / Lovely Little One
1964
SP TEAR DROP 3041 (US)

I Can't Ever Free My Mind / Barbara

12/1964
SP REPRISE 0331 (US)
I Can't Ever Free My Mind / Barbara
1964
SP TEAR DROP 3062 (US)

Am I That Easy To Forget? / Our Hearts Beat As One

1965
SP TEAR DROP 3077 (US)
Prissey Missey / Two Steps From The Blues
1965
SP TEAR DROP 3091 (US)
Haunted Hungry Heart / What's Happening Baby?
1965
SP TEAR DROP 3100 (US)

I Love Only You / ?

1967
SP ATOM 100 (US)
You Fool Me Again / Born To Love You
1968
SP POMPEII 45-66681 (US)
Country Boy / Born To Love You
1969
SP POMPEII 45-66698 (US)
The Thought My Mind Turns To / The First Day Of The Rest Of My Life
1970
SP THUNDERBIRD TH-528 (US)
Lie To Me / Guess Youve Made Your Mind Up
02/1971
SP THUNDERBIRD TH-539 (US)
Anybody Going To San Antone / Corpus Christi Wind
1971
SP THUNDERBIRD TH-543 (US)

I'm On My Way Home / Why Can't I Let Go

1971
SP THUNDERBIRD TH-547 (US)

I'll Be Holding You / Man Without Love

1975
SP ASC 750115 (US)

Someday You'll Wake Up / Stay Way Away From Me

04/1976
SP CON BRIO CBK-109 (US)

Getting Over You Again / You Have Missed Nothing

09/1976
SP CON BRIO CBK-114 (US)
Ordinary Man / Mexicalli Rose
02/1977
SP CON BRIO CBK-117 (US)
I'm Savin' Up Sunshine / It's Hell To Know She's Heaven
05/1977
SP CON BRIO CBK-121 (US)
A Love For All Seasons / Love I Need You
08/1977
SP CON BRIO CBK-124 (US)
My Girl / She Makes Love Feel Good
11/1977
SP CON BRIO CBK-127 (US)
Always Lovin' Her Man / I Know The Feeling
01/1978
SP MCA MCA-40853 (US)

Quiet Moments / My World Is Empty Without You

02/1978
SP CON BRIO CBK-131 (US)

A Sweet Love Song The World Can Sing / I'm Saving Up Sunshine

06/1978
SP CON BRIO CBK-135 (US)
I Don't Like Cheatin' Songs / My Girl
10/1978
SP CON BRIO CBK-140 (US)
Let's Be Lonely Together / She Makes Love Feel Good
01/1979
SP CON BRIO CBK-145 (US)
It's Hell To Know She's Heaven / You Have Missed Nothing
04/1979
SP CON BRIO CBK-151 (US)
Getting Over You Again / She Makes Love Feel Good
08/1979
SP CON BRIO CBK-158 (US)

Get Your Hands On Me Baby / I Knew The Feeling

1979
SP WMI WMI-116 (US)

Sheila Renfro / I Don't Care If The Sun Don't Shine

1980
SP WMI WMI-LIS-39-7 (US)

Lead Me On / Jesus Said, I'll Be There

1987
SP Concorde 8701 (US)

Waking Up In The U.S.A. / ?

04/1990
SP BSW B41190 (US)
The High Cost Of Lovin' / Dump Ground
Albums
1964
LP 12" TEAR DROP ? (US)
DALE MCBRIDE SINGS I CAN'T EVER FREE MY MIND - AM I THAT EASY TO FORGET - I Can't Ever Free My Mind / Down By The Seashore / Our Hearts Beat As One / Barbara / You're Still There / Two Steps From The Blues / Am I That Easy To Forget / Memories I Guarantee To Break Your Heart / I'll Never Hurt My Baby Anymore / Want Ads / Let's Face It / Second Agony
1967
LP 12" ATOM ASLP 1001 (US)
THE SHADOW OF YOUR SMILE - My Love Forgive Me / Born Free / Amy / The Shadow Of Your Smile / Mission Impossible / Love Is A Many Splendored Thing / Old Man River / One More Chance / Unpredictable / Arrest Her / I Listen To My Heart / Green Green Grass Of Home
02/1971
LP 12" THUNDERBIRD THS-9010 (US)
MY KIND OF COUNTRY -

Anybody Going To San Antone / My Woman My Woman My Wife / Don't It Make You Wanna Go Home /

Spanish Eyes /

Levy's Point /

Corpus Christie Wind / Raindrops Keep Falling On My Head / Lie To Me / Guess You Made Your Mind Up / Lusk Wyoming / Night Train To Memphis
1973
LP 12" WM WMSPL-102 (US)
LIVE - RECORDED LIVE AT THE SEA ISLAND RESORT HOTEL, SOUTH PADRE ISLAND, TEXAS - Introduction / A Thing Called Love - Any Time - Just A Little Lovin / Sunday Kind Of Woman / Tie A Yellow Ribbon / Maleguena / Lampasas Monologue / Better Days / I'm An Old Cowhand - Cool Water - Tumbling Tumbleweed - Wagon Wheels / Western Movies Monologue / Ghost Riders In The Sky / The Most Beautiful Girl In The World / Any Given Moment / Requests Monologue / Guitar Boogie / Elvis Impressions / Walter Brennan Impressions
1975
LP 12" WM WMSPL-103 (US)
HEY ! WON'T YOU PLAY - Amazing Love / Blue Eyes Crying In The Rain / Corpus Christy Wind / El Paso / For The Good Times / Kentuck Waltz / Mr Bojangles / Pass Me By / Pure Love / Rhinestone Cowboy / Somebody Done Somebody Wrong Song / You Are My Sunshine / Take A Long Look At Sunshine
03/1977
LP 12" CON-BRIO CBLP 051 (US)
THE ORDINARY MAN ALBUM FEATURING I'M SAVING UP SUNSHINE - GETTING OVER YOU AGAIN - MEXICALI ROSE - MY HEART CRIES FOR YOU - A Love For All Seasons / Getting Over You Again / I'm Saving Up Sunshine / Lady Guitar / Love I Need You / Mexicali Rose / My Heart Cries For You / Ordinary Man / She Make Love Feel Good To Me / You Have Missed Nothing
1978
LP 12" CON-BRIO CBLP 054 (US)
LET'S BE LONELY TOGETHER - A Sweet Love Song The World Can Sing / Let's Be Lonely Together / Always Lovin' Her Man / Get Your Hands On Me Baby / My Girl / I Don't Like Cheatin' Songs / You Left A Lot Of Woman / I Know The Feeling / Take A Long Look At Lonesome / It's Hell To Know She's Heaven
04/1981
LP 12" WMI NS-058 (US)
A NEW SONG TO SING -

A Broken Heart / All That Matters / Front Seat, Back Seat / Jesus Taking Over / Jesus Took Control / Lead Me On / Lean On Him / Love Has Arrived / Singing Praises / What Is Life

08/1982
LP 12" WM WM-LIS-39 (US)
SO LET IT SHINE, LET IT SHINE -

Don't Put The Music On The Throne / Hold On To Jesus / Hold Up Your Hands And Pray / I Turned It All Over To Him / Jesus Said I'll Be There / Lead Me On / What About The Ones / When We Believe We Receive What We Ask / Who Do I Say It To / Let_It_Shine,Let_It_Shine

1987
LP 12" Concorde CRL 051 (US)

Dale McBride Sings Waking Up In The U.S.A.

1996
CD CON-BRIO CBSP-910 (US)
THE DALE McBRIDE COLLECTION - Get Your Hands On Me Baby / I'm Savin' Up Sunshine / She Makes Love Feel Good To Me / My Girl / A Sweet Love Song The World Can Sing / It's Hell To Know She's Heaven / I Don't Like Cheatin' Songs / Let's Be Lonely Together / Love I Need You / Always Lovin' Her Man / Ordinary Man / You Have Missed Nothing / A Love For All Seasons
12/2007
CD GMV 008 (US)

Takin' A Long Look - Wakin' Up In The USA / You Left A Lot Of Woman / Take A Long Look At Lonesome / Mexicali Rose / I Know The Feeling / Getting Over You Again / Corpus Christie Wind / A Sweet Love Song The World Can Sing / Lady Guitar / My Heart Cries For You
© Rocky Productions 10/12/2015