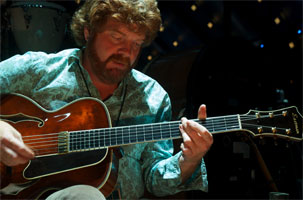 Chanteur Country US né Lyman Corbitt McAnally Jr. le 15 Juillet 1957 à Red Bay (Alabama).

A prolific Nashville singer/songwriter who authored hits for Jimmy Buffett, Alabama, and Steve Wariner, Mac McAnally was born July 15, 1957, in Red Bay, AL. Singing in church throughout childhood, at age eight he began taking piano lessons and within five years was performing professionally; McAnally later took up guitar and at 15 composed his first song, "People Call Me Jesus." After quitting high school he went to work as a session player at Muscle Shoals' Wishbone Studios; one night, during a break in a Hank Williams Jr. date, McAnally began playing some of his own original material, so impressing producers Terry Woodford and Clayton Ivey that they convinced Williams to record the tune "I Need You Tonight." Signing to Ariola, in 1977 McAnally issued his self-titled debut album, scoring a crossover hit with the single "It's a Crazy World" and touring in support of Randy Newman.
Acclaimed for the richly literary appeal of his songcraft, McAnally returned in 1978 with No Problem Here, followed two years later by Cuttin' Corners; neither sold as well as his debut, but he remained one of Nashville's most sought-after writers, penning material for Buffett ("It's My Job") and Alabama (the chart-topping "Old Flame"). In the wake of 1983's Nothin' but the Truth, McAnally did not release another new LP until Finish Lines five years later, in the interim penning hits for Buffett ("When the Coast Is Clear") and Ricky Van Shelton ("Crime of Passion"); with 1990's Simple Life, he returned to the charts with "Back Where I Come From," and a year later authored the Wariner smash "It's a Precious Thing." After 1992's Live and Learn (which generated the minor hits "The Trouble With Diamonds" and "Junk Cars"), McAnally resurfaced two years later with Knots, remaining silent until releasing Word of Mouth in mid-1999. It was a long wait again before Down by the River appeared in 2009 from Showdog Nashville.
http://www.myspace.com/macmcanally
Talents : Guitar, Vocals, Producer
Style musical : Country-Pop, Country Folk

http://youtu.be/QVxa_MrXkhY
Years in activity :
| | | | | | | | | | | | |
| --- | --- | --- | --- | --- | --- | --- | --- | --- | --- | --- | --- |
| 1910 | 20 | 30 | 40 | 50 | 60 | 70 | 80 | 90 | 2000 | 10 | 20 |
DISCOGRAPHY
Singles
| | | | |
| --- | --- | --- | --- |
| 1977 | SP ARIOLA 7665 (US) | . | It's A Crazy World / We Can Be Strong |
| 1977 | SP ARIOLA 11 389 AT (GER) | | It's A Crazy World / We Can Be Strong |
| 1977 | SP ARIOLA 7671 (US) | . | Bad Boy / Let Him Go |
| 1978 | SP ARIOLA 7688 (US) | . | The Lord And The Devil / Opinion On Love |
| 05/1980 | SP RCA VICTOR PB-12026 (US) | . | It's My Job / Trying To Make The Yellow Lights |
| 01/1983 | SP GEFFEN 7-29736 (US) | . | Minimum Love / Like Your Mother |
| 1983 | SP Epic ‎46.574 (BRA) | | Minimum Love / Like Your Mother |
| 06/1983 | SP GEFFEN 7-29602 (US) | . | How Cool / Middle Man |
| 08/1983 | SP GEFFEN 7-29515 (US) | . | On The Line / Other People Say |
| 10/1988 | SP GEFFEN 7-27675 (US) | . | History / Alien |
| 01/1990 | SP WARNER BROS. 7-22662 (US) | . | Back Where I Come From / Company Time |
| 05/1990 | SP WARNER BROS. 7-19800 (US) | . | Down The Road / She's Going Out Of My Mind |
| 03/1992 | SP MCA MCAS7-54372 (US) | . | Live And Learn / All These Things |
| 07/1992 | SP MCA MCAS7-54450 (US) | . | Trouble With Diamonds / Socrates |
| 11/1992 | SP MCA MCAS7-54537 (US) | . | Junk Cars / Somewhere Nice Forever |
| 03/1993 | SP MCA MCAS7-54629 (US) | . | Not That Long Ago / Somewhere Nice Forever |
| 02/1994 | SP MCA MCAS7-54818 (US) | . | Down The Road / Knot |
| 1994 | CD MCA MCA5P-54818 (US) (promo) | | Down The Road |
Albums
1977
LP 12" ARIOLA SW-50019 (US)
MAC McANALLY - It's A Crazy World / Bad Boy / Alive / Samuel Arisin' / Can That Alone Be Love / People Call Me Jesus / Real People / Let Him Go / Barney / Packed Up And Left / We Can Be Strong Together
1978
LP 12" ARIOLA SW-50029 (US)

No Problem Here - Opinion On Love / Funeral / Driving Away My Pain / It's Only Love / She's A Doll / The Lord And The Devil / Lazy In Love / Country Boy / Catherine / No Problem Here

1980
LP 12" RCA VICTOR AFL1-3519 (US)
CUTTIN' CORNERS - It's My Job / Holdin' On / Cuttin' Corners / Miracle / Second Fiddle / It's Easy / Tryin' To Make The Yellow Lights / Til' The New Wears Off / Party / California Is A Mental State / Run My Life
1983
LP 12" GEFFEN GHS-2033 (US)
NOTHIN' BUT THE TRUTH - How Cool / Middle Man / On The Line / Minimum Love / Lookin' For The Good Life / Like Your Mother / The City / Nothin' But The Truth / Other People Say / Dark Ages
1988
LP 12" GEFFEN 9 24191-2 (US)

FINISH LINES -

Finish / Be With Me / Remote Control / Hush Money / History / Alien / Desiree / E = (Mc) 2 (She Picked You Up) / Little Blue Pill / Everything's All Right
02/1990
CD WARNER BROS. 2-26136 (US)
SIMPLE LIFE - Back Where I Come From / Simple Life / Same Old Heart / She's All I've Got Going / Down The Road / Back Where I Come From (reprise) / The Invisible Man / Mobile Home / Just That Way / She's Going Out Of My Mind / Company Time / Southbound
1992
CD MCA MCAD-10543 (US)

LIVE AND LEARN -

Only Passing Through / Weight Of The World / All These Years / The Trouble With Diamonds / Live And Learn / Still Life / Socrates / Junk Cars / It's All Over Now / Not That Long Ago / Somewhere Nice Forever
09/1994
CD MCA MCAD-10992 (US)
KNOTS - Down The Road / No Sign Of Weakness / Take It Ways (All I Know About Love) / Good For Nothing / Wide Open Spaces / The Knot / There I'll Be / Ordinary Girl / Something Of Myself / Miracle
06/1999
CD DREAMWORKS DRMD-50106 (US)
WORD OF MOUTH - Looking Back / Cold Day In Hell / Things To Do Today / The Ass And The Hole / Pop Top Hop / Better Than The Good Old Days / Out The Window / The Way It Goes / Just On Forever / Against The Odds
06/2004
CD MAILBOAT 2006 (US)

SEMI-TRUE STORIES -

Meanwhile / Last Man Standing / The Far Side Of Heaven / The Opposite Of Love / Hard Way To Go / Semi-True Stories / Come On If You're Comin' / When Trouble Comes Around / Stephon

[The Alternative Lifestyle Reindeer]

/ Home Again
08/2009
CD SHOW DOG 26 (US)
DOWN BY THE RIVER - Blame It On New Orleans / Down By The River / If You Hang Around Long Enough / On Account Of You / (Nothing Like A) Sunny Day / Over And Out / You First / Unresolved / Bound To Get Down / Big Disappointment / Until Then
2011
CD MAILBOAT 2011 (US)

Live from Muscle Shoals -

It's A Crazy World / New Orleans Intro / Blame It On New Orleans / Down The Road Intro / Down The Road / Down By The River / Dark Ages Intro / Dark Ages / Pop Top Hop Intro / Pop Top Hop / Miracle / Café On The Corner Intro / Café On the Corner / Opinion On Love Intro / Opinion On Love / All These Years Intro / All These Years / This Time Intro / This Time / Bound To Get Down / Little Blue Pill / On Account Of You / Last Man Standing / Back Where I Come From Intro / Back Where I Come From / It's My Job / I Heard It Through The Grapevine
09/2015
CD MAILBOAT 2185 (US)

Aka Nobody -

A Little Bit Better / Last But Not Least / Mississippi You're On My Mind / With A Straight Face / Don't Remember Leaving / Zanzibar / Place Where You Belong / Proud To Be Alive / Better Get The Story Straight / Everything / Loser Gumbo / Coast Of Carolina / Someday / Island Rain / Working Prayer
© Rocky Productions 31/10/2015