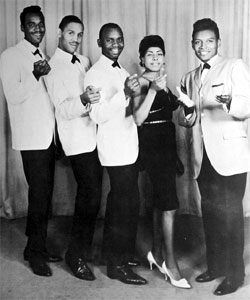 Groupe Doo Wop US de Philadelphie (Pennsylvanie), composť de Ricky Cordo (lead), Eugene Glass, Frank Troutt, Ronald Gathers et Idella Morris.

The Majors scored an R&B/pop Top 30 hit in 1962 with "A Wonderful Dream." They are remembered for their outrageous falsetto lead vocals (often criticized for them) and for being one of the many acts produced by Jerry Ragovoy, an important behind-the-scenes force behind East Coast Soul music. The Majors -- lead singer Ricky Cordo, Eugene Glass, Frank Troutt, Ronald Gathers, and Idella Morris -- formed in 1961 in Philadelphia. Early on the group decided to highlight Cordo's exaggerated falsetto leads, which to some, sounded like they could have been sung by the group's lone female, Idella Morris, instead.
They soon came to the attention of Ragovoy, a producer who worked at Chancellor Records at the time (where Fabian and Frankie Avalon had hits). Ragavoy had already begun producing doo wop acts (often distinguished by a conspicuous gospel feel) in the Philadelphia area in 1953, when he and Herb Slotkin (owner of Tregoobs appliance store) formed Grand Records. They later issued early doo wop releases by the Castelles.
Ragovoy produced the group's lone hit, "A Wonderful Dream," but they failed to hit with anything further. After working with forgotten doo wop acts like the Majors, he went on to become quite a successful songwriter, writing or co-writing several classic New York and Philadelphia Soul records in the 1960s, including Garnet Mimms' "Cry Baby" (which was co-written with another excellent early-'60s songwriter/producer Bert Berns) which landed at number four in 1963.
In the mid-'60s, Ragovoy also wrote a song for jazz trombonist Kai Winding, "Time Is on My Side," covered by Irma Thomas, and a U.S. Top Ten hit for the Rolling Stones. (Like some other of Ragovoy's best songs, this one was written under the pseudonym of "Norman Meade").
Ragovoy became even more prominent in his role as a mentor for Janis Joplin, who seemed to have a yen for Ragovoy-penned material, covering (with Big Brother & the Holding Company, or as a solo singer) his "Piece of My Heart" and "Try (Just a Little Bit Harder)," which had been originally recorded by Lorraine Ellison. In most cases, Joplin's interpretation eventually became the best-known version of these Ragovoy songs. Ragovoy continued to live comfortably from the songwriter's royalties brought in by Joplin's cover versions, as well as some of his other compositions, but he wasn't too active after the 1960s. He later produced Bonnie Raitt in the 1970s.
Style musical : Doo Wop, Rhythm 'n' Blues
Years in activity :
| | | | | | | | | | | |
| --- | --- | --- | --- | --- | --- | --- | --- | --- | --- | --- |
| 1910 | 20 | 30 | 40 | 50 | 60 | 70 | 80 | 90 | 2000 | 10 |
DISCOGRAPHY
Singles
Album
| | | | |
| --- | --- | --- | --- |
| 1963 | LP 12" IMPERIAL LP 9222 (US) | | Meet The Majors - A Wonderful Dream / Ooh Wee Baby / Time Will Tell / Tra La La / Twist And Shout / A Little Bit Now / She's A Troublemaker / Don't Lose Your Cool / I Wonder Who's Dancing With Her Now / What In The World / Come On Come On / Anything You Can Do |
© Rocky Productions 23/02/2021