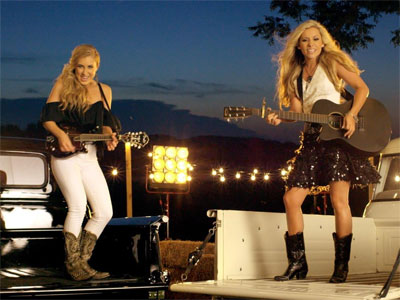 Duo Country US composé de Madison Kay Marlow (née le 7 Juillet 1995) et Taylor Elizabeth "Tae" Dye (née le 18 Septembre 1995).

Arriving at the height of bro country's peak in the mid-2010s, Maddie & Tae skewered that genre's down-home swagger with "Girl in a Country Song," a sharp satire of all the sexist clichés littering the airwaves in 2014. "Girl in a Country Song" became a hit in its own right, reaching number one on Billboard's Country Airplay charts by the end of 2014, making the duo of Maddie Marlow and Taylor Dye genuine country stars. Start Here, Maddie & Tae's 2015 debut, kept the pair on the charts, thanks in part to "Fly," a bittersweet ballad which played to the duo's strengths as harmonizers and canny country-pop synthesizers. The two hits made a lasting impression that sustained Maddie & Tae through some label trouble in the ensuing years, a period that ended with the 2019 release of the One Heart to Another EP.
Maddie Marlow and Taylor Dye first crossed paths in 2010, when they were students of the same vocal coach while attending high school in the Dallas area. Hitting it off, the duo struck up a friendship that turned professional. As Sweet Aliana, the pair began performing and writing songs, making the occasional trip to Nashville. After graduation, they relocated to the Music City, earning the attention of Big Machine Records, which decided to make the duo -- now named Maddie & Tae -- the flagship signing for Dot Records, a legendary label revived under the Big Machine umbrella.
Dot released "Girl in a Country Song" -- a clever satire of bro country Marlow and Dye co-wrote with Aaron Scherz -- as Maddie & Tae's first single in July 2014. "Girl in a Country Song" quickly became a sensation within the country music media, then worked its way up the charts. By the end of 2014, it had reached number one on Billboard's Country Airplay charts, an achievement that coincided with the November release of their eponymous debut EP. Along with "Girl in a Country Song," the EP featured their second single "Fly," which climbed to number nine on Country Airplay in the summer of 2015, setting up the release of their debut, Start Here.
Start Here arrived in August 2015. The album debuted at two on Billboard's Country Album charts and seven on Billboard Top 200 with the single "Shut Up and Fish" peaking at 23 later that fall. Another single, "Sierra," appeared in 2016, but it stalled at 47 on the Country Airplay Charts.
Dot folded in 2017, leaving the duo to transition over to Mercury Nashville in 2018. The single "Friends Don't" arrived in 2018, reaching 33 on Country Airplay. "Friends Don't" and "Die from a Broken Heart" both appeared on One Heart to Another, an EP released in April 2019. Another EP, Everywhere I'm Goin', appeared in October of that year as Maddie & Tae wrapped up sessions for their second album. The resulting The Way It Feels, which contained all of the two previously released EPs, appeared in April 2020.
https://en.wikipedia.org/wiki/Maddie_%26_Tae
Style musical : Contemporary Country, Country Pop, Folk, Pop Rock, Traditional Country

https://youtu.be/Ruvf6Y9noyg
Years in activity :
| | | | | | | | | | | | |
| --- | --- | --- | --- | --- | --- | --- | --- | --- | --- | --- | --- |
| 1910 | 20 | 30 | 40 | 50 | 60 | 70 | 80 | 90 | 2000 | 10 | 20 |
DISCOGRAPHY
Single & EP
11/2014
CD DOT B00225202 (US)

EP - Girl In A Country Song / Sierra / Fly / Your Side Of Town

2015
CD BIG MACHINE ? (UK) (promo)

Girl In A Country Song

2016
CD DOT DOTMAT0104 (US) (promo)
Sierra / Sierra / Sierra
2019
CD Mercury

B0030048-02

(US)

One Heart To Another - Friends Don't / Die From A Broken Heart / Tourist In This Town / One Heart To Another / New Dog Old Tricks

10/2019
CD Mercury B0031495-02 (US)

Everywhere I'm Goin' - Everywhere I'm Goin' / Trying On Rings / Lay Here With Me (with Dierks BENTLEY) / Ain't There Yet / Bathroom Floor

10/2020
CD Mercury B0032784-02 (US)

We Need Christmas - This Christmas / Holly Jolly Christmas / O Come All Ye Faithful / Merry Married Christmas / Christmas (Baby Please Come Home) / We Need Christmas
Albums
08/2015
CD DOT B 002317202 (US)
START HERE - Waitin' On A Plane / Girl In A Country Song / Smoke / Shut Up And Fish / Fly / Sierra / Your Side Of Town / Right Here, Right Now / No Place Like You / After the Storm Blows Through / Downside of Growing Up
04/2020
CD Mercury B0031826-02 (US)

The Way It Feels - Everywhere I'm Goin' / Bathroom Floor / My Man / Tourist In This Town / Drunk Or Lonely / One Heart To Another / Trying On Rings / Write A Book / Water In His Wine Glass / Die From A Broken Heart / Ain't There Yet / Lay Here With Me / Friends Don't / I Don't Need To Know / New Dog Old Tricks

01/2022
CD Mercury B0034891-02 (US)

Through The Madness -

What It's Like Loving You / Woman You Got / Don't Make Her Look Dumb (featuring Morgane STAPLETON) / Grown Man Cry / Madness / The Other Side (featuring Lori McKENNA) / Wish You The Best / Strangers
09/2022
CD Mercury B0036411-02 (US)

Through The Madness Vol. 2 - Well In Your World / Every Night Every Morning / Drinking To Remember / Girl After My Own Heart / Watching Love Leave / More Than Maybe / These Tears / Spring Cleaning
© Rocky Productions 27/10/2022