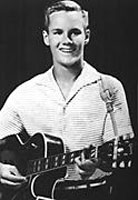 Chanteur US né le 20 Mars 1942 né à Los Angeles (Californie), installé à Honolulu (Hawaii). Robin Luke a enregistré son premier succès "Susie Darlin'" à l'âge de seize ans au cours de l'été 1958 pour International Records. Mais ce sera Dot Records qui fera connaître ce tube cette même année.

Robin Luke is best remembered for his one big hit, "Susie Darlin'," in 1958, a song that embodied the most gently innocent side of rock & roll. His career actually lasted into the early 1960s, however, and encompassed dozens of songs. He was one of the most popular of the romantic rockers of the late 1950s, at his best as a balladeer in the mold of Ricky Nelson or the Everly Bros., although he was also able to rock out on occasion and did a good cover of the ominous Marty Wilde number "Bad Boy," itself a tribute to Gene Vincent's style. Robin Luke was a member of rock & roll's second wave, young enough to have been a fan of rock & roll and R&B before he dreamt of a recording career of his own.
Luke's father was a worker and later an executive for Douglas Aircraft, and while he was born in Los Angeles, the demands of the elder Luke's job had the family relocating every few years, first to Georgia and later, when Robin was 11, to Hawaii. It was there that he took up the guitar and the ukelele.
He was appearing as an amateur performer at Punahou High School when he was spotted by a local impressario, who helped Luke hook up with Bob Bertram, a producer whose clients included singing cowboy Eddie Dean. Bertram owned several labels, including Lariat, whose artists included Joe Maphis, Polynesian (which released hula records aimed at the tourist trade, ) and Bertram International, which recorded rock & roll.
Luke was recorded by Bertram International in early May 1958 doing two originals, "Living's Loving You" and "Susie Darlin'," the latter title referring to Luke's younger sister. "Susie Darlin'" was issued in the spring of 1958 and did very well locally in Hawaii. Luckily for all concerned, it was also heard by Art Freeman, a distributor for Dot Records, who brought the single to the attention of his employers. The powers-that-were at Dot picked the record up for distribution on the mainland; Luke was already a headliner in Hawaii, closing shows on bills with the likes of the Everly Bros. and Sam Cooke, but the national release of "Susie Darlin'" resulted in his doing a quick tour of the United States and appearing on American Bandstand. As the single climbed the charts, he was brought back for more shows, in the company of the Kalin Twins, who were enjoying their first flush of success with "When" at the time. He appeared on more national television shows, including The Perry Como Show, and also became friends with a number of other neophyte music stars, including Buddy Holly and Ricky Nelson; Holly even taught him the chords to "Peggy Sue" backstage before an appearance on the same bill.
Luke sounded a good deal like Nelson, and also like Holly in his softer moments; as a balladeer, he could almost have been an Anglo counterpart to Ritchie Valens. He had a gentle, romantic voice that also managed to be sexy and vulnerable, and made him a major heartthrob and teen idol.
The follow-up to "Susie Darlin," "Chicka-Chicka-Honey," was released before Luke had graduated from high school in 1959. He moved to Los Angeles to attend Pepperdine University, and began recording directly for Dot Records, backed by the likes of Glen Campbell and the Champs. In the fall of 1959, he was rushed into the studio to record a cover of a fast-breaking British single, "Bad Boy," which was tearing up the English charts in a version by Marty Wilde.
Luke remained popular on the concert stage and was well taken care of by Dot Records president Randy Woods, but it wasn't his intention to continue as a singer. After finishing his undergraduate work in 1962, Luke pursued a graduate degree in business administration that ultimately brought him into the academic world and took him out of music permanently. He left singing behind after the mid-1960s, choosing instead the life of a faculty member and the chance to savor the memories he had of five years as a teen idol.
https://en.wikipedia.org/wiki/Robin_Luke
Talents : Vocals, Guitar
Style musical : Rock 'n' Roll

https://youtu.be/Uqc2Gfu2wes
| | |
| --- | --- |
| SUSIE DARLIN' (1958) | |
Years in activity :
| | | | | | | | | | | | |
| --- | --- | --- | --- | --- | --- | --- | --- | --- | --- | --- | --- |
| 1910 | 20 | 30 | 40 | 50 | 60 | 70 | 80 | 90 | 2000 | 10 | 20 |
DISCOGRAPHY
Singles & EP
1958
SP INTERNATIONAL 45-206 (US)
Susie Darlin' / Living's Loving You
07/1958
SP DOT 45-15781 (US)
.
Susie Darlin' / Living's Loving You
08/1958
SP BERTRAM INTERNATIONAL 45-208 (US)
.
Robin LUKE with The JOLLY DRIFTERS - Chicka Chicka Honey / My Girl
10/1958
SP DOT 45-15839 (US)
.
Robin LUKE with The JOLLY DRIFTERS - Chicka Chicka Honey / My Girl
1958
EP DOT DEP-1092 (US)
SUSIE DARLIN' - Susie Darlin' / Bad Boy / Won't You Please Be Mine / Chicka Chicka Honey /
01/1959
SP BERTRAM INTERNATIONAL 45-210 (US)
.
Robin LUKE with The LAWRENCE BROS. COMBO - You Can't Stop Me From Dreaming / Strollin' Blues
02/1959
SP DOT 45-15899 (US)
.
You Can't Stop Me From Dreaming / Strollin' Blues
05/1959
SP BERTRAM INTERNATIONAL 45-212 (US)
.
Robin LUKE with The LAWRENCE BROS. COMBO - Who's Gonna Hold Your Hand / Five Minutes More
06/1959
SP DOT 45-15959 (US)
.
Who's Gonna Hold Your Hand / Five Minutes More
11/1959
SP DOT 45-16001 (US)
.
Walkin' In The Moonlight / Make Me A Dreamer
01/1960
SP DOT 45-16040 (US)
.
Bad Boy / School Bus Love Affair
1960
SP DOT D 45-167 (DK)
Susie Darlin' / Living's Loving You
07/1960
SP DOT 45-16096 (US)
Everlovin' / Well Oh, Well Oh
1960
SP DOT D 45-231 (DK)
Everlovin' / Well Oh, Well Oh
1960
EP DOT DEP-620 (US)
Everlovin' / Well Oh, Well Oh / School Bus Love Affair / Make Me A Dreamer
01/1961
SP DOT 45-16170 (US)
.
So Alone / All Because Of You
06/1961
SP DOT 45-16229 (US)
.
Part Of A Fool / Poor Little Rich Boy
06/1962
SP DOT 45-16366 (US)
.
Robin LUKE & Roberta SHORE - Foggin' Up The Windows / Time
1965
SP DOT 45-135 (US)
.
Susie Darlin' / Living's Loving You
1984
SP Original Sound Oldies But Goodies OBG 4530 (US)
.
All I Have To Do Is Dream (EVERLY BROTHERS) / Susie Darlin' (Robin LUKE)
1986
SP Old Gold OG 9598 (UK)
Itsy Bitsy Teeny Weeny Yellow Polka Dot Bikini (Brian HYLAND) / Susie Darlin' (Robin LUKE)
1987
SP BELLAPHON 199 07 419 (GER)

Oldies - Original Stars -

Susie Darlin' (Robin LUKE) / Corrina, Corrina (Ray PETERSON)
19??
SP COLLECTABLES COL 1298 (US)
.
Susie Darlin' / Won't You Please Be Mine
19??
SP AVANTI A 1014 (US)
.
Susie Darlin' (Robin LUKE) /

White On White (Danny WILLIAMS)
Unissued Tracks
| | | |
| --- | --- | --- |
| 19?? | Unissued - (Starfire LP 1002 (#12)) | Chicka Chicka Honey [alt. vers.] |
| 19?? | Unissued - (Starfire LP 1002 (#9)) | Living's Loving You [alt. vers.] |
| 19?? | Unissued - (Starfire LP 1002 (#5) / Starfire LP 1002 (#10)) | Susie Darlin' [alt. vers.] |
| 19?? | Unissued - (Starfire LP 1002 (#6)) | Susie Darlin' [demo vers.] |
| 19?? | DOT unissued - (Bear Family CD 15547 (#18)) | Don't Cry, For You I Love |
| 19?? | DOT unissued - (Bear Family CD 15547 (#25)) | Hayride |
| 19?? | DOT unissued - (Bear Family CD 15547 (#31)) | If You Only Knew My Baby |
| 19?? | DOT unissued - (Bear Family CD 15547 (#15)) | It Had To Happen |
| 19?? | DOT unissued - (Bear Family CD 15547 (#29)) | It Hurts A Little While |
| 19?? | DOT unissued - (Bear Family CD 15547 (#28)) | Mighty River |
| 19?? | DOT unissued - (Bear Family CD 15547 (#12)) | Polyanna |
| 19?? | DOT unissued - (Bear Family CD 15547 (#23)) | Poor Me |
| 19?? | DOT unissued - (Bear Family CD 15547 (#13)) | Rotten Love |
| 19?? | DOT unissued - (Bear Family CD 15547 (#14)) | Sugar |
| 19?? | DOT unissued - (Bear Family CD 15547 (#30)) | Wide Wide World |
Albums
1978
LP 12" BEAR FAMILY BFX 15022 (GER)
SUSIE DARLIN' - Well Oh Well Oh / Everlovin' / Five Minutes More / You Can't Stop Me From Dreaming / Who's Gonna Hold Your Hand / Susie Darlin' / Part Of A Fool / Poor Little Boy Rich Boy / So Alone / All Because Of You / Make Me A Dreamer / Walkin' In The Moonlight / My Girl / Chicka Chicka Honey / School Bus Love Affair / Strollin' Blues
1981
LP 12" STARFIRE 1002 (US) (picture disc)

| | |
| --- | --- |
| | BOPPIN' WITH ROBIN - Chicka Chicka Honey / Strollin' Blues / You Can't Stop Me From Dreaming / Living's Loving You / Susie Darlin' / My Girl / Won't You Please Be Mine |

1991
CD BEAR FAMILY BCD 15547 (GER)
SUSIE DARLIN' -

Susie Darlin' / Well Oh Well Oh / Won't You Please Be Mine / Everlovin' / Five Minutes More / Walking In The Moonlight / Foggin' Up The Window (with Roberta SHORE) / Who's Gonna Hold Your Hand / Make Me A Dreamer / School Bus Love Affair / You Can't Stop Me From Dreaming / Polyanna (demo) / Rotten Love (demo) / Sugar (demo) / It Had To Happen / All Because Of You / So Alone / Don't Cry For You I Love / Poor Little Rich Boy / Part Of A Fool / Bad Boy / My Girl / Poor Me / Chicka Chicka Honey / Hayride / Living's Loving Doll / Strollin' Blues / Mighty River (demo) /It Hurts A Little While (demo) / Wide Wide World (demo) / If You Only Knew My Baby (demo)
© Rocky Productions 21/08/2015