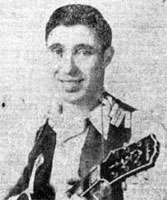 Chanteur Country US, Jimmy Lucas a enregistré chez hit et NRC Records.

US Country singer, around 1940 or so, Jimmy Lucas got his start on radio station KVOS out of Bellingham, Washington. That first stint was done with his brother George and they were known as the "Lucas Brothers". Jimmy played the mandolin and sang tenor.
Turn the pages to 1955 or so and Jimmy was still going strong. But with some changes. He had taken to playing the guitar in 1944 rather than the mandolin. For a while, he played engagements with his brother, Melvin. But the road life caused them to split, each going his own way.
From that point, Jimmy began to play a regular string of engagements on other shows in various states. He appeared on Buck Richey's "Chuck Wagon Jamboree" over KVI in Seattle; Bill Rea's "Roundup" over CKNW in New Westminster, BC; KMJ out of Fresno, CA.
During this period, Jimmy had three weekly shows on KPUG out of Bellingham. One was Fridays at 6:45am, Saturdays at 8:15 am and 6:45pm.
Talents : Vocals, Guitar
Style musical : Traditional Country
Years in activity :
| | | | | | | | | | | |
| --- | --- | --- | --- | --- | --- | --- | --- | --- | --- | --- |
| 1910 | 20 | 30 | 40 | 50 | 60 | 70 | 80 | 90 | 2000 | 10 |
DISCOGRAPHY
Singles
© Rocky Productions 19/08/2015