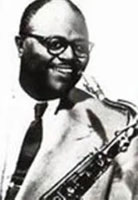 Saxophoniste Rhythm 'n' Blues US né le 16 Août 1914 à Pritchard (Alabama). Buddy Lucas s'installa à Stamford dans le Connecticut où il apprit à jouer de la clarinette puis du saxophone. À la fin des années 1940, il vint vivre à New York où il rencontra le batteur Herman Bradley qui l'aida à trouver des engagements. Il enregistra avec Wynonie Harris en 1950-1951, et effectua ses premiers enregistrements en 1951 pour le label Jubilee. Il fit aussi beaucoup de séances de studio en tant que saxophoniste et harmoniciste, enregistrant avec Larry Darnell, Hal Singer, Edna McGriff, Big Maybelle, Annie Laurie, Little Willie John. Il continua d'enregistrer pour différents labels (RCA, Bell…) puis réalisa un premier album pour Today, sans cesser son travail de studio. Il enregistra ainsi entre autres avec Dave "Baby" Cortez (1959, Bill Doggett (1960), King Curtis (1962), Jimmy Smith, Clark Terry (1963), Aretha Franklin, Nina Simone (1966), Bernard Purdie, Eddie "Cleanhead" Vinson, Big "Joe" Turner (1967), George Benson (1968), Count Basie (1970), Jimmy Witherspoon et Lou Donaldson. Sa dernière séance d'enregistrement date de 1978 aux côtés du guitariste de jazz Lawrence Lucie.
Buddy Lucas était un musicien capable de briller dans le rythm'n blues, le jazz et le blues. Son style au saxophone ténor était aisément identifiable avec un son parfois "bourdonnant" caractéristique. Il jouait superbement le blues. Buddy Lucas est décédé le 18 Mars 1983 à Stamford (Connecticut).

The solo recording career of Buddy Lucas, a tenor saxophonist who doubled on harmonica, started a bit less than a year before fellow R&B honker Jimmy Forrest rode the first hit version of the instrumental entitled "Night Train." Once that express had left the station, opportunities to follow in hot pursuit were aplenty for saxmen such as Lucas, Earl Bostic, and Sam "The Man" Taylor. Lucas' run of recordings under his own name continued on into the '60s, running on a parallel track with his work as a studio session player. Undoubtedly the majority of his performances on record stem from the latter category, particularly his blowing on the questioning "Why Do Fools Fall in Love?" by the Teenagers in 1956 and the soggy "Tears on My Pillow" by Little Anthony & the Imperials in 1958. Meanwhile, Lucas was responsible for dozens of singles and albums, enjoying a creative run in which the names of labels, songs, and bands all vie for the groovy gravy. He cut sides for Groove, Gone, Jubilee, Tru-Sound, Mohawk -- even a record company called Lawn. The labels presented his name at times in company of bands such as Buddy Lucas & His Band of Tomorrow, the Gone All Stars, and Buddy Lucas & His Shouters, sometimes expanding the leader into "Big" Buddy Lucas.
Then there were the songs themselves, a combination of popular and sentimental Vocals music standards and wild-ass novelty songs and instrumentals out of which tales of drunken revelry could easily be spun: "Greedy Pig," "Let's Go to the Party," "I Got Drunk," "I Need Help," "No Dice." "Money, Money, Money, Money, Money" was hopefully the result. At least one album spotlighted his harmonica playing, the jam-packed 50 Harmonica Favorites, credited to "Big" Buddy Lucas & the Wigglers. This artist also recorded a pair of albums in the '50s for the Savoy label accompanying dynamic blues singer Big Maybelle. In the late '60s he was featured with Nina Simone, coming up with a fine harmonica part for the standard "Since I Fell for You." Lucas' session activities also led into the realm of modern jazz, usually when a performer known for far-out sounds attempts to display his funkier side: prime examples are Albert Ayler's New Grass and the Atlantic Blue Yusef Lateef LP. Lucas eventually ran his own label, Steamboat, and among his pet projects was a doo wop combo featuring his son, Buddy Lucas, Jr.
https://rockandrollparadise.com/buddy-lucas-31983/
https://en.wikipedia.org/wiki/Buddy_Lucas_(musician)
Talents : Saxophone, Vocals, Harmonica, Songwriter
Style musical : Rhythm 'n' Blues, Jazz, Blues
Hound Dog (1956)

When My Dreamboat Comes Home (1956)

Don't Be Cruel (1956)

Searchin' (1957)
Years in activity :
| | | | | | | | | | | | |
| --- | --- | --- | --- | --- | --- | --- | --- | --- | --- | --- | --- |
| 1910 | 20 | 30 | 40 | 50 | 60 | 70 | 80 | 90 | 2000 | 10 | 20 |
DISCOGRAPHY
Singles & EP
1951
78 t. & SP Jubilee 5058 (US)
.

Buddy LUCAS & ALL STARS - Soppin' Molasses / Whopping Blues

1951
78 t. & SP Jubilee 5070 (US)
.
Buddy L

ucas

& His

Band Of Tomorrow -

Undecided / Diane
1952
78 t. & SP Jubilee 5075 (US)
.
Buddy L

ucas

& His

Band Of Tomorrow -

In The Mood / Embraceable You
1952
78 t. & SP Jubilee 5083 (US)
.
Buddy L

ucas

& His

Band Of Tomorrow -

Hustlin' Family Blues / I'll Never Smile Again
1952
78 t. & SP Jubilee 5094 (US)
.
Buddy L

ucas

& His

Band Of Tomorrow -

Big Bertha / You Belong To Me
1953
78 t. & SP Jubilee 5111 (US)
.

Laura (Buddy LUCAS, Organ & Guitar Accomp.) / Organ Grinder's Swing (Buddy LUCAS & His ORCHESTRA)

1953
78 t. RCA VICTOR 20-5396 (US)
.
Buddy LUCAS & His ORCHESTRA - It Rains / Greedy Pig
1953
SP RCA VICTOR 47-5396 (US)
.
Buddy LUCAS & His ORCHESTRA - It Rains / Greedy Pig
1953
78 t. RCA VICTOR 20-5508 (US)
.
Buddy LUCAS & His ORCHESTRA - I Know What I'm Doin' / Let's Get The Party
1953
SP RCA VICTOR 47-5508 (US)
.
Buddy LUCAS & His ORCHESTRA - I Know What I'm Doin' / Let's Get The Party
1954
78 t. GROOVE G-0003 (US)
.
Buddy LUCAS & His ORCHESTRA - My Pinch Hitter (Buddy LUCAS & His ORCHESTRA, Vocals by Almeta STEWART) / I Got Drunk (Buddy LUCAS & His ORCHESTRA, Vocals By Buddy LUCAS)
1954
SP GROOVE 4G-0003 (US)
.
Buddy LUCAS & His ORCHESTRA - My Pinch Hitter (Buddy LUCAS & His ORCHESTRA, Vocals by Almeta STEWART) / I Got Drunk (Buddy LUCAS & His ORCHESTRA, Vocals By Buddy LUCAS)
1954
78 t. GROOVE G-0006 (US)
.

I Need Help (

Buddy LUCAS & His ORCHESTRA, Vocals by Almeta STEWART) /

No Help (

Buddy LUCAS & His ORCHESTRA, Vocals By Buddy LUCAS)
1954
SP GROOVE 4G-0006 (US)
.

I Need Help (

Buddy LUCAS & His ORCHESTRA, Vocals by Almeta STEWART) /

No Help (

Buddy LUCAS & His ORCHESTRA, Vocals By Buddy LUCAS)
1954
78 t. GROOVE G-0030 (US)
.

High Low Jack / No Dice

1954
SP GROOVE 4G-0030 (US)
.

High Low Jack / No Dice

1956
78 t. & SP SAVOY 1180 (US)
.

Buddy LUCAS & His COMBO - Oh Mary Ann / Ho Diddy Ho

1956
78 t. & SP BELL 3 (US)
1956
78 t. & SP BELL 8 (US)
1956
78 t. & SP BELL 11 (US)

| | |
| --- | --- |
| | The Green Door (Artie MALVIN) / Blueberry Hill (Buddy LUCAS) |

1957
78 t. & SP BELL 18 (US)

Slow Walk (Jimmy

Carroll & Orchestra

) / Priscilla (Buddy LUCAS)

1957
78 t. & SP BELL 20 (US)

| | |
| --- | --- |
| | Since I Met You Baby (Edna McGriff) / Confidential (Buddy LUCAS) |

1957
78 t. & SP BELL 24 (US)

| | |
| --- | --- |
| | Blue Monday (Buddy LUCAS) / The Moonlight Gambler [Barry Frank] |

1957
78 t. & SP BELL 42 (US)
1957
78 t. & SP BELL 54 (US)

| | |
| --- | --- |
| | Searchin' (Buddy LUCAS) / Mr. Lee (Edna McGriff) |

1957
SP Luniverse

104 (US)

.
Star Dust / Bo-Lee
1957 ?
SP TETRA 4451 (US)
.

Good BUDDY & His ROCKIN' BAND - Rockin' With The Duke / The Kents Rock

1958
SP GONE 5016 (US)
.

Gone All Stars

featuring Buddy L

ucas

- 7-11 [Mambo Nº 5] / Down Yonder Rock
1958
SP GONE 5025 (US)
.

Gone All Stars

featuring Buddy L

ucas

- Gee Gee Walk / Hoppin' Bop
1958
EP GONE GEP-1 (US)

Gone All Stars

featuring Buddy L

ucas

- Hoppin' Bop / Gone Stroll / Gee Gee Walk / Charlypso End
1958
SP SAVOY 1533 (US)
.

THE O.C. ALL STARS (feat. Buddy Lucas : ten.sax) - Everybody Stroll / Stone Down

1958
SP SAVOY 1534 (US)
.
THE O.C. ALL STARS (feat. Buddy Lucas : ten.sax) - Hot Chalypso / Ophelia!
1958
SP SAVOY 1543 (US)
.

BUDDY & EDNA - No Change / Ah-Ah-Ah

03/1959
SP CARLTON 506 (US)
.
Beulah / Crazy Baby
1959
SP VIM 502 (US)
.

The BUDDY LUCAS BAND - Deacon John / I Want To Know

1960
SP VIM 505 (US)
.
The BUDDY LUCAS BAND - Begin The Beguine / Night Train
1961
SP Pioneer 71850 (US)
.
Big Buddy

Lucus -

Money, Money, Money / Get Away Fly
1962
SP Tru-Sound 45-416 (US)
.
Hocus Pocus (Abbra-Cadabra-Sham) (Buddy

Lucas

& The

Shouters

) / Show Down (Buddy LUCAS)
1962
SP Pioneer S-1760 (US)
.
Big Buddy

Lucus

- True Love Will Come Home / Packin My Grip
1962
SP TRU-SOUND 45-416 (US)
.

Hocus Pocus (Abbra-Cadabra-Sham) (Buddy LUCAS & The SHOUTERS) / Show Down (Buddy LUCAS)

1962
SP TRU-SOUND T-S 45-420 (US)

Down Home Turn Around (Buddy LUCAS featuring DELIA & Dionne WARWICK) / April Showers (Buddy LUCAS)

12/1962
SP Caprice 120 (US)
.
Big Buddy L

ucas

- I Can't Go / So Happy
1963
SP Tru-Sound 45-420 (US)
.
Down Home Turnaround / April Showers
1964
SP LAWN 227 (US)
.
Big Buddy L

ucas

- Bump Te Bump / La-Ja-Ma-Doodle (This Is My Lucky Day)
19??
SP Mohawk ‎M-716 (US)
.

That Thang / I'm Sailing

19??
SP Philips ‎6021 068 (NL)

That Thang / I'm Sailing

2011
SP GROOVE 4G-0029 (US) (bootleg)
.
You Better Head My Warning (Larry

Dale

) / High Low Jack (Buddy LUCAS)
Albums
1956
LP 12" TODAY'S 3002 (US)

BUDDY LUCAS & ORCHESTRA FEATURING BIG LUKE ON THE TENOR SAX - SHAKE, ROCK, RATTLE AND ROLL - Stand Up / Sky Rocket / Sound Off / Let's Go / Move Over / Round Robin / Jump The Gun / Blazing Home / Wow! / Stampede / Take It Easy / Time Out / Starfire / Shufflin' Along / Mambo Blues / Low Man / Wailin' Away / All Gone

1962
LP 12" Tru-Sound TRU 15011 (US)

ROCK & ROLL - BUDDY LUCAS - Down Home Turnaround - Hokus Pocus (Abbra-Cadabbra-Sham) / The Rattle / Papa Dee Dee / Moonglow / Fallout / Down Home Turnaround / April Showers / Long Boy / Crash Party / Show Down

1966
LP 12" United Artists UAL 3482 (mono) / UAS 6482 (stereo) (US)

50 Fabulous Harmonica Favorites -

Big Buddy Lucas & The Wigglers -

Go Away Little Girl Medley :

Go Away Little Girl - On Broadway - Next Door To An Angel - Oh Carol - Goodbye Cruel World /

Point Of No Return Medley :

Point Of No Return - Looking Through The Eyes Of Love - Just For Old Time's Sake - Action - The Grass Is Greener /

You've Lost That Lovin' Feelin' Medley

:

You've Lost That Lovin' Feelin' - Uptown - Venus In Blue Jeans - Foolish Little Girl /

It's My Life Medley :

It's My Life - I'm Into Something Good - Chains - Only In America /

Stairway To Heaven Medley :

Stairway To Heaven - Surf City - Will You Love Me Tomorrow - Up On The Roof /

The Loco-Motion Medley :

The Loco-Motion - Stupid Cupid - Happy Birthday Sweet Sixteen - We Gotta Get Out Of This Place /

Please Don't Ask About Barbara Medley :

Please Don't Ask About Barbara - The Diary - Footsteps - Little Devil - Five O'Clock World /

Calendar Girl Medley :

Calendar Girl - One Fine Day - Breaking Up Is Hard To Do - Oh No Not My Baby /

Princess In Rags Medley :

Princess In Rags - Rumors - Run To Him /

Charms Medley :

Charms - I'll Never Dance Again - Honolulu Lulu /

He's Sure The Boy I Love Medley :

He's Sure The Boy I Love - Baby, The Rain Must Fall - It Hurts To Be In Love - Just Once In My Life /

I'm Gonna Be Strong Medley :

I'm Gonna Be Strong -

Make Me Your Baby -

Take Good Care Of My Baby /

Blame It On The Bossa Nova Medley :

Blame It On The Bossa Nova - Peaches 'n' Cream
1967
LP 12" RCA Camden ‎CAL-2146 (mono) / CAS 2146 (stereo) (US)

Honkin' Sax -

Knock On Wood / These Boots Are Made For Walking / I'm A Believer / Uptight / Try A Little Tenderness / The Nitty Gritty / Yakety Sax / Dancin' In The Street / Holy Cow / Cryin' Sax
1990
LP 12" Redita ‎RLP-138 (NL)

Hoppin' Bop WITH BUDDY LUCAS -

Hoppin' Bop / Packin' My Grip / Ho Didy Ho / True Love Will Come / I Can't Go / Honky Tonk / Blue Monday / Hound Dog / When My Dreamboat Comes Home / So Happy / Seven-Eleven / Oh Mary Ann / Gee Gee Walk / Beulah / Night Train / Blueberry Hill / Slow Walk / Don't Be Cruel
2004
CD Redita RRCD-138 (NL)

Hoppin' Bop WITH BUDDY LUCAS -

Hound Dog / Packin' My Grip / Slow Walk (feat. Jimmy C

arroll

) / Blue Monday / Oh Mary Ann / 7-11 / How Diddy Ho / The Stroll / When My Dreamboat Comes Home / Hoppin' Bop / So Happy / Blueberry Hill / The Gee Gee Walk / Money, Money, Money / Get Away Fly / I'm Sailing / That Thing / Priscilla / Searchin' / Deacon John / Ah-Ah-Ah / Night Train / It's You I Love / Begin The Beguine / No Change / Don't Be Cruel / I Can't Go / True Love Will Come Home / I'm Walkin' / Honkey Tonk / Beluah / Buddy's Walk
2004
CD TODAY'S 3002 (EUR) (bootleg)

Buddy Lucas' All-Stars - Stand Up / Sky Rocket / Sound Off / Let's Go / Move Over / Round Robin / Jump The Gun / Blazing Home / Wow! / Stampede / Take It Easy / Time Out / Starfire / Shufflin' Along / Mambo Blues / Low Man / Wailin' Away / All Gone
© Rocky Productions 19/08/2015