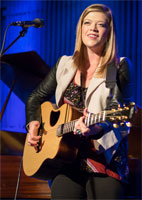 Chanteuse Country US née en 1988 à East Brandywine Township (Pennsylvanie).

Liz Longley is an award-winning singer and songwriter who has recorded multiple albums, toured extensively, and written songs for movies and television. She is a Pennsylvania native from Chester County, near Philadelphia, and began singing and playing piano at a very young age; she marks the turning point in her life at age nine, when she performed an original song for the students in her elementary school and received an enthusiastic reception.
Longley began recording a demo album and performing in clubs, competitions, and local festivals while attending Downingtown West High School. Her song "Naked Trees" reached the number one spot on GarageBand.com and held it for several weeks.
Upon graduation, she won a scholarship to Berklee College of Music in Boston and studied voice. She continued writing and recording. Somewhere in the Middle, her self-released debut album, was recorded while she was still a student. She also took first place in the Rocky Mountain Folk Fest Songwriter Showcase, and was co-winner of the Mountain Stage New Song Contest.
Graduating from Berklee in 2010, Longley won three songwriting competitions: the BMI John Lennon Songwriting Scholarship Competition, the International Acoustic Music Awards, and the Chris Austin Songwriting Contest. She also recorded her sophomore effort, Hot Loose Wire, that featured two of her award-winning songs, as well as a cover of Van Morrison's "Moondance," which was picked up by Sirius XM programming executives for regular rotation.
Longley's reputation spread fast and she moved between Boston and New York. She began opening shows for a wide range of artists including Shawn Colvin, Paula Cole, Nanci Griffith, and Amos Lee, and began accepting writing assignments for television and cinema. She placed songs on the ABC series NY Med and her "This Is Not the End" was showcased in the grand finale of the series Army Wives.
In 2011, Longley moved to Nashville and began collaborating with some of Music City's notable songwriting talent. She co-wrote with Amy Stroup, Phillip LaRue, Peter Groenwald, and Blake Stratton. The recorded fruit of those sessions was the six-track Inside This Song EP in late 2012. After extensive touring and writing over the next year and a half, Longley began a Kickstarter campaign to finance her next album. Her initial goal was $35,000; she raised $55,000. She signed with Sugar Hill in 2014 and began recording at Ocean Way Studios with producer Gus Berry (Jaquire King, Charlie Worsham) and engineer Gary Paczosa, as well as a slew of first-class session players. "Bad Habit," the album's first single, was released to CMT and iTunes and did exceptionally well. The self-titled album was released in March of 2015, followed by her first national headlining tour.
Talents : Vocals, Guitar
Style musical : Contemporary Country, Pop-Rock

https://youtu.be/efYeiuZQueg
Years in activity :
| | | | | | | | | | | |
| --- | --- | --- | --- | --- | --- | --- | --- | --- | --- | --- |
| 1910 | 20 | 30 | 40 | 50 | 60 | 70 | 80 | 90 | 2000 | 10 |
DISCOGRAPHY
Albums
01/2006
CD ADvent ? (US)

Naked Trees -

Naked Trees / Bye Bye Baby / Different Love Song / The Real Me / Answer Me / The Procrastination Song
01/2007
CD Luckelizz 82062 (US)

Take You Down -

Something You Should Know / Whatever Goes Up / Yes Or No / Different Love Song / Devil On My Shoulder / Take You Down / Lose My Mind / Answer Me / I'll Be There / Invisible / Jane / Circle Game
07/2009
CD CD Baby / Liz Longley 82552 (US)

Somewhere in the Middle

- When I See Your Face / Rush / Go On / Almost Over You / Goin' Where Leavin' Takes Me / People Get Ready / Overdue / Lonely / What Livin's For / Somewhere In The Middle / Ain't Too Good To Be True / Queen / Annabelle
09/2010
CD Audio & Video Labs / Liz Longley / Luckelizz 36829 (US)

Hot Loose Wire -

When You've Got Trouble / If You Want To / Moondance / Little White House / The Gun & The Gold / River / Avery / Unraveling / Goodbye Love / Free / Dough 4 Dough
10/2012
CD CD Baby / Luckelizz 5638019388 (US)

Inside This Song -

Inside This Song / You Gave Love A Face / Rush / I'll Show You How / Will I See You Again / Everything Is Gone
03/2015
CD Sugar Hill 141082 (US)

Liz Longley -

Outta My Head / Skin & Bones / Memphis / Bad Habit / You've Got That Way / Peace Of Mind / Simple Love / This Is Not The End / Never Loved Another / Camaro / We Run
© Rocky Productions 27/03/2015