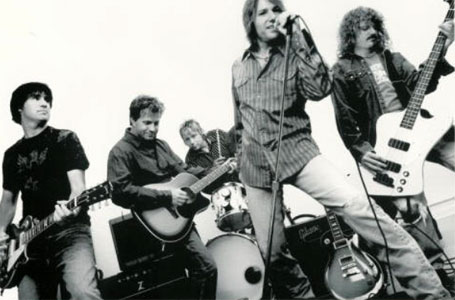 Groupe Country US formé en 1984, dissous en 1997 et reformé en 2004.

One of the most popular country bands of the early '90s, Little Texas was influenced by modern country outfits like Alabama and Restless Heart, as well as country-rock groups like the Eagles. The band came together in pairs. Porter Howell and Duane Propes started playing together in high school in 1983, and they both moved to Nashville to go to college. Tim Rushlow and Dwayne O'Brien first performed together in Arlington, Texas, in 1984. Rushlow moved to Nashville, and O'Brien followed a couple years later after finishing his degree. Del Gray and Brady Seals had performed together with Josh Logan, and they all came together in November of 1988.
Finally settling on the name Little Texas, the group landed a contract with Warner Bros. in 1989 and toured heavily to help build an audience. Their debut single, "Some Guys Have All the Love," was released in 1991 and quickly hit the Top Ten, as did its follow-up, "First Time for Everything." Finally, the group's debut album, also titled First Time for Everything, was released in 1992. It spawned three further hits in "You and Forever and Me" (their first Top Five single), "What Were You Thinkin'?," and "I'd Rather Miss You." Their 1993 follow-up album, Big Time, was a smash, selling nearly three million copies and spinning off two Top Five country hits in "What Might Have Been" and "God Blessed Texas." The third single, the Seals-sung "My Love," became Little Texas' first number one hit, though all three eventually reached number one on the Nashville Radio and Records chart. Released in 1994, Kick a Little was another platinum success, with two Top Five singles including the title track and "Amy's Back in Austin."
In 1994, Seals departed for a solo career and was replaced by multi-instrumentalist Jeff Huskins, formerly of Clint Black's band; in 1995, the band issued Greatest Hits, which featured the newly recorded Top Five single "Life Goes On." Little Texas took a bit of a break in 1996, only playing about 100 shows that year as opposed to the 300-plus dates they'd been doing for years. They also recorded their third album, Little Texas, during this time, but the years of touring had already taken their toll on the band, and in 1997 they decided to go on hiatus. After several years, the bandmembers reunited and recruited vocalist Steven Troy. The newly reassembled group launched the Hello Again tour in 2004. Three years later, Little Texas released The Very Best of Little Texas: Live and Loud, a new live album containing their greatest-hits, and it was soon followed by the brand-new studio effort Missing Years. The band spent the last few years touring but returned in 2015 with Young for a Long Time.
Members : Del Gray, Porter Howell, Dwayne O'Brien, Duane Propes
Past Members : Jeff Huskins, Tim Rushlow, Brady Seals, Steven Troy

http://www.littletexasonline.com/
Style musical : Contemporary Country, Pop-Rock

https://youtu.be/mbH60wCO-Yw
Years in activity :
| | | | | | | | | | | |
| --- | --- | --- | --- | --- | --- | --- | --- | --- | --- | --- |
| 1910 | 20 | 30 | 40 | 50 | 60 | 70 | 80 | 90 | 2000 | 10 |
DISCOGRAPHY
Singles
| | | |
| --- | --- | --- |
| 01/1992 | SP WARNER BROS. 7-19024 (US) | First Time For Everything / Some Guys Have All The Love |
| 05/1992 | SP WARNER BROS. 7-18867 (US) | You And Forever And Me / Dance |
| 09/1992 | SP WARNER BROS. 7-18741 (US) | What Were You Thinkin' / Just One More Night |
| 01/1993 | SP WARNER BROS. 7-18668 (US) | I'd Rather Miss You / Cry On |
| 05/1993 | SP WARNER BROS. 7-18516 (US) | What Might Have Been / Stop On A Dime |
| 09/1993 | SP WARNER BROS. 7-18385 (US) | God Blessed Texas / Cut Off Jeans |
| 01/1994 | SP WARNER BROS. 7-18295 (US) | My Love / Only Thing I'm Sure Of |
| 08/1994 | SP WARNER BROS. 7-18103 (US) | Kick A Little / Hit Country Song |
| 01/1995 | SP WARNER BROS. 7-18001 (US) | Amy's Back In Austin / Excerpts-Country |
| 06/1995 | SP WARNER BROS. 7-17806 (US) | Party All Night (with Jeff Foxworthy & Scott ROUSE) / Southern Accent (Jeff Foxworthy) |
| 08/1995 | SP WARNER BROS. 7-17770 (US) | Life Goes On / Peaceful Easy Feeling |
| 01/1997 | SP WARNER BROS. 7-17391 (US) | Bad For Us / Long Way Down |
Albums
| | | | |
| --- | --- | --- | --- |
| 03/1992 | CD WARNER BROS. 9 26820-2 (US) | | FIRST TIME FOR EVERYTHING - Some Guys Have All The Love / First Time For Everything / Down In The Valley / You And Forever And Me / What Were You Thinkin' / Dance / Better Way / I'd Rather Miss You / Just One More Night / Cry On |
| 05/1993 | CD WARNER BROS. 9 45276-2 (US) | | BIG TIME - Forget About Forgettin' You / What Might Have Been / Only Thing I'm Sure Of / My Love / Stop On A Dime / God Blessed Texas / Love And Learn / My Town / This Time It's Real / Cut Off Jeans |
| 09/1994 | CD WARNER BROS. 9 45739-2 (US) | | KICK A LITTLE - Kick A Little / I'd Hold On To Her / Amy's Back In Austin / Southern Grace / She's Cool / Your Days Are Numbered / Inside / Night I'll Never Remember / Hit Country Song / Redneck Like Me |
| 09/1995 | CD WARNER BROS. 9 46017-2 (US) | | GREATEST HITS - God Blessed Texas / Some Guys Have All The Love / You And Forever And Me / Amy's Back In Austin / What Might Have Been / First Time For Everything / Kick A Little / My Love / Life Goes On / Peaceful Easy Feeling / I'd Rather Miss You / Country Crazy |
| 04/1997 | CD WARNER BROS. 9 46501-2 (US) | | LITTLE TEXAS - Loud And Proud / Bad For Us / Ain't No Time To Be Afraid / Long Way Down / Your Mama Won't Let Me / All In The Line Of Love / Living In A Bullseye / Call / Yesterday's Gone Forever / If I Don't Get Enough Of You |
| 02/2000 | CD WARNER BROS. 9 47996-2 (US) | | SUPER HITS SERIES VOLUME 3 - Some Guys Have All The Love / God Blessed Texas / First Time For Everything / My Love / Bad For Us / Cry On / Only Thing I'm Sure Of / Yesterday's Gone Forever / I'd Hold On To Her / Kick A Little |
| 09/2004 | CD RHINO R2-76513 (US) | | COUNTRY CLASSICS - My Love / Country Crazy / Life Goes On / What Were You Thinkin' / Southern Grace / Your Mama Won't Let Me / Stop On A Dime / Bad For Us / You And Forever And Me / God Blessed Texas |
| 05/2007 | CD MONTAGE MUSIC 300100 (US) | | The Very Best Of Little Texas - Live And Loud - Hello Again / Life Goes On / Amy's Back In Austin / Medley: Some Guys Have All the Love - My Love - First Time For Everything / Peaceful Easy Feeling / Loud And Proud / Kick A Little / Medley: You And Forever And Me - I'd Rather Miss You / What Might Have Been / Get Back / God Blessed Texas |
| 06/2007 | CD MONTAGE MUSIC 300101 (US) | | MISSING YEARS - Gotta Get Me Down Home / Missing Years / Rebel / Knees / A Reason / Party Life / Texas 101 / So Long / When He's Gone / You Aint Seen Me Latley / Your Blues / Your Woman |
| 04/2015 | CD Cleopatra CLPCD 2189 (US) | | Young for a Long Time - Young For A Long Time / Can't Get In A Hurry Here / Why I Brought My Boots / Slow Ride Home / Rednecks Do Exist / Kings Of This Town / Yeah Yeah Yeah / Take This Walk With Me / Nothin' You Can Do / How Many Chances / This Hot In Texas / What Might Have Been / God Blessed Texas |
© Rocky Productions 16/04/2015