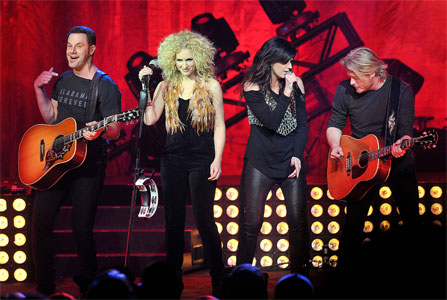 Groupe country US formé en 1998 à Nashville (Tennessee), comprenant Karen Fairchild, Phil Sweet, Jimi Westbrook et Kimberly "Roads" Schlapman.

Country vocal quartet Little Big Town began with Kimberly Roads and Karen Fairchild, two Georgia natives who began singing together in college. Arkansas-born and Alabama-raised Jimi Westbrook, a friend of Fairchild's husband, joined them to make a trio, and the group was completed by the addition of Arkansan Phil Sweet in 1998. From the outset, Little Big Town devoted their sound to harmony and multiple lead vocals, a combination that made the band a hard sell at first. They finally landed a deal at Mercury Records, but it fell through due to disagreements about musical direction. In the wake of the success of the Dixie Chicks, however, Little Big Town suddenly seemed a more likely commercial proposition, and they were taken up by the Dixie Chicks' label, Monument Records, in 2000.
Recording sessions lasted longer than usual for a country release, but Monument finally issued the band's debut single, "Don't Waste My Time," in the winter of 2002. The song was on its way up the charts when its accompanying album, Little Big Town, arrived in May. Although the debut produced several minor hits, Little Big Town didn't become a superstar act until 2005, when The Road to Here yielded four Top 20 singles (including the ballad "Bring It on Home") and earned the group its first platinum record. A Place to Land followed in 2007 and netted three singles, none of which made it into the Top 30, but the band's profile continued to grow due to incessant touring and supporting acts from Sugarland to Carrie Underwood. Fairchild also guested with John Mellencamp on his album Life Death Love and Freedom. In May of 2010 "Little White Church" appeared as a single that peaked at number 14 on the Billboard country chart; in August of that year, Little Big Town's fourth studio album, The Reason Why, was released by Capitol.
The band returned in 2012 with the single "Pontoon," which wound up topping Billboard's country chart. The band's fifth full-length album, Tornado, followed in September 2012. It was their first release to be produced by ex-In Pursuit member Jay Joyce, and it became their highest-placed album on the Billboard 200 up to that point, reaching number two. Joyce was retained for their next album's sessions and the resulting record, Pain Killer, appeared in October 2014, preceded by the single "Day Drinking." That single went to four on Billboard's Hot Country chart but it was soon overshadowed by the ballad "Girl Crush," which topped the Hot Country chart and crossed over into the pop Top 20 on its way toward winning two Grammy Awards in 2015. Little Big Town capitalized on this crossover by collaborating with Pharrell Williams for Wanderlust, a brief album that appeared upon short notice in June 2016. Little Big Town returned to country in early 2017 with The Breaker, an album that was preceded by the Taylor Swift-written single "Better Man." The set debuted at number four on the Billboard 200 and topped the country chart. They promoted the effort with tours in the U.S. and U.K., with support from Kacey Musgraves, Midland, and Seth Ennis. In the midst of a 2018 summer tour with Miranda Lambert, the band issued the breezy single "Summer Fever."
In the spring of 2019, Little Big Town released the ballad "The Daughters," which turned out to be the first single from their ninth album, Nightfall. Released in January 2020, Nightfall was produced by the band in conjunction with Daniel Tashian and Ian Fitchuk.
http://www.myspace.com/littlebigtown
Talents : Karen Fairchild : Vocals - Phil Sweet : Vocals, Guitar - Jimi Westbrook : Vocals, Guitar - Kimberly Schlapman : Vocals
Style musical : Traditional Country, Honky Tonk, Close Harmony

http://youtu.be/64A-v0jogtY
Years in activity :
| | | | | | | | | | | | |
| --- | --- | --- | --- | --- | --- | --- | --- | --- | --- | --- | --- |
| 1910 | 20 | 30 | 40 | 50 | 60 | 70 | 80 | 90 | 2000 | 10 | 20 |
DISCOGRAPHY
Albums
05/2002
CD MONUMENT AK-85374 (US)
LITTLE BIG TOWN - Pontiac / Everything Changes / Don't Waste My Time / Still / Never Felt Love / Tryin' / Stay / Somewhere Far Away / A Thousand Years / From This Dream
10/2005
CD EQUITY 3010 (US)
THE ROAD TO HERE - Good As Gone / Boondocks / Bones / Bring It On Home / Wounded / A Little More You / Live With Lonesome / Mean Streak / Looking For A Reason / Lost / Welcome To The Family / Fine With Me / Stay

[acoustic]

11/2007
CD EQUITY 3018 (US)
A PLACE TO LAND - Fine Line / I'm With The Band / That's Where I'll Be / Evangeline / Vapor / Novocaine / Only What You Make Of It / A Place To Land / Firebird Fly / To Know Love / Lonely Enough / Fury
08/2010
CD CAPITOL 0999-6-88755-2-7 (US)
THE REASON WHY - The Reason Why / Runaway Train / Kiss Goodbye / Shut Up Train / Why, Oh Why / Little White Church / You Can't Have Everything / All The Way Down / All Over Again / Rain On A Tin Roof / Life Rolls On / Lean Into It
09/2012
CD CAPITOL

0999-6-44288-2-6

(US)

TORNADO - Pavement Ends / Pontoon / Sober / Front Porch Thang / Your Side Of The Bed / Leavin' In Your Eyes / Tornado / On Fire Tonight / Can't Go Back / Self Made / Night Owl
10/2014
CD CAPITOL B0021360-02 (US)

Pain Killer -

Quit Breaking Up With Me / Day Drinking / Tumble And Fall / Pain Killer / Girl Crush / Faster Gun / Good People / Stay All Night / Save Your Sin / Live Forever / Things You Don't Think About / Turn The Lights On / Silver And Gold
02/2017
CD CAPITOL 002622302 (US)

The Breaker -

Happy People / Night On Our Side / Lost In California / Free / Drivin' Around / Better Man / Rollin' / Don't Die Young, Don't Get Old / Beat Up Bible / When Someone Stops Loving You / The Breaker
01/2020
CD CAPITOL 0827878 (US)

Nightfall - Next To You / Nightfall / Forever And A Night / Throw Your Love Away / Over Drinking / Wine, Beer, Whiskey / Questions / The Daughters / River Of Stars / Sugar Coat / Problem Child / Bluebird / Trouble With Forever

09/2022
CD CAPITOL B003598502 (US)
MR. SUN - All Summer / Better Love / Hell Yeah / Mr. Sun / Three Whiskeys And The Truth / One More Song / Heaven Had A Dance Floor / Gold / Rich Man / God Fearing Gypsies / Different Without You / Whiskey Colored Eyes / Song Back / Something Strong / Last Day On Earth / Friends Of Mine
© Rocky Productions 27/08/2022