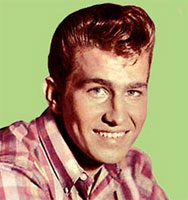 Chanteur Rock 'n' Roll US né le 28 Octobre 1939 à Yuma (Arizona). Curtis Lee est décédé le 8 Janvier 2015 à Yuma (Arizona)

Curtis Lee occupies the era of rock & roll in between the death of Buddy Holly and the arrival of the Beatles -- a period usually thought of as "lost years," because, apart from the Beach Boys, few of the artists involved lingered long on the charts or left an obvious legacy into the next era. Neither did Lee, but two of his songs, "Pretty Little Angel Eyes" and "Under the Moon of Love," evoke vivid associations with that innocent, romantic era.
Lee hailed from Arizona, and cut three songs for small labels while he was still in his teens. He was heard by Ray Peterson ("Tell Laura I Love Her"), who'd just started a label of his own, Dunes, and invited to cut a demo if he came to New York. By the time he made it to New York in late 1960, he'd started writing songs in partnership with a friend, Tommy Boyce, who later became one-half of the Boyce & Hart songwriting-producing-singing duo. Lee's first two singles, "Special Love" and "Pledge of Love," were passionate but otherwise unexceptional performances that understandably failed to chart, but for his third record, Dunes agreed to cut a Lee-Boyce original called "Pretty Little Angel Eyes." Phil Spector, who had previously produced a hit for Peterson ("Corinna, Corinna"), ran the session, and laid the orchestra and, especially, the chorus on very heavily, the latter deliberately working in a late-'50s doo wop style. The resulting record made the Top Ten, and became Lee's biggest hit.
Lee and Boyce next turned in the jaunty "Under the Moon of Love," which used less of a doo wop style, in favor of a thick sax sound and a soaring girl chorus, and made the charts in late 1961. Unfortunately, this was to be Lee's last recording success. Lee never charted another record, and he left the music business. "Pretty Little Angel Eyes" is a fixture on oldies stations, however, with its distinctive sound, and both it and "Under the Moon of Love" are considered prime representatives of Phil Spector's early sound.
https://en.wikipedia.org/wiki/Curtis_Lee
Talents : Vocals
Style musical : Doo Wop, Rockabilly, Rock 'n' Roll, Teen Idols
Years in activity :
| | | | | | | | | | | | |
| --- | --- | --- | --- | --- | --- | --- | --- | --- | --- | --- | --- |
| 1910 | 20 | 30 | 40 | 50 | 60 | 70 | 80 | 90 | 2000 | 10 | 20 |
DISCOGRAPHY
Singles & EP
06/1959
SP WARRIOR W-1555 (US)
.
Pure Love / With All My Heart
1960
SP HOT H-7 (US)
.
I Never Knew What Love Could Do / Gotta Have You
1960
SP DUNES 45-2001 (US)
.
Special Love / D - In Love
01/1961
SP DUNES 45-2003 (US)
Pledge Of Love / Then I'll Know
06/1961
SP DUNES 45-2007 (US)
.
Pretty Little Angel Eyes / Gee How I Wish You Were Here
1961
SP LONDON HL 9397 (NW)
Pretty Little Angel Eyes / Gee How I Wish You Were Here
10/1961
SP DUNES 45-2008 (US)
.
Under The Moon Of Love / Beverly Jean
03/1962
SP DUNES 45-2012 (US)
.
Just Another Fool / A Night At Daddy Gee's
07/1962
SP DUNES 45-2015 (US)
.
Does He Mean That Much To You / The Wobble
11/1962
EP BARCLAY 70482 (F)
Under The Moon Of Love / Does He Mean That Much To You / Beverly Jean / The Wobble
12/1962
SP DUNES 45-2020 (US)
.
Lonely Weekends / Better Him Than Me
01/1963
SP DUNES 45-2021 (US)
.
Pickin' Up The Pieces Of My Heart / Mr. Mistaker
1963
SP BIGTOP BT 1005 (SWE)
Lonely Weekends /Better Him Than Me
1964
SP DUNES 45-801 (US)
.
California GL-903 / Then I'll Know
02/1967
SP ROJAC RA-114 (US)
Curtis L

ee

& The KCP'S - Everybody's Going Wild / Get In My Bag
05/1967
SP MIRA 240 (US)
.
Is She In Your Town / Sweet Baby
1967
SP CODA 101 (US)
.
Is She In Your Town / Sweet Baby
196?
SP CODA C-1392 (US)
.

From Head To Toe / Is She In Your Town

1974
SP MCA D-2669 (US)
.
Pretty Little Angel Eyes / Gee How I Wish You Were Here
1974
SP GOLDIES 45 D-2669 (US)
.
Pretty Little Angel Eyes / Gee How I Wish You Were Here
1974
SP GOLDIES 45 D-2670 (US)
.
Under The Moon Of Love / Beverly Jean
1978
SP CHARLY CYS 1043 (UK)
Pretty Little Angel Eyes (Curtis LEE) / Ooby Dooby (Roy ORBISON)
197?
SP LOST NITE LN 217 (US)
.
Pretty Little Angel Eyes / Gee How I Wish You Were Here
1987
SP Original Sound Oldies But Goodies OBG 4573 (US)
.
Pretty Little Angel Eyes / I've Had It (BELL NOTES)
199?
SP COLLECTABLES COL-3319 (US)
.
Pretty Little Angel Eyes / Under The Moon Of Love
????
SP Rock'n Mania RMGD-222 (US)
.
In The Still Of The Nite (FIVE SATINS) / Pretty Little Angel Eyes (Curtis LEE)
Albums
1986
LP 12" DUNES DU 2000 (US)

Pretty Little Angel Eyes -

Gotta Have You / I Never Knew What Love Could Do / Pure Love / With All My Heart / Under The Moon Of Love / Does He Mean That Much To You / Beverly Jean / Pretty Little Angel Eyes / Gee How I Wish You Were Here / The Wobble / Pickin' Up The Pieces Of My Heart / Mr. Mistaker / Just Another Fool / A Night At Daddy Gee's
1986
LP 12" HOT 1556 (US)

Pretty Little Angel Eyes -

Gotta Have You / I Never Knew What Love Could Do / Pure Love / With All My Heart / Under The Moon Of Love / Does He Mean That Much To You / Beverly Jean / Pretty Little Angel Eyes / Gee How I Wish You Were Here / The Wobble / Pickin' Up The Pieces Of My Heart / Mr. Mistaker / Just Another Fool / A Night At Daddy Gee's
1996
CD COLLECTABLES COL-5706 (US)

Pretty Little Angel Eyes - A Golden Classics Edition -

Pretty Little Angel Eyes / Gee How I Wish You Were Here / Under The Moon Of Love (45 version) / Beverly Jean / Pledge Of Love / Mr. Mistaker / Just Another Fool / Special Love / Then I'll Know / Does He Mean That Much To You / Wobble / Pickin' Up The Pieces Of My Heart / A Night At Daddy Gee's / ''D'' In Love / Lonely Weekends / Better Him Than Me / Under The Moon Of Love (outtake)
© Rocky Productions 21/04/2015