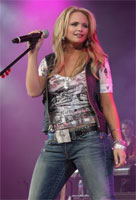 Chanteuse Country US née le 10 Novembre 1983 à Lindale (Texas).

Miranda Lambert defied all conventional notions of how a credible country career should proceed. Following an adolescence where she alternated between singing and acting, she came to prominence not as the winner but as a runner-up on the 2003 American Idol knockoff Nashville Star, a dubious stepping stone to stardom if ever there was one, but Lambert's 2005 Kerosene obliterated any notion that she was a reality TV refugee. Filled with lithe, powerful, neo-traditional country songs, many penned by Lambert herself, Kerosene established the singer/songwriter as a commercial force to be reckoned with, while its 2007 sequel, Crazy Ex-Girlfriend, pulled off the trick of turning her into a superstar while confirming she was a writer of considerable substance. From there, the hits piled up fast and furious -- most of them from her multi-platinum records Revolution, Four the Record and Platinum, but some coming from her side project Pistol Annies -- and tabloid headlines started to flow after she married fellow country star Blake Shelton in 2011. By that point, she could weather the gossip because there was no mistaking Miranda Lambert as anything but a major figure in country music.
Raised by parents who were also professional partners in a private investigator agency (her father Rick was also a guitarist who taught his daughter how to play), Lambert began playing music early, entering talent competitions as a singer when she was 16. She performed well enough to be offered a demo recording contract in Nashville but she bailed on the sessions, claiming the music was too pop. She headed back to Texas, where she learned to play guitar with the idea of writing her own songs. As she was woodshedding this skill, she continued to sing, fronting a variety of local bands around Longview, Texas at ballrooms, dance halls, and restaurants. Additionally, she perused opportunities as an actress, appearing in a Ruffles potato chip commercial and landing a small role in the 2001 comedy Slap Her She's French, but her main concentration was music, particularly the Texas Pride band she fronted. In 2001, she and her father self-financed an eponymous independent album that made local waves: "Texas Pride" and "Somebody Else" garnered enough local play that they appeared on Texas music charts. Things started to gel in 2002 when she gained the attention of music attorney Rod Phelps, who pulled enough strings in Nashville to persuade her to move back to the Music City. Once there, she auditioned for the fledgling television show Nashville Star, a singing competition launched by USA Networks in 2003 in the wake of the massive success of American Idol. Lambert made it to the finale but didn't win -- she was eclipsed by Buddy Jewell -- yet her success on the show piqued the interest of Epic Records, who signed her to a deal in September 2003 (her Epic contract would later transfer to Sony Nashville).
A single, "Me and Charlie Talking," appeared in 2004, with the full-length debut, Kerosene, released in the spring of 2005. Lambert wrote or co-wrote 11 of the 12 songs on her debut, including the title track, which made it to 16 on Billboard's Country Singles chart on its way to eventual platinum certification. Kerosene the album also reached platinum status, but her 2007 sophomore set Crazy Ex-Girlfriend is where Lambert demonstrated her commercial muscle. Debuting at number one on the Billboard Country chart and six on Billboard's Top 200, Crazy Ex-Girlfriend boasted two big hits in "Famous in a Small Town" and "Gunpowder & Lead," the latter reaching seven on the Country chart on its way to double-platinum certification; "More Like Her" was also a hit, making its way to 17. Released in September 2009, third album Revolution was her blockbuster -- her biggest seller containing her biggest hit singles. "The House That Built Me" became her first number one single -- it would be certified platinum twice over, whereas its predecessor, "White Liar," went platinum and peaked at two -- and "Heart Like Mine" also reached the top; "Only Prettier" peaked at 12. Buttressed by this success, Lambert decided to venture into a side project called Pistol Annies with fellow singer/songwriters Ashley Monroe and Angaleena Presley. Their debut, Hell on Heels, appeared in August 2011 and went gold, partially on the strength of good reviews, partially on the strength of its platinum-selling title track; the album debuted at five on Billboard's Top 200.
Arriving quickly on the heels of Hell on Heels -- less than three months later, to be precise -- came Lambert's fourth solo album, Four the Record. A hit right out of the box -- it debuted at three on the Top 200 and one on the country charts -- Four the Record contained four Top Ten country hits ("Baggage Claim," the number one "Over You," "Fastest Girl in Town," and "Mama's Broken Heart"; "All Kind of Kinds" topped out at 15) and helped cement Lambert's position as the reigning queen of country music in the 2010s. Her status was also elevated by her marriage to fellow country star Blake Shelton in 2011, the same year he landed a starring role on NBC's televised singing competition The Voice and broke into the pop mainstream via his single "Honey Bee." Soon, Lambert and Shelton were gossip favorites but Lambert kept working hard. She returned to acting in a guest spot on a Law & Order: Special Victims Unit episode in 2012, Pistol Annies released a second album, Annie Up, in May 2013 -- the album debuted at five on the Top 200, two on the country charts; its single "Hush Hush" didn't crack the Top 40 -- and in June 2014 she delivered her fifth album, Platinum. Supported by the Top Ten singles "Automatic," the Carrie Underwood duet "Somethin' Bad," and "Little Red Wagon," Platinum was another big hit for Lambert. During the summer of 2015, she and Shelton announced they were divorcing and she then entered the studio to record her sixth album. "Vice," the first single from these sessions, appeared in July 2016, peaking at number two on Billboard's country chart. It was a teaser from the moody, muddy double album The Weight of These Wings, which was released in November 2016.
Pistol Annies reunited in 2018 for Interstate Gospel, their first album in five years; the record debuted at number one on Billboard's Country Albums chart. In 2019, Lambert returned to her solo career, releasing a series of bright singles prior to the November release of Wildcard. The album debuted at four on Billboard's Top 200 and wound up winning the Grammy for Best Country Album in 2021. Later in 2021, Lambert released The Marfa Tapes, a spare and rustic collaborative album with fellow songwriters Jack Ingram and Jon Randall. A few of the tunes on The Marfa Tapes, including "Waxahachie" and "Geraldene," were revived for Palomino, a 2022 album Lambert cut with Randall and Luke Dick as co-producers. Preceded by the single "If I Was a Cowboy," Palomino featured the B-52's on "Music City Queen," along with a cover of Mick Jagger's "Wandering Spirit."
http://www.mirandalambert.com/
https://en.wikipedia.org/wiki/Miranda_Lambert
Talents : Vocals, Guitar
Style musical : Contemporary Country, Country Pop

http://www.youtube.com/watch?v=OLC81Q49dyQ
Years in activity :
| | | | | | | | | | | | |
| --- | --- | --- | --- | --- | --- | --- | --- | --- | --- | --- | --- |
| 1910 | 20 | 30 | 40 | 50 | 60 | 70 | 80 | 90 | 2000 | 10 | 20 |
DISCOGRAPHY
Singles & EP
2006
CD SONY ? (US) (promo)

New Strings

2007
CD SONY 88697-06698-2 (US) (promo)

Famous In A Small Town / Famous In A Small Town / Famous In A Small Town

2007
CD SONY 88697-21079-2 (US) (promo)

Gunpowder & Lead / Gunpowder & Lead / Gunpowder & Lead

2009
CD SONY 88697-58390-2 (US)

Dead Flowers -

Dead Flowers / Take It Out On Me / I Just Really Miss You / Nobody's Used To Be
2013
CD RCA ? (US) (promo)

All Kinds Of Kinds (single edit)

2014
CD RCA ? (US) (promo)

Little Red Wagon (single edit) / Little Red Wagon (single edit) / Little Red Wagon (single edit)

2014
CD SONY ? (UK) (promo)

Automatic

2014
CD RCA 88843-09229-2 (US) (promo)

Somethin' Bad (Miranda LAMBERT & Carrie UNDERWOOD) / Somethin' Bad (Miranda LAMBERT & Carrie UNDERWOOD) / Somethin' Bad (Miranda LAMBERT & Carrie UNDERWOOD)
Albums
2001
CD HEARTFAIR ? (US)
MIRANDA LAMBERT - Somebody Else / Texas Pride / Lyin' Here / Another Heartache / What In The World / Jack Daniels / Texas As Hell / Something That I Like About A Honky Tonk / Last Goodbye / Wichita Falls
2004
CD SONY AEK 92026 (US) (promo)
KEROSENE - ADVANCE MUSIC - Kerosene / What About Georgia? / Greyhound Bound For Nowhere / New Strings / I Can't Be Bothered / Bring Me Down / Me And Charlie Talking / I Wanna Die / Love Is Looking For You / Mama, I'm Alright / There's A Wall / Love Your Memory
03/2005
CD SONY 92026 (US)
KEROSENE - Kerosene / What About Georgia? / Greyhound Bound For Nowhere / New Strings / I Can't Be Bothered / Bring Me Down / Me And Charlie Talking / I Wanna Die / Love Is Looking For You / Mama, I'm Alright / There's A Wall / Love Your Memory
05/2007
CD SONY 82876-78932-2 (US)
CRAZY EX-GIRLFRIEND - Gunpowder & Lead / Dry Town / Famous In A Small Town / Crazy Ex-Girlfriend / Love Letters / Desperation / More Like Her / Down / Guilty In Here / Getting Ready / Easy From Now On
09/2009
CD SONY 746854 (US)
REVOLUTION - White Liar / Only Prettier / Dead Flowers / Me And Your Cigarettes / Maintain The Pain / Airstream Song / Makin' Plans / Time To Get A Gun / Somewhere Trouble Don't Go / The House That Built Me / Love Song / Heart Like Mine / Sin For A Sin / That's The Way That The World Goes 'round / Virginia Bluebell
11/2011
CD SONY 88697-90589-2 (US)
FOUR THE RECORD - All Kinds Of Kinds / Fine Tune / Fastest Girl In Town / Safe / Mama's Broken Heart / Dear Diamond / Same Old You / Baggage Claim / Easy Living / Over You / Look At Miss Ohio / Better In The Long Run / Nobody's Fool / Oklahoma Sky
2011
CD SONY 88697-85494-2 (AUS)
REVOLUTION -

Australian Tour Pack -

White Liar / Only Prettier / Dead Flowers / Me And Your Cigarettes / Maintain The Pain / Airstream Song / Makin' Plans / Time To Get A Gun / Somewhere Trouble Don't Go / The House That Built Me / Love Song / Heart Like Mine / Sin For A Sin / That's The Way That The World Goes 'round / Virginia Bluebell /

Australian Tour Pack (Bonus Tracks) :

Me And Charlie Talking / Bring Me Down / Kerosene / New Strings / Famous In A Small Town / Gunpowder And Lead / More Like Her
06/2014
CD RCA / SONY 88883792782 (US)

Platinum -

Girls / Platinum / Little Red Wagon / Smokin' And Drinkin' / Priscilla / Automatic / Bathroom Sink / Old Sh!t / All That's Left / Gravity Is A Bitch / Babies Makin' Babies / Somethin' Bad / Holding On To You / Two Rings Shy / Hard Staying Sober / Another Sunday In The South
11/2016
2 CD RCA / Vanner 88985323052 (US)

The Weight of These Wings :

CD 1 : Runnin' Just In Case / Highway Vagabond / Ugly Lights / You Wouldn't Know Me / We Should Be Friends / Pink Sunglasses / Getaway Driver / Vice / Smoking Jacket / Pushin' Time / Covered Wagon / Use My Heart
CD 2 : Tin Man / Good Ol' Days / Things That Break / For The Birds / Well-Rested / Tomboy / To Learn Her / Keeper Of The Flame / Bad Boy / Six Degrees Of Separation / Dear Old Sun / I've Got Wheels

11/2019
CD SONY 597873 (US)

Wildcard - White Trash / Mess With My Head / It All Comes Out In The Wash / Setting Down / Holy Water / Way Too Pretty For Prison / Locomotive / Bluebird / How Dare You Love / Fire Escape / Pretty Bitchin' / Tequila Does / Track Record / Dark Bars

05/2021
2 LP 12" SME / Sony 987018 (US)

The Marfa Tapes - Jack Ingram / Miranda Lambert / Jon Randall :

DISC 1 : In His Arms / I Don't Like It / The Wind's Just Gonna Blow / Am I Right Or Amarillo / Waxahachie / Homegrown Tomatoes / Breaking A Heart / Ghost

DISC 2 : Geraldene / We'll Always Have The Blues / Tin Man / Two-Step Down To Texas / Anchor / Tequila Does / Amazing Grace (West Texas)

04/2022
CD RCA 19439-96572-2 (US)

Palomino - Actin' Up / Scenes / In His Arms / Geraldene / Tourist / Music City Queen / Strange / Wandering Spirit / I'll Be Lovin' You / That's What Makes The Jukebox Play / Country Money / If I Was A Cowboy / Waxahachie / Pursuit Of Happiness / Carousel
© Rocky Productions 29/04/2022