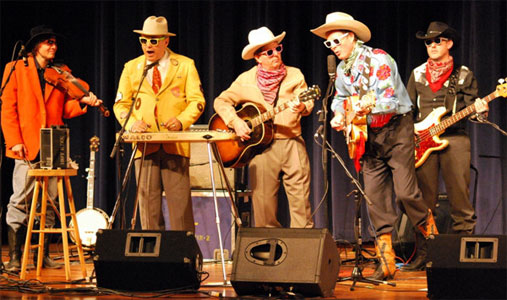 Groupe Country US composé de Red Knuckles, Wendell Mercantile, Waldo Otto et Swade. Il y a des gens qui disent que Red Knuckles et Hot Rize sont les mêmes. Personne ne sait où se trouvent ces personnes actuellement.

Red Knuckles and the Trailblazers is a band that travels in the back of the Hot Rize bus and occasionally spells their employers on stage. The foursome (Red Knuckles, Wendell Mercantile, Waldo Otto, and Swade) plays 40's and 50's country music as well as you might expect from people who have mostly listened to the same jukebox for most of their lives. That jukebox, at the Eat Cafe in Wyoming, Montana, is where Red and the boys first met Hot Rize and agreed to leave their home to pursue fortune and fame.
The "fortune" part notwithstanding, the 'Blazers did become famous for their original brand of entertainment, featuring band choreography and Wendell's "take-off" guitar with fringe to match his outfit.
There are people who say that Red Knuckles and Hot Rize are the same. No one knows where any of those people are now.
Talents : Red Knuckles : Lead Vocal, Acoustic Guitar - Wendell Mercantile : Electric Guitar, Harmony Vocals - Waldo Otto : Steel Guitar - Swade : Bass
Style musical : Traditional Country

https://youtu.be/-tbXd7p0nMc
Years in activity :
| | | | | | | | | | |
| --- | --- | --- | --- | --- | --- | --- | --- | --- | --- |
| 1910 | 20 | 30 | 40 | 50 | 60 | 70 | 80 | 90 | 2000 |
DISCOGRAPHY
Albums
07/1982
LP 12" Flying Fish FF 279 (US)

Hot Rize Presents Red Knuckles & the Trailblazers - Travelin' Blues / Honky Tonk Man / Slade's Theme / Dixie Cannonball / I Know My Baby Loves Me / Trailblazer Theme / Always Late / Honky Tonk Song / Kansas City Star / Waldo's Discount Donuts / Boot Heel Drag / Window Up Above / You're Gonna Change And I'm Gonna Leave / Long Gone John From Bowling Green

08/1984
LP 12" Flying Fish FF 315 (US)

Hot Rize Extra Added Attraction Red Knuckles & the Trailblazers - In Concert - Ray HICKS : Introduction / Hot Rize : Let Me Love You One More Time / Goin' Across The Sea / My Little Darlin' / I've Been All Around This World / I'm Gonna Sleep With One Eye Open / Martha White Theme / Sally Goodin / Your Light Leads Me On / The Sugarfoot Rag / Pete WERNICK : Introduction Of Red Knuckles And The Trailblazers / Red Knuckles & The Trailblazers : Texas Hambone Blues / Wendell's Fly Swatters / Oh, Mona / Hot Rize : Rank Rangers / Shady Grove

1988
CD Flying Fish SH-CD-3767 (US)

Hot Rize Presents Red Knuckles And The Trailblazers - Shades Of The Past - Goin' Steady / On Monday / I Thought I Heard You Call My Name / Wigwam Wiggle / Blues Stay Away From Me / The Golden Rocket / If You Ain't Lovin', You Ain't Livin' / I'm A One Woman Man / The Girl Of My Dreams / Shades Of The Past / In The Jailhouse Now / Nowhere Man / Everybody's Rockin' But Me

1996
CD Flying Fish FF 70107 (US)

Hot Rize Presents Red Knuckles & the Trailblazers / Hot Rize In Concert - Red Knuckles & The Trailblazers : Travelin' Blues / Honky Tonk Man / Slade's Theme / Dixie Cannonball / I Know My Baby Loves Me / Traiblazer Theme / Always Late / Honky Tonk Song / Kansas City Star / Waldo's Discount Donuts / Boot Heel Drag / The Window Up Above / You're Gonna Change Or I'm Gonna Leave / Long Gone John From Bowling Green / Ray HICKS ; Introduction / Hot Rize : Let Me Love You One More Time / Goin' Across The Sea / My Little Darlin' / I've Been All Around This World / I'm Gonna Sleep With One Eye Open / Martha White Theme / Sally Goodin / Your Light Leads Me On / The Sugarfoot Rag / Pete WERNICK : Introduction Of Red Knuckles & The Trailblazers / Red Knuckles & The Trailblazers : Texas Hambone Blues / Wendell's Fly Swatters / Oh, Mona / Hot Rize : Rank Strangers / Shady Grove

2005
LP 12" ADA PRODUCTION 2005 (F)

Honky Tonk Swing Music - THE FRENCH WAY - Pistol Packing Mama / My Baby's Just Like Money / Wendell Did The Boogie / Try Me One More Time / Buffalo Gals / Cadillacin Model A / Deep Water / Peach Pickin' Time In Georgia / Pick Me Up On Your Way Down / Mom And Dad's Waltz / They Raided The Joint

????
CD NOT ON LABEL ? (US)

Honky Tonk Swing Music - THE FRENCH WAY -

Pistol Packing Mama / My Baby's Just Like Money / Wendell Did The Boogie / Try Me One More Time / Buffalo Gals / Cadillacin Model A / Deep Water / Peach Pickin' Time In Georgia / Pick Me Up On Your Way Down / Mom And Dad's Waltz / They Raided The Joint / PLUS... THE ONE WE LOST :

Roughneck Blues

/ (silence) / In The Jailhouse Now
© Rocky Productions 12/05/2021