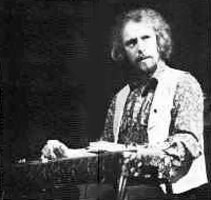 Pedal-Steel US Country né le 20 Août 1934 à South Bend (Indiana). Véritable héros du mouvement Country Rock, Sneaky Pete Kleinow fut surnommé le "Jimmy Hendrix de la Steel Guitar". Il a fait parti des "Flying Burrito Brothers". Il a aussi travaillé sur les effets spéciaux de nombreux films de science fiction et de fantastique. Sneaky est décédé le 6 Janvier 2007 à Petaluma (Californie), suite à des complications de la maladie d'Alzaheimer dont il était malade depuis plusieurs mois.

One of the unsung heroes of the country-rock movement, steel guitarist and songwriter Sneaky Pete Kleinow was born August 20, 1934, in South Bend, IN. Influenced by the music of Jerry Byrd, he took up the steel guitar at the age of 17 and, after graduating high school, spent over a decade as a road maintenance worker for the Michigan State Highway Department. In 1963, Kleinow relocated to Los Angeles, where he became a regular performer on the city's club circuit; he also found work composing jingles and even wrote the theme music for the children's series Gumby. In addition, he began working in Hollywood developing special effects for films.
In 1965, Kleinow played on his first record, backing the Ventures on their "Blue Star." While performing in an area club, he met Gram Parsons and Chris Hillman, who approached Kleinow about joining the band they were organizing apart from their current venture, the folk-rock pioneers the Byrds. Kleinow agreed, and after a brief tenure as a Byrds sideman he joined Parsons and Hillman in the Flying Burrito Brothers; the band's 1969 debut, The Gilded Palace of Sin, established the very blueprint for the country-rock genre.
Kleinow remained with the Burritos through April 1971, appearing on the 1970 LP Burrito Deluxe and its eponymously titled follow-up. At the same time, he became a sought-after session musician who played on records by Joe Cocker, Delaney & Bonnie, and Little Feat. After departing the Burritos, he focused all of his energies on session work, appearing with John Lennon, Frank Zappa, Stevie Wonder, Jackson Browne, Linda Ronstadt, and the Steve Miller Band. In 1974, Kleinow briefly joined the band Cold Steel; the following year, he signed on with a reformed Flying Burrito Brothers for the album Flying Again.
After two more Burritos LPs — 1976's Airborne and 1978's Live in Tokyo — Kleinow cut his first solo record, Sneaky Pete, in 1978. Following one final Burritos album, 1981's Hearts on the Line, he gradually withdrew from the music industry to focus on creating special effects; the films he worked on included The Empire Strikes Back, The Right Stuff, Gremlins, and both Terminator features. Nevertheless, he occasionally returned to music, performing with diverse artists like Leonard Cohen, Medicine, and the Golden Palominos. In 1994, he released the solo effort The Legend and the Legacy and led a new Burritos lineup on a tour of Europe.
https://en.wikipedia.org/wiki/Sneaky_Pete_Kleinow
Talents : Pedal Steel
Style musical : Traditional Country, Country Rock
Years in activity :
| | | | | | | | | | | | |
| --- | --- | --- | --- | --- | --- | --- | --- | --- | --- | --- | --- |
| 1910 | 20 | 30 | 40 | 50 | 60 | 70 | 80 | 90 | 2000 | 10 | 20 |
DISCOGRAPHY
Albums
| | | | |
| --- | --- | --- | --- |
| 1974 | LP 12" ARIOLA 87736 ET (NL) | | COLD STEEL - Wings That Make Birds Fly / Highway Dog / Mississippi Memory / Song Of The Mocking Bird / Feels Right / Sweet Suzanna / Painted Lady / Oh My Goodbye / Fox Hunters |
| 1979 | LP 12" CHILOH 4086 (US) | | SNEAKY PETE - Cannonball Rag / Love Of The Common People / Leaning On Your Love / Sleepy Lagoon / California And You / Beat The Heat / Oklahoma Stomp / Trains In The Station / Bad Seed / Hanalei |
| 1986 | LP 12" RHINO RNLP 70070 (US) | | SNEAKY PETE - Cannonball Rag / Love Of The Common People / Leaning On Your Love / Sleepy Lagoon / California And You / Beat The Heat / Oklahoma Stomp / Trains In The Station / Bad Seed / Hanalei |
| 1994 | CD SHILOH SCD4096 (US) | | THE LEGEND & THE LEGACY - Spanish Harlem / Flying Medley: My Back Pages - Peaceful Easy Feeling - Wheels / Louisiana / Silverbird / Turn, Turn, Turn / Hickory Wind / Love Is Blue / Unchained Melody / Maria Elena / Beat The Heat / Sleepy Lagoon / Love Of The Common People / Cannoball Rag / Oklahoma Rag |
| 12/2001 | CD SHILOH / BEAUTOWN 2252 (US) | | MEET SNEAKY PETE - No More Love To Give / Sister / Fly The Bright Sea / Sneak Attack / It Makes No Difference / Ain't No Easy Way / Woman / From Me To You / Sleepwalk / Star / Dancin' Wheels |
| 02/2007 | CD SUNDAZED 11179 (US) | | ANTHOLOGY - Beat The Heat / Hickory Wind / Sister / Oklahoma Stomp / From Me To You / Sleepy Lagoon / Silverbird / It Makes No Difference / Ain't No Easy Way / Louisiana / Love Of The Common People / Cannonball Rag / Fly The Bright Sea / Woman / Sneak Attack / Turn! Turn! Turn! (To Everything There Is A Season) / Sleepwalk / Faded Love |
© Rocky Productions 4/02/2015