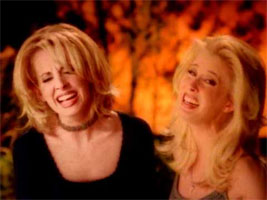 Duo Country US originaire de Philadelphie (Pennsyvanie), composť des soeurs jumelles Heather et Jennifer Kinley.



Twin sisters from Philadelphia with impeccable harmonies and an energetic sense of country swing, Heather and Jennifer Kinley, born November 5, 1970, were influenced by the harmonies of other familial country pairings like the Everly Brothers and the Judds. At the age of 19, the twins moved to Nashville and worked on their songwriting and performing, with Heather on guitar and Jennifer on piano. They spent more than five years toiling in Music City's underground before finally finding a winning song, "Just Between You and Me." Co-written with Russ & Debbie Zavitson, it brought the major labels calling, and the Kinleys signed with Epic.
After working with producers Tony Haselden and Peter Greene (as well as Russ Zavitson), the Kinleys released their debut album, Just Between You and Me, in September 1997. Their debut single, "Please," hit the country Top Ten and even crossed over to the pop charts, then the song that had started it all for them, "Just Between You and Me," made the country Top 20. The album settled in for a run of almost a year on the country charts, eventually going gold. Meanwhile, album tracks "Dance in the Boat" and "You Make It Seem So Easy" made minor appearances in the country charts. As a result, the sisters were named Best New Duo by the Academy of Country Music and garnered nominations from the Grammys, the Country Music Association, and the American Music Awards.
In the fall of 1998, they were represented by "Somebody's out There Watching" on the million-selling television soundtrack album Touched by an Angel. Released as a single, the song made the country Top 20 and crossed over to the pop charts. In August 1999, the Kinleys returned to the country charts briefly with the one-off single "My Heart Is Still Beating," but they spent a long time crafting their second album, working with Russ Zavitson and Tony Haselden again for half of it, but turning to Radney Foster for help in completing it. The album was heralded by an advance single, "She Ain't the Girl for You," which broke into the country charts in April 2000. The Kinleys II finally appeared in July.
http://www.myspace.com/kinleys
Talents : Heather : Vocals - Jennifer : Vocals
Style musical : Country Pop, Western Swing, Contemporary Country

http://www.youtube.com/watch?v=TA2hqOfXpJw
Years in activity :
| | | | | | | | | | | |
| --- | --- | --- | --- | --- | --- | --- | --- | --- | --- | --- |
| 1910 | 20 | 30 | 40 | 50 | 60 | 70 | 80 | 90 | 2000 | 10 |
DISCOGRAPHY
Single & EP
| | | | |
| --- | --- | --- | --- |
| 08/1997 | SP SONY 78656 (US) | . | Please |
| 12/1997 | CD SONY 78766 (US) | | Just Between You And Me / You Make It Seem So Easy / Takin' Our Own Sweet Time / Talk To Me |
| 11/1998 | CD SONY 79064 (US) | . | Somebody's Out There Watching |
| 08/1999 | CD SONY 79249 (US) | . | My Heart Is Still Beating |
| 04/2000 | CD SONY 79380 (US) | | She Ain't The Girl For You |
| 10/2000 | CD SONY 79496 (US) | . | I'm In / I Need You Now |
Albums
| | | | |
| --- | --- | --- | --- |
| 09/1997 | CD SONY 67965 (US) | | JUST BETWEEN YOU AND ME - Just Between You And Me / Talk To Me / You Make It Seem So Easy / (Ooh, Aah) Crazy Kind Of Love Thing / Please / The Real Thing / Takin' Our Own Sweet Time / Love Rules / Contradiction / Dance In The Boat |
| 07/2000 | CD SONY 69593 (US) | | II - She Ain't The Girl for You / I'm In / You're Still Here / If Ever I Needed You / That's Gonna Mess You Up / When The Blues And My Baby Collide / Me Too / Lovers / I'm Me With You / Yeah, Yeah, Yeah / Here / I Need You Now / Somebody's Out There Watching |
| 08/2004 | CD IDENTICAL 7000 (US) | | ALL IN THE FAMILY - Climbin' Up Mt. Everest / Love Train / Little Shoulders / Crazy Love / How Can It Be That You Don't Love Me Anymore / I Will / Holding On For Life / The Price Of Love / Ridiculous / Only A Prayer / My Baby Blue (A Lullabye) |
© Rocky Productions 13/07/2010