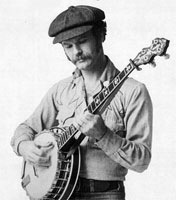 Banjoiste Bluegrass US né William Bradford Keith le 20 Décembre 1939 à Boston (Massachusetts). Bill Keith est décédé le 23 Octobre 2015 à Woodstock (New York).

Bill Keith had great impact on modern banjo playing, particularly in the direction of "newgrass." He even had a picking style informally named after him.
Born in Boston, Massachusetts, Keith began taking banjo lessons at a young age, and also learned to play piano and ukulele. During adolescence, he played in a few Dixieland bands, but by the late '50s, became interested in folk music after listening to such inspirational artists as Pete Seeger and Earl Scruggs. Using instruction books, the Amherst college student began learning their two different styles. Eventually, Keith began developing his own unique style, which became known as the melodic, chromatic or "Keith" picking style. This distinct technique was borne of his desire to play fiddle melodies on his instruments. In 1958, he teamed up with fellow Amherst student Jim Rooney and began playing at local coffeehouses and on campus. Eventually they hooked up with promoter Manny Greenhill; with his assistance they founded the Connecticut Folklore Society, which sponsored a series of traveling campus concerts throughout New England.
Following graduation and a brief stint in the US Air Force Reserve, Keith began learning to make banjos with Tom Morgan. Later he, Rooney, mandolin player Frank Wakefield, and guitarist Red Allen formed the Kentuckians. In 1963, Earl Scruggs contacted Keith to lay out the tablature for the instructional book Earl Scruggs and the 5-String Banjo. Later that year, Keith and his former Amherst classmate Dan Bump developed a new kind of tuning peg that was adopted by Scruggs who provided a name for the resulting company in 1964. In the mid-'60s, Keith joined Bill Monroe's Blue Grass Boys, where he was listed as Brad Keith. He left the band after only eight months to do more session work and by the year's end had joined Jim Kweskin's Jug Band where he would stay for four years. After that he played with the Blue Velvet Band. He abandoned the banjo for a while in 1968 to become a pedal steel guitarist. In 1970, Keith moved to Woodstock, New York, and spent a year with Jonathan Edwards. He then went on to work with Judy Collins. He and long-time cohort Rooney also toured together in both the U.S. and in Europe during the '70s and '80s, with Keith developing a particularly large following in France. When back home in Woodstock, Keith began playing banjo for the Woodstock Mountain Review. In 1977, he worked briefly as a columnist for Frets magazine. Later, in 1989, Keith, Rooney, Eric Weissberg and Kenny Kosek re-formed their old group, calling it the New Blue Velvet Band. Keith has remained intermittently active in performing and recording during the new millennium, with guest appearances on albums including Beausoleil's Alligator Purse released in 2009, and he has also issued instructional booklets with accompanying CD/DVDs. Bill Keith died October 23, 2015 in Woodstock (New York).
https://fr.wikipedia.org/wiki/Bill_Keith
Talents : Banjo, Steel Guitar
Style musical : Progressive Bluegrass, Bluegrass, Instrumental Country

http://www.youtube.com/watch?v=gTKnIItvlUk
Years in activity :
| | | | | | | | | | | | |
| --- | --- | --- | --- | --- | --- | --- | --- | --- | --- | --- | --- |
| 1910 | 20 | 30 | 40 | 50 | 60 | 70 | 80 | 90 | 2000 | 10 | 20 |
DISCOGRAPHY
Albums
09/1963
LP 12" PRESTIGE / FOLKLORE FL 14002 (US)
LIVIN' ON THE MOUNTAIN - BILL KEITH & JIM ROONEY -

Livin' On The Mountain

/

Devil's Dream

/

Homestead On The Farm

/

One Morning In May

/

Ocean Of Diamonds

/

Pretty Polly

/

New Muleskinner Blues

/

Salty Dog

/

Teardrops In My Eyes

/

Jody's Hornpipe

/

Kentucky Moonshiner

/

Log Cabin In The Lane

/

I Hear A Sweet Voice Callin'

/

Reuben's Old Train

1976
LP 12" ROUNDER 0084 (US)
SOMETHING AULD, SOMETHINGNEWGRASS, SOMETHING BORROWED, SOMETHING BLUEGRASS -

Caravan

/

No Expectations

(Vocals : Jim ROONEY)

/

Detour

(Vocals :

Jim ROONEY) /

Green Mountain Hop

/

I'll Stay Around

(Vocals :

Jim ROONEY)

/

Sugarfoot Rag

/

Crazy Creek

/

Jordu

/

Pain In My Heart

(Vocals: Al JONES) /

Rickett's Hornpipe

/

Auld Lang Syne

/

Farewell Blues

1976
LP 12" ROUNDER RB1 (US)
SOMETHING AULD, SOMETHINGNEWGRASS, SOMETHING BORROWED, SOMETHING BLUEGRASS -

Caravan

/

No Expectations

(Vocals : Jim ROONEY)

/

Detour

(Vocals :

Jim ROONEY) /

Green Mountain Hop

/

I'll Stay Around

(Vocals :

Jim ROONEY)

/

Sugarfoot Rag

/

Crazy Creek

/

Jordu

/

Pain In My Heart

(Vocals: Al JONES) /

Rickett's Hornpipe

/

Auld Lang Syne

/

Farewell Blues

1976
LP 12" CEZAME CEZ 1022 (F)
SOMETHING BLUEGRASS - Sugar Foot Rag / No Expectations / Jordu / Green Mountain Hop / Detour / Farewell Blues / Caravan / Pain In My Heart / Crazy Creek / Rickett's Hornpipe / I'll Stay Around / Auld Lang Syne
1979
LP 12" BOOT BBG 6006 (CAN)
BILL KEITH & JIM COLLIER -

Smoke Smoke Smoke

/

Phlebitis

/

I Think About You All The Time

/

Would You Believe It

/

There'll Come A Day

/

Eighth Of January - The Twelfth Of Never

/

Beating Around The Bush

/

Texas Cowboy

/

Bouree No. 2

/

Crab Waltz

/

Two Twenties

1980
LP 12" WATERFRONT WF 004 (UK)
BILL KEITH & JIM ROONEY - Crazy Creek / Done

laid around /

So

lonesome I could cry /

Jordu / Detour / Pickin'

on the country strings /

Gone Girl / Tragic Romance / Sugarfoot Rag / I'll Stay Around / Darlin' Corey Is Gone / Interest On The Loan / Out Of Joint / Auld Lang Syne
1981
LP 12" ROUNDER 0124 (US)
FIDDLE TUNES FOR BANJO - TONY TRISCHKA, BILL KEITH & BELA FLECK -

Bill Cheatham

(Tony TRISCHKA, Bill KEITH & Bela FLECK)

/

Dust On The Needle

(Tony TRISCHKA)

/

Paddy Kelly's Jig

(

Tony TRISCHKA

) /

Fiddler's Dream

(Béla FLECK) /

Barbara's Waltz

(

Béla FLECK

)

/

Salty

(

Béla FLECK

)

/

Clinging Vine

(Bill KEITH) /

Black Mountain Rag

(

Tony TRISCHKA

)

/

Mead Mountain Blues

(Bill KEITH)

/

Vanished

(

Tony TRISCHKA

)

/

Silverbell

(

Béla FLECK

)

/

Christmas Jig

(

Béla FLECK

)

/

Plain Brown Jig

(

Béla FLECK

)

/

Jolly Waffle Man

(Bill KEITH) /

Old Sandy River Belle

(

Tony TRISCHKA

) /

Panhandle Country

(Bill KEITH)

1984
LP 12" ROUNDER 0148 (US)
BANJOISTICS - Banjo Boy Chimes / Six White Horses / Morrison's Jig / Should We Tell Him / Pentachrome / Busy Body / You Came A Long Way From St. Louis / Sunday's Hornpipe / Mood Indigo / Lay Down Sally / Bully Of The Town / Nola
08/1985
LP 12" WATERFRONT WF 016 (UK)

Rowan, Keith & Rooney - PETER ROWAN, BILL KEITH & JIM ROONEY - Blue Ridge Mountain Blues / Riding High in Texas / Outlaw Love - Texican Badman / Caravan / Midnight Moonlight / Sleep With One Eye Open / Flint Hill Special / Tennessee Blues / Auld Lang Syne

1992
CD GREEN LINNET GLCD 2107 (US)
BEATING AROUND THE BUSH - Beating Around The Bush / Don't Let Your Deal Go Down / Cherokee Shuffle / Lieberstraum / Bay State Bounce / Step Lively / Drop In The Bucket / Little Old Log Cabin / Old Hickory / Ready For The Times / Bending The Strings / Hornswoggled / Crab Waltz
1998
CD ROUNDER CD 0084 (US)
SOMETHING AULD, SOMETHINGNEWGRASS, SOMETHING BORROWED, SOMETHING BLUEGRASS - No Expectations (with Jim ROONEY) / Green Mountain Hop / I'll Stay Around (with Jim ROONEY) / Crazy Creek / Pain In My Heart (with Jim ROONEY) / Farewell Blues / Caravan / Detour (with Jim ROONEY) / Sugar Foot Rag / Jordu / Rickett's Hornpipe / Auld Lang Syne
1999
LP 12" ROUNDER 0124 (US)
FIDDLE TUNES FOR BANJO - TONY TRISCHKA, BILL KEITH & BELA FLECK -

Bill Cheatham

(Tony TRISCHKA, Bill KEITH & Bela FLECK)

/

Dust On The Needle

(Tony TRISCHKA)

/

Paddy Kelly's Jig

(

Tony TRISCHKA

) /

Fiddler's Dream

(Béla FLECK) /

Barbara's Waltz

(

Béla FLECK

)

/

Salty

(

Béla FLECK

)

/

Clinging Vine

(Bill KEITH) /

Black Mountain Rag

(

Tony TRISCHKA

)

/

John Hardy (Tony TRISCHKA, Bill KEITH & Bela FLECK)

/

Mead Mountain Blues

(Bill KEITH)

/

Vanished

(

Tony TRISCHKA

)

/

Silverbell

(

Béla FLECK

)

/

Christmas Jig

(

Béla FLECK

)

/

Plain Brown Jig

(

Béla FLECK

)

/

Jolly Waffle Man

(Bill KEITH) /

Old Sandy River Belle

(

Tony TRISCHKA

) /

Panhandle Country

(Bill KEITH) /

Salt Creek (Tony TRISCHKA, Bill KEITH & Bela FLECK)
08/2003
CD ... And More Bears ‎ACD 25001 AA (GER)
Bill

Monroe

with Del

McCoury

and Bill

Keith - JULY 63 - TWO DAYS AT NEWPORT -

July 26, 1963 - Intro / Mule Skinner Blues / Uncle Pen / Devil's Dream / Molly And Tenbrooks / I Am A Pilgrim / Rawhide (instr.) / July 27, 1963 - Intro / Paddy On The Turnpike (instr.) / Pike Country Breakdown / Rawhide (instr.) / Get Up John (instr.) / Will You Be Loving Another Man / Conversation With Ralph Rinzler / Pretty Fair Maiden In The Garden / Salt Creek (instr.) / Lonesome Road Blues
© Rocky Productions 4/01/2015