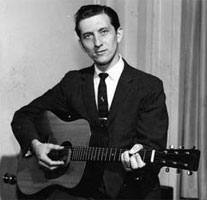 Chanteur, bassiste, producteur et compositeur Country US né le 13 Novembre 1932 à Florence (Alabama). Il est le cousin de Billy J. Killen. Buddy Killen est décédé le 1er Novembre 2006 à Nashville (Tennessee).

Buddy Killen has a long music business career that covers both the creative and business aspects. His name is connected with hits by Elvis Presley, Joe Tex, and Roger Miller, among many others. Killen began playing bass for a comedy group that appeared on the Grand Ole Opry. After the group broke up, he became a staff bassist with the Opry while playing on recording sessions and singing on music publishing demos. In 1953, Killen came to the attention of Tree Publishing founder Jack Stapp who asked him to produce some songs on a young girl singer. Happy with the results, Stapp gave Killen a job with the then up-and-coming Tree that paid 35 dollars a week. The music publishing company didn't have offices back then, so Killen worked out of his home, doing business at the familiar hangouts of the myriad songwriters, publishers, bookers, and others involved in the vibrant country music industry. Tree's first office was a small one-room office Killen shared with a friend; the next was in the Old Hill building at the corner of 7th and Church, between the offices of radio station WSM on 7th and the Ryman Auditorium on 5th.
Killen was a songplugger — he'd try to interest recording artists in covering songs from the Tree catalog. His first success came the next year in 1954 when "By the Law of My Heart" was recorded by Mercury Records bluegrass singer Benny Martin. The first big break for Tree came in January 1956 when a young singer just signed to RCA came to Nashville to record four songs at Methodist Publishing Studios. At this session, produced by Chet Atkins, Elvis Presley recorded "Heartbreak Hotel," a song written by writer Mae Boren Axton and published by Tree. During spring 1956, "Heartbreak Hotel" went platinum, was a hit on country and Billboard's R&B (number three) and pop (number one for eight weeks) music charts. The success of this song allowed Tree to move into new offices in the Cumberland Lodge Building in downtown Nashville.
In 1957, Stapp's friend and fellow owner of Tree, Lou Cowan, had been named head of CBS Television and had to divest his outside interests. Stapp bought Tree from Cowan and another partner Harry Fleishman. Stapp gave Killen 30 percent of the company and made him vice president. That same year, Killen was playing pinball at Tootsie's Orchid Lounge when he met a young man and his wife. He claimed to be a songwriter but was broke so Killen lent him 5 dollars and told him to come by the office and play some of his songs. Roger Miller's songs were soon hits for a number of top acts: "Invitation to the Blues" for Ray Price, "Home" and "Billy Bayou" for Jim Reeves, and "When Two Worlds Collide" for Bill Anderson. In March 1964, Roger Miller went into the studio to record his wacky, off-the-wall songs for Smash Records. His first single "Dang Me" was a number one country hit and peaked at number seven on the pop charts in summer 1964. The follow-up "Chug-A-Lug" went to number one country and number nine pop in fall 1964.
Another Tree staff writer Curly Putman wrote the classic "Green Green Grass of Home," a number four country hit for Porter Wagoner in 1965. The song was a 1966 number 11 pop hit for Tom Jones. Putman would write other great hits: "D-I-V-O-R-C-E" for Tammy Wynette; "My Elusive Dreams" for Marty Robbins, Bobby Vinton, Charlie Rich, Roger Miller, and George Jones; and "I Wish That I Could Hurt That Way Again" (Cook/Putnam) for T. Graham Brown.
1964 is the year Tree moved out of the Cumberland Lodge Building and onto Music Row. "Music Row" was the name given to the area on 16th and 17th Avenues between Division Street and Edgehill where Owen Bradley had set up a studio in his Quonset Hut in 1955. Tree purchased a building at 905 16th Avenue South, about a block from Bradley's studio.
While honeymooning in Daytona Beach, Killen received a call from his assistant Jerry Crutchfield, who excitedly explained that he'd met this great singer named Joe Tex. When he returned to Nashville, Killen met Tex and could see that he was a phenomenal talent. When record labels passed on Tex, Killen formed Dial Records, a subsidiary of Tree Publishing and began recording the singer. After a few unsuccessful singles, Tex wanted out of the deal, but Killen convinced him to let him produce one more session. One of the results of that session was a song called "Hold What You've Got." Killen re-edited the track and Dial got a distribution deal with Atlantic Records. "Hold What You've Got" went to number two R&B, number five pop in early 1965. It was quickly followed up by the double-sided hit "You Got What It Takes" (number ten R&B) b/w "You Better Get It" (number 15 R&B). Tex went on to have 33 R&B charting singles, 28 pop charting singles, including three number one R&B hits. Killen produced all Tex's self-written hits. The gleeful, energetic singer who was born Joseph Arrington, Jr. in Rogers, TX, on August 8, 1933, died of a heart attack on August 13, 1982. Not only did Killen miss his great talent, but also his friendship.
In 1968, Tree became an international company when it opened 13 overseas offices. This move was pioneered by Jack Stapp and Tree's New York attorney Lee Eastman who set up business relationships outside the United States to help Tree get exposure throughout the world with its songs.
Tree's next major growth occurred when it purchased the Pamper Music Publishing Company, which included songs by writers like Willie Nelson, Hank Cochran, and Harlan Howard. They had penned such standards like "Crazy," "Hello Walls," "Make the World Go Away," "Pick Me Up on Your Way Down," and "Funny How Time Slips Away." With this purchase, for 1.6 million dollars, the country catalog doubled in size and overnight Tree became the largest music publisher in Nashville and the largest country music publisher in the world.
Tree's next physical move occurred in 1972 when they acquired the Lucky Moeller Talent Agency at 8 Music Square West. Also in 1972, Tree was named country music's number one publishing company for the first time.
After 1974, Jack Stapp became Tree's Chief Executive Officer and Board Chairman, while Killen became president retaining responsible for the creative activities of the company. Stapp died on December 20, 1980, at the age of 67. At this point, Buddy Killen exercised a buy/sell agreement he and Stapp had made earlier and purchased the company and assumed sole ownership. Throughout the 1970s and '80s, Tree acquired a number of publishing companies, including those of Conway Twitty, Jim Ed Norman, and the Blue Book catalog owned by Buck Owens, which contained many of the songs from the Bakersfield group including Merle Haggard, Jim Reeves, Nat Stuckey, and Jerry Chesnut, in all over 50 catalogs. The Alabama Music Hall of Fame awarded Killen the Lifework Award for Non-Performing Achievement in 1985.
In 1989, a new chapter in the history of Tree began when Sony/CBS purchased the publishing company from Buddy Killen for 30 million dollars. After the sale of Tree to Sony/CBS, Buddy Killen remained head of the company but by the end of the year had stepped down to pursue other interests.
During fall 1999, Killen released his own CD, Mixed Emotions, and his autobiography, By the Seat of My Pants, co-written with Tom Carter and published by Simon and Schuster.
https://en.wikipedia.org/wiki/Buddy_Killen
Talents : Vocals, Bass, Producer, Songwriter
Style musical : Rockabilly Traditional Country,Contemporary Country
Years in activity :
| | | | | | | | | | | | |
| --- | --- | --- | --- | --- | --- | --- | --- | --- | --- | --- | --- |
| 1910 | 20 | 30 | 40 | 50 | 60 | 70 | 80 | 90 | 2000 | 10 | 20 |
DISCOGRAPHY
Single
Album
| | | | |
| --- | --- | --- | --- |
| 05/2000 | CD KMG 410 (GER) | | MIXED EMOTIONS - Mack The Knife / New York, New York / Forever / My Way / I Believe / Don't Let Go (with Ronnie McDOWELL & Bobby GOLDSBORO) / As Time Goes By / How Far Our Love Goes / I'm So Lonesome I Could Cry / We Love Each Other (with Tabitha FAIR) / I May Never Get To Heaven / When I've Learned Enough |
© Rocky Productions 1/07/2010