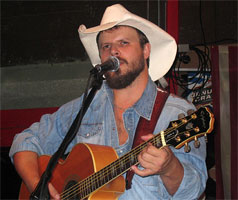 Chanteur et compositeur Country né le 14 Juillet 1975 ŕ Enterprise (Alabama).

Singer/songwriter Jamey Johnson is just as comfortable mopping up the tears on the barroom floor with an old Hank Williams-style ballad as he is tearing the roof off with a honky tonk juggernaut. The Alabama native and ex-Marine rose to the top of the Nashville food chain through blood, sweat, and tears. Raised in a devout and deeply musical family helped the new traditionalist find his voice, but it wasn't until he moved to Music City that the world began to take notice. After laying low for nearly a year, he began appearing at songwriter nights, where he met other writers. As his peers began securing publishing deals, they would ask Johnson to sing on their demos. In 2002, mutual friend and songwriter Randy Hardison turned producer/songwriter Buddy Cannon on to Johnson — the two became close friends and allies after Hardison's death later in the year. Johnson's next convert was publisher Gary Overton, who signed the budding songwriter to EMI. In April of 2005, Johnson signed a record contract with BNA and released his debut, The Dollar, in January of 2006. After a tour supporting the album, he was dropped from the label. He and his wife separated, then divorced, sending Johnson into seclusion for a year before he re-emerged, renewed and ready to begin work on a new album. Two major labels showed interest, but it was the Universal imprint Mercury that signed the artist and released his album That Lonesome Song in August of 2008.
The first single off the album, "In Color," reached number nine on the Billboard Country chart, followed by "The High Cost of Living," which peaked at number 34. The album was certified gold. At the 2009 Country Music Association Awards, Johnson won Song of the Year for "In Color," and was nominated for various other honors. He followed up his success with an ambitious double album called The Guitar Song in the fall of 2010, preceded by the single "Playing the Part." The album, its singles and videos, gained nearly universal critical acclaim and sold exceptionally well, particularly for a double album. Johnson followed it in the fall of 2012 with Livin' for a Song: A Tribute to Hank Cochran, which featured a slew of guests including Willie Nelson, Vince Gill, Merle Haggard, Leon Russell, and Kris Kristofferson.
http://www.myspace.com/jameyjohnson
https://en.wikipedia.org/wiki/Jamey_Johnson
Talents : Vocals, Guitar, Songwriter
Style musical : Contemporary Country

http://www.youtube.com/watch?v=IkWIDJlBgSg
Years in activity :
| | | | | | | | | | | | |
| --- | --- | --- | --- | --- | --- | --- | --- | --- | --- | --- | --- |
| 1910 | 20 | 30 | 40 | 50 | 60 | 70 | 80 | 90 | 2000 | 10 | 20 |
DISCOGRAPHY
EP
| | | | |
| --- | --- | --- | --- |
| 12/2014 | CD Thirty Tigers 52906 (US) | | THE CHRISTMAS SONG - Baby It's Cold Outside / Mele Kalikimaka / South Alabam Christmas / Pretty Paper / The Christmas Song |
Albums
01/2006
CD BNA 72690 (US)
THE DOLLAR - The Dollar / Flying Silver Eagle / She's All Lady / Ray Ray's Juke Joint / My Saving Grace / Redneck Side Of Me / Keeping Up With The Jonesin' (with George JONES) / Rebelicious / Back To Caroline / It Was Me / Lead Me Home
08/2008
CD HUMPHEAD 046 (US)
THAT LONESOME SONG - Released / High Cost Of Living / Angel / Place Out On The Ocean / Mowin' Down The Roses / The Door Is Always Open / Mary Go Round / In Color / The Last Cowboy / That Lonesome Song / Dreaming My Dreams / Women / Stars In Alabama / Between Jennings and Jones
09/2010
2 CD MERCURY 001336402 (US)
THE GUITAR SONG :

CD 1 : Lonely At The Top / Cover Your Eyes / Poor Man Blues / Set 'Em Up Joe / Playing The Part (with Waid BATTLE) / Baby Don't Cry / Heaven Bound / Can't Cash My Checks / That's How I Don't Love You / Heartache / Mental Revenge / Even The Skies Are Blue
CD 2 : By The Seat Of Your Pants / California Riots / Dog In The Yard / The Guitar Song / That's Why I Write Songs / Macon (with Kate & Kacey COPPOLA) / Thankful For The Rain / Good Morning Sunrise / Front Porch Swing Afternoon / I Remember You / Good Times Ain't What They Used To Be / For The Good Times / My Way to You

10/2012
CD MERCURY 3709377 (US)

LIVING FOR A SONG - A TRIBUTE TO HANK COCHRAN - Make The World Go Away (Jamey JOHNSON feat. Alison KRAUSS) / I Fall to Pieces (Jamey JOHNSON feat. Merle HAGGARD) / A Way To Survive (Jamey JOHNSON feat. Vince GILL, Leon RUSSELL) / Don't Touch Me (Jamey JOHNSON feat. Emmylou HARRIS) / You Wouldn't Know Love (Jamey JOHNSON feat. Ray PRICE) / I Don't Do Windows (Jamey JOHNSON feat. Ray BENSON, ASLEEP AT THE WHEEL) / She'll Be Back (Jamey JOHNSON feat. Elvis COSTELLO) / Would These Arms Be In Your Way (Jamey JOHNSON) / The Eagle (Jamey JOHNSON feat. George STRAIT) / A-11 (Jamey JOHNSON feat. Ronnie DUNN) / I'd Fight The World (Jamey JOHNSON feat. Bobby BARE) / Don't You Ever Get Tired Of Hurting Me (Jamey JOHNSON feat. Willie NELSON) / This Ain't My First Rodeo (Jamey JOHNSON feat. Lee Ann WOMACK) / Love Makes A Fool Of Us All (Jamey JOHNSON feat. Kris KRISTOFFERSON) / Everything But You (Jamey JOHNSON feat. Vince GILL, Willie NELSON, Leon Russell) / Living For A Song (Jamey JOHNSON feat. Hank COCHRAN, Merle HAGGARD, Kris KRISTOFFERSON, Willie NELSON)
© Rocky Productions 16/10/2012