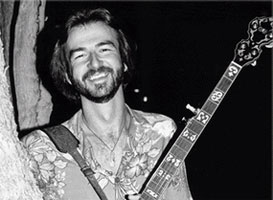 Banjoiste, guitariste et chanteur Bluegrass US né le 18 Septembre 1953 à Louisville (Mississippi).

Carl Jackson, an accomplished bluegrass instrumentalist and songwriter, was born September 18, 1953, in Louisville, MS. While playing in his father's bluegrass band at the age of 14, he was approached by Jim & Jesse to join their backing group, the Virginia Boys. He accepted and spent most of his teenage years playing banjo for Jim & Jesse and other groups at the Grand Ole Opry. Jackson's talents earned him a contract with the independent Prize label, where he recorded the album Bluegrass Festival in the late '60s.
In 1971, Jackson left to play with the Sullivan Family, but after less than a year, he moved to Ohio to form the Country Store with Keith Whitley and Jimmy Gaudreau. A short time later, he jumped at the chance to join Glen Campbell's backing band. He spent 12 years with Campbell, but during that time he also recorded the albums Banjo Player and Old Friend for Capitol. In 1981, Jackson signed with Sugar Hill and released his tribute to Earl Scruggs, Banjo Man. The following year brought Songs of the South, and in 1983 he joined with old friends Jim & Jesse for Banjo Hits.
After signing with Columbia in 1984, Carl Jackson left Glen Campbell and began to hit the charts. His Lefty Frizzell cover "She's Gone, Gone, Gone" reached number 44 in 1984, though three later singles never matched its relative success. (Jackson did write the hit "(Love Always) Letter to Home," which peaked in the Top 15 for Campbell in May 1984.) During the late '80s, his rich harmony Vocals brightened recordings by Emmylou Harris, Ricky Skaggs, Vince Gill, Garth Brooks, Roger Miller, and many other acts. In the '90s, Carl Jackson began to be rewarded for his years of work. He earned the International Bluegrass Association's Song of the Year award in 1990 for "Little Mountain Church Home," recorded by Ricky Skaggs and the Nitty Gritty Dirt Band on Will the Circle Be Unbroken, Vol. 2, and won a Best Bluegrass Album Grammy the following year with John Starling & the Nash Ramblers for Spring Training.
http://www.myspace.com/carljacksonmusic
https://en.wikipedia.org/wiki/Carl_Jackson
Talents : Guitar, Banjo, Mandolin, Vocals, Songwriter, Producer, Publisher
Style musical : Bluegrass

http://youtu.be/5hEt87nd7os
Years in activity :
| | | | | | | | | | | | |
| --- | --- | --- | --- | --- | --- | --- | --- | --- | --- | --- | --- |
| 1910 | 20 | 30 | 40 | 50 | 60 | 70 | 80 | 90 | 2000 | 10 | 20 |
DISCOGRAPHY
Singles
| | | |
| --- | --- | --- |
| 09/1984 | SP COLUMBIA 38-04647 (US) | She's Gone, Gone, Gone / You Made A Memory Of Me |
| 01/1985 | SP COLUMBIA 38-04786 (US) | All That's Left For Me / I'm Beside Myself |
| 05/1985 | SP COLUMBIA 38-04926 (US) | Dixie Train / I'm Beside Myself |
| 11/1985 | SP COLUMBIA 38-05645 (US) | You Are The Rock / Tennessee Girl |
Albums
11/1971
LP 12" PRIZE PRS-498-02 (US)

Bluegrass Festival - Banjo-Mandolin Feud / Stony Creek / Done Gone / Slewfoot Banjo / Bill Cheatham / Foggy Mountain Breakdown / Rotation / Dixie Hoedown / Rawhide / Flop Eared Mule

1973
LP 12" CAPITOL ST-11166 (US)
BANJO PLAYER - Duelin' Banjos / C.J.'S Breakdown / Song For Susan / Ole Miss / James Louis Henry (Brother Of John) / Orange Blossom Special / Little Rock Getaway / Ain't Got No Name / Say Old Man / Foggy Mountain Breakdown
1974
LP 12" CAPITOL C 062-81450 (F)
BANJO PLAYER - Duelin' Banjos / C.J.'S Breakdown / Song For Susan / Ole Miss / James Louis Henry (Brother Of John) / Orange Blossom Special / Little Rock Getaway / Ain't Got No Name / Say Old Man / Foggy Mountain Breakdown
1976
LP 12" Music For Pleasure ‎2M 046 81450 (B)
Carl Jackson / Glen Campbell ‎- Duelin' Banjos (Du Film "Delivrance") - Orange Blossom Special - Duelin' Banjos / C.J.'s Breakdown / Song For Susan / Ole Miss / James Louis Henry / Orange Blossom Special / Little Rock Getaway / Ain't Got No Name / Say Old Man / Foggy Mountain Breakdown
1978
LP 12" CAPITOL ST-11760 (US)

Old Friends - Sweet Dixie / Livin' With The Past / Ever And Ever / I Never Thought I'd Wake (To Find Her Gone) / Anyone Is No One / Old Friends / What I Was Before / Monroe Medley / Footprints In The Snow / Blue Moon Of Kentucky / Kentucky Waltz / Molly And Tenbrooks / Muleskinner Blues / Lil' Jimmy / Sweet Dixie

02/1981
LP 12" Sugar Hill SH-3715 (US)

Banjo Man - A Tribute To Earl Scruggs - Earl's Breakdown / John Henry / Grey Eagle / You Are My Flower / Home Sweet Home / Careless Love / Keep On The Sunny Side / Little Darling Pal Of Mine / Reuben / Ground Speed / Banjo Man / Foggy Mountain Breakdown (refrain)

1981
LP 12" Rebel REB-1599 (US)

Mississippi Homecoming -

(

Carl

Jackson

, Marty

Stuart

, Joe

Cook

, Vicki

Cook

, Jim

Brock Jr.

) -Drifting Away / Don't Give Up / I'm A Stranger Here / A Picture From Life's Other Side / The Sweetest Gift, A Mother's Smile / Working On A Building / Heaven Will Never Welcome A Sweeter Mother / Name A Spot In Heaven Louisiana / A Guitar's Prayer / Homecoming
05/1982
LP 12" Sugar Hill SH-3728 (US)

Song Of The South - Love And Wealth / On My Mind / Jerusalem Ridge / Gonna Lay Down My Old Guitar / Baby You're All Mine Tonight / Erase The Miles / Jesse And Me / The Lonesome River / Stoney Creek / Song Of The South

1983
LP 12" SUGAR HILL SH-3737 (US)
BANJO HITS - Dixie Hoedown / Done Gone / Bill Cheatham / Stoney Creek / Dueling Banjos / Sugarfoot / Rotation / Rawhide / Flop Eared Mule / Foggy Mountain Breakdown
1987
CD SUGAR HILL SH-3789 (US)
SPRING TRAINING - Carl JACKSON & John STARLING & THE NASH RAMBLERS - Lonesome Dove / For Cryin' Out Loud / Hold Your Horses / The Call Of The Honkey Tonk / Don't Let Our Love Die / Payin' Your Dues / Sometimes Silence Says It All / I Could Cry / I'm Not Over You / Arkansas Farmboy
07/1993
CD SUNDOWN CD SD-0744 (UK)
NASHVILLE COUNTRY DUETS - Gone, Gone, Gone (with Ricky SKAGGS) / To Keep Your Memory Green (with Sharon WHITE & Cheryl WHITE) / Under Your Spell Again (with Emmylou HARRIS) / Walk Through This World With Me (with Emmylou HARRIS) / All That's Left For Me / Something Draws Me To You (with Emmylou HARRIS) / When My Blue Moon Turns To Gold Again (with Emmylou HARRIS) / You Made A Memory Of Me (with Sharon WHITE & Cheryl WHITE) / I Take The Chance (with Emmylou HARRIS) / Before I Met You (with Ricky SKAGGS) / We Must Have Been Out Of Our Minds (with Emmylou HARRIS) / Dyin' On Sorrow's Wine / The Best We Could Do / Nobody's Darling But Mine
1999
CD MUSIC AVENUE 250024 (B)
Emmylou HARRIS & CARL JACKSON - NASHVILLE

duoS

- Walk Through This World With Me / Something Draws Me To You / When My Blue Moon Turns To Gold Again / I Take The Chance / I've Always Needed You / We Must Have Been Out Of Our Minds / She's Gone Gone Gone / To Keep Your Memory Green / Under Your Spell Again / I'll Never Love Another / You Made A Memory Of Me / Before I Met You / Dying On Sorrows Wine / The Best We Could Do / Nobodys Darling But Mine
04/2001
CD SUGAR HILL SUG-CD-3929 (US)

Song Of The South -

Earl`s Breakdown / On My Mind / John Henry / Grey Eagle / You Are My Flower / Home Sweet Home / The Lonesome River / Careless Love / Keep On The Sunny Side / Little Darling Pal Of Mine / Jesse And Me / Reuben / Lay Down My Old Guitar / Ground Speed / Banjo Man / Foggy Mountain Breakdown (refrain)
03/2002
CD ? (?)
MEMORIES - Emmylou HARRIS & Carl JACKSON - To Keep Your Memory Green / When My Blue Moon Turns To Gold Again / Nobodys Darling But Mine / The Best We Could Do / We Must Have Been Out Of Our Minds / Dyin On Sorrows Wine / I Take The Chance / Something Draws Me To You / Gone Gone Gone / Under Your Spell Again / I'll Never Love Another / I've Always Needed You / Walk Through The World With Me / You Made A Memory Of Me / Before I Met You / Silver Haired Daddy Of Mine
11/2006
CD MUSIC AVENUE 250110 (B)
I'VE ALWAYS NEEDED YOU - Emmylou HARRIS & Carl JACKSON - Walk Through This World With Me / Something Drives Me To You / When My Blue Moon Turns To Gold Again / I Take The Chance / I've Always Needed You / We Must Have Been Out Of Our Minds / Gone, Gene, Gone / To Keep Your Memory Green / Under Your Spell Again / I'll Never Love Another / You Made A Memory Of Me / Before I Met You / Dying On Sorrows Wine / The Best We Could Do / Nobody's Darlin' But Mine
01/2013
CD CD Baby / Voxhall 5638070812 (US)

Grace Notes -

Amazing Grace / Whispering Hope / Life's Railway To Heaven / Wayfaring Stranger / Tis so Sweet - What A Friend / How Great Thou Art / When They Ring Those Golden Bells / I'll Fly Away / The Old Rugged Cross / In The Garden / When We All Get To Heaven / Just As I Am - Softly & Tenderly / The Twelve
2???
CD ? (US)

Shootin' Out the Lights -

Sweet, Sexy Smile / Ain't Coming Home / My Reason / The Chicken / Wrong Thing Right / Wild Spirits Sing / Highlight Of My Life / Loves Embrace / Hot Summer Night / Believe It Or Not
© Rocky Productions 8/10/2014