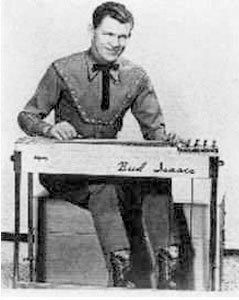 Steel Guitariste US né Forrest Isaacs le 26 Mars 1928 à Bedford (Indiana). Bud Isaacs est décédé le 4 Septembre 2016 à Yuma (Arizona).

Bud Isaacs was playing steel guitar professionally at the age of 16, and after playing on some local stations, he relocated to Nashville. He began to play on the Grand Ole Opry in 1951 with Eddie Hill, later joining Little Jimmy Dickens. In 1953, he was responsible for the addition of foot and knee pedals to a steel guitar. By careful footwork, he was able to vary the tension on individual strings and change the pitch of a single string so as to alter individual chords. His idea caused a sensation, as it had previously been considered impossible to change anything less than a whole chord at one time. The first recording to feature his new invention was when Isaacs played it on Webb Pierce's hit recording of "Slowly" in 1954. (Jimmy Day had played steel on earlier versions by Pierce.) His idea revolutionized the sound of steel guitars on country recordings, and most of the leading exponents of the instrument soon followed his lead.
Isaacs was much in demand for session work but he also made solo recordings in the mid-'50s for RCA Records, including his lilting "The Waltz You Saved for Me." In 1955, he became a member of the Ozark Jubilee, appearing on radio and television programs with the star, Red Foley. It has been reported that Isaacs played on 11 top country hits of the year in 1955. In 1958, Isaacs, with Chet Atkins, Homer Haynes, Jethro Burns (Homer & Jethro), and Dale Potter, recording as the Country All-Stars, cut "String Dustin'," a very uptempo release. Isaacs married Geri Mapes, a yodeler, singer, and bass player, and they worked together with an act they called the Golden West Singers. He continued to play on countless recordings and was inducted into the Steel Guitar Hall of Fame in 1984; they eventually retired to Arizona, where Isaacs died in 2016 at the age of 88. Isaacs will always be remembered for his dazzling steel guitar playing, especially his catchy "Bud's Bounce." His 1955 RCA Victor EP Crying Steel Guitar later became a highly prized collectable.
https://fromthevaults-boppinbob.blogspot.com/2016/03/bud-isaacs-born-26-march-1928.html
https://en.wikipedia.org/wiki/Bud_Isaacs
Talents : Pedal Steel Guitar
Style musical : Traditional Country
Years in activity :
| | | | | | | | | | | | |
| --- | --- | --- | --- | --- | --- | --- | --- | --- | --- | --- | --- |
| 1910 | 20 | 30 | 40 | 50 | 60 | 70 | 80 | 90 | 2000 | 10 | 20 |
DISCOGRAPHY
78 t., Singles & EP
03/1954
78 t. RCA VICTOR 20-5690 (US)
.
Bud

Isaacs

& His

Cryin' Steel Guitar

- Hot Mockin' Bird / The Waltz You Saved For Me
03/1954
SP RCA VICTOR 47-5690 (US)
.

Bud Isaacs & His Cryin' Steel Guitar - Hot Mockin' Bird / The Waltz You Saved For Me

05/1954
78 t. RCA VICTOR 20-5771 (US)
.
Bud

Isaacs

& His

Cryin' Steel Guitar

- Stealin' Away / Indian Love Call
05/1954
SP RCA VICTOR 47-5771 (US)
.

Bud Isaacs & His Cryin' Steel Guitar - Stealin' Away / Indian Love Call

09/1954
78 t. RCA VICTOR 20-5844 (US)
.
Bud

Isaacs

& His

Cryin' Steel Guitar

- Skokiaan / Yesterday's Waltz
09/1954
SP RCA VICTOR 47-5844 (US)
.

Bud Isaacs & His Cryin' Steel Guitar - Skokiaan / Yesterday's Waltz

11/1954
78 t. RCA VICTOR 20-5932 (US)
.
Bud

Isaacs

& His

Cryin' Steel Guitar

- Panhandle Rag / Beautiful Kahana
11/1954
SP RCA VICTOR 47-5932 (US)
.

Bud Isaacs & His Cryin' Steel Guitar - Panhandle Rag / Beautiful Kahana

03/1955
78 t. RCA VICTOR 20-6062 (US)
.
Bud

Isaacs

& His

Cryin' Steel Guitar

- Bud's Bounce / Blue Mirage
03/1955
SP RCA VICTOR 47-6062 (US)
.

Bud Isaacs & His Cryin' Steel Guitar - Bud's Bounce / Blue Mirage

03/1955
SP RCA VICTOR 47-6061/47-6062 (US) (promo)
Excuse Me (Wade RAY) / Bud's Bounce (Bud

Isaacs

& His

Cryin' Steel Guitar

)
06/1955
78 t. RCA VICTOR 20-6169 (US)
.
Bud

Isaacs

& His

Cryin' Steel Guitar

- Steel Guitar Breakdown / Waltz Of The Ozarks
06/1955
SP RCA VICTOR 47-6169 (US)
.

Bud Isaacs & His Cryin' Steel Guitar - Steel Guitar Breakdown / Waltz Of The Ozarks

1955
EP RCA VICTOR EPA 590 (US)

Bud Isaacs & His Cryin' Steel Guitar - Steelin' Home / Turn Around / By The Waters Of Minnetonka / Kentucky Waltz

03/1956
78 t. RCA VICTOR 20-6456 (US)
.
Boing! / Westphalia Waltz
03/1956
SP RCA VICTOR 47-6456 (US)
.

Boing! / Westphalia Waltz

10/1956
78 t. RCA VICTOR 20-6705 (US)
.
Bud's Waltz / Bohemian Polka
10/1956
SP RCA VICTOR 47-6705 (US)
.

Bud's Waltz / Bohemian Polka

10/1956
EP RCA VICTOR

DJ-29

(US)
.
Bud

Isaacs

: Bud's Waltz / Bohemiana Polka / Rita

Robbins

:

Break The News Gently To Billy / Too Late
19??
EP Isaacs Golden West Publishing 45-873220 (US)
.

Bud's Bounce (Bud ISAACS) / Each Time You Call (ISAACS & DONALDSON) / Toy Steel (Bud ISAACS) / Walk In (Geri MAPES)

19??
SP AM & E AM-625 (US)
.

Geri & Bud Isaacs - City Of Los Angeles / When I Go To Bed At Night
Albums
196?
LP 12" Jabs JABS LP 101 (US)

The Best Of Bud Isaacs - Steel Guitar Boogie / Autumn Leaves / Waltz You Save For Me / Steel Guitar Breakdown / Waltz Of The Ozarks / Sleepin' Away / Steel Guitar Rag / Yesterday Waltz / Hot Mokin' Bird / Bud's Bounce / Beyond The Reef / September Song

1979
LP 12" Danny BI-7902 (GER)

The Steel Guitar On Radio In The Mid 50's - Hot Mockin' Bird / Steelin' Home / Steel Guitar Stomp / Roadside Rag / Panhandle Ra / Song Of The Islands / Steel Guitar Rag (No.1) / Yesterday's Waltz / Blue Steel Blues / Twilight Blues / Blue Bonnet Rag / Stealin' The Chimes / Red Sails In The Sunset / Spanish Fandango / Go Ask your Mama / Bud's Boogie / Hometown Stomp / Wabash Blues / Cocoanut Grove / Steel Guitar Jubilee / Texas Playboy Rag (No.1) / The Punkin' Stomp / The Waltz You Saved For Me

1979
LP 12" Danny BI-7903 (GER)

More Steel Guitar Transcriptions - Steel Guitar Rag (No.2) / Hawaiian War Chant / This Is Southland / Kentucky Waltz / The Waltz You Saved For Me (No.1) / Whispering Hope / Texas Playboy Rag (No.2) / Rose Room / Steel Guitar Chimes / Bud's Bounce I Can't Go On This Way / Silver Moon On The Golden Gate / Two Out Of Three / Over The Waves / Melody Of Love / Waltz Of The Ozarks / Hawaiian Sunset / Georgia Steel Guitar / Steelin' Away

198?
LP 12"

Not On Label

LP-LBA-2 (US)

The Legendary Bud Isaacs - Anniversary Waltz / Toy Steel Guitar / Bud's Bounce / Stranger On The Shore / Waltz Of The Ozarks / Sleepwalk / Under The Double Eagle / Smokin' Strings / On Top Of Old Smokey / Home

1998
CD BRONCO BUSTER CD-9051 (GER)

The Swingin' Steel Guitar Of Bud Isaacs - Steel Guitar Rag (No. 2) / Hawaiian War Chant / This Is Southland / Kentucky Waltz / Waltz You Saved For Me (No. 1) / Whispering Hope / Texas Playboy Rag (No. 2) / Rose Room / Steel Guitar Chimes / Bud's Bounce / I Can't Go On This Way / Silver Moon On The Golden Gate / Two Out Of Three [vocal by Bud Isaacs] / Over The Waves / Melody Of Love / Waltz Of The Ozarks / Hawaiian Sunset / Georgia Steel Guitar / Steelin' Away / Beautiful Kawana

1998
CD BRONCO BUSTER CD-9052 (GER)

The Master Of The Steel Guitar - Hot Mockin' Bird / Steelin' Home / Steel Guitar Stomp / Roadside Rag / Panhandle Rag / Song Of The Islands / Steel Guitar Rag (No.1) / Yesterday's Waltz / Lue Steel Blues / Twilight Blues / Bluebonnet Rag / Steelin' The Chimes / Red Sails In The Sunset / Spansih Fandango / Go Ask Your Mama / Bud's Boogie / Hometown Stomp / Wabash Blues / Cocoanut Grove / Steel Guitar Jubilee / Texas Playboy Rag (No. 1) / Punkin' Stomp / Waltz You Saved For Me (No. 2)

05/2006
CD BEAR FAMILY BCD-16798 (GER)

Bud's Bounce - Hot Mockin' Bird / The Waltz You Saved For Me / Bud's Steel Guitar Stomp / Indian Love Call / Skokiaan / Bud's Boogie / Yesterday's Waltz / Cowboy Conga / Panhandle Rag / Beautiful Mahana / Steel Guitar Breakdown / Kentucky Waltz / Turn Around / Steelin' Home / By The Waters Of Minnetonka / Blue Mirage / Waltz Of The Ozarks / Bud's Bounce (Take C) / Texas Playboy Rag / Westphalia Waltz / Boing! / Bud's Waltz / Sweet And Hot / Bohemiana Polka / Bud's Bounce (alt)
© Rocky Productions 16/05/2021