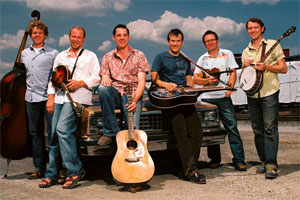 Groupe Bluegrass US de Nashville (Tennessee) composť de Andy Hall, Chris Eldridge, Chris Pandolfi, Jeremy Garrett, Jesse Cobb et Travis Book

Formed in 2005, the Nashville-based acoustic group the Infamous Stringdusters balance a fluency in old-timey bluegrass and indie jamgrass sensibilities, with an emphasis on strong instrumental work plus a sound that's both organic and groove friendly. The band earned a stellar reputation among bluegrass fans right out of the box, earning three International Bluegrass Music Association awards after the release of their 2007 debut album, Fork in the Road, and they began exploring a more ambitious musical approach with 2010's Things That Fly. The Stringdusters' genre-spanning approach got a workout on 2016's Ladies & Gentlemen, in which they collaborated with 11 different female guest musicians, and they earned one of the music business' highest honors for 2017's Laws of Gravity.
While the Infamous Stringdusters were founded in Nashville in 2005, three of the founding members -- Andy Hall on Dobro, Chris Eldridge on guitar, and Chris Pandolfi on banjo -- knew one another from their days attending the Berklee School of Music in Boston. When Hall relocated to Nashville to join Ronnie Bowman and the Committee, Eldridge and Pandolfi soon followed. Hall, Eldridge, and Pandolfi continued to make music together, and two members of Bowman's group began joining in, Jesse Cobb on mandolin and Jeremy Garrett on fiddle. With the addition of bassist Travis Book, the pickers began playing out as the Infamous Stringdusters, and it wasn't long before they attracted the attention of noted bluegrass label Sugar Hill Records.
The debut album from the Stringdusters, Fork in the Road, was released in early 2007, and at that years' IBMA awards, they were named Emerging Artists of the Year, while the LP won Album of the Year and its title track took the honors for Song of the Year. A self-titled sophomore release followed in 2008, by which time Chris Eldridge had left the group, with Andy Falco taking his place on guitar. A third album, Things That Fly, arrived in 2010, and found the Stringdusters stretching out creatively and featuring guest vocalists Dierks Bentley and Sarah Siskind. A track from the album, "Magic #9," was nominated for a Grammy Award as Best Country Instrumental Performance.
In 2011, Jesse Cobb dropped out of the band, and the Stringdusters continued on as a five-piece; one of his final appearances with the group was on the concert album We'll Do It Live, which was released by the group's own High Country label. Two more studio releases on High Country followed, 2012's Silver Sky and 2014's Let It Go. (The former album was also issued in a special edition that included a bonus disc of live material.) Undercover, an EP in which the group put their own spin on songs by Johnny Cash, Tom Petty, and Pink Floyd, among others, appeared in 2015.
In 2016, the Infamous Stringdusters struck a deal with Compass Records, which brought out Ladies & Gentlemen that year. It was an ambitious set that featured collaborations with 11 noted female musicians, including Joan Osborne, Lee Ann Womack, Mary Chapin Carpenter, Joss Stone, and Claire Lynch. The group quickly returned to the studio and had another album, Laws of Gravity, ready for release in January 2017. The Stringdusters took home a Grammy Award for Laws of Gravity, which was declared Best Bluegrass Album of the year; 2017 also saw the group release Laws of Gravity: Live (a collection of concert recordings of material from the album) and Undercover, Vol. 2 (another EP of cover tunes). November 2018 brought yet another concert album from the Infamous Stringdusters, Live from Telluride, and in 2019 the group issued the studio LP Rise Sun.
http://www.thestringdusters.com/
https://en.wikipedia.org/wiki/The_Infamous_Stringdusters
Talents : Andy Hall : Dobro - Andy Falco : Guitar - Chris Pandolfi : Banjo - Jeremy Garrett : Fiddle - Travis Book : Upright Bass
Style musical : Bluegrass
Years in activity :
| | | | | | | | | | | | |
| --- | --- | --- | --- | --- | --- | --- | --- | --- | --- | --- | --- |
| 1910 | 20 | 30 | 40 | 50 | 60 | 70 | 80 | 90 | 2000 | 10 | 20 |
DISCOGRAPHY
EP
| | | | |
| --- | --- | --- | --- |
| 02/2007 | CD ? (US) | | Fork In The Road / 100 Ways To Lose / Brunswick / 3 x 5 / Let Me Love You One More Time |
Albums
02/2007
CD SUGAR HILL SUG-CD-4021 (US)
FORK IN THE ROAD - No More To Leave You Behind / Fork In The Road / Starry Night / 3x5 / 40 West / Tragic Life / Poor Boy's Delight / No Resolution / My Destination / Letter From Prison / Dream You Back / Moon Man
06/2008
CD SUGAR HILL SUG-CD-4043 (US)
THE INFAMOUS STRINGDUSTERS - Won't Be Coming Back / Well, Well / When Silence Is The Only Sound / Bound For Tennessee / Glass Elevator / Three Days In July / The Way I See You Now / Golden Ticket / I Wonder / Get It While You Can / You Can't Handle The Truth / Lovin' You / Black Rock
04/2010
CD SUGAR HILL SUG-CD-4059 (US)
THINGS THAT FLAG - You Can't Stop The Changes / In God's Country / All The Same / Magic #9 / Those Who've Gone On / It'll Be Alright / Masquerade / Taking A Chance On The Truth / Toy Rockets / Love One Another / 17 Cents / Not Tonight / The Deputy
2011
CD High Country HCR-001 (US)

We'll Do It Live -

Fork In The Road / Hitchhiker / Long Lonsome Day / Gettin Down The Road / Get It While You Can / Masquerade / Ain't No Way Of Knowin / Well Well / How Far I'd Fall / All The Same / No More To Leave You Behind / Echoes Of Goodbye / Keep On Truckin
04/2013
2 CD High Country / SCI Fidelity SCIFI 1155 (US)
Silver Sky :

CD 1 : Don't Mean Nothin' / Rockets / The Hitchhiker / Tears Of The Earth / The Place That I Call Home / Like I Do / Heady Festy / Night On The River / When The Night Comes Around / Fire (

Infamous Stringdusters

feat: The

Rubblebucket Horns

) / Walking On The Moon / He's Gone
CD 2 :

We'll Do It Live :

Fork In The Road / The Hitchhiker / Long Lonesome Day / Gettin' Down The Road / Get It While You Can / Masquerade / Ain't No Way Of Knowing / Well, Well / How Far I'd Fall For You / All The Same / No More To Leave You Behind / Echoes Of Goodbye / Keep On Truckin'

04/2014
CD High Country HCR 003 (US)

Let It Go -

I'll Get Away / Where The Rivers Run Cold / Winds Of Change / Rainbows / Summercamp / Middlefork / By My Side / Colorado / Peace Of Mind / Light & Love / Let It Go
10/2014
CD MunckMix 64 (US)

Live At Peach Music Festival 2014

- Introduction / It'll Be Alright / Winds Of Change / Peace Of Mind / Fork In The Road / The Hitchhiker - Get It While You Can / Stage Banter / Where The Rivers Run Cold / Summercamp - Walking On The Moon / Home Of The Red Fox / Stage Banter 2 / Let It Go / No More To Leave You Behind
02/2016
CD Compass 4666 (US)

Ladies & Gentlemen -

Listen / I Believe / Won't Be Long / Have A Little Faith / See How Far You've Come / Old Whiskey Bottle / Still The One / Ladders In The Sky / Coming Back To You / Run To Heaven / Rock And Roll / Hazosphere
01/2017
CD Compass COM 46782 (US)

Laws of Gravity -

Freedom / Gravity / A Hard Life Makes A Good Song / Vertigo / Maxwell / Black Elk / This Ol' Building / Soul Searching / 1901: A Canyon Odyssey / Sirens / Back Home / Let Me Know / I Run To You
04/2019
CD TAPE TIME PTI42005 (US)
RISE SUN - Rise Sun / Another Night / Planets / Long Time Going / Thunder / Comin Again / Somewhere In Between / Carry Me Away / Last Of The Lucky Ones / If You're Gonna Love Someone / Wake The Dead / Cloud Valley / Truth And Love
12/2020
CD TAPE TIME RTT 005 (

us

)

Dust The Halls - An Acoustic Christmas Holiday! - Joy To The World / Little Drummer Boy / Jingle Bells / We Three Kings / Winter Wonderland / The First Noel / God Rest Ye Merry Gentlemen / Christmas Is Coming / Oh Holy Night / Deck The Halls

07/2021
LP 12" Americana Vibes AV-025 (US)

A Tribute to Bill Monroe - My Sweet Blue Eyed Darling / Dark As The Night / Sitting Alone In The Moonlight / Toy Heart / Old Dangerfield / Travelin' Down This Lonesome Road / The Little Girl And The Dreadful Snake
© Rocky Productions 24/07/2021