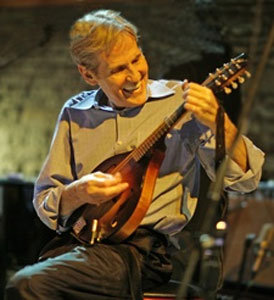 Batteur, mandoliniste et chanteur Country US né Mark Lavon Helm, le 26 Mai 1940 à Elaine (Arkansas). Levon Helm a été le batteur de The Band. Il est décédé le 19 Avril 2012 à New York.

The longtime drummer for the Band, Levon Helm wore many musical hats throughout his long career, including multi-instrumentalist, songwriter, singer, impresario, studio owner, studio engineer, and producer. He grew up working on a farm in Arkansas; his first instrument was guitar, which he began playing at age eight, but after seeing the F.S. Walcott Rabbits Foot Minstrels, he decided to switch to drums. As a youth, Helm listened to the music of the area, including radio broadcasts of The Grand Ole Opry and the blues and R&B shows on WLAC, a clear-channel station out of Nashville that became legendary in the development of rhythm & blues and early rock & roll. Accompanied by his sister Linda on washboard bass, he played various fairs and civic club shows until forming his first group, the Jungle Bush Beaters, while in high school.
After seeing an Elvis Presley concert, Helm became keenly interested in rock & roll and musicians like Bo Diddley. Eventually, he moved to Memphis, where he began sitting in with Conway Twitty. Later, he was discovered by a fellow Arkansan, rockabilly singer Ronnie Hawkins, who asked the 17-year-old Helm to join the Hawks, his backing band. The group soon relocated to Toronto, where they'd heard there was a burgeoning scene for their kind of music. In 1959, Hawkins signed to Roulette Records, where he and the Hawks cut a pair of hit records right out of the gate with "Forty Days" and "Mary Lou," which went on to sell in excess of 700,000 copies.
In the early '60s in Toronto, Helm and Hawkins recruited the rest of the members of the group that would become the Band, adding guitarist Robbie Robertson, pianist Richard Manuel, organist Garth Hudson, and bassist Rick Danko to the lineup. After numerous road trips with Hawkins, the group grew tired of the singer's abrasive manner, and they re-formed as Levon & the Hawks, later changing their name to the Canadian Squires for the purpose of recording two singles. Shortly after, they changed their name back to the Hawks. In the mid-'60s, Bob Dylan decided to electrify his sound and wanted the Hawks to be his backing band. After putting up with too many boos at Dylan's newly electrified shows in 1965, Helm decided he'd had enough, and went back to Arkansas, thinking he would leave the music business behind him forever.
But Helm returned to action in mid-1967, when the Hawks (since renamed simply the Band) began working on Music from Big Pink, the first in a string of classic records that made them one of rock's most legendary acts. After the Band's famed 1976 farewell performance, dubbed The Last Waltz, he cut his 1977 debut solo album, Levon Helm & the RCO All Stars, followed a year later by his self-titled sophomore effort. In 1980 he recorded American Son, while another eponymously titled effort was released in 1982. The Band re-formed in 1983 without Robertson; following Manuel's 1986 suicide, the remaining trio released 1993's Jericho, recorded at Helm's home studio in Woodstock, New York. That same year, Helm published his autobiography, This Wheel's on Fire, co-authored with Stephen Davis. The Band's bluesy High on the Hog followed in 1995. The late '90s (and into the next decade) found Helm still making music in a new blues band called Levon Helm & the Barn Burners, with his daughter Amy on keyboards and Vocals, guitarist Pat O'Shea, lead vocalist and harmonica player Chris O'Leary, and upright bassist Frankie Ingrao, and with a similar outfit called Crowmatrix. An album of tracks from this era called Souvenir, Vol. 1 appeared in 2000 from Breeze Hill.
Cancer of the Vocals cords silenced Helm's unique voice as the 21st century opened, although he kept up his drumming duties, and in time was able to sing again, emerging with a slightly raspier version of his old Vocals style. He began holding intimate concerts with various musical friends at his studio in Woodstock, calling them Midnight Rambles, samples of which were released as Midnight Ramble Music Session, Vol. 1 and Midnight Ramble Music Session, Vol. 2 in 2006. The following year saw the release of Dirt Farmer, Helm's first solo album in 25 years. The similar but looser Electric Dirt followed in 2009. Ramble at the Ryman, which captures highlights of Helm's 2008 Midnight Ramble concert at Nashville's Ryman Auditorium, was released on both CD and DVD in 2011.
Levon Helm died on April 19, 2012 in New York City.
https://en.wikipedia.org/wiki/Levon_Helm
Talents : Vocals, Drums, Mandolin
Style musical : Rock 'n' Roll, Country Rock, Roots Rock, Folk-Rock, Psychedelic

http://youtu.be/cBuJB218UvU
Years in activity :
| | | | | | | | | | | | |
| --- | --- | --- | --- | --- | --- | --- | --- | --- | --- | --- | --- |
| 1910 | 20 | 30 | 40 | 50 | 60 | 70 | 80 | 90 | 2000 | 10 | 20 |
DISCOGRAPHY
Single
| | | |
| --- | --- | --- |
| 1977 | SP ABC AB-12336 (US) (promo) | Milk Cow Boogie (mono) / Milk Cow Boogie (stereo) |
| 1978 | SP ABC AB-12416 (US) | Ain't No Way To Forget You / Standing On A Mountaintop |
Albums
1977
LP 12" ABC AA-1017 (US)
LEVON HELM & THE RCO ALL-STARS - Washer Woman / The Tie That Binds / You Got Me / Blues So Bad / Sing, Sing, Sing (Let's Make A Better World) / Milk Cow Boogie / Rain Down Tears / A Mood I Was In / Havana Moon / That's My Home
1977
LP 12" Better Days Y-180 (JAP)

| | |
| --- | --- |
| | The Smile Of Life / Levon Helm And The RCO All Stars Sampler - Ronnie Barron / Levon Helm - The Smile Of Life / Ronnie Barron Sampler : Prelude / Moon Shinin' Bright / Honey, Honey / Running South, Running North / She Does It Good / Doing Business With The Devil / Levon Helm And The RCO All Stars / Levon Helm Sampler : Washer Man / You Got Me / Milk Cow Boogie / Rain Down Tears / Havana Moon |

1978
LP 12" ABC AA-1089 (US)
LEVON HELM - Ain't No Way To Forget You / Driving At Night / Play Something Sweet (Brickyard Blues) / Sweet Johanna / I Came Here To Party / Take Me To The River / Standing On A Mountaintop / Let's Do It In Slow Motion / Audience For My Pain
1978
LP 12" ABC SPPD-45 (picture disc promo) (US)
LEVON HELM - Ain't No Way To Forget You / Driving At Night / Play Something Sweet (Brickyard Blues) / Sweet Johanna / I Came Here To Party / Take Me To The River / Standing On A Mountaintop / Let's Do It In Slow Motion / Audience For My Pain
1980
LP 12" MCA MCA-5120 (US)
AMERICAN SON - Watermelon Time In Georgia / Dance Me Down Easy / Violet Eyes / Stay With Me / America's Farm / Hurricane / China Girl / Nashville Wimmin / Blue House Of Broken Hearts / Sweet Peach Georgia Wine
1982
LP 12" CAPITOL ST-12201 (US)
LEVON HELM - You Can't Win Them All / Lucrecia / Even A Fool Would Let Go / I've Got A Bet With Myself / Money (Money Cues) / Get Out Your Big Roll Daddy / Willie And The Hand Jive / The Got Song / Give A Little Bit / God Bless 'em All
1997
CD WOODSTOCK ? (US)
SOUVENIR - VOL. 1 - LEVON HELM & THE CROWMATIX - I Finally Got You / Java Blues / Poor Little Fool / Crazy 'bout You Baby / Don't Ya Tell Henry / That's Alright / Milk Cow Boogie / Rag Mama Rag / Too Close Chairs / Paramount / 300 Lbs / Great Beyond
04/1999
CD RAVEN 87 (US)
THE TIES THAT BIND - THE BEST OF... 1975-1996 - Milk Cow Boogie / The Weight / Atlantic City / The Tie That Binds / You Got Me / Even A Fool Would Let Go / Willie And The Hand Jive / Lucrecia / The Caves Of Jericho / Don't Ya Tell Henry / Take Me To The River / Livin' In A Dream / Rock Salt And Nails / Play Something Sweet (Brickyard Blues) / Stand Up / Standing On The Mountain Top / When I Get My Rewards / Hurricane / Watermelon Time In Georgia
2005
CD + DVD LEVON HELM STUDIOS 28106 (US)
THE MIDNIGHT RAMBLE MUSIC SESSIONS - VOLUME ONE - LEVON HELM BAND STARRING LITTLE SAMMY DAVIS :

CD : Sad Hours / Oh Baby / I'm Ready / Blow, Wind Blow / Blues With A Feeling / The New Scratch My Back / I Ain't Lyin' / I'm Crazy About You Baby / Boom Boom, Out Go The Lights / Forty Days And Forty Nights / I Want To Take You Downtown / Everything Gonna Be Alright - Wrapped Up In Love Again / California Blues
DVD : Sad Hours / Oh Baby / I'm Ready / Blow, Wind Blow / Blues With A Feeling / The New Scratch My Back / I Ain't Lyin' / I'm Crazy About You Baby / Boom Boom, Out Go The Lights / Forty Days And Forty Nights / I Want To Take You Downtown / Everything Gonna Be Alright - Wrapped Up In Love Again / California Blues

2005
CD LEVON HELM STUDIOS 1294 (US)
THE MIDNIGHT RAMBLE MUSIC SESSIONS - VOLUME TWO - LEVON HELM BAND - Battle Is Over But The War Goes On / What Kind Of Man Are You / Don't Ya Tell Henry / Blue Shadows / All About John / I Want To Know / A Fool In Love / Borrowed Time / When The Battle Is Over
04/2006
CD LEVON HELM STUDIOS 03 (US)
LIVE AT THE PALLADIUM NYC - NEW YEARS EVE 1977 - LEVON HELM & THE RCO ALL STARS - Ain't That A Lotta Love / Washer Woman / A Mood I Was In / Milk Cow Boogie / Ties That Bind / Goin Back To Memphis / Blues So Bad / Born In Chicago / Rain Down Tears / Got My Mojo Working / Sing, Sing, Sing / Ophelia / Good Night Irene
10/2007
CD VANGUARD 9844 (US)
DIRT FARMER - False Hearted Lover Blues / Poor Old Dirt Farmer / The Mountain / Little Birds / The Girl I Left Behind / Calvary / Anna Lee / Got Me A Woman / A Train Robbery / Single Girl, Married Girl / The Blind Child / Feelin' Good / Wide River To Cross
02/2008
CD RAVEN 272 (US)
LEVON HELM & THE RCO ALL-STARS / AMERICAN SON - Washer Woman / The Tie That Binds / You Got Me / Blues So Bad / Sing, Sing, Sing (Let's Make A Better World) / Milk Cow Boogie / Rain Down Tears / A Mood I Was In / Havana Moon / That's My Home / Watermelon Time In Georgia / Dance Me Down Easy / Violet Eyes / Stay With Me / America's Farm / Hurricane / China Girl / Nashville Wimmin / Blue House Of Broken Hearts / Sweet Peach Georgia Wine
2008
CD FESTIVALINK.NET FEST0389 (US)
FISTIVALINK.NET PRESENTS LEVON HELM BAND MERLEFEST RAMBLE - MERLEFEST, NC 2008 - Ophelia / It Takes A Lot To Laugh, It Takes A Train To Cry / Cold Hearted Stranger / Everything's Gonna Be Alright / Baby Scratch My Back / I Want To Know / Goodbye My Love / Got Me A Woman / Atlantic City / Ashes Of Love / Did You Love Me At All? / Deep Elem Blues / Anna Lee / Rag Mama Rag / The Shape I'm In / Long Black Veil / The Weight
06/2009
CD DIRT FARMER / VANGUARD 798612 (US)
ELECTRIC DIRT - Tennessee Jed / Move Along Train / Growin' Trade / Golden Bird / Stuff You Gotta Watch / White Dove / Kingfish / You Can't Lose What You Ain't Never Had / When I Go Away / Heaven's Pearls / I Wish I Knew How It Would Feel To Be Free
05/2011
2 LP 12" VANGUARD ? (US)
RAMBLE AT THE RYMAN :

DISC 1 : Ophelia / Back To Memphis / Fannie Mae / Baby Scratch My Back / Evangeline / No Depression In Heaven / Wide River To Cross / Deep Elem Blues
DISC 2 : Anna Lee / Rag Mama Rag / Time Out For The Blues / A Train Robbery / The Shape I'm In / Chest Fever / The Weight

07/2011
CD RAVEN 340 (US)
TAKE ME TO THE RIVER 1978-1982 - Ain't No Way To Forget You / Driving At Night / Play Something Sweet / Sweet Johanna / I Came Here To Party / Take Me To The River / Standing On A Mountaintop / Let's Do It In Slow Motion / Audience For My Pain / You Can't Win 'em All / Lucrecia / Even A Fool Would Let Go / I've Got A Bet With Myself / Money / Get Out Your Big Roll Daddy / Willie And The Hand Jive / The Got Song / Give A Little Bit / God Bless 'em All / Summertime Blues
07/2014
CD VANGUARD 78248 (US)
The Midnight Ramble Sessions - Vol. 3 -

The Levon Helm Band -

The Same Thing / Ain't That Good News / God Don't Never Change / Drivin' Wheel / I'm A Jealous Man / Stagger Lee / Simple Twist Of Fate / One More Shot / Turn Around / The Beautiful Lie / A Certain Girl / Shake Your Money Maker / Take Me To The River
© Rocky Productions 26/07/2014