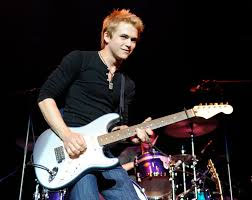 Chanteur Country US né en 1991 à Breaux Bridge (Louisiane).

At the age of 19, Hunter Hayes became one of the hottest new stars in country music, having signed with a major label and attracted plenty of press attention and airplay, but despite his youth, this wasn't really new for Hayes -- he was playing for paying audiences at the age of five and cut his first album when he was only nine. Hayes was born in Breaux Bridge, Louisiana in 1991, and showed a keen interest in music at an early age. His family was proud of their Cajun heritage, and young Hayes was had a regular babysitter who was a fan of legendary Cajun accordionist Aldus Roger. Hayes began singing the melodies of Roger's songs around the house, and when his folks bought him a toy accordion, he was playing Cajun tunes on it within a few days. By the age of five, he had moved up to a custom-made accordion designed to work with his small hands, and he was regularly sitting in with local Cajun bands that played at a local restaurant. Hayes became a minor celebrity in Louisiana, appearing on local television programs, playing a bit part in Robert Duvall's film The Apostle, joining Hank Williams, Jr. on-stage to perform "Jambalaya" at a concert in front of 200,000 fans, and meeting the likes of Johnny Cash, Charlie Daniels, and Bill Clinton. In 2000, he recorded his first album, Through My Eyes, for a regional label, with the youngster playing accordion, singing, and writing several songs as well as performing a handful of Cajun standards. He wrote or so-wrote seven of the thirteen songs on his second independent album, 2001's Make a Wish, which he helped to produce. While Hayes had already mastered keyboards and accordion, he expanded his repertoire to include guitar, mandolin, bass, and percussion, and as a teenager, he assembled a home recording setup, learning more about the rudiments of record making. In 2009, Hayes moved to Nashville, hoping to make a mark in country music, and he signed a publishing deal with Universal Music Publishing Group; Rascal Flatts recorded one of his tunes, "Play," on their 2010 album Nothing Like This. Producer and songwriter Dann Huff, who had worked on the Rascal Flatts album, teamed up with Hayes to produce Hayes' first major-label project after he landed a deal with Atlantic Records. In the summer of 2011, Hayes' single "Storm Warning" was released and made the country Top 40; he wrote the song as well as singing and playing all the instruments himself. His debut album Hunter Hayes was scheduled for release later in 2011, and as his single rode the charts, he spent part of the summer touring small venues as a headliner, and large arenas opening for Taylor Swift.
His debut built into a strong success story, topping the US country charts and going platinum thanks in part to the number one country single "Wanted," which went quadruple platinum in 2012. Another single was pulled from Hunter Hayes--"Somebody's Heartbreak," which peaked at 7--and then an expanded "Encored" edition of the album appeared in 2013; this version contained the number two single "I Want Crazy" and the Jason Mraz duet, "Everybody's Got Somebody But Me." Hayes returned in 2014 with his second album Storyline. Preceded by the single "Invisible," Storyline was released in May 2014. Debuting at number one on the country chart, Storyline nevertheless didn't have the legs of Hayes' debut -- its second single, "Tattoo," peaked at 31 -- so Hunter followed it quickly with the 21 EP in the summer of 2015. The single "21" sold well in the summer and he accompanied it with The 21 Project -- a set of three EPs where the same songs were recorded in three different ways -- that November.
Talents : Vocals, Guitar, Accordeon
Style musical : Zydeco, Cajun, Country-Pop

https://youtu.be/m5MPxz-8e6A
Years in activity :
| | | | | | | | | | | |
| --- | --- | --- | --- | --- | --- | --- | --- | --- | --- | --- |
| 1910 | 20 | 30 | 40 | 50 | 60 | 70 | 80 | 90 | 2000 | 10 |
DISCOGRAPHY
Albums
02/2000
CD LOUISIANA RED HOT 1111 (US)
THROUGH MY EYES - Six Years Old / Saturday Night Special / Jambalaya (On The Bayou) / Allons A Lafayette (Let's Go To Lafayette) / Valse De Calcasieu (The Calcasieu Waltz) / Rockin' Flames / Lafayette Waltz / La Porte D'En Arrière (The BackDoor) / Un Autre Soir Ennuyant (Another Lonely Night) / Zydeco Boogaloo / Jolie Blonde / Amede Two Step / J'Ai Passé Devant Ta Porte (I Passed Before Your Door) / Malfunction
10/2001
CD SUGARTOWN 5905 (US)
MAKE A WISH - Make A Wish / The Clock / Quarter At The Bottom Of The Jukebox / Dreaming / The Grass Will Be Greener / Freight Train / Hold Her Till She's Older / I Feel Good / Deep In The Night / No Fair Falling In Love / Mon Ami (My Friend) / Allons Danser / Attention, C'Est Mon Coeur Va Casser (Be Careful, You're Breaking ...)
10/2011
CD ATLANTIC 528890 (US)
HUNTER HAYES - Storm Warning / Wanted / If You Told Me To / Love Makes Me / Faith To Fall Back On / Somebody's Heartbreak / Rainy Season / Cry With You / Everybody's Got Somebody But Me / What You Gonna Do / More Than I Should / All You Ever
05/2014
CD ATLANTIC CD 542588 (US)

Storyline -

Wild Card / Storyline / Still Fallin / Tattoo / Invisible / ...Interlude / You Think You Know Somebody / Flashlight / When Did You Stop Loving Me / ...Like I Was Saying [Jam] / Secret Love / Nothing Like Starting Over / If It's Just Me / Love Too Much
11/2015
3 CD ATLANTIC 552577 (US)

The 21 Project :

CD 1 : 21 / Young And In Love / Saint Or A Sinner / Where It All Begins (Hunter

Hayes

feat: Lady Antebellum) / Suitcase / The Trouble With Love / I Mean You
CD 2 : 21 [acoustic version] / Young And In Love [acoustic version] / Saint Or A Sinner [acoustic version] / Where It All Begins [acoustic version] / Suitcase [acoustic version] / The Trouble With Love [acoustic version] / I Mean You [acoustic version]
CD 3 : 21 / Young And In Love / Saint Or A Sinner / Where It All Begins / Suitcase / The Trouble With Love / I Mean You
© Rocky Productions 10/11/2015