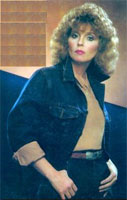 Chanteuse Country US née Carolyn Ann Blankenship le 9 Avril 1945 à Tulsa (Oklahoma). Gus Hardin est décédée le 17 Février 1996 à Salina (Oklahoma).

Hardin's rise to country music popularity began in 1983 with her first RCA Records single, the top 10 hit "After The Last Goodbye". Other hits, such as "Fallen Angel," "I Pass," "Lovin' You Hurts" and "If I Didn't Love You" soon followed, as well as "All Tangled Up in Love", a duo with Earl Thomas Conley.
Hardin married keyboard player Steve Hardin who was a member of the group Point Blank, and after their divorce she kept his last name. Garth Brooks sister, Betsy Smittle was one of Gus's band members and did background vocals on Gus's Cd "I"m Dancing As Fast As I Can".
Hardin died in a car crash on highway 20 east of Claremore, Oklahoma on the way home from singing at a Sunset Grill in Tulsa, on February 17, 1996. Memorial Services Were held in Oklahoma and Nashville, Tennessee.
Hardin is survived by her daughter Toni.
https://en.wikipedia.org/wiki/Gus_Hardin
Talents : Vocals
Style musical : Contemporary Country

https://youtu.be/7p9LCjt93U4
Years in activity :
| | | | | | | | | | | | |
| --- | --- | --- | --- | --- | --- | --- | --- | --- | --- | --- | --- |
| 1910 | 20 | 30 | 40 | 50 | 60 | 70 | 80 | 90 | 2000 | 10 | 20 |
DISCOGRAPHY
Singles
| | | | |
| --- | --- | --- | --- |
| 01/1983 | SP RCA VICTOR PB-13445 (US) | . | After The Last Goodbye / I've Been Loving You Too Long |
| 05/1983 | SP RCA VICTOR PB-13532 (US) | . | If I Didn't Love You / You Can Call Me Blue |
| 08/1983 | SP RCA VICTOR PB-13597 (US) | . | Loving You Hurts / Since I Don't Have You |
| 12/1983 | SP RCA VICTOR PB-13704 (US) | . | Fallen Angel / Not Tonight I've Got A Heartache |
| 03/1984 | SP RCA VICTOR PB-13751 (US) | | I Pass / Night Lights |
| 06/1984 | SP RCA VICTOR PB-13814 (US) | . | How Are You Spending My Nights? / Night Lights |
| 10/1984 | SP RCA VICTOR PB-13938 (US) | . | All Tangled Up In Love (with Earl Thomas CONLEY) / More Or Less |
| 03/1985 | SP RCA VICTOR PB-14040 (US) | . | My Mind Is On You / What About When It Rains |
| 08/1985 | SP RCA VICTOR PB-14159 (US) | . | Just As Long As I Have You (with Kenny LOGGINS) / More Or Less |
| 11/1985 | SP RCA VICTOR PB-14255 (US) | . | What We Gonna Do / What About When It Rains |
Albums
1981?
LP 12" R

ayann

RYN-0001 (US)

Almost Live - Looking For Love / Ring In The Night / Glad You Came Along / You Needed Me / Sunset Woman / Living For The City / Loving You Like I Do / Jealous Kind / Such A Night

05/1983
LP 12" RCA VICTOR MHL1-8603 (US)
GUS HARDIN - Looving You Hurts / F I Didn't Love You / Since I Don't Have You / After The Last Goodbye / You Can Call Me Blue / I've Been Loving You Too Long
02/1984
LP 12" RCA CPL1-4937 (US)
FALLEN ANGEL - Fallen Angel / Not Tonight, I've Got A Heartache / One Night A Week Lovers / Still Hold On / Where's The Fire / I Pass / Are We Still In Love Or Just Lonely / The Woman In Me / How Are You Spending My Nights / Night Lights
01/1985
LP 12" RCA CPL1-5358 (US)
WALL OF TEARS - All Tangled Up In Love / What We Gonna Do / What About When It Rains / My Mind Is On You / Drowning In Memories / Wall Of Tears / I'm Dancing As Fast As I Can / More Or Less
05/2001
CD RAINY DAY 1234-2 (US)
I'M DANCING AS FAST AS I CAN - Tornado / One Of The Boys / If I Had My Way / Lovin' Arms / Foolproof / After The Last Goodbye / All Tangled Up In Love / Wall Of Tears / I Pass / I'm Dancing As Fast As I Can
2006
CD King Biscuit ? (US)

In Concert - Fallen Angel / Drowing In Memories / This Masquerade / After The Last goodbye / I've Been Loving You Too Long / More Or Less / All Tangled Up In Love / What We Gonna Do About It / Silver Wing / I Pass / Never Ending Song Of Love / My Mind Is On You / Wall Of Tears / Big Boss Man / Two More Bottles Of Wine / If I Didn't Love You / All Tangled Up In Love (with Earl Thomas Conley)
© Rocky Productions 11/05/2014