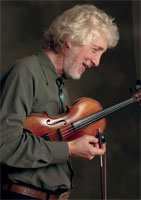 Fiddler Bluegrass US né le 9 Novembre 1942 à Beverly Hill (Californie).

A session fiddler with hundreds of credits — and dozens of bands in which he has performed Richard Greene's most famous period was the 1960s, when he played with both Bill Monroe's Blue Grass Boys and Seatrain. He was born November 9, 1942, in Los Angeles, where he studied classical violin beginning at the age of five. By the time he entered high school, though, Greene switched his focus to folk music. He entered the University of California-Berkeley in 1960, and began playing in the Coast Mountain Ramblers and later the Dry City Scat Band. After college, Greene took a job in real estate, but also played with the Pine Valley Boys in San Francisco. On a trip to New York in 1964, he met Bill Keith of the Blue Grass Boys, and the association influenced Monroe's decision to hire the youngster two years later. Greene played at the Grand Ole Opry with Monroe and appeared on his Decca album Bluegrass Time.
After only one year with the Blue Grass Boys, Greene joined the Jim Kweskin Jug Band — which also included Keith plus Geoff and Maria Muldaur — and played on that band's 1968 album Garden of Joy. Not content to stay in one place, he split for California after one year and joined the Blues Project, which then evolved into Seatrain. Greene stayed for over three years, playing on the band's self-titled 1969 album for A&M, another self-titled LP for Capitol two years later, and 1972's Marblehead Messenger. With Eric Weissberg, Jim Rooney, and old friend Keith, he then formed the Blue Velvet Band, which recorded only one album, Sweet Moments. Greene spent the rest of the '70s playing with James Taylor, Emmylou Harris, Rod Stewart, Muleskinner, Taj Mahal, David Grisman, and Loggins & Messina, in addition to recording three albums as a solo act with his backing band, the Zone. The first two, duos (1977) and Ramblin' (1979), appeared on Rounder, while 1980's Blue Rondo was released on the Sierra label. An early-'80s tour of Japan with Tony Trischka and Peter Rowan was documented on the Japanese Nippon label by Bluegrass Album and Hiroshima Mon-Amour (both 1980).
https://en.wikipedia.org/wiki/Richard_Greene_(musician)
Talents : Fiddle, Session Musician
Style musical : Traditional Bluegrass, Country-Rock, Country-Pop, Bluegrass, Folk, Folk-Pop, Psychedelic, Folk-Rock, Modern Creative, Jazz

https://youtu.be/8rBiUOdh2j8
Years in activity :
| | | | | | | | | | | | |
| --- | --- | --- | --- | --- | --- | --- | --- | --- | --- | --- | --- |
| 1910 | 20 | 30 | 40 | 50 | 60 | 70 | 80 | 90 | 2000 | 10 | 20 |
DISCOGRAPHY
Albums
1971
LP 12" Capitol SMAS-639 (US)

Seatrain - I'm Willin' / Song Of Job / Broken Morning / Home To You / Out Where The Hills / Waiting For Elijah /13 Questions / Oh My Love / Sally Goodin' / Creepin' Midnight / Orange Blossom Special

1971
LP 12" Capitol SMAS-829 (US)

Marblehead Messenger - Seatrain - Gramercy / The State Of Georgia's Mind / Protestant Preacher / Lonely's Not The Only Way To Go / How Sweet Thy Song / Marblehead Messenger / London Song / Mississippi Moon / Losing All The Years / Despair Tire

03/1974
LP 12" Warner Brothers BS-2787 (US)

Muleskinner - Mule Skinner Blues / Blue And Lonesome / Footprints In The Snow / Dark Hollow / Whitehouse Blues / Opus 57 In G Minor / Runways Of The Moon / Roanoke / Rain And Snow / Soldier's Joy / Blue Mule

1978
LP 12" ROUNDER 0075 (US)

duos

- Alabama Jubilee / Methodist Preacher / Danny Boy / The Young Man Who Wouldn't Hoe Corn / Twinkle Little Star / Fish Scale / Little Rabbit / The Tennessee Waltz / Nick's Noodle / Colored Aristocracy / Anouman
01/1979
LP 12" ROUNDER 0110 (US)
RAMBLIN' - Ramblin' / New Orleans / Caravan / Bach Violin Concerto In E Major / Limehouse Blues / Steven Foster Medley / You Are My Sunshine / Uncle Pen / In The Pines / The Walls Of Time
1982
LP 12" SR 8710 (US)
BLUE RONDO -

Blue Rondo A La Turk

/

Private Driver

/

An Old Irish Air

/

Bach!

/

Ramblin'

/

Bluegrass Medley

1988
CD HANNIBAL 1333 (US)
MOLLY ON THE SHORE - Richard GREENE & The GREENE STRING QUARTET - Puttin' On The Ritz / Sally In Our Alley / Movement IV (Allegro Con Brio) - String Quartet No. 2 / Goodbye Pork Pie Hat / Molly On The Shore - Temple Hill / Dance Music For Four Saxophones #4 / Doin' Things / Kneedeep In The Greenegrass / Big Alice / Doors Trilogy : Love Me Two Times - You're Lost Little Girl - Hello I Love
12/1991
CD EMI 59120 (US)
THE STRING MACHINE - Richard GREENE & The GREENE STRING QUARTET - Welcome To The Jungle / Desert Rose /The String Machine : I. Cruise Control / The String Machine : II. Skydrive / The String Machine : III. Strutmobile / Blues : "De Profundis" / Hoedown Medley / Harlem Nocturne / From The Diary Of A Fly / Sir Roger De Coverly / Bleu Tres Fou / Four Studies : I. Dramatic, Quasi Cadenza / Four Studies : II. Fast ; Driving But Cool/III. Moderately Slow, ... / Four Studies : IV. Fast, Driving
04/1995
CD REBEL REB-CD 1714 (US)
THE GRASS IS GREENER - Richard GREENE & The GRASS IS GREENER - The Methodist / Preacher / Home Sweet Home / The Virgin's Lament / Northern White Clouds / Whiskey Before Breakfast / Stoney Lonesome / Cannon Ball Blues / Panhandle Country / Faded Love / The Kentucky Mandolin / Brown County Breakdown / The Beaumont Rag
10/1995
CD SIERRA SXCD 6005 (US)
THE GREENE FIDDLER - Ghost Train / N.P.D. / 2 Much 2 Soon / Pagan Annie / Blue Rondo A La Turk / An Old Irish Air / Bach! / Ramblin' / Private Driver / Enjoy, Enjoy / Grey Eagle / Soldier's Joy / Fiddle Rock / Little Rabbit / Rain And Snow / Orange Blossom Medley
04/1996
CD REBEL REB_CD 1730 (US)
WOLVES A' HOWLIN' - Richard GREENE & The GRASS IS GREENER -

Wolves A' Howlin'

/

The

Indiana Waltz

/

On The Move

/

Shaking Off The Acorns

/

Evening Prayer Blues

/

Pipehorn Hornpipe

/

Charleston

/

Sometime Next Summer

/

Horseshoe Bend

/

Nervous Breakdown

/

Peaches And Cream

/

Twinkle Little Star

03/1997
CD REBEL REB-CD 1737 (US)
SALES TAX TODDLE - Richard GREENE & The GRASS IS GREENER - The Drunken Man's Dream / Along About Daybreak / Sales Tax Toddle / With Body And Soul / Done Gone Waltz / My Little Georgia Rose / I'll Be Sixteen Next Sunday / Close By / 16 Days In Georgia / Last Ride / No One But My Darlin' / Little Rabbit
12/2001
CD RICHARD GREENE 001 (US)
HANDS ACROSS THE POND - Richard GREENE & Beryl MARRIOTT - Te Bhan, Te Bhan - Hori Horo - Highland Boat Song / Hunt The Squirrel - Jack's Maggot / Niel Gow's Lamentation For His Brother / Shepherd's Hey - Cuckoo's Next / Chorus Jig / She's Like The Swallow / Dick's Maggot / Locheal's Awa' Tae France / Lady Walpole's Reel - Fred Roden's Reel / Mayday Morning - Wedding Reel / McFadden's Handsome Daughter / Abbot's Bromley Horn Dance
11/2006
CD RICHARD GREENE RGP 002 (US)
SHUFFLIN' - Richard GREENE & The BROTHERS BARTON - Sinai Summit / Sarah's Waltz / Yearlings In The Canebreak / Tipioshi Breakdown / Bankhead Blues / Ninth Of June Serenade / Chelsey's Dream / Steely Rag / Shufflin'
© Rocky Productions 28/02/2014