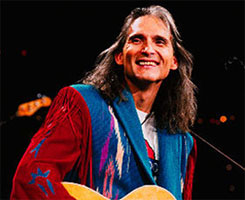 Chanteur Country US né le 6 Mai 1945 à Tulia Texas. Jimmie Dale Gilmore fait parti des Flatlanders avec Joe Ely.

With his warm, warbling tenor voice and folksy, friendly approach to both his music and his audiences, Jimmie Dale Gilmore is an easy guy to like. His music is a rich blend of traditional country, folk, blues, and rock styles, and his lyrics reflect both his philosophical interests and his inherent down-home nature. Since moving to Austin, TX, and reviving his career in the 1980s, Gilmore has in many ways come to represent the current Austin music scene -- its rootsy mix of country, rock, and folk music -- the way Willie Nelson once reigned as king of the town's cosmic cowboys in the 1970s.
Gilmore's roots go back to Tulia, a small West Texas town where his father played lead guitar in a country band. When Gilmore was in grade school the family moved to Lubbock, a Panhandle town known for being the starting point for a surprising number of musicians (including Buddy Holly, Waylon Jennings, Terry Allen, and Gilmore's onetime singing partners Butch Hancock and Joe Ely). Growing up in Lubbock, Gilmore met Hancock when they were both 12, and they remained friends and frequent musical collaborators ever since. Gilmore later met Allen, who he says inspired him to write his own songs. One of the first songs Gilmore wrote, in fact -- when he was around 20 -- was "Treat Me Like a Saturday Night," which is today one of his most enduring pieces. Later, another casual friend of Gilmore's, Ely, turned him on to the music of Townes Van Zandt, which Gilmore says was a revelation for the way Van Zandt integrated the worlds of folk and country music.
Gilmore and Ely began playing music together around Lubbock as the T. Nickel House Band. Later, after a brief stint in Austin, Gilmore hooked up again back in Lubbock with Ely and Hancock and formed the Flatlanders, a now-legendary band that also included Steve Wesson, Tony Pearson, and several peripheral members. The group recorded an album in Nashville in 1972, but it was only ever released at the time on eight-track tape. (Long a collector's item, it was finally re-released by Rounder Records in 1990 under the title More a Legend Than a Band). A mix of acoustic folk, string-band country, and country blues, the album included another of Gilmore's best-known songs, "Dallas," which was actually released as a promo single at the time but generated little interest. By the end of the year the band had split up.
Gilmore moved to Denver, playing music only as a hobby. Ely, meanwhile, had won a record contract and had recorded some of Gilmore's songs. In 1980, Gilmore moved back to Austin, where he began playing regular gigs in local clubs. Finally, in 1988, Gilmore released his debut solo album, Fair and Square, on HighTone, Ely's label at the time. This and his 1989 follow-up, Jimmie Dale Gilmore, featured songs by Gilmore as well as Hancock and Ely played in a more straightforward honky tonk style than anything Gilmore had done previously or since. These two albums gained Gilmore newfound acclaim just as Austin itself was becoming a musical hot spot again. In 1990, the Flatlanders album was re-released, and Virgin Australia put out Two Roads, a duet album with Hancock that was recorded live during the pair's Australian tour. Gilmore was soon signed to Elektra, which released After Awhile in 1991 as part of the label's American Explorer series. The album retained a country feeling but was less honky tonk in nature, and it attracted Gilmore even more acclaim. Nashville showed little interest in Gilmore's brand of country music, but he earned the praise of many critics. His next album, Spinning Around the Sun, came out in 1993 and again featured a mix of contemporary and traditional country-flavored songs and a fuller instrumental sound fronted by Gilmore's rich, warm voice. In 1996 he released Braver Newer World, produced by T-Bone Burnett, but the big news for Gilmore's fans came in 1998, when he reunited with Joe Ely and Butch Hancock to record a new Flatlanders track for the soundtrack of the motion picture The Horse Whisperer. While Gilmore stayed busy with his own music, releasing One Endless Night in early 2000, the Flatlanders began periodically touring together again, and they finally got around to cutting a second album in 2002, Now Again, with a third set, Wheels of Fortune, following in 2004. (That same year, tapes from an old Flatlanders gig were given commercial release under the title Live '72.) Gilmore returned to solo duties in 2005 with Come On Back, an album of classic honky tonk and folk songs Jimmie Dale recorded to honor the passing of his father; Joe Ely produced and played on the project in 2011, Gilmore and his ad hoc band the Wronglers released the album Heirloom Music, a collection of vintage folk and country tunes performed on antique instruments. Gilmore kept a low profile for the next few years, rarely performing outside the Southwest, but in 2017 he set out on a concert tour in tandem with roots rock stalwart Dave Alvin, in which they swapped songs and stories. The shows were successful enough that Gilmore and Alvin decided to cut an album together, and Downey to Lubbock was released in June 2018.
https://en.wikipedia.org/wiki/Jimmie_Dale_Gilmore
Talents : Vocals, Guitar, Songwriter
Style musical : Country Folk, Contemporary Country, Country Rock

http://youtu.be/fFeF0fjubyU
Years in activity :
| | | | | | | | | | | | |
| --- | --- | --- | --- | --- | --- | --- | --- | --- | --- | --- | --- |
| 1910 | 20 | 30 | 40 | 50 | 60 | 70 | 80 | 90 | 2000 | 10 | 20 |
DISCOGRAPHY
Singles & EP
| | | | |
| --- | --- | --- | --- |
| 08/1988 | SP HIGHTONE 504 (US) | . | White Freight Liner Blues / Trying To Get To You |
| 05/1989 | SP HIGHTONE 510 (US) | . | Honky Tonk Song / ? |
| 03/1994 | CD SUB POP 248 (US) | | Tonight I Think I'm Gonna Go Downtown (MUDHONEY) / Blinding Sun / Buckskin Stallion Blues (Jimmie Dale GILMORE with MUDHONEY) / Tonight I Think I'm Gonna Go Downtown / Blinding Sun (MUDHONEY) |
| 2006 | CD Rhino ? (US) | | HIFIVE - Tonight I Think I'm Gonna Go Downtown / My Mind's Got A Mind Of Its Own / Braver Newer World / Reunion / Black Snake Moan |
Albums
1988
LP 12" HIGHTONE 8011 (US)
FAIR AND SQUARE - White Freight Liner Blues / Honky Tonk Masquerade / Fair And Square / Don't Look For A Heartache / Trying To Get To You / Singing The Blues / Just A Wave Not A Water / All Grown Up / 99 Holes / Rain Just Falls
1989
LP 12" HIGHTONE 8018 (US)
JIMMIE DALE GILMORE - Honky Tonk Song / Doors Are Open Wide / See The Way / Beautiful Rose / Dallas / Up To You / Red Chevrolet / Deep Eddy Blues / That Hardwood Floor / Where The Nights Are Cold
1990
CD CAROLINE 2036 (US)
TWO ROADS LIVE IN AUSTRALIA - BUTCH HANCOCK - JIMMIE DALE GILMORE - Hello Stranger / Ramblin' Man / Her Lover Of The Hour / Tonight I Think I'm Gonna Go Downtown / Two Roads / Wheels Of Fortune / One Road More / Blue Yodel No 9 / Down By The Banks Of The Guadelupe / Dallas / Already Gone / Special Treatment / Howlin' At Midnight / Firewater (Seeks Its Own Level) / West Texas Waltz
07/1991
CD ELEKTRA 61148 (US)
AFTER AWHILE - Tonight I Think I'm Gonna Go Downtown / My Mind's Got A Mind Of Its Own / Treat Me Like A Saturday Night / Chase The Wind / Go To Sleep Alone / After Awhile / Number 16 / Don't Be A Stranger To Your Heart / Blue Moon Waltz / These Blues / Midnight Train / Story Of You
08/1993
CD ELEKTRA 61502 (US)
SPINNING AROUND THE SUN - Where You Going / Santa Fe Thief / I Was The One / So I'll Run / I'm So Lonesome I Could Cry / Mobile Line (France Blues) / Nothing Of The Kind / Just A Wave / Reunion / I'm Gonna Love You / Another Colorado / Thinking About You
07/1995
CD SUN 7011 (US)
UNPLUGGED - Dallas / Waiting For A Train / You've Never Seen Me Cry / She Had Everything / Rose From The Mountain / Tonight I Think I'm Gonna Go Downtown / Jole Blon / One Day At A Time / Bhagavan Decreed / Heart You Left Behind / Keeper Of The Mountain / Hello Stranger
06/1996
CD ELEKTRA 61836 (US)
BRAVER NEWER WORLD - Braver Newer World / Come Fly Away / Borderland / Headed For A Fall / Long Long Time / Sally / There She Goes / Where Is Love Now / Black Snake Moan / Because Of The Wind / Outside The Lines
02/2000
CD ROUNDER 3173 (US)
ONE ENDLESS NIGHT - One Endless Night / Banks Of The Guadalupe / No Lonesome Tune / Goodbye Old Missoula / Georgia Rose / Your Love Is My Rest / Blue Shadows / Defying Gravity / Ripple / Ramblin' Man / Darcy Farrow / Mack The Knife / Untitled Hidden Track
02/2004
CD HIGHTONE 8166 (US)
DON'T LOOK FOR A HEARTACHE - Dallas / Fair And Square / Deep Eddy Blues / Don't Look For A Heartache / That Hardwood Floor / Just A Wave Not The Water / Honky Tonk Song / See The Way / White Freight Liner Blues / Beautiful Rose / Ramblin' Man / Rain Just Falls / Red Chevrolet / Honky Tonk Masquerade / When The Nights Are Cold
08/2005
CD ROUNDER 3193 (US)
COME ON BACK - Pick Me Up On Your Way Down / Saginaw, Michigan / Standin' On The Corner (Blue Yodel No. 9) / Don't Let The Stars Get In Your Eyes / Four Walls / I'll Never Get Out Of This World Alive / Walking The Floor Over You / I'm Movin' On / Don't Worry 'bout Me / Train Of Love / Jimmie Brown The Newsboy / Gotta Travel On / Peace In The Valley
01/2011
CD Neanderthal Noise NR 001 (US)

Heirloom Music - THE WRONGLERS WITH JIMMIE DALE GILMORE -

Time Changes Everything / Deep Ellum Blues / I'm Thinking Tonight Of My Blue Eyes / Way Downtown / Leavin' Home / Foggy Mountain Top / Uncle Pen / I Wonder Where You Are Tonight / Columbus Stockade Blues / In The Pines / Footprints In The Snow / Brown's Ferry Blues / If I Should Wander Back / Big Rock Candy Mountain
06/2012
CD Floating World 7261472 (UK)

Fair & Square / Jimmie Dale Gilmore - White Freight Liner Blues / Honky Tonk Masquerade / Fair & Square / Don't Look For A Heartache / Trying To Get You / Singing The Blues / Just A Wave, Not The Water / All Grown Up / 99 Holes / Rain Just Falls / Honky Tonk Song / The Doors Are Wide Open / See The Way / Beautiful Rose / Dallas / Up To You / Red Chevrolet / Deep Eddy Blues / That Hardwood Floor / When The Nights Are Cold

06/2018
CD Yep Roc YEP 2587 (US)

Downey to Lubbock - Dave Alvin / Jimmie Dale Gilmore - Downey To Lubbock / Silverlake / Stealin' Stealin' / July, You're A Woman / Buddy Brown's Blues / The Gardens / Get Together / K.C. Moan / Lawdy Miss Clawdy / Billy The Kid And Geronimo / Deportee - Plane Wreck At Los Gatos / Walk On
© Rocky Productions 9/06/2018