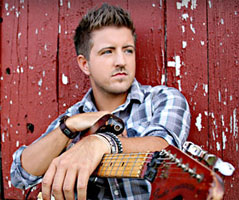 Chanteur Country US né le 24 Mai 1988 à Westerly (Rhode Island).

Only 11 years old when he notched his first hit single, Billy Gilman was the youngest performer ever to reach the Billboard country charts, breaking a record held by Brenda Lee since 1957. Gilman was born in Westerly, RI, on May 24, 1988, and grew up in nearby Hope Valley. He was singing before he started school and developed rapidly enough to start performing publicly at age seven. He was booked as an opening act at several county fairs, including one with headliner Jo Dee Messina. Gilman caught his big break when Asleep at the Wheel leader Ray Benson heard him sing and was impressed by the precocious power behind his Vocals. Benson had Gilman make a demo tape, which wound up landing the young singer a deal with Epic.
Backed by seasoned Nashville studio pros, Gilman completed his debut album, One Voice, in 2000. Its title song, a spiritual plea against school violence, climbed into the Top 20 of the country charts, and the album itself hit number two and quickly went gold. The follow-up single, "Oklahoma," was also a Top 40 hit, and the holiday album Classic Christmas was rushed out by the end of 2000; it reached number four on the country charts, and featured a duet with fellow Vocals prodigy Charlotte Church. Gilman's proper second album, Dare to Dream, appeared in 2001 and hit number six; it also spawned two minor chart hits in "She's My Girl" and "Elisabeth," the latter a sentimental ballad about a girl battling a terminal illness. That theme became the basis for Gilman's third album when he met young poet and best-selling author Mattie Stepanek -- a muscular dystrophy sufferer -- during a TV appearance with Larry King. Gilman decided to record Stepanek's poems in song form, and several Nashville pros were commissioned to set them to music. The result, Music Through Heartsongs: Songs Based on the Poems of Mattie T.J. Stepanek, was released in spring 2003. Everything and More followed in 2005 and the eponymous Billy Gilman in 2006.
https://en.wikipedia.org/wiki/Billy_Gilman
Talents : Vocals, Guitar
Style musical : Contemporary Country, Pop
Years in activity :
| | | | | | | | | | | | |
| --- | --- | --- | --- | --- | --- | --- | --- | --- | --- | --- | --- |
| 1910 | 20 | 30 | 40 | 50 | 60 | 70 | 80 | 90 | 2000 | 10 | 20 |
DISCOGRAPHY
Singles
| | | | |
| --- | --- | --- | --- |
| 04/2000 | CD SONY 79396 (US) | | One Voice |
| 10/2000 | CD SONY 79503 (US) | | Oklahoma |
| 10/2000 | SP EPIC 34-79503 (US) | . | Warm And Fuzzy / Oklahoma |
| 10/2000 | SP EPIC 34-79527 (US) | . | One Voice / Oklahoma |
| 01/2008 | CD Star Masterz ? (US) | | Crying |
| 01/2008 | CD Star Masterz ? (US) | | When You Come Home |
Albums
06/2000
CD EPIC 62086 (US)
ONE VOICE - Little Things / I Think She Likes Me / What's Forever For / One Voice / Spend Another Night / Little Bitty Pretty One / Snake Song / I Wanna Get To Ya / Oklahoma / There's A Hero / Till I Can Make It On My Own
10/2000
CD EPIC 61594 (US)
CLASSIC CHRISTMAS - White Christmas / Warm And Fuzzy / Winter Wonderland / Christmas Song / There's A New Kid In Town / Jingle Bell Rock / Rockin' Around The Christmas Tree / Angels We Have Heard On High / Silent Night / Away In A Manger / Sleigh Ride / O Holy Night
05/2001
CD EPIC 62087 (US)
DARE TO DREAM - She's My Girl / Our First Kiss / Elisabeth / I've Got To Make It To Summer / My Time On Earth / You Don't You Won't / She's Everything You Want / God's Alive And Well / Woman In My Life / Almost Love / Some Things I Know / Shamey Shamey Shame
04/2003
CD SONY 86954 (US)
MUSIC THROUGH HEARTSONGS - For Our World / About Things That Matter / Morning Gift / I Am - Shades Of Life / It Happened Anyway / Possession / Songs Of The Wind / Making Real Sense Of The Senses / Gift Of Color / I Could If They Would / About Memories / About Watches
05/2005
CD IMAGE 2694 (US)
EVERYTHING AND MORE - Hey, Little Suzie (The Cause Of All That) / Everything And More / Peaceable Kingdome / Coming Home / Is Anybody Out There / Looked Into The Wings / Three Words, Two Hearts, One Kiss / Pray For Him / I'm Not Me Anymore / Missed You On Sunday / Something 'bout Heaven / Awaken The Music
06/2006
CD SONY 85488 (US)

My Time on Earth -

One Voice / Little Bitty Pretty One / God's Alive And Well / Little Things / Elisabeth / What's Forever For / There's A Hero / Shamey, Shamey, Shame / 'Til I Can Make it On My Own / My Time On Earth
09/2006
CD IMAGE 3300 (US)
BILLY GILMAN - Billy The Kid / Southern Star / Let Me Remind You Again / Gonna' Find Love / Designated Driver / Clueless / Easy / Almost Over Getting You / If You Could See Yourself In My Eyes / I Will / Young Love / We Go On
© Rocky Productions 7/09/2006