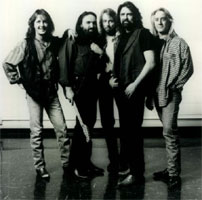 Groupe Country US formé en 1990 et composé de Dave Gibson, Bill "Blue" Miller, Mike Daly, Bryan Grassmeyer, Steve Grossman et Doug Kahan.



The hard-driving Gibson/Miller Band was one of many country-rock groups to spring up in the wake of the honky-tonk revival of the early 1990s. Frontmen Dave Gibson and Bill "Blue" Miller were guitarists from very different backgrounds. Gibson was born and raised in Arkansas surrounded by the music of Eddy Arnold, Hank Williams and Elvis Presley. As a young man, he worked with John Prine and Steve Goodman before becoming a well-known songwriter in Nashville. Miller hailed from Detroit and played on recordings by Bob Seger and the Silver Bullet Band; he also sang jingles, traveled with Isaac Hayes, and even won an Emmy for providing the theme of an ABC documentary. After living in various cities, he eventually settled in Nashville, despite having never before played country music.
Gibson and Miller were introduced by Epic Records Vice President Doug Johnson, who thought they might make a good writing team. They put together a band, made a demo and sent it back to Johnson, who was impressed enough to sign them. The other band members were bassist Bryan Grassmeyer, who had previously played with Vince Gill and Suzy Bogguss; drummer Steve Grossman, who had worked closely with Grassmeyer; and steel guitarist Mike Daly, who had worked with Gibson for several years and played on all of his demos. The Gibson/Miller Band debuted in 1992 with the single "Big Heart," which, along with its video, was well-received and landed them in the Top 40 the following year. Their second single, "High Rollin'," made the Top 20, and their third, "Texas Tattoo," created quite a stir with its provocative video. This led to their first album, Where There's Smoke (1993). In 1994, their single "Stone Cold Country" reached the Top 40, followed by the album Red, White & Blue Collar.
Style musical : Pop/Rock, Country-Rock, Contemporary Country, New Traditionalist Country

http://www.youtube.com/watch?v=Up-nKiPN_Yg
Years in activity :
| | | | | | | | | | | |
| --- | --- | --- | --- | --- | --- | --- | --- | --- | --- | --- |
| 1910 | 20 | 30 | 40 | 50 | 60 | 70 | 80 | 90 | 2000 | 10 |
DISCOGRAPHY
Singles
| | | |
| --- | --- | --- |
| 10/1992 | SP EPIC 34-74739 (US) | Big Heart / Big Heart [dance mix] |
| 01/1993 | SP EPIC 34-74856 (US) | High Rollin' / Stone Cold Country |
| 1993 | SP EPIC 34-74974 (US) | Thank Virginia / ? |
| 06/1993 | SP EPIC 34-74991 (US) | Texas Tattoo / Southern Man |
| 09/1993 | SP EPIC 34-77169 (US) | Small Price / Where There There's Smoke |
| 01/1994 | SP EPIC 34-77355 (US) | Stone Cold Country / Thank You, Virginia |
| 05/1994 | SP EPIC 34-77488 (US) | Mamas Don't Let Your Babies Grow Up To Be Cowboys / Right Off The Top Of My Heart |
| 09/1994 | SP EPIC 34-77651 (US) | Johnny, Get Your Gun / Red, White, And Blue Collar |
Albums
| | | | |
| --- | --- | --- | --- |
| 1993 | CD EPIC EK-52980 (US) | | WHERE THERE'S SMOKE - High Rollin' / Where There There's Smoke / Your Daddy Hates Me / Small Price / Texas Tattoo / She's Gettin' A Rock / Big Heart / An Offer Her Heart Can't Refuse / Thank You Virginia / Stone Cold Country / Southern Man |
| 1994 | CD EPIC EK-57627 (US) | | RED, WHITE AND BLUE COLLAR - Red, White And Blue Collar / Mamas Don't Let Your Babies Grow Up To Be Cowboys / The Fugitive / All Because Of You / Haunted Honky Tonk / Right Off The Top Of My Heart / Johnny Get Your Gun / Sudden Stop / Heavy Metal Rocker / What Are You Waiting For? |
© Rocky Productions 15/07/2010