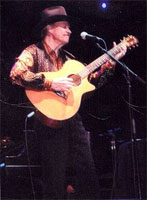 Chanteur Country US né David Ashworth Gates, le 11 Décembre 1940 à Tulsa (Oklahoma). David Gates a fait parti du groupe Pop/Rock "The Bread" durant les années soixante-dix.

A member of the popular late-'60s/early-'70s soft rock group Bread, David Gates is also a songwriter, keyboardist, vocalist, and producer. His first hit as a songwriter came with the popular Murmaids song "Popsicles and Icicles." Gates was born in Tulsa, OK, to a band director and a piano teacher. Surrounded by music from birth, he was proficient in piano, bass, and guitar by the time he was in high school. In 1957, he received a musical break when Chuck Berry came to Tulsa; Gates had his first hit, "Jo-Baby," with Chuck Berry. The song was written for Gates' high-school sweetheart, Jo Rita, whom he married and had children with while enrolled at the University of Oklahoma. In 1961, the family moved to Los Angeles, and Gates embarked on a career of songwriting and producing. By the end of the '60s, he had worked with Elvis Presley, Bobby Darin, and Merle Haggard, and produced the 1965 Glenn Yarbrough hit "Baby the Rain Must Fall."
Realizing that the only way his songs were sure to be recorded was to sing them himself, Gates founded Bread in 1968; the group consisted of Gates, James Griffin, Robb Royer, and later, drummer Michael Botts and keyboardist Larry Knechtel. The group's first album, Bread, was released in 1969 and featured the hits "It Don't Matter to Me" and "Dismal Day," while their second album On The Waters featured "Make It with You." Soft rock hits became Bread's trademark and made them legends. Greater success and recognition came with the 1971 album Manna, which included the smash hit "If." Following the popular albums Guitar Man and Baby, I'm-a Want You, the group's success led the bandmembers in different directions, and they pursued their own solo interests and careers after the breakup of Bread in 1973, but the band regrouped in 1977 to issue the album Lost Without Your Love.
David Gates had released albums of his own during the '70s, First in 1973 and Never Let Her Go in 1975, and his songs -- including "The Goodbye Girl" from Neil Simon's play of the same name -- landed him on the contemporary music charts. Several of his songs have also been recorded by other artists ranging from Julio Iglesias to pop/rocker Boy George. "Everything I Own," a tribute to his father as his greatest influence, was recorded by Nashville artists the Kendalls and Joe Stampley and then by Boy George. His consistent songwriting ability demonstrates versatility while crossing over musical genres. With a recording studio on his California ranch, David Gates has continued to write and produce. He issued Love Is Always Seventeen on the Discovery Records label in 1994, and the new millennium saw the release of The David Gates Songbook, an Elektra best-of collection of Bread hits, Gates solo material, and four new songs, in 2002.
https://en.wikipedia.org/wiki/David_Gates
Talents : Vocals, Guitar, Keyboards, Violin, Viola, Percussion, Organ, Bass, Piano, Mellotron
Style musical : Rock 'n' Roll, Contemporary Country, Soft Rock, Pop
Years in activity :
| | | | | | | | | | | | |
| --- | --- | --- | --- | --- | --- | --- | --- | --- | --- | --- | --- |
| 1910 | 20 | 30 | 40 | 50 | 60 | 70 | 80 | 90 | 2000 | 10 | 20 |
DISCOGRAPHY
Singles
| | | | |
| --- | --- | --- | --- |
| 03/1958 | SP PERSPECTIVE SOUND 121057500 (US) | . | The ACCENTS / Vocals By David GATES - Lovin' At Night / Jo-Baby |
| 07/1958 | SP ROBBINS 45-1008 (US) | . | Dave GATES & The ACCENTS - Lovin' At Night / Jo-Baby |
| 02/1959 | SP EAST WEST 45-EW 123 (US) | . | Walkin' And Talkin' / Swingin' Baby Doll |
| 01/1960 | SP MALA 413 (US) | . | You'll Be My Baby / What's This I Hear |
| 08/1960 | SP MALA 418 (US) | . | The Happiest Man Alive / The Road That Leads To Love |
| 03/1961 | SP MALA 427 (US) | . | Jo-Baby / Teardrops In My Heart |
| 10/1962 | SP G.S.P. GSP-1 (US) | . | DAVID & LEE - Sad September / Tryin' To Be Someone |
| 05/1963 | SP DEL-FI 4206 (US) | . | You Had It Comin' To You / No One Really Loves A Clown |
| 1964 | SP JADS 301 (US) | | My Baby's Gone Away / Kiss And Tell |
| 1964 | SP MANCHESTER RW-101 (US) | . | She Don't Cry / There's A Heaven |
| 05/1965 | SP PLANETARY P-108 (US) | . | Once Upon A Time / Let You Go |
| 06/1973 | SP ELEKTRA E-45857 (US) | | Clouds / I Use The Soap |
| 1973 | SP ELEKTRA ELK 12114 (GER) | | Clouds / I Use The Soap |
| 10/1973 | SP ELEKTRA E-45868 (US) | . | Sail Around The World / Help Is On The Way |
| 1973 | SP ELEKTRA ELK 12137 (NL) | | Lorilee / Sail Around The World |
| 12/1974 | SP ELEKTRA E-45223 (US) | . | Never Let Her Go / Watch Out |
| 12/1974 | SP ELEKTRA ELK 12165 (NL) | | Never Let Her Go / Watch Out |
| 04/1975 | SP ELEKTRA E-45245 (US) | . | Part Time Love / Chain Me |
| 1975 | SP ELEKTRA SPUN GOLD E 45065 (US) | . | Clouds / Sail Around The World |
| 12/1977 | SP ELEKTRA E-45450 (US) | | Goodbye Girl / Sunday Rider |
| 12/1977 | SP ELEKTRA ELK 12276 (NL) | | Goodbye Girl / Sunday Rider |
| 07/1978 | SP ELEKTRA E-45500 (US) | | The Last Train / Ann |
| 1979 | SP ELEKTRA SPUN GOLD E 45096 (US) | . | Goodbye Girl / Took The Last Train |
| 1980 | SP ELEKTRA E-46646 (US) | . | Can I Call You / Chingo |
| 01/1980 | SP ELEKTRA E-46588 (US) | . | Where Does The Lovin' Go / Starship Ride |
| 05/1980 | SP ELEKTRA E-46646 (US) | . | Can I Call You / Chingo |
| 1980 | SP ELEKTRA E-47011 (US) | . | Falling In Love Again / Sweet Desire |
| 07/1981 | SP ARISTA AS 0615 (US) | . | Take Me Now / It's What You Say |
| 12/1981 | SP ARISTA AS 0653 (US) | . | Come Home For Christmas / Come Home For Christmas |
| 1997 | CD ELEKTRA BD CD2 (EUR) | | Lost Without Your Love / The Guitar Man / Diary |
| 2002 | CD JIVE ? (US) | | Love Is Always Seventeen |
Albums
1965
LP 12" World Pacific WP-1833 (mono) / ST 1833 (stereo) (US)

Electric 12-String - The Bandits (Glen Campbell / Leon Russell / Jerry Cole / Larry Knechtel / Hal Blaine / Ray Johnson / David Gates / Thomas Gillam) - Downtown / And I Love Her / Baby What You Want Me To Do / Memphis / Where Did Our Love Go / Only The Young / Cathy´s Clown / I Feel Fine / Bandito / The Girl From Ipanema / You Won´t Have To Cry / White Silver Sands

1969
LP 12" ELEKTRA EKS 74044 (US)
BREAD - BREAD with Vocals David GATES - Dismal Day / London Bridge / Could I / Look At Me / The Last Time / Any Way You Want Me / Move Over / Don't Shut Me Out / You Can't Measure The Cost / Family Doctor / It Don't Matter To Me / Friends And Lovers
09/1973
LP 12" ELEKTRA EKS 75066 (US)
FIRST - Sail Around The World / Sunday Rider / Soap (I Use The) / Suite: Clouds, Rain / Help Is On The Way / Ann / Do You Believe He's Comin' / Sight & Sound / Lorilee
1975
LP 12" ELEKTRA 7E 1028 (US)
NEVER LET HER GO - Never Let Her Go / Angel / Playin' On My Guitar / Watch Out / Part-Time Love / Chain Me / Light Of My Life / Someday / Greener Days / Strangers
1978
LP 12" ELEKTRA / ASYLUM 6E 148 (US)
GOODBYE GIRL - Goodbye Girl (Title Song From The Goodbye Girl) / Took The Last Train / Overnight Sensation / California Lady / Ann / Drifter / He Don't Know How To Love You / Clouds Suite (Clouds-Rain) / Lorilee / Part-Time Love / Sunday Rider / Never Let Her Go
1980
LP 12" ELEKTRA 6E 251 (US)
FALLING IN LOVE AGAIN - Can I Call You / Where Does The Lovin' Go / 20th Century Man / She Was So Young / Silky / Falling In Love Again / Starship Ride / Chingo / Sweet Desire / The Rainbow Song
1981
LP 12" ARISTA AL-9563 (US)
TAKE ME NOW - It's You / Take Me Now / She's A Heartbreaker / This Could Be Forever / Come Home For Christmas / Still In Love / Vanity / Nineteen On The Richter Scale / Lady Valentine / It's What You Say
1981
LP 12" Arcade ‎ADEH 77 (NL)

The Music Of David Gates And Bread -

Baby I'm A Want You / Make It With You / Diary / Everything I Own / Look What You've Done / It Don't Matter To Me / Sweet Surrender / The Guitar Man / If / Ann / Lorilee / Never Let Go / Part Time Love / Someday / Strangers / Goodbye Girl
1987
LP 12" Telstar ‎STAR 2303 (UK)
THE COLLECTION - BREAD AND DAVID GATES - Make It With You / Baby I'm A Want You / Diary / Everything I Own / Look What You've Done / It Don't Matter To Me / Sweet Surrender / The Guitar Man / If / Ann / Lorilee / Never Let Go / Part Time Love / Someday / Strangers / Goodbye Girl
09/1994
CD DISCOVERY / WEA 77012 (US)
LOVE IS ALWAYS SEVENTEEN - Avenue Of Love / Love Is Always Seventeen / Ordinary Man / I Will Wait For You / Save This Dance For Me / No Secrets In A Small Town / Heart, It's All Over / I Don't Want To Share Your Love / I Can't Find The Words To Say Goodbye / Dear World / Thankin' You Sweet Baby James
02/1997
CD VECTRON 2184 (US)
IT IS WELL - David GATES & Love PEACE & JOY - It Is Well / I've Been Changed / Lord Of All / Standing There Waiting For Me / The High Place / I Must Tell Jesus / Oh Lord Have Mercy / Don't Lose Your Soul / Jesus Is Lord
01/2002
CD WEA 550892 (AUS)
ESSENTIALS - David GATES & BREAD - Dismal Day / Any Way You Want Me / It Don't Matter To Me / Make It With You / Look What You've Done / I Want You With Me / Let Your Love Go / Too Much Love / If / He's A Good Lad / Mother Freedom / Baby I'm-A Want You / Down On My Knees / Everything I Own / Diary / Guitar Man / Aubrey / Sweet Surrender / She's The Only One / Lost Without Your Love / Soap (I Use The) / Ann / Never Let Her Go / Goodbye Girl
11/2002
CD JIVE / ELEKTRA 49140 (US)
DAVID GATES SONGBOOK - Make It With You / Find Me / Baby I'm-A Want You / I Can't Play the Songs / If / Love Is Always Seventeen / It Don't Matter To Me / Mustang / Everthing I Own / Mirror, Mirror / Lost Without Your Love / This Could Be Forever / Aubrey / Sail Around The World / Part-Time Love / Sweet Surrender / Goodbye Girl / Never Let Her Go / Diary / Guitar Man
04/2013
CD Rare Rockin' RRRSMS 1032CD (AUS)

The Early Years 1962-1967 - Popsicles And Icicles (David GATES feat: The Murmaids) / Hey, Little Star (David GATES feat: Ann-Margret) / Without You (David GATES feat: Michael LANDON) / Don't Let Him (David GATES feat: Gloria Melbourne) / Cryin' On My Pillow (David GATES feat: Dorothy BERRY) / Pebbles (David GATES feat: Dorsey BURNETTE) / Football Season's Over (David GATES feat: Shelley FABARES) / Ain't Gonna Cry No More (David GATES feat: Gwen STACEY) / My One and Only Jimmy Boy (David GATES feat: The Girlfriends) / The Luckiest Girl In Town (David GATES feat: Pat Powdrill) / Tears, Rain (David GATES feat: Frankie Fanelli) / If You Ever Need Me (David GATES feat: Margaret Mandolph) / Playboy (David GATES feat: The Crickets) / Lost In Wonderland (David GATES feat: Connie Stevens) / You Better Watch Out (David GATES feat: Dorothy BERRY) / The Fool Of The Year (David GATES feat: Johnny Burnette) / Lonely Girl (David Gates feat: Gwen Stacey) / Silly Little Girl (David GATES feat: Margaret MANDOLPH) / I Think I'm Gonna Cry (David GATES feat: Gail Ganley) / Are You Putting Me On (feat: Jerry Modine) / Nothing Left To Do But Cry (David GATES feat: Merry CLAYTON) / Tell Him (David GATES feat: Suzy WALLIS) / The Prince Of My Dreams (David GATES feat: Dotty & Kathy) / The Brighter Side (David GATES feat: Carl Edwards) / Give Thanks To A Friend (David GATES feat: Gwen STACEY) / Never Let Him Go (David GATES feat: Jody MILLER) / For My Sake (David GATES feat: The Girlfriends) / Swingin' Gates (David GATES feat: The Fencemen) / No One Really Loves A Clown (David GATES feat: Johnny Crawford) / Standin' On The Corner (David GATES feat: Dorothy BERRY) / How Do You Say Goodbye (David GATES feat: Jody MILLER) / You'll Be Needin' Me (David GATES feat: The Lettermen) / You'll Be Needin' Me [original demo] (David GATES)

10/2013
2 CD Edsel EDSK 7034 (UK)

First / Never Let Her Go / Goodbye Girl / Falling In Love Again :

CD 1 : Sail Around The World / Sunday Rider / Soap (I Use The) / Suite: Clouds, Rain / Help Is On The Way / Ann / Do You Believe He's Comin' / Sight & Sound / Lorilee / Never Let Her Go / Angel / Playin' On My Guitar / Watch Out / Part Time Love / Chain Me / Light Of My Life / Someday / Greener Days / Strangers
CD 2 : Goodbye Girl / Took The Last Train (David GATES / Larry KNECHTEL) / Overnight Station / California Lady / Drifter / He Don't Know How To Love You / Can I Call You / Where Does The Loving Go / 20th Century Man / She Was So Young / Silky / Falling In Love Again / Starship Ride / Chingo / Sweet Desire / The Rainbow Song
© Rocky Productions 22/12/2013