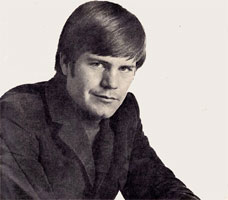 Bassiste et chanteur Pop-Rock US, Randy Fuller fut bassiste dans le groupe de son frère Bobby Fuller Four.

As bass player, harmony vocalist, and occasional songwriting collaborator in the Bobby Fuller Four, Randy Fuller was the most important musical associate of his older brother Bobby. Randy is actually not on Bobby's very first recordings, joining his sibling's band in 1962. From then until Bobby's death in mid-1966, he played in the Bobby Fuller Four live and in the studio, and wrote a few of the group's tunes with Bobby. These included "Keep on Dancing," "Never to Be Forgotten," and "She's My Girl."
After Bobby Fuller died in July 1966, Del-Fi issued a single credited to Randy Fuller, "It's Love Come What May," which is actually a Bobby Fuller Four recording that double-tracks Randy's Vocals over Bobby's original Vocals. Randy also briefly led the Randy Fuller Four, who did one single, "The Things You Do," for Mustang in 1966. This song and another cut credited to the Randy Fuller Four, "Now She's Gone," appear on the Bobby Fuller Four box set Never to Be Forgotten; both tunes are unimpressive pop-rock that are much more mainstream, in production and content, than the Bobby Fuller Four's recordings. Fuller then played in a very late edition of Buffalo Springfield in which drummer Dewey Martin was the only original member. Fuller was also in the Blue Mountain Eagle Express, who recorded an album for Atlantic.
Talents : Vocals, Bass, Songwriter
Style musical : Pop-Rock
http://www.garagehangover.com/randyfuller/

http://youtu.be/bJTBLOao5v4
Years in activity :
| | | | | | | | | | | |
| --- | --- | --- | --- | --- | --- | --- | --- | --- | --- | --- |
| 1910 | 20 | 30 | 40 | 50 | 60 | 70 | 80 | 90 | 2000 | 10 |
DISCOGRAPHY
Singles
| | | | |
| --- | --- | --- | --- |
| 08/1966 | SP MUSTANG 3020 (US) | . | It's Love, Come What May / Wolfman (instr.) |
| 1966 | SP MUSTANG 3023 (US) | . | Things You Do / Now She's Gone |
| 1967 | SP Show Town 466 (US) | | It's Love, Come What May / Revelation |
| 1967 | SP President PT 111 (UK) | . | It's Love, Come What May / The Things You Do |
| 1967 | SP Show Town 482 (US) | . | 1,000 Miles In Space / 1,000 Miles In Space |
© Rocky Productions 5/12/2013