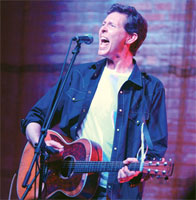 Chanteur Country US né le 25 Mars 1963 à Raleigh (Caroline du Nord).

Singer/songwriter Robbie Fulks was one of the more heralded talents in the alternative country movement, displaying an offbeat, sometimes dark sense of humor in many of his best moments. As time passed, he moved away from the country twang of his early work and into a crunchier roots rock hybrid. Fulks divided his childhood between Pennsylvania, Virginia, and North Carolina, and received his schooling at Columbia University. He moved to Chicago in 1983 and first served as Vocalsist and guitarist in bluegrass band the Special Consensus, appearing on their Grammy-nominated 1989 album A Hole in My Heart. He later performed in the musical revue Woody Guthrie's American Song and formed his own rock band, the Trailer Trash Revue, with whom he cut a locally popular single "Little King" b/w "Jean Arthur."
Fulks got his first significant exposure via Bloodshot Records' 1994 compilation Insurgent Country, Vol. 1: For a Life of Sin, which included his track "Cigarette State"; the 1995 follow-up, Insurgent Country, Vol. 2: Hell-Bent, featured Fulks' "She Took a Lot of Pills (And Died)." Both cuts were produced by Steve Albini, who also helmed Fulks' Bloodshot debut, Country Love Songs, in 1996. The album received highly positive reviews and featured backing from roots rockers the Skeletons, as well as former Buck Owens steel guitarist Tom Brumley. The follow-up, South Mouth, took a similarly retro-minded approach, drawing from classic honky tonk and Bakersfield country. With a growing cult reputation, Fulks earned a major-label shot with Geffen, but many critics felt that his 1998 label debut, Let's Kill Saturday Night, undermined the organic strengths of his previous work with overly slick roots rock production. A merger between Universal and PolyGram shortly after the release of Let's Kill Saturday Night led to a gutting of the Geffen artist roster, and the album died on the vine as Fulks found himself without a label.
Fulks opted to start his own label, Boondoggle Records, distributed by his friends at Bloodshot, and launched it with The Very Best of Robbie Fulks, a facetiously titled collection of demos and unreleased recordings. In 2001, Fulks followed with 13 Hillbilly Giants, in which he covered a bakers' dozen songs of the 1950s and '60s, and later that year he issued his most ambitious set to date, Couples in Trouble, a bleak but compelling collection of original songs about a variety of failing relationships that found Fulks adding new dimensions to his interest in rock and left-field pop. In 2005, Fulks signed to the roots-oriented Yep Roc label and dug back into his country roots with his first album for the label, Georgia Hard. It was followed by the live collection Revenge in 2007. Fulks returned to Bloodshot Records, the label where it all began, in 2013 with Gone Away Backward, a mostly acoustic and ballad-filled album engineered and produced by Steve Albini.
Talents : Singer, Guitar, Songwriter
Style musical : Alternative Country, Traditional Country, Roots Rock, Folk, Pop-Rock

http://youtu.be/laFfx6hPes0
Years in activity :
| | | | | | | | | | | |
| --- | --- | --- | --- | --- | --- | --- | --- | --- | --- | --- |
| 1910 | 20 | 30 | 40 | 50 | 60 | 70 | 80 | 90 | 2000 | 10 |
DISCOGRAPHY
Singles
| | | | |
| --- | --- | --- | --- |
| 1993 | SP ? (US) | . | Little King / Jean Arthur |
| 01/2008 | CD Boondoggle ? (US) | | Rap Of The Dead 2007 |
Albums
07/1996
CD BLOODSHOT 20011 (US)
COUNTRY LOVE SONGS - Every Kind Of Music But Country / Rock Bottom, Pop. 1 / The Buck Starts Here / (I Love) Nickels And Dimes / Barely Human / I'd Be Lonesome / She Took A Lot Of Pills (And Died) / We'll Burn Together / Let's Live Together / The Scrapple Song / Pete Way's Trousers / Tears Only Run One Way / Papa Was A Steel-Headed Man
10/1997
CD BLOODSHOT 20023 (US)
SOUTH MOUTH - Goodbye, Good-Lookin' / I Told Her Lies / Heart, I Wish You Were Here / I Push Right Over / Cold Statesville Ground / Forgotten But Not Gone / Busy Not Crying / I Was Just Leaving / What The Lord Hath Wrought (Any Fool Can Knock Down) / Dirty-Mouthed Flo / You Wouldn't Do That To Me / Fuck This Town / South Richmond Girl
09/1998
CD GEFFEN 25159-2 (US)
LET'S KILL SATURDAY NIGHT - Let's Kill Saturday Night / Caroline / Pretty Little Poison / She Must Think I Like Poetry / Bethelridge / Take Me To The Paradise / Little King / You Shouldn't Have / God Isn't Real / Down In Her Arms / Can't Win For Losing You / Night Accident / Stone River
01/2000
CD BLOODSHOT 20059 (US)
THE VERY BEST OF ROBBIE FULKS - Jean Arthur / Sleepin' On The Job Of Love / Roots Rock Weirdoes / May The Best Man Win / Hamilton County Breakdown / Gravid And Tense / Parallel Bars / Love Ain't Nothin' / I Just Want To Meet The Man / Wedding Of The Bugs / You Break It - You Pay / White Man's Bourbon / That Bangle Girl / Jello Goodbye
08/2001
CD BLOODSHOT 700 (US)
COUPLES IN TROUBLE - In Bristol Town One Day / Anything For Love / Dancing On The Ashes / She Needs You Now / My Tormentor / Real Money / Mad At A Girl / Brenda's New Stepfather / I've Got To Tell Myself The Truth / Banks Of The Marianne / The Grip Of Our Love / Never Could
11/2001
CD BLOODSHOT 20084 (US)
13 HILLBILLY GIANTS - Southern Comfort / Cocktails / I Want To Be Mama'd / By The Law Of My Heart / Family Man / Burn On Love Fire / Jeannie's Afraid Of The Dark / Donna On My Mind / We Live A Long Time To Get Old / Lotta Lotta Women / Knot Hole / Act Like A Married Man / Bury The Bottle With Me
05/2005
CD YEP ROC 2101 (US)
GEORGIA HARD - Where There's A Road / It's Always Raining Somewhere / Leave It To A Loser / Georgia Hard / I'm Gonna Take You Home (And Make You Like Me) / Coldwater, Tennessee / All You Can Cheat / Countrier Than Thou / If They Could Only See Me Now / I Never Did Like Planes / Each Night I Try / Doin' Right (For All The Wrong Reasons) / You Don't Want What I Have / Right On Redd / Goodbye, Cruel Girl
05/2007
2 CD YEP ROC 2125 (US)
REVENGE! :

CD 1 : We're On The Road / You Shouldn't Have / Fixin' To Fall / Mad At A Girl / The Buck Starts Here / Goodbye, Good-Lookin' / Busy Not Crying / You Don't Mean It (Soundcheck) / Rock Bottom, Pop.1 / Cigarette State / Let's Kill Saturday Night
CD 2 : Introductory Remarks By Amy Warren / That's A Good Enough Reason / Believe / In Bristol Town One Bright Day / I Wanna Be Mama'd / Fake Jews Everywhere/The Death Of Enthusiasm / I Like Being Left Alone / Bluebirds Are Singing For Me / On A Real Good Day / President Garfield's Hornpipe - Suza / Kelly Hogan's Looking Hot - Closing Remarks / Away Out On The Old Saint Sabbath

08/2013
CD BLOODSHOT BLD-CD-211 (US)
Gone Away Backward - I'll Trade You Money For Wine / Where I Fell / Long I Ride / That's Where I'm From / When You Get To The Bottom / Snake Chapman's Tune / Imogene / Pacific Slope / Sometimes The Grass Is Really Greener / Guess I Got It Wrong / The Many Disguises Of God / Rose Of The Summer
© Rocky Productions 13/09/2013