| | |
| --- | --- |
| | |

Duo Country US formé en 1937 et composé de Curly Fox (né Arnim LeRoy Fox, le 9 Novembre 1910 à Graysville (Tennessee), décédé le 10 Novembre 1995) et de sa femme Texas Ruby (née Ruby Agnes Owens, le 4 Juin 1909 à Decatur, Wise County (Texas), décédée le 29 Mars 1963).

During the '40s and '50s, Curly Fox and Texas Ruby were the preeminent husband and wife team in country music. Fox remains one of the great hillbilly fiddlers, while Ruby was one of the first female singers to become a major star.
Curly was born Arnim LeRoy Fox in Graysville, Tennessee. His father, a barber, taught him to play the fiddle, with help from James McCarroll of the Roane Country Ramblers. He began his professional career playing and traveling with Chief White Owl's "Indian" medicine show. Fox soon began working with Claude Davis and the Carolina Tar Heels in Atlanta and founded the Tennessee Firecrackers. He played and recorded with the Shelton Brothers in New Orleans from 1934 to 1936, also recording three singles himself. In 1937, Fox met Texas Ruby (born Ruby Agnes Owens in Wise County, Texas) at the Texas centennial celebration. Ruby, a true cowgirl and sister of radio cowboy Tex Owens, had sung several times on the Grand Ole Opry and various radio stations with Zeke Clements and His Bronco Busters. Soon after meeting Fox, the two married and began appearing on the Opry from 1937-39 and again from 1944-48. In between, they worked in Cincinnati and at other major stations as well.
The duo did make some recordings, but according to Fox, Ruby's throaty contralto didn't sound as good on records as it did on the radio. Her best recordings were made for King in 1947. In 1948 the couple moved to Houston, where they lived and worked for ten years bringing country music to local television. In 1960, they returned to the Grand Ole Opry. Unfortunately, Ruby's health was failing, so Fox often played alone. They did manage to record an album for Starday in 1963, but shortly thereafter, Ruby burned to death in a mobile home fire while her husband was playing on the Opry. Fox continued his solo career for a while after her death, but then left for Chicago to live with one of his daughters. Though he too suffered ill health, he made some albums and occasionally appeared live. He returned to his hometown in the mid-'70s and worked with a local bluegrass band before retiring to live with an older sister.
https://en.wikipedia.org/wiki/Curly_Fox
Talents : Curly : Vocals, Fiddle, Guitar - Texas : Vocals, Guitar
Style musical : Old-Time Country

http://youtu.be/g4aPYWBrX20
Years in activity :
| | | | | | | | | | |
| --- | --- | --- | --- | --- | --- | --- | --- | --- | --- |
| 1910 | 20 | 30 | 40 | 50 | 60 | 70 | 80 | 90 | 2000 |
DISCOGRAPHY
78 t. & Singles
01/1936
78 t. DECCA 5169 (US)
.
One Eleven Special / Tennessee Roll
03/1936
78 t. DECCA 5184 (US)
.
Curly FOX & SHELTON BROTHERS - I'm Thinking Tonight Of My Blue Eyes / Bury Me Beneath The Willow
03/1936
78 t. DECCA 5185 (US)
.
Curly's New Talking Blues / Yum Yum Blues
05/1936
78 t. DECCA 5213 (US)
.
50 Years Ago Blues / Listen To Mocking Bird
1945
78 t. COLUMBIA

20011 (US)

.
Don't Let That Man Get You Down (Texas RUBY) / Don't You Lie To Me (Texas RUBY & Curly FOX)
12/1945
78 t. COLUMBIA

36901 (US)

.
Texas RUBY with Curly FOX & His

Fox Hunters

- Don't Let That Man Get You Down / Don't You Lie To Me

1946
78 t. COLUMBIA

20104 (US)

.
Travelling Blues (Texas RUBY) / Letter That Broke My Heart (Texas RUBY & Curly FOX)
1946
78 t. COLUMBIA

37075 (US)

.
Texas RUBY with Curly FOX & His

Fox Hunters

- Blue Love / The Old Home

03/1947
78 t. COLUMBIA

37272 (US)

.
Texas RUBY with Curly FOX & His

Fox Hunters

- Travelling Blues / Letter That Broke My Heart

1947
78 t. COLUMBIA

20364 (US)

.
Have You Got Someone Else On The String (Texas RUBY) / Even Though I'll Shed A Million Tears (Texas RUBY & Curly FOX)
06/1947
78 t. COLUMBIA

37385 (US)

.
Texas RUBY with Curly FOX & His

Fox Hunters

-

Nobody Else But You / Ain't You Sorry That You Lied
09/1947
78 t. COLUMBIA

37879 (US)

.
Have You Got Someone Else On The String (Texas RUBY & Curly FOX) / Even Though I'll Shed A MillionTears (Texas RUBY)
1947
78 t. COLUMBIA

20390 (US)

.
Have I Waited Too Long (Texas RUBY) / I'll Take Back All I Said (Texas RUBY & Curly FOX)
12/1947
78 t. COLUMBIA

37982 (US)

.
Curly FOX & Texas RUBY - I'll Take Back All I've Said About You / Have I Waited Too Long To Regret?
03/1948
78 t. KING

692 (US)

.
Curly FOX & Texas RUBY - It's Your Time To Be Blue / Soldier's Return
05/1948
78 t. KING

710 (US)

.
Curly FOX -

Black Mountain Rag / Come Here Son

06/1948
78 t. KING

716 (US)

.
Curly FOX & Texas RUBY - It's Over Forever / Wreck Of The 1256
11/1948
78 t. KING

746 (US)

.
Curly FOX & Texas RUBY -

Teardrops And Empty Arms / You've Been Cheating On Me

03/1949
78 t. KING

763 (US)

.
Curly FOX & Texas RUBY - Falling Leaf / It's Raining Teardrops In My Heart
06/1949
78 t. KING

786 (US)

.
Curly FOX & Texas RUBY -

Those Dreams Are Gone / Code Of The Mountains

10/1949
78 t. KING

808 (US)

.
Curly FOX & Texas RUBY -

You Don't Love Me

(But I'll Always Care) /

If You Don't Want Me,

Then Set Me Free
195?
EP KING EP-224 (US)
Curly FOX & The Fiddlin' Linvilles - Black Mountain Rag / Come Her Son / +

Fiddlin' Linvilles

05/1963
SP STARDAY

45-626 (US)

.

05/1963
SP STARDAY

45-626 (US)

The Old Grey Mule (Curly FOX) / Shanty Street (Texas RUBY)
| | |
| --- | --- |
| | |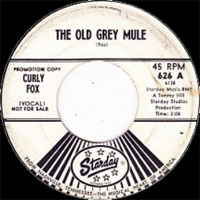 Albums
1956
LP 12" KING

562 (US)

SQUARE DANCES WITHOUT CALLS - RED HERRON ORCHESTRA WITH CHARLIE LINVILES & CURLY FOX - Billy In The Lowland (Fiddlin' Red HERRON) / Sally Goodin (Fiddlin' Red HERRON) / Devil's Dream (Fiddlin' Red HERRON) / Back Up And Push (Fiddlin' Red HERRON) / Silver Bells (Fiddlin' LINVILLES) /Snow Deer (Fiddlin' LINVILLES) / Cripple Creek Fiddlin' Red HERRON) / Soldier's Joy (Fiddlin' Red HERRON) / Cindy (Fiddlin' Red HERRON) / Listen To The Mocking Bird (Fiddlin' Red HERRON) / Black Mountain Rag (Curly FOX) / Come Here Son (Curly FOX)
1963
LP 12" STARDAY

SLP-235 (US)

FANTASTIC FIDDLIN' - FUN AND SONG - CURLY FOX &

TEXAS RUBY

-

Old Grey Mule (Curly FOX) / Fire On The Mountain (Curly FOX) / Chasin' The Fox (Curly FOX) / Mockingbird Reel (Curly FOX) / Wink Your Little Eye (Curly FOX) / Model & The Train Race (Curly FOX) / Whistlewood (Curly FOX) / Twilight Waltz (Curly FOX) / I Don't Love Nobody (Curly FOX) / Curly's Talkin' Blues (Curly FOX) / Shanty Street (Texas RUBY) / Love Me Now (Texas RUBY) / Big Silver Tears (Texas RUBY) / Front Door Key (Curly FOX & Texas RUBY)
1963
LP 12" HARMONY

HL-7302 (US)

TRAVELING BLUES - A MEMORIAL TRIBUTE TO TEXAS RUBY - TEXAS RUBY & CURLY FOX - Ain't You Sorry That You Lied / Nobody Else Buy You / I'll Take Back All I've Said About You / Would It Make Any Difference To You / Have You Got Someone Else On The String / Travellin' Blues / Even Though I'll Shed A Million Tears / The Letter That Broke My Heart / We Live In Two Different Worlds / With Tears In My Eyes
1973
LP 12" RURAL RHYTHM 251 (US)
CHAMPION FIDDLER - CURLY FOX - VOLUME ONE - Listen To The Mocking Bird / Mississippi Sawyer / Back To Old Smokey Mountains / Alabama Jubilee / Bread And Gravy / Someone More Lonesome / A Pal Like Mother / 50 Year Waltz / Long Lost John / The Train Race / Keep Them Old Icy Fingers Off Me / Bully Of The Town / Hang Out The Front Door Kay / Haste To The Wedding / At The End Of The Lane / Paddy On The Turnpike / Black Mountain Rag / The Funeral
1973
LP 12" RURAL RHYTHM 252 (US)
CHAMPION FIDDLER - CURLY FOX - VOLUME TWO

-

Curly FOX - Long Lost John / Sittin' On Top Of The World / Robert E.Lee / Maiden's Prayer / Spanish Two Step / Johnson's Old Grey Mule / Bird In A Gilded Cage / Listen To The Mockin' Bird / Chinese Breakdown / History In A Few Words / K.C. Railroad Blues / Fox Chase / Jack Of Diamonds / Curly's Breakdown / Floatin' Down To Cotton Town / Barclay Blues / Mountain Dew / Over The Waves
1992
LP 12" Cowgirlboy LP-5042

(GER)

The Wreck Of The 1256 - TEXAS RUBY &

CURLY FOX -

The code of the mountains / Those dreams are gone / If you don'

t

want me, then set me free / You don'

t

love me (but I'

l

l always care) / The wreck of the 1256 / It'

s

your time to be blue / The soldiers' return / Black mountain rag / It'

s

raining teardrops in my heart / Teardrops and empty arms / It'

s

over forever / Come here son / Falling leaf / You'

v

e been cheating on me / On the banks of the lonely river (ten thousand miles away) / Hold fast to the right

07/1998
CD RURAL RHYTHM 252 (US)
18 OLD-TIME COUNTRY FAVORITES - CURLY FOX - Long Lost John / Sitting On Top Of The World / Robert E. Lee / Maiden's Prayer / Spanish Two Step / Johnson's Old Gray Mule / Bird In A Gilded Cage / Listen To The Mockingbird / Chinese Breakdown / History In A Few Words / K.C. Railroad Blues / Fox Chase / Jack Of Diamonds / Curly's Breakdown / Floatin' Down To Cotton Town / Barclay Blues / Mountain Dew / Over The Waves
1999
CD BRONCO BUSTER CD 9016 (GER)
A MEMORIAL TRIBUTE TO CURLY FOX AND TEXAS RUBY -

Rock My Cradle (Once Again) /

Whoa Mule / Just One Little Kiss / Listen To The Mocking Bird (inst.) / I Don't Love Nobody / You'll Remember And Be Blue / Blue Love (In My Heart) / The Old Home / Ain't You Sorry That You Lied / Nobody Else But You / I'll Take Back All I've Said About You / Would It Make Any Difference To You / Have You Got Someone Else On The String / Travelin' Blues / Even Though I'll Shed A Million Tears / The Letter That Broke My Heart / We Live In Two Different Worlds / With Tears In My Eyes / Hometown Blues (inst.)

09/2010
CD BACM D 303 (UK)

WE MAY MEET AGAIN SOMEDAY - TEXAS RUBY & CURLY FOX - Listen To The Mockingbird / New Talkin' Blues / Fiddlin' Blues / Draggin' The Bow / The Boys In Blue / The Letter Edged In Black / Bury Me Not On The Lone Prairie / We May Meet Again Someday / Babes In The Woods / A Message From Home / Frankie And Johnnie / John Henry / Daddy Oh Daddy Please Come Home / Sweet Betsy From Pike / The Cowboys Dream / Bye Bye Doce Jones / Code Of The Mountains / You Don't Love Me But I'll Always Care / The Wreck Of The 1256 / Black Mountain Rag / Come Here Son / You've Been Cheating On Me / On The Banks Of A Lonely River 10000 Miles Away / Hold Fast To The Right

07/2011
CD ROCKABILLY ? (?)
ESSENTIAL MASTERS - TEXAS RUBY &

CURLY FOX -

Code Of The Mountains / Daddy, Oh Daddy, Please Come Home / We May Meet Again Someday / John Henry / Draggin' The Bow / The Boys In Blue / Bury Me Not On The Lone Prairie / Babes In The Woods / Sweet Betsy From Pike / Black Mountain Rag / Hold Fast To The Right / Listen To The Mockingbird / You Don't Love Me But I'll Always Care / Bye Bye, Doce Jones / The Boys In Blue / The Wreck Of The 1256 / The Cowboy's Dream / The Letter Edged In Black / On The Banks Of A Lonely River 10000 Miles Away / Come Here, Son / Frankie And Johnnie / Fiddlin' Blues / You've Been Cheating On Me / New Talkin' Blues
© Rocky Productions 9/11/2013