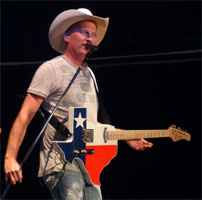 Chanteur Country US né le 11 Mai 1966 à Amarillo (Texas).

Country-pop may have ruled the charts, but Kevin Fowler established himself impressively throughout Texas by making modest honky tonk-style country for regular folks. Raised in the West Texas town Amarillo, the guitarist began his musical career on both drums and piano. He left Texas at age 20 for the bright lights of Los Angeles, where he studied music at the Guitar Institute of Technology. He returned to Texas soon after and settled in Austin, where he joined the hard rock band Dangerous Toys. Following this eye-opening stint, Fowler started his own Southern hard rock band, Thunderfoot. He soon came to the realization, however, that he couldn't shake his West Texas roots and gave up hard rock for country, the style of music he grew up with.
Fowler put together a country band in 1998 and began playing Tuesday nights at Babe's on Sixth Street in Austin. Within two years, he'd begun recording albums and struck big with his self-released Beer, Bait and Ammo (2000). The album sold around 30,000 copies in the Texas area and garnered an impressive amount of airplay, particularly for the album's title track. The song became somewhat of a Texas anthem; Mark Chesnutt made the song part of his live show, and Sammy Kershaw recorded it. Fowler returned in 2002 with his third album, High on the Hog, and boasted some impressive guests, including Willie Nelson and David Lee Garza.
Fowler steadily built up an audience throughout the 2000s through concerts and a pair of albums for Equity, 2004's Loose, Loud & Crazy and Bring It On. By 2010, Fowler's profile had increased enough to attract major-label attention -- Lyric Street signed him in January but the label folded shortly afterward, with Fowler's contract transferring to Disney -- and he wound up with two solid hit singles later that year in "Beer Season" and "Pound Sign (#?*!)." Both singles were featured on Best Of...So Far, which appeared at the end of the year. In 2011, Fowler released his sixth studio album, Chippin' Away, featuring four singles, including "Hell Yeah, I Like Beer" and "That Girl," the latter of which was the most successful, reaching 45 on the Billboard country charts. Preceded by the singles "How Country Are Ya?" and "Love Song," Fowler's seventh album, How Country Are Ya?, was released in March of 2014.
https://en.wikipedia.org/wiki/Kevin_Fowler
Talents : Vocals, Guitar
Style musical : Contemporary Country, Honky Tonk

http://www.youtube.com/watch?v=V4Bvpd3aSZU
Years in activity :
| | | | | | | | | | | | |
| --- | --- | --- | --- | --- | --- | --- | --- | --- | --- | --- | --- |
| 1910 | 20 | 30 | 40 | 50 | 60 | 70 | 80 | 90 | 2000 | 10 | 20 |
DISCOGRAPHY
Albums
1997
CD KDF 001 (US)
ONE FOR THE ROAD - True Love / River Of Love / One For The Road / Ol' What's Her Name / Ball And Chain / Tall Drink Of Water / All The Tequila In Tijuana / Lost My Heart In Oklahoma / I Told You So
11/2000
CD TIN ROOF 2744 (US)
BEER, BAIT AND AMMO - Speak Of The Devil / Butterbean / Penny For Your Thoughts / Hellbent For A Heartache / I Found Out The Hard Way / If Thesse Old Walls Could Talk / Beer, Bait And Ammo / Read Between The Lines / You Could've Had It All / J.O.B. / Drinkin' Days / 100% Texan
08/2002
CD TIN ROOF 2745 (US)
HIGH ON THE HOG - There's A Fool Born Everyday / Senorita Mas Fina / Not Lovin' Anymore / The Lord Loves The Drinkin' Man / A Fool And His Heart / Our Love Is A Prison / She Ain't Bad But She Ain't You / Tall Drink Of Water / High On The Hog / All The Tequila In Tijuana / Ol' Whats's Her Name / Fat Bottomed Girls
11/2002
CD SMITH MUSIC GROUP 5019-2 (US)
LIVE AT BILLY BOB'S TEXAS - 100% Texan / Butterbean / There's A Fool Born Everyday / If These Walls Could Talk / Ball And Chain / The Lord Loves The Drinkin' Man / High On The Hog / Not Lovin' Anymore / Speak Of The Devil / Tall Drink Of Water / J.O.B. / Penny For Your Thoughts / Is Anybody Going To San Antone? / True Love / All The Tequila In Tijuana / Read Between The Lines / Beer, Bait & Ammo / 100% Texan (studio version)
08/2004
CD EQUITY MUSIC GROUP 3003 (US)
LOOSE, LOUD AND CRAZY - Loose, Loud & Crazy / Get Along / Hard Man To Love / Ain't Drinkin' Anymore / Political Incorrectness (with Mark CHESNUTT) / A Matter Of When / Long Neckin' (Makes For Short Memories) / Triple Crown / Half / I'll Try Anything Twice / Lord Loves The Drinkin' Man / Don't Touch My Willie

[live]

09/2007
CD EQUITY MUSIC GROUP 3017 (US)
BRING IT ON - Comfortable In This Skin / Stompin' Ground / Party Foul / Fall / Story Of My Life / Bonfire / Get Your Country On / Reckless In Texas / Addicted / Deal Breaker / Stranger Things / Are We Doing This / Myspace Song
10/2010
CD KEVIN FOWLER 11670 (US)
BEST OF... SO FAR - Loose, Loud And Crazy / Long Line Of Losers / Pound Sign / Beer, Bait And Ammo / Beer Season / 100% Texan / Best Mistake I Ever Made / Butterbean / Señorita Mas Fina / Not Lovin' Anymore / The Lord Loves The Drinkin' Man / Triple Crown / What I Wouldn't Give For Your Love / Ain't Drinkin' Anymore / If These Old Walls Could Talk / Speak Of The Devil / Hard Man To Love / Don't Touch My Willie
08/2011
CD Average Joe's 229 (US)

Chippin'Away -

That Girl / Hell Yeah, I Like Beer / Here's To Me And You / Daddies And Daughters / Beer Money / Girl In A Truck / Borderline Crazy / Big River / Do That With You Gone / Chippin' Away / Knocked Up Live
03/2014
CD KEVIN FOWLER / Thirty Tigers KFR 95535 (US)

How Country Are Ya? -

Intro (Kevin FOWLER feat: Earl DIBBLES JR.) / How Country Are Ya? / Guitars And Guns (Kevin FOWLER feat: Cody JOHNSON) / Before Somebody Gets Hurt (Kevin FOWLER feat: Amy RANKIN) / The Weekend / If I Could Make A Livin' Drinkin' / Panhandle Poorboy / Borracho Grande (Kevin FOWLER feat: Max BACA & LOS

Tesmaniacs) /

Love Song / Habit I Can't Break / The Girls I Go With / Beer Me / Mousturdonus (Kevin FOWLER feat: The Kevin FOWLER BAND) / Whiskey And I / Chicken Wing (Kevin FOWLER feat: Davin JAMES)
© Rocky Productions 7/11/2014